Scientologists Convicted of Fraud in France
by Dorothee Moisan
October 27, 2009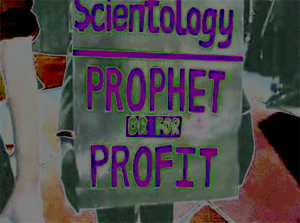 PARIS — French judges fined the Church of Scientology almost a million dollars on Tuesday for fleecing vulnerable followers but stopped short of banning the group from operating in France.
Scientology's Celebrity Centre and its bookshop in Paris, the two branches of its French operations, were ordered to pay 600,000 euros (900,000 dollars) in fines for preying financially on several followers in the 1990s.
Alain Rosenberg, the French leader of a movement best known for its Hollywood followers Tom Cruise and John Travolta, was handed a two-year suspended jail sentence and fined 30,000 euros on the same charge of fraud.
Five more Scientologists were give fines ranging from 1,000 to 20,000 euros for fraud or the illegal practice of pharmacy.
France regards Scientology as a cult, not a religion, and has prosecuted individual Scientologists before, but this case marks the first time the organisation as a whole has been convicted.
"Religious freedom is in danger in this country," declared Celebrity Centre spokesman Eric Roux after the verdict, urging France to recognise a movement that claims 45,000 followers in the country.
The Church of Scientology said it was the victim of a politically-motivated "witchhunt" and its lawyer Patrick Maisonneuve announced he would appeal.
But a statement from the group also said the court, by stopping short of an outright ban, had acknowledged that "there is a large community of Scientologists who are happy to practice their religion".
The Paris case followed a complaint by two women, one of whom says she was manipulated into handing over 20,000 euros in 1998 for Scientology products including an "electrometer" to measure mental energy.
A second claims she was forced by her Scientologist employer to undergo testing and enroll in courses, also in 1998. When she refused she was fired.
The Scientologists were ordered to publish the Paris court's ruling in half a dozen newspapers and magazines in France and abroad.
A lawyer for the plaintiffs, Olivier Morice, welcomed "a historic decision" that would help "future victims to be warned about the methods of Scientology".
Prosecutors initially asked the court to order a ban on the movement's French operations.
But last month the court was alerted to a little-noticed legal change voted in by parliament in May, the month the trial began, which barred judges from dissolving an organisation convicted of fraud.
Although this rule change has since been dropped, it forced the court to downgrade its sentence in the Scientology case.
Critics of Scientology had accused it of "infiltrating" the National Assembly to lobby for the legal change -- a charge they angrily denied.
The head of France's interministerial body on cults, Georges Fenech, said the ruling was an important milestone, but said he was sorry that judges were prevented from tougher action.
"I strongly regret that the law was changed discreetly during the trial, just before the trial, without anyone knowing," he told France 24 television.
But Judge Sophie-Helene Chateau argued "a very heavy fine" would be more effective than a ban that would risk driving the group underground.
Catherine Picard, of the anti-cult pressure group UNADFI called it "a fairly subtle and intelligent judgment that will undermine the organisation and allow greater control over it".
Founded in 1954 by US science-fiction writer L. Ron Hubbard, the Church of Scientology is recognised as a religion in the United States and claims a worldwide membership of 12 million.
But officials in France, Germany, Greece, Russia and elsewhere accuse it of tricking vulnerable members out of large sums.
The French ruling marks a new chapter in a global battle over the group's image, one that forced Wikipedia to block known Scientologists from editing entries at the communally-crafted online encyclopedia earlier this year.
"We will not give up," the movement said in a statement after the verdict. "We believe that no one has the right to tell the French people what to think and what to believe on matters of religion."
Copyright © 2009 AFP.