Fantastic Buddhaverse of Robert Thurman
by "What is Enlightenment?", Fall/Winter 2002
Illustrated by Nadir Balan
NOTICE: THIS WORK MAY BE PROTECTED BY COPYRIGHT
YOU ARE REQUIRED TO READ

THE COPYRIGHT NOTICE AT THIS LINK

BEFORE YOU READ THE FOLLOWING WORK, THAT IS AVAILABLE SOLELY FOR PRIVATE STUDY, SCHOLARSHIP OR RESEARCH PURSUANT TO 17 U.S.C. SECTION 107 AND 108. IN THE EVENT THAT THE LIBRARY DETERMINES THAT UNLAWFUL COPYING OF THIS WORK HAS OCCURRED, THE LIBRARY HAS THE RIGHT TO BLOCK THE I.P. ADDRESS AT WHICH THE UNLAWFUL COPYING APPEARED TO HAVE OCCURRED. THANK YOU FOR RESPECTING THE RIGHTS OF COPYRIGHT OWNERS.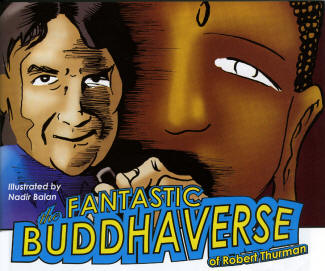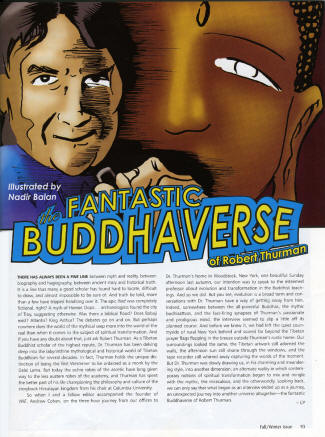 There has always been a fine line between myth and reality, between biography and hagiography, between ancient story and historical truth. It is a line that many a good scholar has found hard to locate, difficult to draw, and almost impossible to be sure of. And truth be told, more than a few have tripped headlong over it. The epic Iliad was completely fictional, right? A myth of Homer. Ooops ... archaeologists found the city of Troy, suggesting otherwise. Was there a biblical flood? Does Babaji exist? Atlantis? King Arthur? The debates go on and on. But perhaps nowhere does the world of the mythical seep more into the world of the real than when it comes to the subject of spiritual transformation. And if you have any doubt about that, just ask Robert Thurman. As a Tibetan Buddhist scholar of the highest repute, Dr. Thurman has been delving deep into the labyrinthine mythological and historical world of Tibetan Buddhism for several decades. In fact, Thurman holds the unique distinction of being the first Westerner to be ordained as a monk by the Dalai Lama. But today the ochre robes of the ascetic have long given way to the less austere robes of the academy, and Thurman has spent the better part of his life championing the philosophy and culture of the storybook Himalayan kingdom from his chair at Columbia University.
So when I and a fellow editor accompanied the founder of WIF, Andrew Cohen, on the three-hour journey from our offices to Dr. Thurman's home in Woodstock, New York, one beautiful Sunday afternoon last autumn, our intention was to speak to the esteemed professor about evolution and transformation in the Buddhist teachings. And so we did. But you see, evolution is a broad term and conversations with Dr. Thurman have a way of getting away from him. Indeed, somewhere between the all-powerful Buddhas, the mythical bodhisattvas, and the fast-firing synapses of Thurman's passionate and prodigious mind, the interview seemed to slip a little off its planned course. And before we knew it, we have left the quiet countryside of rural New York behind and soared far beyond the Tibetan prayer flags flapping in the breeze outside Thurman's rustic home. Our surroundings looked the same, the Tibetan artwork still adorned the walls, the afternoon sun still shone through the windows, and the tape recorder still whirred away capturing the words of the moment. But Dr. Thurman was slowly drawing us, in his charming and meandering style, into another dimension, an alternate reality in which contemporary notions of spiritual transformation began to mix and mingle with the mythic, the miraculous, and the otherworldly. Looking back, we can only say that what began as an interview ended up as a journey, an unexpected journey into another universe altogether -- the fantastic Buddhaverse of Robert Thurman.
-- CP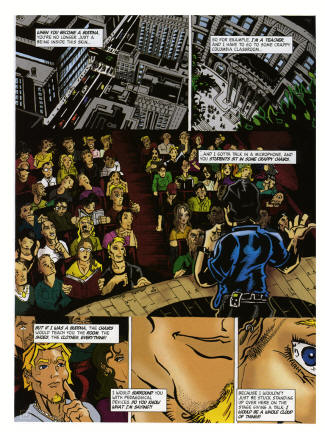 WHEN YOU BECOME A BUDDHA, YOU'RE NO LONGER JUST A BEING INSIDE THIS SKIN...
SO FOR EXAMPLE, I'M A TEACHER, AND I HAVE TO GO TO SOME CRAPPY COLUMBIA CLASSROOM...
...AND I GOTTA TALK IN A MICROPHONE, AND YOU STUDENTS SIT IN SOME CRAPPY CHAIRS,
BUT IF I WAS A BUDDHA, THE CHAIRS WOULD TEACH YOU, THE ROOM. THE SHOES, THE CLOTHES, EVERYTHING!
I WOULD SURROUND YOU WITH PEDAGOGICAL DEVICES. DO YOU KNOW WHAT I'M SAYING?!
BECAUSE I WOULDN'T JUST BE STUCK STANDING UP OVER HERE ON THE STAGE GIVING A TALK; I WOULD BE A WHOLE CLOUD OF THINGS!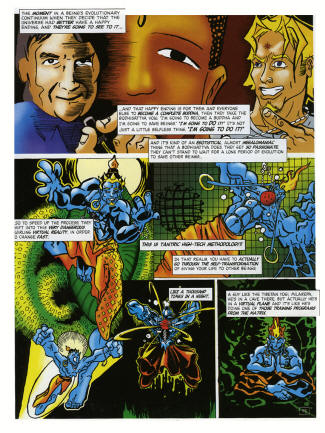 THE MOMENT IN A BEING'S EVOLUTIONARY CONTINUUM WHEN THEY DECIDE THAT THE UNIVERSE HAD BETTER HAVE A HAPPY ENDING, AND THEY'RE GOING TO SEE TO IT...
...AND THAT HAPPY ENDING IS FOR THEM AND EVERYONE ELSE TO BECOME A COMPLETE BUDDHA, THEN THEY TAKE THE BODHISATTVA VOW. "I'M GOING TO BECOME A BUDDHA AND I'M GOING TO SAVE BEINGS." I'M GOING TO DO IT!" IT'S NOT JUST A LITTLE SELFLESS THING. "I'M GOING TO DO IT!"
AND IT'S KIND OF AN EGOTISTICAL ALMOST MEGALOMANIAC THING THAT A BODHISATTVA DOES. THEY GET SO PASSIONATE THEY CAN'T STAND TO WAIT FOR A LONG PERIOD OF EVOLUTION TO SAVE OTHER BEINGS...
...SO TO SPEED UP THE PROCESS, THEY SHIFT INTO THIS VERY DANGEROUS, SWIRLING VIRTUAL REALITY, IN ORDER TO CHANGE FAST.
THIS IS TANTRIC HIGH-TECH METHODOLOGY!!
IN THAT REALM, YOU HAVE TO ACTUALLY GO THROUGH THE SELF-TRANSFORMATION OF GIVING YOUR LIFE TO OTHER BEINGS.
LIKE A THOUSAND TIMES IN A NIGHT.
A GUY LIKE THE TIBETAN YOGI, MILAREPA, HE'S IN A CAVE THERE, BUT ACTUALLY HE'S IN A VIRTUAL PLANE AND IT'S LIKE HE'S DOING ONE OF THOSE TRAINING PROGRAMS FROM THE MATRIX.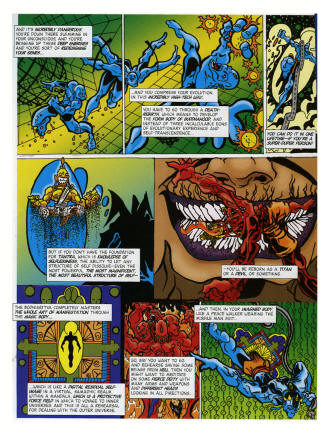 AND IT'S INCREDIBLY DANGEROUS. YOU'RE DOWN THERE SWIMMING IN YOUR UNCONSCIOUS AND YOU'RE BRINGING UP THESE DEEP ENERGIES AND YOU'RE SORT OF REDESIGNING YOUR GENES...
...AND YOU COMPRESS YOUR EVOLUTION IN THIS INCREDIBLY HIGH-TECH WAY.
YOU HAVE TO GO THROUGH A DEATH-REBIRTH, WHICH MEANS TO DEVELOP THE FORM BODY OF BUDDHAHOOD, AND INSTEAD OF THREE INCALCULABLE EONS OF EVOLUTIONARY EXPERIENCE AND SELF-TRANSCENDENCE...
YOU CAN DO IT IN ONE LIFETIME--IF YOU'RE A SUPER-DUPER PERSON!
BUT IF YOU DON'T HAVE THE FOUNDATION FOR TANTRA, WHICH IS KNOWLEDGE OF SELFLESSNESS, THE ABILITY TO LET ANY STRUCTURE OF SELF DISSOLVE--EVEN THE MOST POWERFUL, THE MOST MAGNIFICENT, THE MOST BEAUTIFUL STRUCTURE OF SELF--
--YOU'LL BE REBORN AS A TITAN OR A DEVIL OR SOMETHING.
THE BODHISATTVA COMPLETELY MASTERS THE WHOLE ART OF MANIFESTATION THROUGH THE MAGIC BODY...
...WHICH IS LIKE A DIGITAL RESIDUAL SELF-IMAGE IN A VIRTUAL, SAMADHIC REALM WITHIN A MANDALA, WHICH IS A PROTECTIVE FORCE FIELD IN WHICH TO VOYAGE TO INNER UNIVERSES. AND THIS IS ALL A REHEARSAL FOR DEALING WITH THE OUTER UNIVERSE.
SO, SAY YOU WANT TO GO AND REHEARSE SAVING SOME BEINGS FROM HELL. THEN YOU MIGHT WANT TO MEDITATE ON SOME FIERCE DEITY WITH MANY ARMS AND WEAPONS AND DIFFERENT HEADS LOOKING IN ALL DIRECTIONS...
...AND THEN, IN YOUR IMAGINED BODY, LIKE A PEACE WALKER WEARING THE MISSILE MAN SUIT...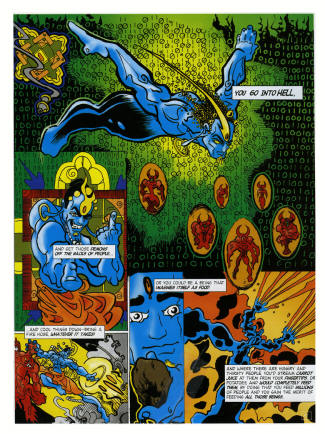 YOU GO INTO HELL,
AND GET THOSE DEMONS OFF THE BACKS OF PEOPLE
...AND COOL THINGS DOWN--BRING A FIRE HOSE, WHATEVER IT TAKES!
OR YOU COULD BE A BEING THAT IMAGINES ITSELF AS FOOD,
AND WHERE THERE ARE HUNGRY AND THIRSTY PEOPLE, YOU'D STREAM CARROT JUICE AT THEM FROM YOUR FINGERTIPS, OR POTATOES, AND WOULD COMPLETELY FEED THEM. BY DOING THAT YOU FEED MILLIONS OF PEOPLE AND YOU GAIN THE MERIT OF FEEDING ALL THOSE BEINGS.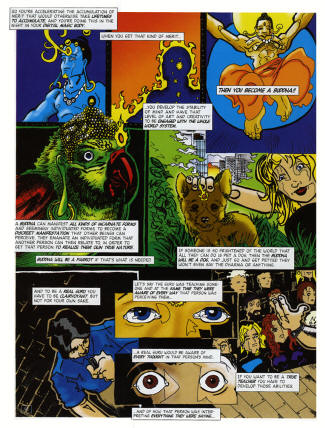 SO YOU'RE ACCELERATING THE ACCUMULATION OF MERIT THAT WOULD OTHERWISE TAKE LIFETIMES TO ACCUMULATE AND YOU'RE DOING THIS IN THE NIGHT IN YOUR DIGITAL MAGIC BODY.
WHEN YOU GET THAT KIND OF MERIT...
...YOU DEVELOP THE STABILITY OF MIND AND HAVE THAT LEVEL OF ART AND CREATIVITY TO BE ENGAGED WITH THE WHOLE WORLD SYSTEM.
THEN YOU BECOME A BUDDHA!!
A BUDDHA CAN MANIFEST ALL KINDS OF INCARNATE FORMS AND SEEMINGLY INDIVIDUATED FORMS, TO BECOME A DISCREET MANIFESTATION THAT OTHER BEINGS CAN PERCEIVE. THEY EMANATE AN INDIVIDUATED FORM THAT ANOTHER PERSON CAN THEN RELATE TO IN ORDER TO GET THAT PERSON TO REALIZE THEIR OWN TRUE NATURE.
BUDDHA WILL BE A PARROT IF THAT'S WHAT IS NEEDED.
IF SOMEONE IS SO FRIGHTENED OF THE WORLD THAT ALL THEY CAN DO IS PET A DOG, THEN THE BUDDHA WILL BE A DOG, AND JUST GO AND GET PETTED. THEY WON'T EVEN SAY THE DHARMA OR ANYTHING.
AND TO BE A REAL GURU YOU HAVE TO BE CLAIRVOYANT, BUT NOT FOR YOUR OWN SAKE.
LET'S SAY THE GURU WAS TEACHING SOMEONE AND AT THE SAME TIME THEY WERE AWARE OF EVERY WAY THAT PERSON WAS PERCEIVING THEM...
...A REAL GURU WOULD BE AWARE OF EVERY THOUGHT IN THAT PERSON'S MIND....
...AND OF HOW THAT PERSON WAS INTERPRETING EVERYTHING THEY WERE SAYING...
IF YOU WANT TO BE A TRUE TEACHER YOU HAVE TO DEVELOP THOSE ABILITIES.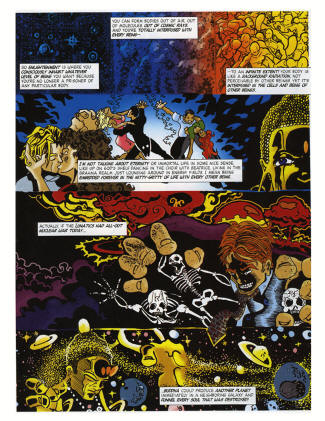 SO ENLIGHTENMENT IS WHERE YOU CONSCIOUSLY INHABIT WHATEVER LEVEL OF BEING YOU WANT BECAUSE YOU'RE NO LONGER A PRISONER OF ANY PARTICULAR BODY.
YOU CAN FORM BODIES OUT OF AIR, OUT OF MOLECULES, OUT OF COSMIC RAYS, AND YOU'RE TOTALLY INTERFUSED WITH EVERY BEING---
--TO AN INFINITE EXTENT! YOUR BODY IS LIKE A BACKGROUND RADIATION, NOT PERCEIVABLE BY OTHER BEINGS, YET IT'S INTERFUSED IN THE CELLS AND BEING OF OTHER BEINGS.
I'M NOT TALKING ABOUT ETERNITY OR IMMORTAL LIFE IN SOME NICE SENSE, LIKE UP ON GO'D SHELF, DANCING IN THE CHOIR WITH BEATRICE, LIVING IN THE BRAHMA REALM JUST LOUNGING AROUND IN ENERGY FIELDS, I MEAN BEING EMBEDDED FOREVER IN THE NITTY-GRITTY OF LIFE WITH EVERY OTHER BEING.
ACTUALLY, IF THE LUNATICS HAD ALL-OUT NUCLEAR WAR TODAY...
...BUDDHA COULD PRODUCE ANOTHER PLANET IMMEDIATELY IN A NEIGHBORING GALAXY AND FUNNEL EVERY SOUL THAT WAS DESTROYED!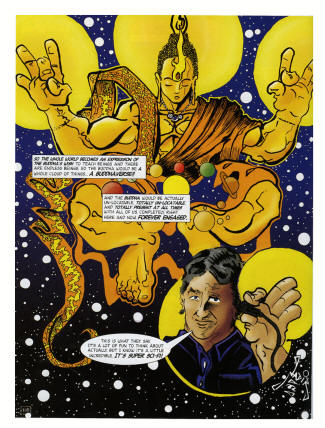 SO THE WHOLE WORLD BECOMES AN EXPRESSION OF THE BUDDHA'S WISH TO TEACH BEINGS, AND THERE ARE ENDLESS BEINGS, SO THE BUDDHA WOULD BE A WHOLE CLOUD OF THINGS...A BUDDHAVERSE!!
AND THE BUDDHA WOULD BE ACTUALLY UN-LOCATABLE. TOTALLY UN-LOCATABLE, AND TOTALLY PRESENT AT ALL TIMES WITH ALL OF US COMPLETELY RIGHT HERE AND NOW, FOREVER ENGAGED.
THIS IS WHAT THEY SAY. IT'S A LOT OF FUN TO THINK ABOUT ACTUALLY. BUT I KNOW IT'S A LITTLE INCREDIBLE. IT'S SUPER SCI-FI!