AMERICAN-BUDDHA.COM, DEVOTION, SAMAYA, AND CUTTING THROUGH TO THE VERY HEART OF THE MATTER
by Kelley Lynch
NOTICE: THIS WORK MAY BE PROTECTED BY COPYRIGHT
YOU ARE REQUIRED TO READ

THE COPYRIGHT NOTICE AT THIS LINK

BEFORE YOU READ THE FOLLOWING WORK, THAT IS AVAILABLE SOLELY FOR PRIVATE STUDY, SCHOLARSHIP OR RESEARCH PURSUANT TO 17 U.S.C. SECTION 107 AND 108. IN THE EVENT THAT THE LIBRARY DETERMINES THAT UNLAWFUL COPYING OF THIS WORK HAS OCCURRED, THE LIBRARY HAS THE RIGHT TO BLOCK THE I.P. ADDRESS AT WHICH THE UNLAWFUL COPYING APPEARED TO HAVE OCCURRED. THANK YOU FOR RESPECTING THE RIGHTS OF COPYRIGHT OWNERS.
Kelley Lynch

Singer and songwriter Leonard Cohen filed a lawsuit against his former business manager for allegedly stealing $5 million from his retirement savings, personal accounts and investments. Lynch worked for Cohen for 17 years, but after her position was terminated, she refused to return photographs, records and memorabilia. A Superior Court judge granted Cohen a $9.5 million default judgment. (Mar-02-06) [MERCURY NEWS]

***
An L.A. Superior Court judge granted the 71-year-old Cohen, known for reflective songs such as "Suzanne," a default judgment Monday. He claimed in a lawsuit that Kelley Lynch siphoned $5 million from his personal accounts and investments, leaving him about $150,000. (Mar-04-06) [LOS ANGELES TIMES]
April 9, 2005
Dear Tara and Charles,
You have both been on my mind for a week now. I took a drive with my young son, Ray, to San Jose to see Lamasang (who you refer, in more negative terms, to as Kusum Lingpa -- the Bandit Lama). Lamasang is quite ill with liver, and possibly lung problems, these days and I am extremely concerned for his welfare. And, without one moment of cynicism, I am concerned about your welfare.
I tried, in the beginning, to have a conversation with you. I experienced an extreme lashing out and great assumptions on your part about me. And yet, you do not know me at all. I am not part of a sangha here in Los Angeles. Lamasang's reputation was fairly well destroyed here a while back although he is a great and profound teacher and I have absolute and utter faith in him. Unshakeable, profound samaya. The Buddha himself could not walk into this room and convince me otherwise. This is based on a simple connection and a man that has been so kind to me that I am unable to explain the many things he has assisted me with. I have tried to "serve" him in as many ways as possible. This has been my great honor. Trungpa Rinpoche was my guru from the time I was 13 and I have raised his son, Gesar Mukpo. It is so hurtful to read what you have said. He was a good, wonderful, kind man and great teacher.
I made a mistake permitting my young son to write on your website, although I believe he had some insights that were valid -- about computers and being bored. I pleaded with Gesar Mukpo "not" to write on your website but you treated him fairly decently. You were extremely mean to his brother, Ashoka. I wrote to Dzongsar Khyentse Rinpoche and asked why he would "disparage" lamas in any manner whatsoever -- particularly on a website where his father, a lama of awesome and "amazing" capacities (as I have been told by his friends and students) is being degraded. Kalu Rinpoche has passed from this world and yet you are more than willing to permit a woman that may have had sex with him to take center stage. It is my firm opinion, as a woman, that when we get into bed with a man -- that is "our" decision. We are not coerced, we do not need to be deceived by "magic." That is a decision between a man and a woman. If a "monk" gives some "exposition" that is harmful to that woman, he should be brought in front of his guru and asked to explain exactly what he means. The blame is not to be placed on the guru. Judith [June] Campbell should feel great shame for "harming" that great lama, that simple and wonderful man who helped so many people.
What do I actually want to say to you? Ray and I drove to Half Moon Bay from San Jose to visit with Gyaltrul Rinpoche. We loved that drive up that windy, rather dangerous road. Ray said "All we need is a deer" in order to be killed. We drove up, saw the prayer flags, were greeted warmly and kindly by Mimi, had tea with Lama Jigme, and looked at a lovely and wonderfully simple shrine with a great statue of Vajrasattva that I will always recall in my mind, and, we had an absolutely delightful visit with your teacher, Gyaltrul Rinpoche. A wonderful man. A loyal man. A decent man. And, a great lama. Ray loved Gyaltrul Rinpoche and our visit "sparked" the dharma in his mind. In the car, on that Great Coast Highway, so filled with drala, Ray read the Tsik Sum Nye Dik and explained to me -- in a child's manner -- that those three words are how one manifests enlightenment. This is so much more helpful to us in this lifetime, Charles and Tara. Your great guru is getting old. Time is passing so quickly. Sangha still complains. This is not the sangha of historical bodhisattvas, but as Trungpa Rinpoche (whom you also "trash" so undeservingly on your website said) -- sangha that also deserves your attention.
And, that is why I am paying attention to you and that is why I have had you in my mind and have hoped that we could become friends and you would ultimately find a means, some way, to drop your resentment and hurt at whatever it is that you feel has happened to you at the "hands" of the Three Jewels -- the Buddha, the Dharma, and the Sangha. I have nearly had my life destroyed recently, by a poet that was my friend for over 20 years -- and is trying to "ask" me to lie for his past tax evasion - and, I have no one to turn to other than my kind gurus, spiritual guides and friends, sangha, and my family.
Tara and Charles, please try to reconsider your anger and resentment. There are people that love you. I am one of those people. I know that we could be friends. I love Frida Kahlo, Shenpen Dawa's great talks, Thinley Norbu's wonderful (and true) article in Tricycle, and you. Nothing will ever come of this endless cynical attempt to cut through all logic. It's impossible to do, in any event. Your guru, Gyaltrul Rinpoche, his faithful attendant and greatest friend, Sangye Khandro, and their great friend, Lama Chonam, will all be moving to Tashi Choling. My son, Ray, will attend camp there this summer. I would like to come visit at that time and have a drink or tea with you. I have been hurt in this lifetime as well. In fact, my life has been put in harm's way. And, I am a mother.
Please reconsider your anger and resentment. With great wishes that you and your teacher, Gyaltrul Rinpoche, will be able to meet again in this lifetime and experience nothing other than great faith and devotion -- in one another. In you, as the students, and, in Rinpoche as the guru. It's simple. And it's true. Lamasang told me this: You cannot break your samaya to me if, when thoughts of negativity arise, you never solidify them. I never have and I know this is true for you as well.
I love you both, wish you well, and will visit you this summer. Please do call your great teacher, and his wonderful and never angry and always kind student, Mimi, and that great monk, Jigme. This is where you will find the assistance you need.
With love,
Kelley
[The original article can be found here]
Addendum emails:
From: Kelley Lynch <odzerchenma@gmail.com>
Date: May 19, 2007 7:39 PM
Subject:
To:
ambu@american-buddha.com
Hi Tara,
How are you? Studying up on "samaya?"
Did Lady Diana Mukpo give you permission to reprint the Vidyadhara Chogyam Trungpa Rinpoche's book "First Thought, Best Thought" on your site? Why would Trungpa Rinpoche want to be on your website after your vicious attacks on Gesar and Ashoka Mukpo?
I won't be having a "bloody" fight with you over my lovely visit with Gyaltrul Rinpoche, however.
His Holiness son met with His Holiness the 14th Dalai Lama (who has also been maligned on your website) and he was unaware of the letter you posted from someone that is no longer in His Holiness' offices.
Kelley Lynch
P.S. Mimi's baby is not Gyaltrul Rinpoche's, the child has very serious physical issues, you were cruel, and it is also called slander. What could possible insite you to go after Mimi's child?
P.P.S. How's the internet "lawyer." Let him know I am bringing your site to the attention of Bruce Cutler.
___________________________________
from Kelley Lynch <odzerchenma@gmail.com>
to
ambu@american-buddha.com
date May 19, 2007 7:52 PM
subject Re:
signed-by gmail.com
Tara,
When I say "His Holiness" - I mean, His Holiness Kusum Lingpa. I actually also received an email from His Holiness the Dalai Lama's office on the email you have posted on your site. What is your point? That you know better than enlightened teachers? Don't make me laugh, Tara.
"Love,"
Kelley
______________________________
from Kelley Lynch <odzerchenma@gmail.com>
to
ambu@american-buddha.com
date May 19, 2007 7:56 PM
subject Re:
signed-by gmail.com
P.S. Hi Tara and Charles, don't you have something really rotten to say about Saraha? Why let him off the hook? No gossip from women who knew him? You must be able to dig up some dirt on him, no?
"Love," Kelley
________________________________
from Kelley Lynch <odzerchenma@gmail.com>
to Tara Carreon <iggyfan@gmail.com>,
rdonovick@mednet.ucla.edu
,
Thaye Dorje <17thgyalwakarmapa@gmail.com>,
Jewel of Activity <welcomingflowers@yahoo.com>,
"YesheRimpoche@aol.com" <YesheRimpoche@aol.com>,
"YesheRimpoche@aol.com" <bhakhatulku@yahoo.com>,
jagadhatri@bigfoot.com
,
choegon rinpoche <drukpachoegon@hotmail.com>,
jimmy wang <drukpadude2003@yahoo.com>,
lodigg@savetibet.org
,
religion@gov.tibet.net
,
CHEWY GURU <gesarmukpo@yahoo.com>,
dbrown@shambhala.org
,
Jsennhaus@aol.com
,
sangha-announce@list.shambhala.org
,
sangha-talk@list.shambhala.org
,
Sangye Khandro <sangyekhandro@gmail.com>,
Lama Chonam <lamachonam@gmail.com>,
rbyucaipa@yahoo.com
,
"Lee K. Alpert" <lkalpert@alpertbarr.com>,
Robert MacMillan <robert.macmillan@gmail.com>,
Mick Brown <mick.brown@telegraph.co.uk>,
lwieseltier@tnr.com
,
"moseszzz@mztv.com" <moseszzz@mztv.com>,
"Douglas J. Penick" <MPDUKE1@msn.com>,
van.penick@mcinnescooper.com
cc
*IRS.Commissioner@irs.gov
,
oiea@sec.gov
,
"Harrod, Michael (DOR)" <michael.harrod@ky.gov>,
Sopko Kelly A TIGTA <Kelly.Sopko@tigta.treas.gov>,
governor@governor.ca.gov
,
Rocky Delgadillo <rdelgadillo@atty.lacity.org>,
BDeixler@proskauer.com
date May 21, 2007 6:59 PM
subject Re:
mailed-by gmail.com
Dear Roger Donovick,
Do you agree with me that Tara and Charles Carreon are mentally ill? Please review
http://www.American-Buddha.com
. It appears to be extremely "hostile" and "aggressive." Tara Cooper cannot reply personally and Rutger actually did think they were merely "bored" and spent too much time on the computer.
Kelley Lynch
cc: His Holiness Sharmapa
_________________________________
Gotti Lawyer To Rep Phil Spector
Bruce Cutler Takes Over As Leslie Abramson Quits Murder Case
LOS ANGELES, August 25, 2004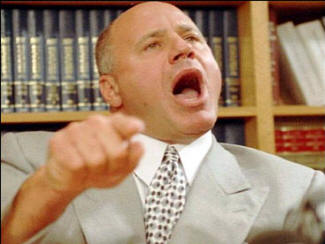 Bruce Cutler - seen here back in 1991, when he was representing accused Gambino crime family godfather John Gotti - is taking over Spector's criminal case. (AP (file))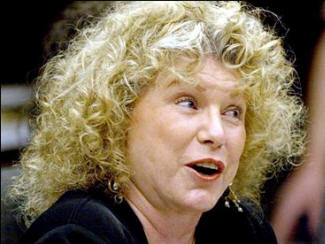 Leslie Abramson (above), best known for defending Lyle and Erik Menendez for murders of their parents, has quit as Phil Spector's attorney, along with her co-counsel, Marcia Morrissey. (AP)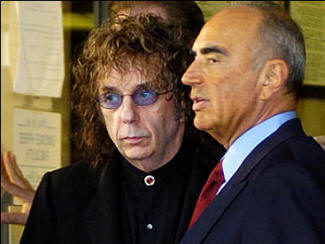 Phil Spector (left) at the courthouse last November with his defense attorney at the time, O.J. Simpson dream team member Robert Shapiro. (AP)
Spector, famed for creating rock 'n' roll's "wall of sound" recording technique in the 1960s, is charged in the fatal shooting of actress Lana Clarkson at his mansion in February 2003.
(CBS/AP) When he was at the top of rock and roll's hierarchy as a producer so respected even The Beatles wanted to work with him, Phil Spector huddled in the studios and nightclubs with only the best.
Today, Spector is a murder suspect, the Beatles album that had his touch has been stripped of the background sound he added, and all in all, he faces a much colder world.
He's still working with only the best - but these days, the chart-toppers are the stars of the legal profession.
Tuesday, the Spector story took another strange twist as Bruce Cutler, best known for representing John Gotti, took over the case from Leslie Abramson and Marcia Morrissey, who had themselves taken over from Spector's original attorney: O.J. Simpson dream team lawyer Robert Shapiro.
Abramson and Morrissey, who had been handling Spector's defense since February, have a long list of high profile cases but are best known for defending Lyle and Erik Menendez in the 1989 murder of their parents in their Beverly Hills mansion.
Abramson confirmed Tuesday that she and her co-counsel have resigned as Spector's attorneys, but said they were taken by surprise when Bruce Cutler filed a motion to take over the case while Abramson was out of the country.
"We were put in an untenable position, and we were forced to resign," said Abramson. "If we wanted to be ethical and competent, we had to resign."
She declined to elaborate.
Cutler, speaking from New York, said he has known Spector for a long time and had signed on as his personal attorney before Abramson and Morrissey took over the criminal case.
"I was engaged as Phillip's attorney and confidante last January," he said. "Leslie and Marcia were brought on in February, and they quit in July. They just jumped ship, and I had to take control of the ship and bring it into port."
Federal prosecutors in New York have portrayed Cutler as "house counsel" for the Gambino crime family and its accused godfather, John Gotti. He won three trials for John Gotti before prosecutors were able to get him disqualified from the defense team by playing 1990 tape recordings on which he had conversations with Gotti about other defendants.
Gotti died in prison in 2002.
Spector, famed for creating rock 'n' roll's "wall of sound" recording technique in the 1960s, is charged in the fatal shooting of Lana Clarkson at his mansion in February 2003.
Clarkson, 40, had met Spector at the House of Blues on the Sunset Strip where she was a hostess. She was best known as the star of Roger Corman's cult film classic "Barbarian Queen."
The case is scheduled for a preliminary hearing on Oct. 20. Cutler said they will ask for a postponement of the hearing, to give him time to get up to speed on the proceedings.
Spector, 64, is free on $1 million bail.
©MMIV CBS Broadcasting Inc. All Rights Reserved. This material may not be published, broadcast, rewritten, or redistributed. The Associated Press contributed to this report.
_____________
"The Myth of Shangri-La," by Peter Bishop wrote:

Lamas, in their role as ecclesiastic or political administrators, were disliked. Their position seemed dictatorial, almost totalitarian, in its fusion of blatant power with absolute ideological and spiritual control. The situation was described as 'despotic', as 'spiritual terrorism' and 'unlimited tyranny'. [208] Landon was severe in his criticism.

No priestly caste in the history of religion has ever fostered and preyed upon the terror and ignorance of its flock with the systematic brigandage of the lamas. It may be that, hidden away in some quiet lamasery ... Kim's lama may still be found. Once or twice in the quiet unworldly abbots ... one saw an attractive and almost impressive type of man; but the heads of the hierarchy are very different men, and by them the country is ruled with a rod of iron. [209]

Tibet seemed a country of slavery, severe punishments, torture, political assassinations, mutual distrust. Grenard reported: 'The lower orders, in general, display towards the magistrates and the agents of authority a crawling servility which I have never seen equaled in either Turkestan or China.' [210] Lamaism was believed to be both the agent for this terror and its cause. That scrupulous ethnographer Rockhill, for example, vividly described the action of some police-monks at a market gathering:

Suddenly the crowds scattered to the right and left, the lamas running for places of hiding, with cries of Gekor lama, Gekor lama! and we saw striding towards us six or eight lamas with a black stripe painted across their foreheads and another around their right arms -- black lamas ... the people call them -- armed with heavy whips with which they belaboured anyone who came within reach. Behind them walked a stately lama in robes of finest cloth, with head clean-shaved.

He had come to enforce ecclesiastical law by knocking down a Punch and Judy show and other prohibited amusements, the owners of which were whipped. [211]

With some understatement, Grenard mused: 'the Lhasa government is not a tender one'. [212] Indeed, the focal point of this totalitarianism seemed to be Lhasa, and even the Potala itself. Whilst on the one hand Lhasa was the sacred city, the Rome of Asia, it was also seen as the dictatorial centre of a police state. William Carey, as usual, painted a vivid picture: 'The holy city is more than the home of metaphysical mysteries and the mummery of idol-worship; it is a secret chamber of crime; its rocks and its roads, its silken flags and its scented altars, are all stained with blood.' [213]