PRACTICE OF BEHEADING NOT LIMITED TO ISLAMIC STATE
by Jonathan Zimmerman
Los Angeles Times Op-Ed
September 28, 2014
Copyright © 2014, Los Angeles Times
YOU ARE REQUIRED TO READ

THE COPYRIGHT NOTICE AT THIS LINK

BEFORE YOU READ THE FOLLOWING WORK, THAT IS AVAILABLE SOLELY FOR PRIVATE STUDY, SCHOLARSHIP OR RESEARCH PURSUANT TO 17 U.S.C. SECTION 107 AND 108. IN THE EVENT THAT THE LIBRARY DETERMINES THAT UNLAWFUL COPYING OF THIS WORK HAS OCCURRED, THE LIBRARY HAS THE RIGHT TO BLOCK THE I.P. ADDRESS AT WHICH THE UNLAWFUL COPYING APPEARED TO HAVE OCCURRED. THANK YOU FOR RESPECTING THE RIGHTS OF COPYRIGHT OWNERS.
"Now everyone knows about the airborne interrogation -- taking three people up in a chopper, taking one guy and saying, 'Talk,' then throwing him out before he even gets the chance to open his mouth.

Well, we wrapped det [detonator] cord around their necks and wired them to the detonator box. And basically what it did was blow their heads off.

The interrogator would tell the translator, usually a South Vietnamese intelligence officer, 'Ask him this.' He'd ask him, 'Who gave you the gun?' And the guy would start to answer, or maybe he wouldn't -- maybe he'd resist -- but the general idea was to waste the first two. They planned the snatches that way. Pick up this guy because we're pretty sure he's VC cadre -- these other two guys just run errands for him. Or maybe they're nobody; Tran, the farmer, and his brother Nguyen. But bring in two. Put them in a row. By the time you get to your man, he's talking so fast you got to pop the weasel just to shut him up." After a moment's silence he added,

"I guess you could say that we wrote the book on terror." ...

How the Senate hearings came to address Phoenix is unusual. It concerns Francis Reitemeyer, a Seton Hall Divinity School dropout who was drafted and attended officer candidate school in late 1968. Along with forty other air defense artillery officers, Reitemeyer was trained at Fort Holabird for duty as a Phoenix coordinator in Vietnam. He was appalled by the instruction he received from veteran Phoenix advisers. Loath to participate in what he considered a program that targeted civilians for assassination, Reitemeyer approached American Civil Liberties Union lawyer William Zinman in November 1968. On behalf of Reitemeyer, Zinman filed a petition for conscientious objector status in U.S. District Court on February 14, 1969, while the rest of Reitemeyer's class was departing for Vietnam.

In the petition Reitemeyer said that he was told that he would supervise and fund eighteen mercenaries "who would be explicitly directed by him" to "find, capture and/or kill" as many VCI as possible within a given area. The VCI were defined as "any male or female of any age in a position of authority or influence in the village who were politically loyal or simply in agreement with the VC or their objectives."

Reitemeyer was told that he would be required to maintain a "kill quota" of fifty bodies per month and that for him to locate VCI, "resort to the most extreme forms of torture was necessary." As an example of what was expected of him, Reitemeyer was told of one VCI suspect being killed by "said mercenaries and thereafter decapitated and dismembered so that the eyes, head, ears and other parts of the decedent's body were displayed on his front lawn as a warning and an inducement to other VC sympathizers, to disclose their identity and turn themselves in to the Advisor and the mercenaries."

Reitemeyer was told that Phoenix "sought to accomplish through capture, intimidation, elimination and assassination what the U.S., up to this time, was unable to accomplish through the ... use of military power." The Vietnamese were characterized in racist terms, so that the cruelties perpetrated upon them might be more easily rationalized. Reitemeyer was told that if captured, he could be tried for war crimes under "precedents established by the Nuremberg Trials as well as ... the Geneva Convention."

On the basis of this account of his Phoenix instruction, Reitemeyer was granted conscientious objector status on July 14, 1969. The Army filed an appeal but, for public relations purposes, withdrew it in October, just as the March Against Death was getting under way.

--

The Phoenix Program, by Douglas Valentine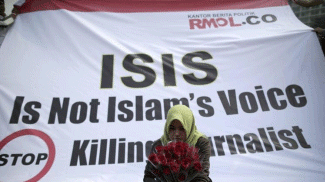 An Indonesian journalist holds flowers as she sits in front of a banner during a protest in Jakarta against the killing of journalists by Islamic State. (Mast Irham / EPA)
In 1623, just two years after Native Americans and Pilgrims dined together at the first Thanksgiving, Pilgrim commander Myles Standish decapitated an enemy Indian chieftain and impaled his head on a pike outside of the Plymouth fort.
That's the part we typically omit from our Thanksgiving myth, which emphasizes interracial harmony instead of violence. And we certainly don't like to remember that our forefathers practiced beheading, especially when we're faced with an enemy that still engages in it.
After two American journalists were beheaded by Islamic State fighters, President Obama vowed to dismantle the organization, and has joined with five Arab allies to launch airstrikes on Islamic State targets.
But one of our allies, Saudi Arabia, still practices beheading. So does the Free Syrian Army, whom Obama pledged to assist in its battle to unseat dictator Bashar Assad. Unlike Assad's "extremist" foes, the argument goes, the Free Syrian Army is a "moderate" force. But it still beheaded six captives in September.
Shortly after the Committee-B'nai B'rith mission left Washington, Hull dispatched a cable to George A. Gordon, America's charge d'affaires in Germany: "Public opinion in this country continues alarmed at the persistent press reports of mistreatment of Jews in Germany .... I am of the opinion that outside intercession has rarely produced the results desired and has frequently aggravated the situation. Nevertheless, if you perceive any way in which this government could usefully be of assistance, I should appreciate your frank and confidential advice. On Monday next [March 27] there is to be held in New York a monster mass meeting. If prior to that date an amelioration in the situation has taken place, which you could report [for] ... release to the press, together with public assurances by Hitler and other leaders, it would have a calming effect." [48] In essence, Hull was asking for an encouraging report -- justified or not -- to soothe angry Jewish groups. Thus, he could cooperate with the Committee request as well.

Within twenty-four hours, Gordon composed a response to Hull: "I entirely agree with your view ... [of] the present situation of outside intercession. ... There is ... one suggestion I venture to make in case you have already not thought of it. . . . [T]he general tenor of communications between foreigners and the ... government here has necessarily been one of complaint and protest, and it is possible that if ... confidence [were expressed] in Hitler's determination to restore peaceful and normal conditions, emphasizing what a great place he will achieve in the estimation of the world if he is able to bring it about, it might have a helpful effect....

Hitler now represents the element of moderation in the Nazi Party

and I believe that if in any way you can strengthen his hand, even indirectly, he would welcome it." [49]

--

The Transfer Agreement: The Dramatic Story of the Pact Between the Third Reich and Jewish Palestine, by Edwin Black
Indeed, beheading is as old as human civilization itself. So it also reminds us how close we remain to savagery, which is what makes decapitation so repulsive and alluring at the same time. We don't want to behold our own brutal natures. But we also can't look away, as the millions of YouTube hits illustrate.
The ancient Celts hung enemies' severed heads from horses' necks or nailed them to the front of their homes. The heads of important rival leaders were preserved in cedar oil and displayed to admiring guests.
To the conquering Romans, such rituals marked the Celts as uncivilized. But that gave the Romans license to behead Celts, who allegedly lay so far outside of human decency that its norms did not apply to them.
With the rise of nation-states, meanwhile, beheading became a force of political repression as well as revolution. As Scottish nationalists reminded voters in the recent failed referendum for independence, English monarchs routinely beheaded Irish and Scottish challengers to their rule. But in 1649, King Charles I was himself beheaded. By decapitating the sovereign head of state, the people proclaimed their own sovereignty.
That's also what happened in the French Revolution, of course, when Louis XVI and Marie Antoinette were both executed by a new beheading machine: the guillotine. Named after the French doctor who suggested it, the guillotine promised a more "humane" and efficient method of decapitation than the ax.
To horrified observers like England's Edmund Burke, however, the guillotine symbolized the brutality and instability that popular revolt unleashed. Marching in parades with their victims' heads on spikes, the French crowds reminded Burke of nothing so much as "a procession of American savages" — that is, of Native Americans — displaying enemy scalps.
By the late 1800s, as empires spread their reach, white Europeans and North Americans came to associate beheading almost exclusively with the racial or cultural "other." Never mind that Indians were themselves beheaded by whites, or that the French didn't outlaw the guillotine until 1977.
Americans continued to decapitate its foes too, using the same rationale as the Romans did: Some people are so savage that the rules of civilization don't apply to them. American troops decapitated a Japanese soldier in 1945 and propped his head on their tank for a picture. Troops did the same thing to an Iraqi soldier in 1991. But this time, Life magazine — which had declined to publish the World War II photo — put the new picture on its cover.
And the victim's eyes were pointed at us. Condemning Islamic State on Wednesday, President Obama said it "forces us to look into the heart of darkness." The allusion was to Joseph Conrad's classic 1899 novel, in which a deranged white colonist in Africa erects human heads on the fence around his house.
To Conrad, writing at the height of imperialism, the heads showed how whites could regress into the barbarism of the lesser races. Today, we know better — or we should. The savagery that you see on those YouTube videos isn't just in Islamic State, or in some other enemy that you fear and despise. It's in you too.
Jonathan Zimmerman is a professor of history and education at New York University. He is the author of "Too Hot to Handle: A Global History of Sex Education," which will be published next year by Princeton University Press.

Copyright © 2014, Los Angeles Times