[Jeff] Of course, one investment option is a green fund,
run by Bill McKibben's buddy, David Blood.
And who was the chairman of this fund?
Someone familiar.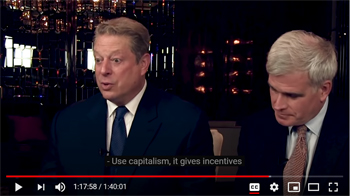 [Al Gore] Use capitalism. It gives incentives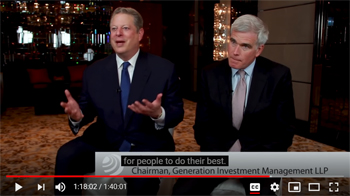 for people to do their best.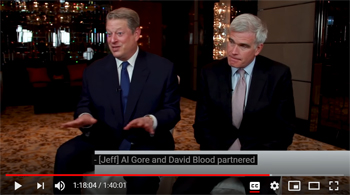 [Jeff] Al Gore and David Blood partnered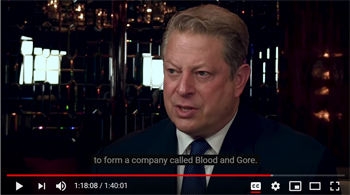 to form a company called Blood and Gore.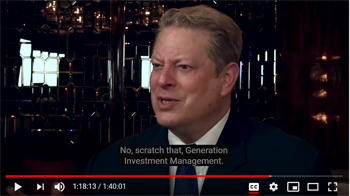 No, scratch that, Generation Investment Management.
Conscious of the spirit and terms of its resolutions 35/7 and 36/6, in which it solemnly invited Member States, in the exercise of their permanent sovereignty over their natural resources, to conduct their activities in recognition of the supreme importance of protecting natural systems, maintaining the balance and quality of nature and conserving natural resources,

in the interests of present and future generations

,

-- World Charter for Nature, by UN General Assembly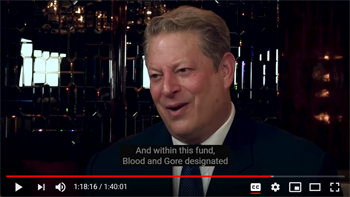 And within this fund, Blood and Gore designated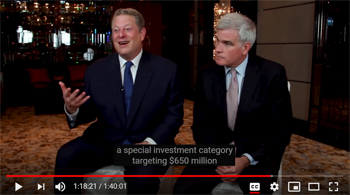 a special investment category targeting $650 million
of biomass and biofuels.
[Al Gore, David Blood, 27 July, 2004]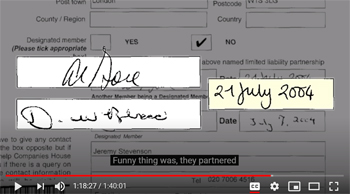 [Jeff] The funny thing was, they partnered
before Al Gore's film came out.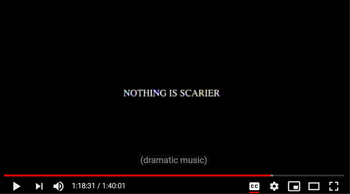 [NOTHING IS SCARIER]
[dramatic music]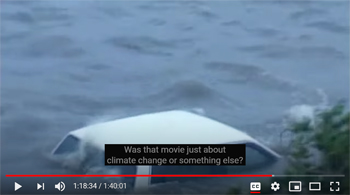 [Jeff] Was that movie just about climate change, or something else?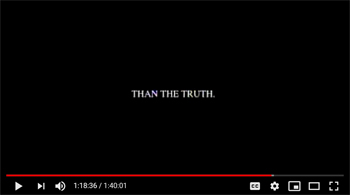 [THAN THE TRUTH]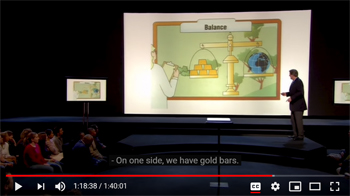 [Al Gore] On one side, we have gold bars.
Mm, mm, mm. [Audience laughing]
Don't they look good?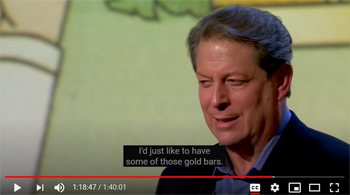 I'd just like to have some of those gold bars.
And on the other side of the scales, the entire planet.
[Audience Laughing]
If we do the right thing,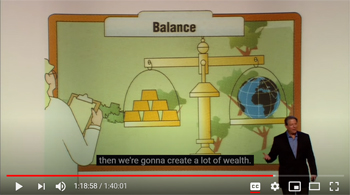 then we're going to create a lot of wealth.
[Jeff] And when it came time for Al Gore
to choose between the entire planet and getting him some
of them gold bars, what choice did he make?
[C-SPAN 2: Global Climate Change. Senate Foreign Relations Committee]
[Jeff] Here's Al Gore earning his keep by pretending to care
about the rain forest, while lobbying Congress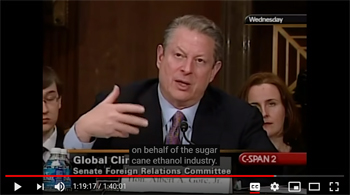 on behalf of the sugar cane ethanol industry.

[Senator Christopher Dodd, D-Connecticut] Let me come in on the Brazilian effort here,
with the issue of the possibility of expanding into
that Amazon River basin, with further deforestation,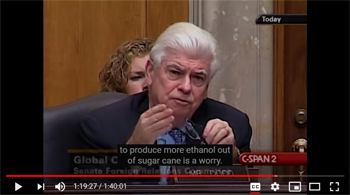 to produce more ethanol out of sugar cane, is a worry.
And apparently, you're not as concerned about that.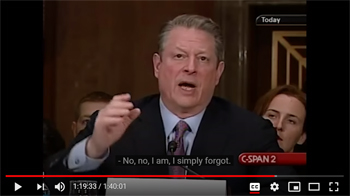 [Al Gore, Alliance for Climate Protection, Founder & Chairman] No, no, I am. I simply forgot.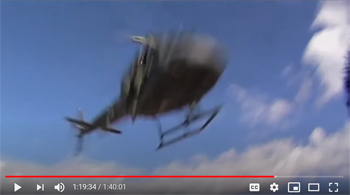 [Motor Roaring]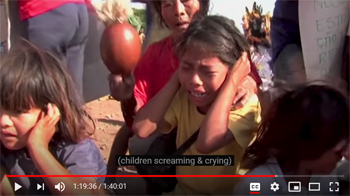 [Children screaming & crying]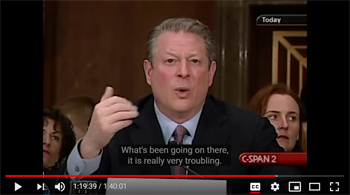 [Al Gore, Alliance for Climate Protection, Founder & Chairman] What's been going on there, it is really very troubling.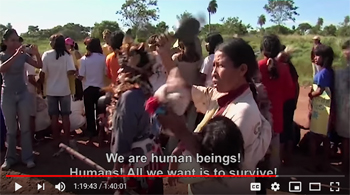 [Indigenous Woman] We are human beings!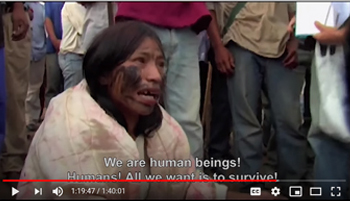 [Indigenous Woman] Humans! All we want is to survive!
[Al Gore] And with your permission, I'll show you a very quick example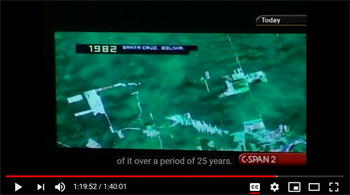 of it over a period of 25 years.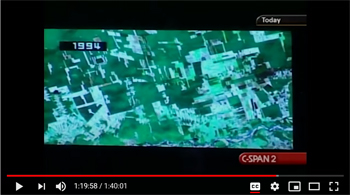 [Loud tapping]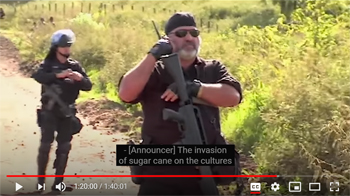 [Newsman] The invasion of sugar cane monocultures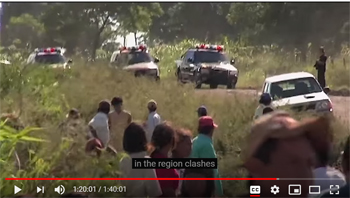 in the region clashes with the indigenous people's right to land.
These are images of a last ditch attempt,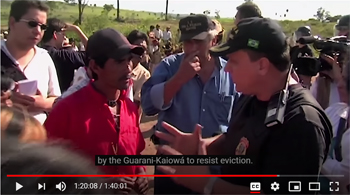 by the Guarani-Kaiowa, to resist eviction.
[December 15, 2005]
[Al Gore, Alliance for Climate Protection, Founder & Chairman] It's important to note that the exploitation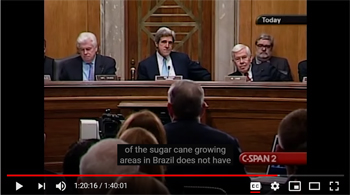 of the sugar cane growing areas in Brazil does not have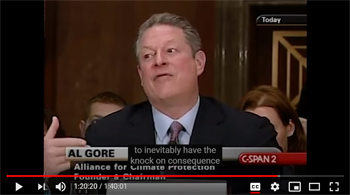 to inevitably have the knock-on consequence
of causing destruction in the Amazon.
knock-on effect (plural knock-on effects): (Britain) A secondary, often unintended effect; a repercussion, chain reaction.

-- knock-on effect, by wiktionary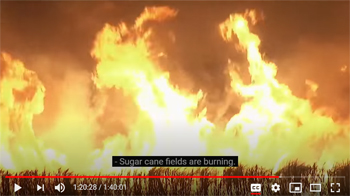 [Newsman] Sugar cane fields are burning.
They're set alight before the harvest,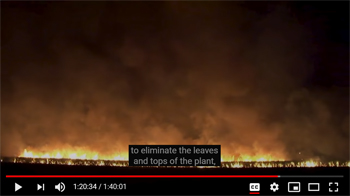 to eliminate the leaves and tops of the plant,
which makes cutting more efficient.
[Somber music]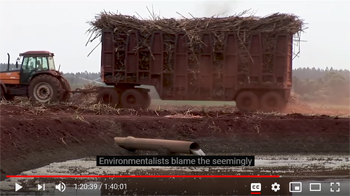 Environmentalists blame the seemingly
endless sugar cane fields for air and water pollution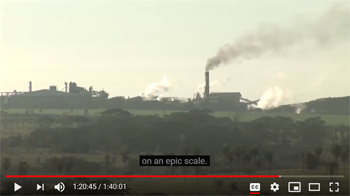 on an epic scale.
And along with deforestation, the threat it poses
to the environment is becoming clear.
[Dramatic music]
[December 15, 2005]
Once the indigenous families were expelled,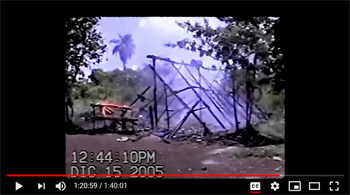 the land owners set their homes on fire.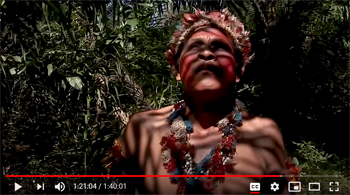 [Dramatic music]
***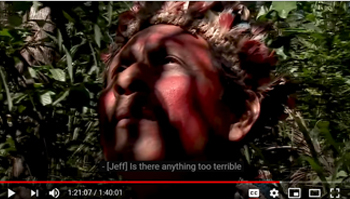 [Jeff] Is there anything too terrible
to qualify as green energy?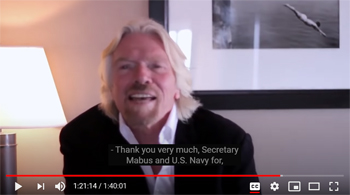 [Richard Branson] Thank you very much, Secretary Mabus and U.S. Navy, for
once again inviting me to speak with you today.
The Navy's work to help launch
this new fuel industry is invaluable.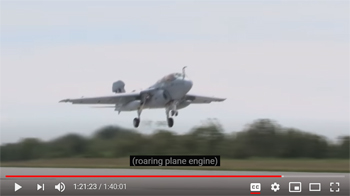 [Roaring plane engine]
[Newsman] The U.S. Navy has a special message
this year: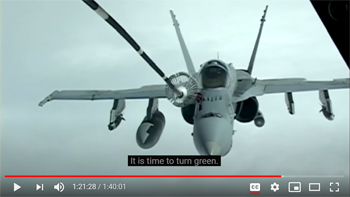 It is time to turn green.
Joining the vessels is what the U.S. Navy calls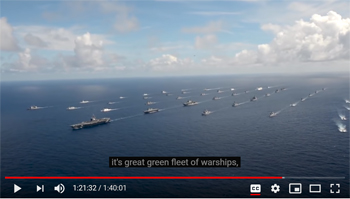 "it's great green fleet of warships,"
powered by fuel from renewable sources, like algae,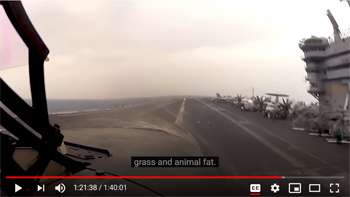 grass and animal fat.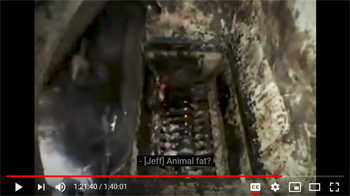 [Jeff] Animal fat?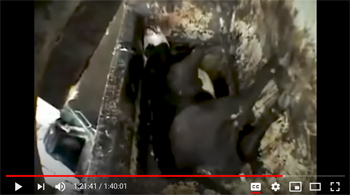 Animal Fat Rendering Plant]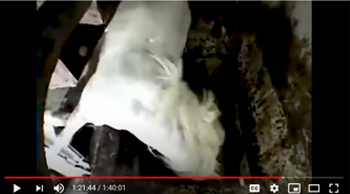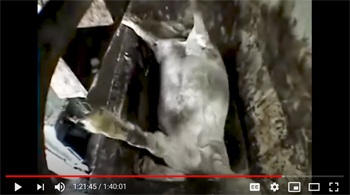 [Thudding and pounding]

[Newsman] [Alternative FUELS] The next time you fill up
at your neighborhood gas station,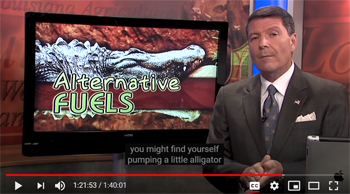 you might find yourself pumping a little alligator
into your tank.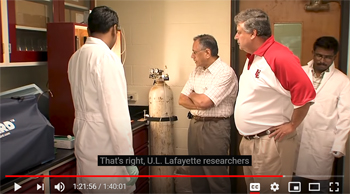 That's right, U.L. Lafayette researchers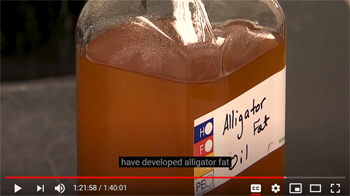 have developed alligator fat
into a renewable source for biofuels.
[GE-Alstom Nuclear Systems: Your technology partner for nuclear power plants]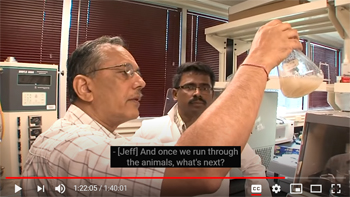 [Jeff] And once we run through the animals, what's next?
-- Delicatessen, directed by Jean-Pierre Jeunet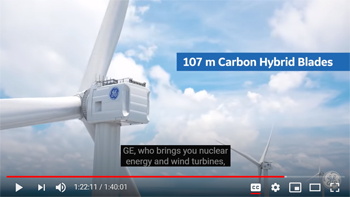 [Jeff] GE, who brings you nuclear energy and wind turbines,
is ready with a plan.
[ecomagination: MADE POSSIBLE BY GE]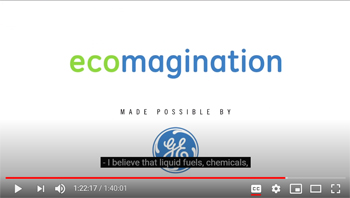 [Scientist] I believe that liquid fuels, chemicals,
are eventually going to have to be made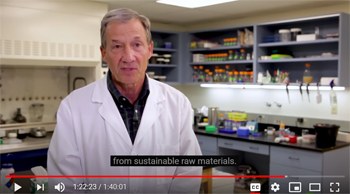 from sustainable raw materials.
We believe that seaweed is one
of the most attractive opportunities.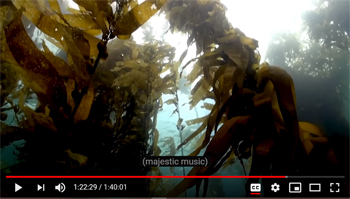 [Majestic Music]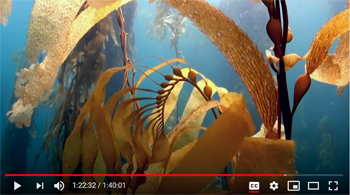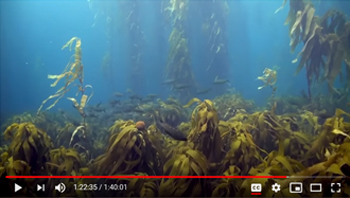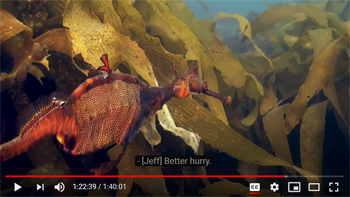 [Jeff] [To Sea Horse] Better hurry.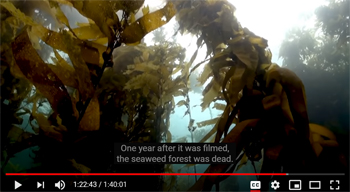 One year after it was filmed, the seaweed forest was dead.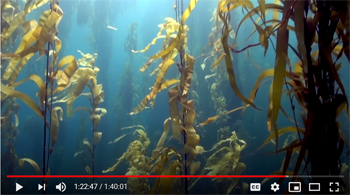 [Somber music]
***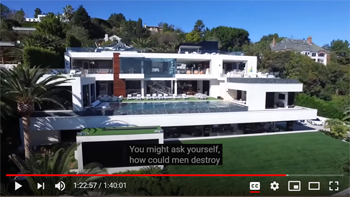 [Jeff] You might ask yourself, how could men destroy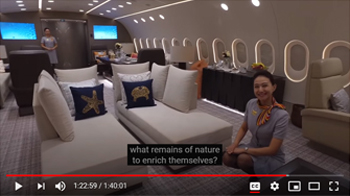 what remains of nature to enrich themselves?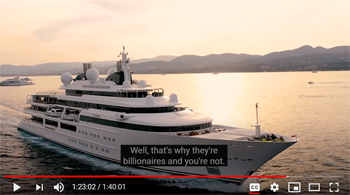 Well, that's why they're billionaires and you're not!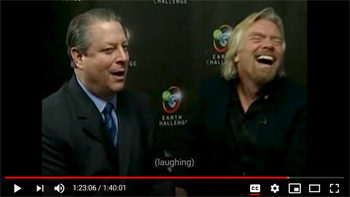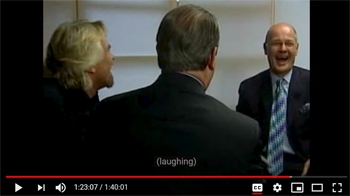 [Al Gore, Richard Branson and Interviewer] [Laughing]

[Jeff] The takeover of the environmental movement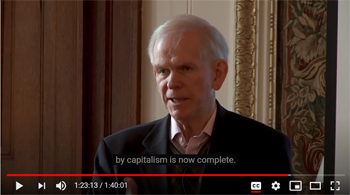 by capitalism is now complete.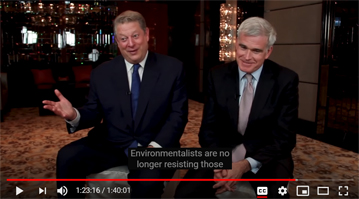 Environmentalists are no longer resisting those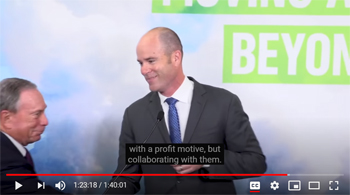 with a profit motive, but collaborating with them.
[The Nature Conservancy: Protecting nature. Preserving life.]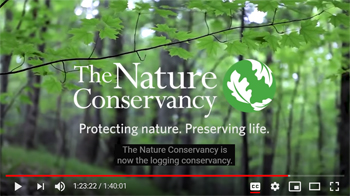 [Jeff] The Nature Conservancy is now the logging conservancy.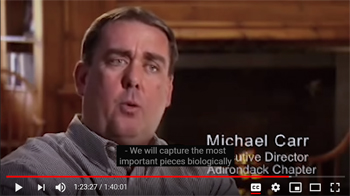 [Michael Carr, Executive Director, Adirondack Chapter, The Nature Conservancy] We will capture the most important pieces biologically.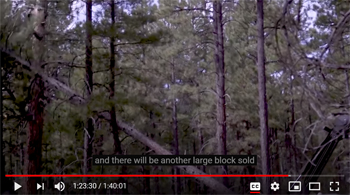 And there will be another large block sold
to timber investment groups.
[Union of Concerned Scientists]
[Union of Concerned Scientists, Inc., Two Brattle Square, Cambridge, Massachusetts 02238-9105. 509a1: to support clean vehicles efforts
$400,000
$562,000
$440,000
$150,000
$550,000
$40,000
$400,000
$425,000
$400,000]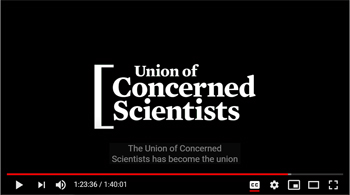 [Jeff] The Union of Concerned Scientists has become the union
of concerned salesman, having taken millions,
not for science,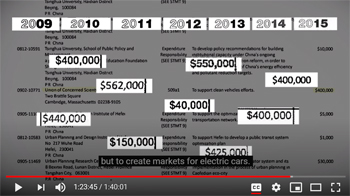 but to create markets for electric cars.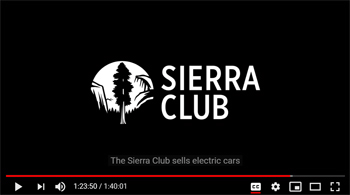 The Sierra Club sells electric cars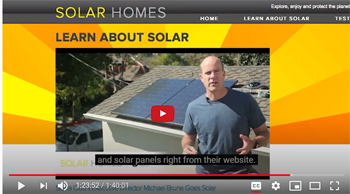 and solar panels right from their website.
[LEARN ABOUT SOLAR]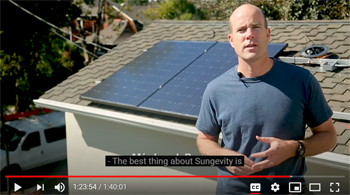 [Michael Brune, Executive Director Sierra Club] [Video] The best thing about Sungevity is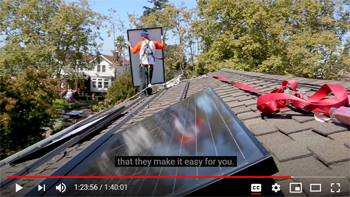 that they make it easy for you.
All that you have to do is to say yes.
[ExxonMobil, produced with TBrandStudio]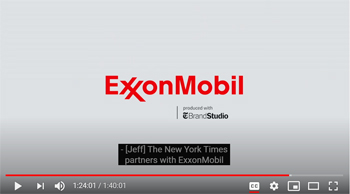 [Jeff] The New York Times partners with ExxonMobil
to bring you the good news about biofuels.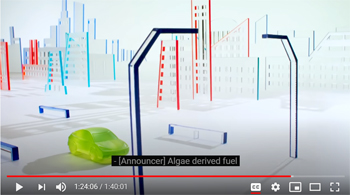 [Announcer] Algae-derived fuel
could help us meet growing demands.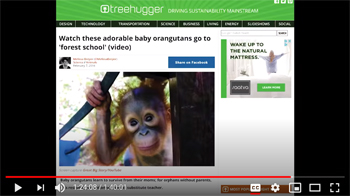 [Jeff] Treehugger.com, which claims
to be the largest single source of environmental news,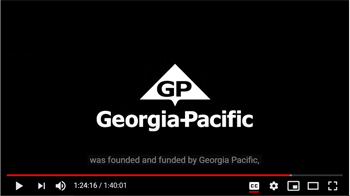 was founded and funded by Georgia Pacific,
a logging company.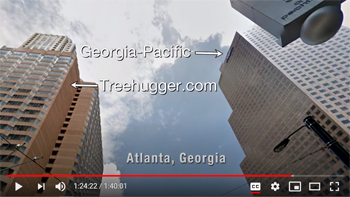 In fact, they are neighbors.
[Atlanta, Georgia – Georgia-Pacific / Treehugger.com]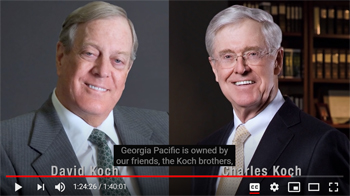 [Jeff] Georgia Pacific is owned by our friends, the Koch brothers,
who are likely the largest recipient
of green energy biomass subsidies in the United States.
[Somber music]
***
[Jeff] Yes, the merger of environmentalism
and capitalism is now complete.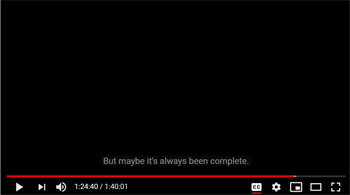 But maybe it's always been complete.
***