PART 1 OF 8
06/21/08: You've Got Issues
Email from
Team@VoteNader.org
Nader/Gonzalez '08
NOTICE: THIS WORK MAY BE PROTECTED BY COPYRIGHT
YOU ARE REQUIRED TO READ

THE COPYRIGHT NOTICE AT THIS LINK

BEFORE YOU READ THE FOLLOWING WORK, THAT IS AVAILABLE SOLELY FOR PRIVATE STUDY, SCHOLARSHIP OR RESEARCH PURSUANT TO 17 U.S.C. SECTION 107 AND 108. IN THE EVENT THAT THE LIBRARY DETERMINES THAT UNLAWFUL COPYING OF THIS WORK HAS OCCURRED, THE LIBRARY HAS THE RIGHT TO BLOCK THE I.P. ADDRESS AT WHICH THE UNLAWFUL COPYING APPEARED TO HAVE OCCURRED. THANK YOU FOR RESPECTING THE RIGHTS OF COPYRIGHT OWNERS.
You've got issues.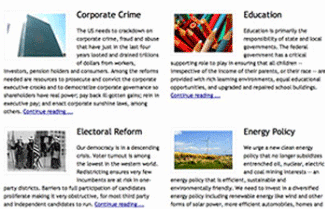 But don't we all?
Yes we do.
And by popular demand.
Lo and behold.
The new, improved - and updated - Nader/Gonzalez issues page.
We've got issues.
Twelve Issues that Matter for 2008
Remember, these twelve issues represent the tip of the political iceberg. But they are indicative of the corporate domination of the Democratic and Republican parties.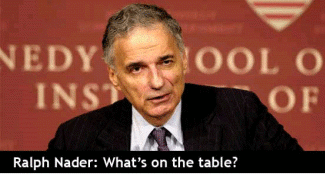 Twelve Issues that Matter for 2008
Adopt single payer national health insurance
Nader/Gonzalez favors a Canadian-style, private delivery, free choice of hospital and doctor, public health insurance system.
Right now, the United States spends $7,129 per capita on health care—more than twice as much per capita as the rest of the industrialized world.
And yet, the United States performs poorly in comparison on major health indicators such as life expectancy and infant mortality.
While other industrialized nations like Canada and Sweden provide comprehensive coverage to their entire populations, the United States leaves 47 million completely uninsured and tens of millions more inadequately covered.
According to an Institute of Medicine report, 18,000 Americans die because they cannot afford health care.
And inability to pay for medical bills is the leading cause of bankruptcies – they currently contribute to about half the bankruptcies in the United States.
In our current system, there are thousands of different payers of health care fees.
This system is a bureaucratic nightmare, wasting $350 billion—close to a third of all health care spending on things that have nothing to do with health care—overhead, underwriting, billing, sales and marketing departments, huge profits and exorbitant executive pay.
In addition, there is over $200 billion in computerized billing fraud and abuse.
Nader/Gonzalez support a single payer system that would save the $350 billion and apply those savings to comprehensively cover everyone without paying more than we already do.
All Americans would be covered for all medically necessary services.
Patients would have free choice of doctor and hospital.
Costs would also be controlled in part by the single payer negotiating fees and making bulk purchases.
References:
Physicians for a National Health Program
Sicko
Healthcare Now
Nader / Obama / McCain
On the table / Off the table / Off the table
Cut the huge, bloated, wasteful military budget
Nader/Gonzalez would cut the bloated, wasteful military budget.
Earlier this year, President Bush announced a military budget of over $600 billion.
And that's not counting the full cost of the war in Iraq and Afghanistan.
The proposed military budget represents 58 cents out of every dollar spent by the U.S. government on discretionary programs - the items that Congress gets to vote up or down on an annual basis.
The Democrats and Republicans have been silent about this rapid escalation in military expenditures, despite many critical reports by the Government Accountability Office and Pentagon auditors.
In fact, they want to increase them.
Barack Obama, for example, has said that he wants to "bump up" the military budget.
Hillary Clinton and Obama have committed themselves to increasing the armed forces by tens of thousands of troops.
John McCain would outdo them both.
As budget analyst William Hartung points out "the United States is already spending more for defense than all the other nations in the world combined."
Hartung points out that tens of billions of dollars are being wasted on systems like the F-22 fighter plane, the V-22 Osprey (a helicopter that can be transformed into a conventional aircraft), the Virginia class submarine, and an unworkable and unnecessary missile defense system.
Right now, the military budget is being used to fuel wasteful, reckless, destabilizing foreign interventions that violate constitutional and international law.
Nader/Gonzalez would cut the military budget to a level needed to protect the country.
References:
Center for Defense Information
Project on Government Oversight
How Much Money Did You Make on the War, Daddy? by William Hartung
Nader / Obama / McCain
On the table / Off the table / Off the table
No to nuclear power, solar energy first
Nader/Gonzalez would no longer subsidize entrenched oil, nuclear, electric, coal mining, and biofuel interests.
Instead, Nader/Gonzalez would invest in an energy policy that is efficient, sustainable and environmentally friendly.
Nader/Gonzalez would invest in a diversified and proven energy policy including renewable energies like wind and other solar power.
The American people have been held hostage for too long by the oil, coal and atomic power industries.
Over seventy percent of our petroleum is now imported at a cost of $600 billion a year – the highest rate of dependency ever.
The nuclear power industry is demanding 100 percent federal government loan guarantees because Wall Street won't loan the money for new nuclear plants without those taxpayer guarantees.
We are long overdue for the changes that need to be made.
Nader/Gonzalez would:
• End subsidies of entrenched oil, nuclear, & coal interests.
• Curtail price gouging with strict law enforcement.
• Invest heavily in renewable energies, including solar and wind technologies.
• Invest in more efficient homes, automobiles, businesses and government facilities.
• Put renewable energy before the wasteful corn ethanol.
Last year Big Oil made record profits. The price of oil has quadrupled since Bush took office and the distribution of wealth has become more polarized.
A new clean energy paradigm means more jobs, more efficiency, greater security and energy independence, environmental protection and increased health for all people.
Nader/Gonzalez will work to create an energy policy that is in the best interest of all the people and the environment we share.
Nader/Gonzalez would cut corporate welfare programs propping up the corn ethanol industry.
From the beginning, Ralph Nader has been opposed to the subsidized ethanol industry as inefficient, environmentally damaging, inflationary, and as the primary fuel sustaining the corporate welfare kings.
In September 17, 2004, the Des Moines Register article reported that Nader took on the ethanol industry while he was campaigning in Iowa.
In April 2008, Nader was in Illinois telling students that corn ethanol is devouring huge acreage, shortening the supply of wheat, soy and other food, and resulting in the increased prices being seen in the U.S. and abroad.
Historically, food prices have been a source of consumer revolt. It has toppled governments in other countries.
It takes as much or more energy to create corn ethanol -- the ethanol includes the burning of coal -- than the energy actually derived from the ethanol.
The production of one gallon of ethanol requires between three and four gallons of water. In a world already plagued with water shortages, this is simply unsustainable.
Since February 2006, the price of corn, wheat and soybeans has increased by more than 240 percent. The price of corn has gone from $1.86 a bushel at the end of 2005 to $4 in 2007 to nearly $6 today.
This dubious "food to energy" policy does the American people no good.
This is hardly a green technology, and it is certainly not sustainable.
As the Berkeley Chemical Engineer Tad Patzek puts it, "in terms of renewable fuels, ethanol is the worst solution -- it has the highest energy cost with the least benefit."
References:
The Ethanol Scam
The Case Against Nuclear Power
Nuclear Information Resource Service
Nader / Obama / McCain
On the table / Off the table / Off the table
Aggressive crackdown on corporate crime and corporate welfare
Corporate crime costs Americans hundreds of billions of dollars a year. Tens of thousands of Americans are killed each year and hundreds of thousands of Americans injured and sickened each year by preventable corporate-bred violence.
From pollution, medical negligence, procurement fraud, product defects, and financial fraud, to antitrust, public corruption, foreign bribery and occupational homicide, corporate crime is widely ignored by politicians – yet acutely felt by all Americans.
Nader/Gonzalez would crack down on corporate crime and violence with a twelve point program:
• Increase Corporate Crime Prosecution Budgets: The Department of Justice's corporate crime division and the Securities and Exchange Commission have been chronically and pitifully under funded and therefore do not have sufficient resources to combat the corporate crime wave in the United States. This results in inadequate investigation, settlement of cases for weak fines and ignoring many corporate crime violators completely. There needs to be a strong corporate law and order will in the White House.
• Ban Corporate Criminals from Government Contracts: The US should enact a tough, serious debarment statute that would deny federal business to serious and/or repeat corporate lawbreakers. The federal government spends $265 billion annually on goods and services. These contracts should not support corporate criminals. These standards should also apply to procurement contracts in Iraq.
• Crack Down on Corporate Tax Avoidance: The US should punish corporate tax escapees by closing the offshore reincorporation loophole and banning government contracts and subsidies for companies that relocate their headquarters to an offshore tax haven. The IRS should be given more power and more budgetary resources to go after corporate tax avoiders. Publicly-traded corporations should be required to make their tax returns public.
• Democratize Corporate Governance: Shareholders should be granted the right to democratically nominate and elect the corporate board of directors by opening up proxy access to minority shareholders and introducing cumulative voting and competitive elections. Shareholders should be given the power to approve all major business decisions, including top executive compensation. Shareholders should be treated as the owners of the corporation – since, in fact, that is what they are.
• Expand Corporate Disclosure: Corporate sunshine laws should be enacted that require corporations to provide better information about their records on the environment, human rights, worker safety, and taxes, as well as their criminal and civil litigation records.
• Rein in Excessive Executive Pay: Shareholder authorization should be required for top executive compensation packages at each annual shareholder meeting. Stock options, which now account for about half of the executive compensation, should be counted on financial statements as an expense (which they are). Tax deductions for compensation 25 times above the compensation received by the lowest paid worker in a corporation should be eliminated, as recommended by the famous business guru Peter Drucker.
• Fix the Pension System: Corporations must be held more responsible for the retirement security of their employees. At a minimum we need to give workers a voice on the pension board; not require workers to stuff their 401(k) plans with company stock; and give workers the right to control their 401(k) plans. In addition, an Office of Participant Advocacy should be created in the Department of Labor to monitor pension plans.
• Restore the Rights of Defrauded Investors: Repeal the self-styled securities reform laws that block defrauded investors from seeking private restitution, such as the private Securities Litigation Reform Act of 1995, which allowed the aiders and abettors of massive corporate crime (e.g., accountants, lawyers, and bankers) to escape civil liability.
• Regulate Derivatives Trading: All over-the-counter financial instruments, including derivatives, should be subjected to the same or equivalent audit and reporting requirements as other financial instruments traded on stock exchanges. Rules should be enacted regarding collateral-margin, reporting and dealer licensing in order to maintain regulatory parity and ensure that markets are transparent and problems can be detected before they become a crisis.
• End Conflicts of Interest on Wall Street: Enact structural reforms that separate commercial and investment banking services and prevent other costly, documented conflicts of interest among financial entities, such as those that have dominated big banks and security firms in recent years. The recent instability, deception and bailouts on Wall Street provide the immediate reasons for such reform.
• Track the Extent and Cost of Corporate Crime: The Department of Justice should establish an online corporate crime database. Also, just as the FBI issues an annual street crime report, "Crime in the United States," it should also publish an annual report on corporate and white collar crime with recommendations.
• Foster a National Discussion on Corporate Power: Establish a Congressional Commission on Corporate Power to explore various legal and economic proposals that would rein in unaccountable giant corporations. The Commission should seek ways to improve upon the current state corporate chartering system in a world of global corporations and propose ways to correct the inequitable legal status of corporations as "persons." The Commission would be led by congressionally-appointed experts on corporate and constitutional law, and should hold citizen hearings in at least ten cities followed by a public report and recommendations.
References:
Taming the Giant Corporation
The Corporation
Center for Corporate Policy
Free Lunch: How the Wealthiest Americans Enrich Themselves at Government Expense (and Stick You with the Bill)
Nader / Obama / McCain
On the table / Off the table / Off the table