Act & Punishment: The Pussy Riot Trials -– Illustrated Screenplay
produced, written and directed by Evgeny Mitta
© 2018 MVD Visual
Cleopatra Entertainment in Association with 2Plan2 and Paperworks Present "Act & Punishment" Mariya Alyokhina, Alexander Cheparukhin, Ekaterina Dyogot, Boris Groys
Music & Sound Design by Demian Kurcheko, Edited by Igor Malakhov, Cinematographer Vladimir Kanareykin, Alexander Kuznetsov, Igor Malakhov
NOTICE: THIS WORK MAY BE PROTECTED BY COPYRIGHT
YOU ARE REQUIRED TO READ

THE COPYRIGHT NOTICE AT THIS LINK

BEFORE YOU READ THE FOLLOWING WORK, THAT IS AVAILABLE SOLELY FOR PRIVATE STUDY, SCHOLARSHIP OR RESEARCH PURSUANT TO 17 U.S.C. SECTION 107 AND 108. IN THE EVENT THAT THE LIBRARY DETERMINES THAT UNLAWFUL COPYING OF THIS WORK HAS OCCURRED, THE LIBRARY HAS THE RIGHT TO BLOCK THE I.P. ADDRESS AT WHICH THE UNLAWFUL COPYING APPEARED TO HAVE OCCURRED. THANK YOU FOR RESPECTING THE RIGHTS OF COPYRIGHT OWNERS.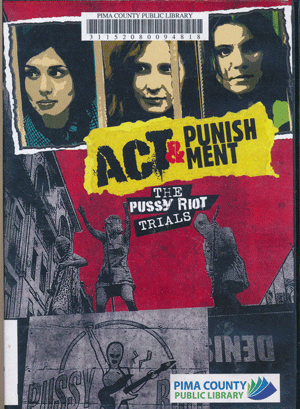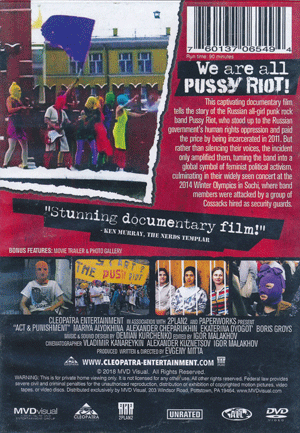 [Tolokonnikova Nadezhda Andreevna] You know the situation well. You know there's no one behind you. Not Berezovsky, nor Guelman, nor the U.S. State Department. That your action wasn't ordered by anyone, that you act of your own accord, by intuition, that you write songs and texts with your own brain, no one does it for you. Whenever we wrote something longer than two paragraphs, people said it couldn't be the girls, because they're stupid, someone must be controlling them.

-- Act & Punishment: The Pussy Riot Trials, produced, written and directed by Evgeny Mitta
After a decade of President Vladimir Putin's authoritarian rule in which civil society seemed to be comatose, a new protest movement is growing in Russia. Infuriated by electoral fraud and galloping corruption, the so-called "creative class" is fighting back by means of music, poetry, multi-media, and daring art performances. In this presentation, Artem Troitsky gave a firsthand account of the situation.

Artem Troitsky is the first, and best known, Russian rock journalist, author of Back in the USSR: The True Story of Rock in Russia and Tusovka: Whatever Happened to the Soviet Underground Culture. He currently teaches in the Journalism Department of Moscow State University, hosts TV and radio shows (including on Ekho Moskvy), writes for Novaya gazeta, is

a member of the board of Greenpeace Russia

, and is a well-known blogger and opposition activist.

-- Enemies of the State: Pussy Riot and the New Russian Protest Rock, by National Endowment for Democracy, Part of IERES' Behind the Headlines Series, Co-sponsored with the National Endowment for Democracy's International Forum for Democratic Studies with Artem Troitsky, Moscow State University
She has been involved in environmental activism with Greenpeace Russia, opposing development projects in the Khimki Forest, and was a volunteer at the Children's Psychiatric Hospital in Moscow.

-- Maria Alyokhina, by Wikipedia
In December 2016, Maria Alyokhina and music producer Alexander Cheparukhin started a new project – Pussy Riot Theatre with Riot Days

- a play based on Alyokhina's book Riot Days (published in UK in Summer 2017). There are 4 people on stage: 2 women and 2 men. Maria Alyokhina herself, Kyril Masheka - her main stage partner plus Nastya and Max of the music duo AWOTT (Asian Women On The Telephone).

The project is produced by Alexander Cheparukhin and directed by Yury Muravitsky - one of the leading Russian theatre directors.

-- Pussy Riot Theatre, by Kulturfabrik
Alexander Cheparukhin, a music promoter and the founder of Greenwave Music (which has organized performances in Russia by Michael Nyman, Kraftwerk, Kronos Quartet, and others), recently shared a previously unreleased video interview from June 1990 with Boris Yeltsin in honor of what would have been the late president's 87th birthday. An environmental activist at the time, Cheparukhin spoke to Yeltsin aboard a train car headed from Moscow to Riga. Austrian journalist Werner Kreutler was along for the ride. Just days earlier, Yeltsin had been elected to serve as chairman of the Presidium of the Supreme Soviet of the Russian Soviet Federative Socialist Republic. Meduza summarizes this new footage of Boris Yeltsin.

On Facebook, Alexander Cheparukhin described the interview in detail, writing about his ecological projects from the Perestroika period, which allowed him to start traveling abroad. During that time, he was also involved with a group that assisted sick children, and part of his work included bringing children with leukemia from Minsk to Europe for treatment. This is how he met the Austrian journalist Werner Kreutler. They began reporting on politics together and both became Boris Yeltsin "fanatics."-- 'In the Politburo, they were ready to betray, besmirch, and defile' Now you can watch a previously never-before-seen interview with Boris Yeltsin from June 1990, by Medusa Project
To live in harmony with Nature and with each other has always been, and remains, the eternal aspiration of Mankind. Today this aspiration is clouded by the threat of nuclear war and global ecological catastrophe

, while the destruction of Nature and of cultural values is evoking ever-greater protest. Now the time has come for concrete, constructive action.

We, representatives of the Association of

Soviet Esperanto-speakers

, of the

Union of Soviet Societies of Friendship and Cultural Ties with Foreign Countries

, of the

Association "Ecology & Peace,"

, of

the Soviet Peace Committee

, of

the Soviet YCL

, of

the Geographical and Philosophical Societies of the USSR

, of

the All-Russian Society for Protecting Nature

, of

the Youth Environmental Council of Moscow State University

, and of

the Moscow Society of Explorers of Nature

, propose to hold annually henceforth an International Green Wave of Voluntary Ecological Action -- beginning in April in honour of the first flight of Man into Space when, through the eyes of Yuri Gagarin, people saw for the first time our Planet as their common and only home, and ending on World Environment Day (5 June).

-- Appeal of the Initiators of "The Green Wave" of Voluntary Ecological Action, by Alexander Cheparukhin, Chairman
The largest environmental NGOs survived the 1990s, in many cases by relying on funding from foreign governments and foundations to continue their work; small grass-roots groups also persisted, working on local issues...

Within the broader environmental movement, environmental organizations tend to fall into three broad categories (Henry 2010). First,

there are a limited number of "professional" environmental organizations, such as WWF and Greenpeace, which are based in Moscow or regional capitals

. In the second category are grassroots environmental organizations... Finally, in the third category are a number of government-sponsored environmental NGOS that receive funding from state programs and that work closely with state agencies to help them achieve their goals....

Many environmental NGOs in Russia were able to operate in the post-Soviet period due to foreign funding for their work from governmental donors such as USAID, the UK's DIFD, and private foundations

. Larin and his co-authors describe environmentalists' struggle to continue their work in the 1990s as state funding for nature protection declined and few domestic alternatives emerged (Larin et al. 2003). Foreign support influenced the development of the environmental movement. To survive, NGO representatives proposed projects on issues that interested foreign funders and environmentalists who had facility in foreign languages were more likely to successfully obtain grants. Contact with foreign partners offered the opportunity to exchange ideas as well as develop organizational capacity and new kinds of expertise. Globalization, Russia's integration into global consumer society, and the country's emerging role as a natural resource provider also changed the "master frames" of environmentalists (Yanitsky 2010, 191–194). This international orientation also may have increased the distance between environmentalists and average Russians, however....

The Putin administration offers rhetorical concessions to some environmental campaigns but largely resists environmentalists' demands, in part by portraying activists as anti-Russian and by insinuating that environmental groups receiving funds from abroad do not work in Russia's national interest. In recent years, the government has attempted to more directly regulate NGOs.

Among environmental NGOs, groups such as EWNC, Baikal Wave, and Greenpeace, as well as a number of regional groups have had their offices inspected and their documents and computers confiscated. Criticism of NGOs receiving funding from abroad led to the 2012 Law on Foreign Agents, which requires that public organizations receiving foreign funding and engaging in "political activity" register as "foreign agents," pay significant fines, or cease operating. In May 2015, the Ministry of Justice listed 127 NGOs on its foreign agent register, including at least 20 organizations with an explicitly environmental purpose (Ministry of Justice, Russian Federation n.d.). Technically, "the protection of flora and fauna" is excluded from the definition of political activity, but representatives of environmental groups have been cited for activities such as attending public meeting and making written appeals to the authorities. Given that the term "foreign agent" has the negative connotation of traitor or spy, most organizations have vowed that they would fight the designation in court. In July 2014, Moscow-based anti-nuclear organization Eco-Defense, which receives funding from the EU and several German foundations, was declared a foreign agent

. Vladimir Slivyak, the leader of Eco-Defense, initiated a court case to have the decision overturned.

-- The state of environmental protection in the Russian Federation: a review of the post-Soviet era, by Joshua P. Newell & Laura A. Henry
As Olga Tsepilova left a political opposition rally in St. Petersburg, Russia, last April, a member of the special forces police squad descended upon her. With a full overhead swing, he cracked Tsepilova in the face with his nightstick, fracturing her nose and cheekbone, sending her to the hospital for a month.

Tsepilova, 49, a sociologist and senior research fellow at the Russian Academy of Sciences, has run afoul of state authority before. In 2004, she hoped to study the social consequences of pollution in Russia by focusing on two closed nuclear zones. One of them, the town of Ozyorsk in the southern Urals, is the site of the infamous Mayak nuclear facility. Now a nuclear-fuel reprocessing plant, Mayak suffered the Soviet Union's largest pre-Chernobyl nuclear accident, an explosion in 1957 that spread radiation over an area of 14,300 sq. mi. (23,000 sq km). Scientists say the area has never been adequately decontaminated....

The Komsomolskaya Pravda newspaper, noting that the U.S.'s National Endowment for Democracy provided some of Tsepilova's funding, labeled her research project a "spying scandal."....

Far from improving the situation at Mayak and other troubled sites, the Federal Atomic Energy Agency has been importing waste from foreign countries, turning nuclear sites in the Urals and elsewhere into what Greenpeace says are some of the world's largest nuclear dumps. To help lift the veil of nuclear secrecy that has persisted since the Soviet Union's disintegration, Tsepilova has joined the liberal opposition Yabloko party as head of its green wing, and is running in December's election for the Duma, Russia's lower house of parliament.

-- Olga Tsepilova, by Brett Forrest
We were accused of not having scored any victories in our campaign against the law-breaking pig producers. I had to explain that we have won victories, albeit small ones, and that

in conditions of total corruption it would be pointless to expect quick and easy victories in the fight against dirty businessmen

. That it would be much easier for me if in the district as a whole and in every village and farm we had active assistance. It is one thing when two or three witnesses come to a court hearing and testify that it stinks where they live, and quite another if hundreds of people would gather in the square outside the court and

demand that Kievo-Zhuraki Agribusiness JSC stop poisoning people's lives. Perhaps the judge, even if he or she had been "inspired" by their superiors, would find it much more difficult morally to hand down an unjust ruling.

And I also said that Kievo-Zhuraki Agribusiness JSC had stocked up on all sorts of certificates and evaluations approving their operations, and that was all the officials who inspected them needed to see. In reality,

nobody had really inspected the pig producers and punished them....The regime despises the people, and the people despise this regime. They despise it and fear it. It is a vicious circle. To paraphrase the famous saying, every people deserves the regime it tolerates....

Why is Kievo-Zhuraki Agribusiness JSC planning to raise cows outside of Maykop while it breeds pigs in the Teuchezhsky District?... Because in practical terms, excuse my use of jargon, the Muslim population has been "punked," meaning it has been humiliated to the point where people have lost their self-esteem. Humiliated people are easier to manage: you can wrap them round your little finger....The Holy Quran forbids the faithful from eating pork, except in cases when they are forced to eat it. But who or what has forced the Adyghe to breathe manure-polluted air and swim in ponds poisoned by sewage? Nothing but cowardice and a lack of self-esteem. How does living in filth differ from the consumption of pork? For, according to the Quran, the pig is considered a dirty animal, because it lives in filth. But the residents of the Teuchezhsky District also, as a matter of fact, live in filth. It turns out that the stench from Kievo-Zhuraki Agribusiness JSC's pig farm poisons not only people's bodies but also their souls.

People used to sing,

"No one will grant us deliverance,
No god, no tsar, no hero.
We will win our liberation,
With our very own hands."

Now they sing completely different songs, songs tolerant of the powers that be and the shit they generously reward people for their obedience. And they themselves place their hope in God, fear the tsar, and hope a hero will save them. No hero will save you, my dear fellow countrymen, until you cease being afraid of tsars. And God will not help you until you roll up your sleeves. The Russians have a saying: "God helps those who help themselves." And the great French thinker Voltaire argued that God helps those battalions that shoot best. So when are we going to start shooting better, villagers?

-- Silence of the Lambs, by Valery Brinich
Yesipyonok is convinced there are no statements in the article "The Silence of the Lambs" that could be construed as extremist or offensive.

"Rather than supporting Valery Brinikh in his fight to preserve a clean environment, the law enforcement authorities of the Republic of Adygea have organized his criminal prosecution by arbitrarily interpreting the laws, committing numerous procedural violations, and engaging in flagrant psychological pressure," he wrote in a letter to the editors of Open Russia....

The Presidential Human Rights Council has announced it will be monitoring the Brinikh case. Council chair Mikhail Fedotov and

Greenpeace Russia's executive director Sergei Tsyplenkov studied the situation when they visited Adygea during a field meeting of the council in Krasnodar Territory from December 15 to 17.

-- "The silence of the lambs": why the smell of manure must be endured, by Elena Borovskaya
German doctors say there is a "high plausibility" that a member of the Russian protest group Pussy Riot, who was taken ill in Russia last week, was poisoned.

Speaking at a press conference Tuesday, Dr. Kai-Uwe Eckardt of the Berlin Charite Hospital said that an external substance appears to have affected Pyotr Verzilov's nervous system.

Doctors have been unable to determine the nature of the substance or the source, he said, adding that while the activist remains in intensive care, his life is no longer in danger.

"The information we currently have... shows a high plausibility that poisoning has taken place here," Eckardt said. "To turn it around, so far we have no indication that there might be another explanation for his state."

The announcement adds weight to claims made by other Pussy Riot members on Thursday that Verzilov was poisoned in Russia. The Russian punk band -- known for obscuring their identities with colorful balaclava-style masks -- is an outspoken critic of the Putin government.

Speaking at a press conference Tuesday, Pussy Riot founding member Nadezhda Tolokonnikova said that Verzilov was probably the victim of an "assassination attempt," alleging that multiple law enforcement agencies in Russia have been "trying to find a way to get to Pyotr."...

Following treatment in Moscow, Verzilov flew into Berlin on Saturday, according to Germany's Cinema for Peace Foundation, a non-profit humanitarian group that has previously advocated for Pussy Riot and which organized the flight....

"The attack (last week) is regarded as revenge for appearing in the World Cup final to support human rights in Russia," said the Cinema for Peace Foundation in a statement Sunday.-- Pussy Riot member Pyotr Verzilov was probably poisoned, German medics say, by Atika Shubert, Stephanie Halasz and Judith Vonberg
With his Berlin-based production company Star Entertainment Jaka Bizilj is the founder and since 2002 the largest financial sponsor of the global Cinema for Peace initiative, which has been reaching billions of people via media coverage and could collect more than 10 million USD for charity, confirmed by external audit. Since its inception in 2008 Jaka Bizilj also volunteers as Chairman of the Board of Directors of the Cinema for Peace Foundation....

Jaka Bizilj is a member of the Clinton Global Initiative

and collaborates with and supports, among others, UNICEF, Unifem, Amnesty International, ONE, amfAR, Richard Gere's work for Tibet and the International Campaign for Tibet....

On the occasion of the 12 IAAF World Championships in Athletics in Berlin 2009 he launched together with Gerhard Janetzky the initiative "Sports for Peace". This was preceded in 2008 by a unilateral appeal in the International Herald Tribune on the occasion of the Olympic Games, signed by more than 100 world champions, Olympic champions and world record holders in order to remind China to live up to the Olympic ideals and universal human rights.

The first "Sports for Peace" Awards were presented at the "Sports for Peace" inauguration 2009 to IOC Vice President Sergey Bubka, Laureus ambassador Dr. Edwin Moses and those players of the Iranian national football team, who wore green wristbands during their match against South Korea, thus expressing their solidarity with the freedom and democracy movement in Iran.

-- Jaka Bizilj, by Wikipedia
Clinton saw Yeltsin as a significant figure in Russian history, and he tried to convey that at various points. At a meeting in May 1998, Clinton said, "You know, Boris, we really are working with the stuff of history here. I'm convinced that 20 years from now, when the Russian economy is booming, people will look back and say we were right; we did the right things. I just hope you get all the credit you deserve while you're still around, because you've done a terrific job of leading your country during one of the two or three most important moments in Russian history."

-- Bill and Boris: A Window Into a Most Important Post-Cold War Relationship
by James Goldgeier: Memorandum of Conversation, "President Boris Yeltsin of Russia," Birmingham, England, May 17, 1998
******************************************************************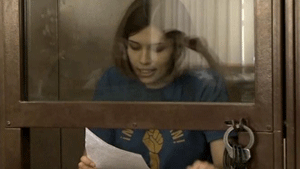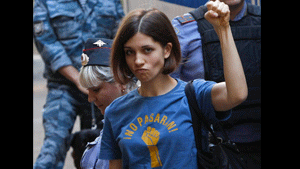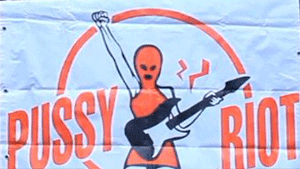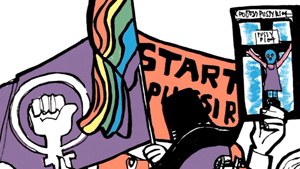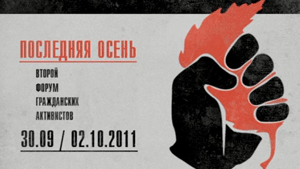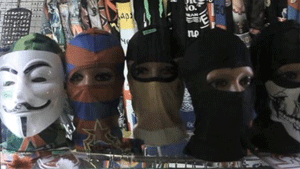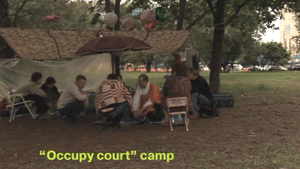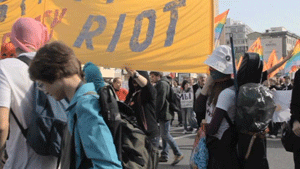 "Pussy Riot" is a cover for "Riot."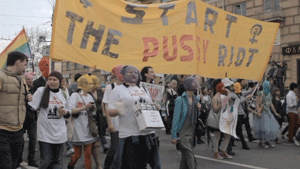 START THE PUSSY RIOT
Epistle I.

AWAKE! my C …. have all things beside,

To low ambition, and to Scottish pride:

Let us (since life can little more supply,

Than, just to fight a duel … and to die)

Expatiate, freely, upon Woman-kind;

And trace, the mighty errors of her mind;

Mark where her thousand weeds, promiscuous, shoot;

And, fearless, cultivate forbidden fruit:

Together, let us trace this ample field;
Try, what the open, what the covert yield;
The artful tricks, and pretty flights explore,
Of ev'ry coy, and every willing whore:

Eye, all her walks; shoot folly, as it flies;

Notice her actions, as to fight they rise:

Blame, where we must; but laugh, where e'er we can;

And shew, that Woman is the Foe of Man.

Of God above, or Woman here low,

What can we reason, but from what we know?

Of her, what see we but her station here,

From which to reason, or to which refer?

Through worlds unnumber'd though the God be known,

Woman's acknowled'd only in our own.

Woman, presumptuous! would the reason find;
Why she is form'd so little, and so blind?
But let her first the harder reason guess,
Why she is form'd no blinder, and no less?

Ask of her mother, Earth, why oaks are made

Taller, or stronger, than the weeds they shade?

Woman respecting, what most wrong we call.

May, must be right, as relative to all.

That woman's helpless, say not … heaven in fault;

Say rather … she's as perfect as she aught:

Her knowledge, measured to her state and place,

Her time, a moment; and a point, her space.

Heav'n from us all conceals the book of fate,

Or who would wed the woman he must hate?

The girl thy passion dooms a lawful prey,
Had she thy reason, would she sing, and play?
Pleas'd to the last, she yields her virgin charms,
And hugs her dear destroyer in her arms.
Oh! blindness to the future, not to see
Her two worst enemies are, love and thee;
From whom to endless ruin she is sent,
Her fatal passion is her punishment,
Hope springs eternal in the female breast,
Women ne'er are, but always to be blest:
The girls uneasy and confin'd, will run
From dear mamma to us, to be undone.

Lo! the poor Indian, whose untutor'd mind,

With European taste all unrefin'd.

Who never saw or masquerade or play,

Nor shone at court on George's natal day;

Yet simple nature to her hope has given,

In her dear tawny Lord, an humbler heav'n:

To be, contents her natural desire,

She asks no angel's wing, no seraph's fire;

But thinks, she has all blessings in her eye,

Her dusky lover in her company.

Go! wiser thou, and in thy nervous lines,

Where all the strength of composition shines,

Call imperfections to the face of day,

And d…. the needy players who work for pay:

Say, here they rant, and there too much they whine,
Heed not their fears, thy business is … to dine.

Ask, for what end the sparkling brilliants shine?

The woman … ever modest … cries, for mine;

For me the artist tries his utmost power,

And forms, from gems, the artificial flower;

Annual, for me, returning winter comes;

For me prepares ridottos, masks, and drums;
For me, joy gushes from a thousand springs;
And forty-shilling actors soar to Kings;

Chairmen to waft me, boys to light me rise,

And all the pit is wounded by my eyes.

But errs not nature from her kind intent,

When female minds, on mischief ever bent,
Delight to torture where they ought to please.
And yield their own to blast another's ease?

"No, (tis reply'd) the females have no flaws.

"And too woman, act by gen'ral laws;

"Without exception do what ills they can;

"Their only aim to hurt, to injure mann."

If the great end be human happiness,
And woman deviates … shall man to less?
As much that end a constant course requires,
Of showers and sunshine, as of their desires;
As much eternal springs and cloudless skies,
As woman, ever temperate, calm, and wise.
If plagues and earthquakes heav'ns design fulfill,
Why should not man o'er woman have his will?

Better for us, perhaps, it might appear,

Were you a mitre'd priest, and I a peer;

But trust me, C …, those, who better know,

Have long determin'd it shall not be so.

Thus all subsists by politics and strife,
And passions are the elements of life.
The gen'ral order, since the whole began,
Is not in woman, but is kept in man.

What would these girls? now upwards will they soar,

And little less than angels, would be more;

Now look around, and just as griev'd appear,

They are not mothers in their fifteenth year:

Made for their use, all creatures will they call;

Say, what their use, had they the powers of all?

Kind to the sex, in rich profusion kind,

Shape, beauty, wit, dame Nature as assign'd;

Shall she then only, whom a wit we call,

Be pleas'd with nothing, if not bless'd with all?

A woman's bliss, could pride that blessing find,

Is, not to think or act beyond her kind.

No powers of body or of soul to share,

But what her nature and her state can bear,

Why have no women microscopic eyes?
For this plain reason … women are not flies.
Say, what their use, were finer optics giv'n,
To inspect a mite, not comprehend a heav'n?
Cease then, nor rudely let us seem to blame;
Our proper bliss is centred in the dame:
Let us submit, in this our humble sphere,
Content to be as blest as we can bear:
Safe in the hands of one all-charming wife,
Calm let us tread the rugged path of life;
And, spite of truth, in fair conviction's spite,
Still let us say, and swear, that WOMAN'S RIGHT.-- An Essay on Woman, in Three Epistles, by John Wilkes [Member of The Hellfire Club]
-- A Decade of Change: Profiles of USAID Assistance to Europe and Eurasia, by USAID
-- Russian Environmentalists Brand U.S. Green Party Putin "Accomplices", by Damien Sharkov
-- A U.S. Backed Military Junta in Egypt Was Always the Plan, by Patrick Henningsen
-- Anonymous Targets Iran, by Curt Hopkins
-- The Challenge Ahead in Eastern Ukraine, by Askold Krushelnycky
-- The Third Russian Revolution, by Harlan Ullman
-- Boris Berezovsky (businessman), by Wikipedia
-- Alexander Goldfarb (biologist), by Wikipedia
-- Boris Berezovsky finances revolutions and plots to overthrow Putin - but it's his newspaper antics that are really entertaining, by The Guardian
-- Boris Yeltsin presidential campaign, 1996, by Wikipedia
-- Godfather of the Kremlin? The Decline of Russia in the Age of Gangster Capitalism and Boris Berezovsky and the looting of Russia, by Paul Klebnikov
-- Marat Guelman, by Wikipedia
-- Russians Expose U.S.-U.K. Terror Role After School Massacre, Excerpt from 9/11 Synthetic Terror Made in USA, by Webster Griffin Tarpley [Chechens]
-- Semibankirschina [The Seven Bankers], by Wikipedia
-- Spinning Boris, by Wikipedia
-- Why Russia produces (and quashes) so much radical art, by Marat Guelman
-- Yanks to the Rescue: The Secret Story of How American Advisers Helped Yeltsin Winby Michael Kramer
-- Central and East European Law Initiative (CEELI): Country Strategies for the Rule of Law Program for Albania, Bulgaria, Croatia, Czech Republic, Estonia, Hungary, Latvia, Lithuania, Macedonia, Poland, Romania, and Slovakia, Submitted to The U.S. Agency for International Development, by American Bar Association
-- Color Revolutions 101: The Making Of A Controlled Revolution, by Brandon Turbeville
-- The History And Science Of Color Revolutions, by Brandon Turbeville
-- How the National Endowment for Democracy Manufactures Regime Change Around the World, by Derek Royden
-- Is The Balkans the New Latin America? Bulgarian Paper Says "CIA Is Tutoring Serbian Group, OTPOR, OTPOR!", by Jared Israel
-- Libyan Scenario For Syria: Towards A US-NATO "Humanitarian Intervention" directed against Syria?, by Rick Rozoff
-- "Manufacturing Dissent": The Anti-globalization Movement is Funded by the Corporate Elites. The People's Movement has been Hijacked, by Prof Michel Chossudovsky
-- Ten Years Ago: "Manufacturing Dissent" in Seattle, by Michel Chossudovsky
-- Michel Chossudovsky on the OWS Movement & The Libyan War, by Potent News
-- National Endowment for Democracy of US, by B. Raman
-- Occupy Wall Street and "The American Autumn": Is It a "Colored Revolution"?, by Michel Chossudovsky
-- Promoting Polyarchy: Globalization, U.S. Intervention, and Hegemony , by William I. Robinson
-- Resolution on the Misuse of U.S. Government "Democracy Promotion" Initiatives: Undermining Progressive Governments and Movements in the Americas, by National Lawyers Guild International Committee
-- Revolution U, by Tina Rosenberg
-- Semper Fi: Occupy Marines Bringing Reinforcements to Occupy the Nation, by Stephen D. Foster, Jr.
-- Systemic Propaganda and the Branding of Nations in Central and Eastern Europe*, by Gerald Sussman
-- The Albert Einstein Institution: non-violence according to the CIA, by Thierry Meyssan
-- The Color Revolution Virus and Authoritarian Antidotes: Political Protest and Regime Counterattacks in Post-Communist Spaces, by Abel Polese and Donnacha O Beachain
-- The East Turned Upside Down: Carnival and Conspiracy in Ukraine, by Jesse Walker
-- The new Gladio in action? "Swarming Adolescents" and "Rebellious Hysteria," by Jonathan Mowat
-- The Protest Movement in Egypt: "Dictators" Do Not Dictate, They Obey Orders, by Michel Chossudovsky
-- The Revolution Business, Report by Patrick A. Hafner and Alexander Steinbach
-- The Tulip Revolution takes root, by Pepe Escobar
-- "To Be Partly Controlled by the CIA? That Doesn't Bother Me Much": Interview with Two Activists of the OTPOR Student Movement, by Gerard Mugemangango & Michel Collon
-- US campaign behind the turmoil in Kiev, by Ian Traynor
-- U.S. Cash Is Lifeblood Of Dozens of NGOs, by Nabi Abdullaev
-- US military trained Georgian commandos, by Charles Clover and Demetri Sevastopulo
-- Washington Tries to Break BRICS – Rape of Brazil Begins, by F. William Engdahl
-- Washington's New Imperial Strategy In Venezuela, by Chris Carlson
-- The Pervert's Guide to Ideology, directed by Sophie Fiennes -- Screenplay
-- The Unbearable Lightness of Slavoj Zizek's Communism: The Year of Dreaming Dangerously - Review, by Benjamin Kunkel
-- After Zizek's Talk of Communist Catastrophe: An Alternative Script, by Radical Eyes
-- Slavoj Zizek: Interview, by Sean O'Hagan
-- The Monstrosity of Christ: Paradox or Dialectic, by Slavoj Zizek and John Milbank -- Nina Power Tires of Slavoj Zizek and His Monstrous Essays, by Nina Power
-- Beethoven and the Illuminati: How the Secret Order Influenced the Great Composer, by Jan Swafford
-- Right-Wing Sock Puppets Pretending to Be Liberals Assault Progressive Websites, by R.S. Janes
-- Gnosis in Cyberspace? Body, Mind and Progress in Posthumanism, by Oliver Krueger
-- Is Slavoj Zizek a Left-Fascist, by Alan Johnson
-- Akashic Records: The Book of Life, adapted from Edgard Cayce on the Akashic Records by Kevin J. Todeschi
-- Christian Mystery and Responsibility: Gnosticism in Derrida's The Gift of Death, by Peter Goldman
-- Noam Chomsky discusses Post-Modern "Theory" and "Philosophy" on LBBS, Z-Magazine's BB, 11/13/95
-- Slavoj Zizek on Occupy Wall Street
-- Occupy First; Demands Come Later; by Slavoj Zizek
-- Occupy Wall Street: What is To Be Done Next?, by Slavoj Zizek
-- The Dangerous Dreams of Slavoj Zizek, by Jerome Roos