Libertine
by Wikipedia
Accessed: 8/8/18
NOTICE: THIS WORK MAY BE PROTECTED BY COPYRIGHT
YOU ARE REQUIRED TO READ

THE COPYRIGHT NOTICE AT THIS LINK

BEFORE YOU READ THE FOLLOWING WORK, THAT IS AVAILABLE SOLELY FOR PRIVATE STUDY, SCHOLARSHIP OR RESEARCH PURSUANT TO 17 U.S.C. SECTION 107 AND 108. IN THE EVENT THAT THE LIBRARY DETERMINES THAT UNLAWFUL COPYING OF THIS WORK HAS OCCURRED, THE LIBRARY HAS THE RIGHT TO BLOCK THE I.P. ADDRESS AT WHICH THE UNLAWFUL COPYING APPEARED TO HAVE OCCURRED. THANK YOU FOR RESPECTING THE RIGHTS OF COPYRIGHT OWNERS.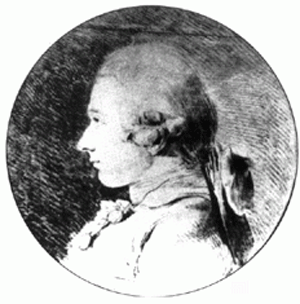 Marquis de Sade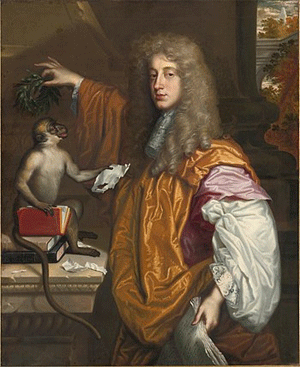 John Wilmot
A libertine is one devoid of most moral or sexual restraints, which are seen as unnecessary or undesirable, especially one who ignores or even spurns accepted morals and forms of behaviour sanctified by the larger society.[1][2] Libertinism is described as an extreme form of hedonism.[3] Libertines put value on physical pleasures, meaning those experienced through the senses. As a philosophy, libertinism gained new-found adherents in the 17th, 18th, and 19th centuries, particularly in France and Great Britain. Notable among these were John Wilmot, 2nd Earl of Rochester, and the Marquis de Sade.
History of the term
The word "Libertine" was originally coined by John Calvin to negatively describe opponents of his policies in Geneva, Switzerland.[4] This group, led by Ami Perrin, argued against Calvin's "insistence that church discipline should be enforced uniformly against all members of Genevan society".[5] Perrin and his allies were elected to the town council in 1548, and "broadened their support base in Geneva by stirring up resentment among the older inhabitants against the increasing number of religious refugees who were fleeing France in even greater numbers".[5] By 1555, Calvinists were firmly in place on the Genevan town council, so the Libertines, led by Perrin, responded with an "attempted coup against the government and called for the massacre of the French. This was the last great political challenge Calvin had to face in Geneva".[5]
During the 18th and 19th centuries, the term became more associated with debauchery.[6] Charles-Maurice de Talleyrand wrote that Joseph Bonaparte "sought only life's pleasures and easy access to libertinism" while on the throne of Naples.[7]
Literature
Les Liaisons dangereuses (Dangerous Liaisons, 1782), an epistolary novel by Pierre Choderlos de Laclos, is a trenchant description of sexual libertinism. Wayland Young argues:
...the mere analysis of libertinism... carried out by a novelist with such a prodigious command of his medium... was enough to condemn it and play a large part in its destruction.[8]
Agreeable to Calvin's emphasis on the need for uniformity of discipline in Geneva, Samuel Rutherford (Professor of Divinity in the University of St. Andrews, and Christian minister in 17th Century Scotland) offered a rigorous treatment of "Libertinism" in his polemical work "A Free Disputation against pretended Liberty of Conscience" (1649).
A Satyr Against Reason and Mankind is a poem by John Wilmot, 2nd Earl of Rochester which addresses the question of the proper use of reason, and is generally assumed to be a Hobbesian critique of rationalism.[9] The narrator subordinates reason to sense.[10] It is based to some extent on Boileau's version of Juvenal's eighth or fifteenth satire, and is also indebted to Hobbes, Montaigne, Lucretius and Epicurus, as well as the general libertine tradition.[11] Confusion has arisen in its interpretation as it is ambiguous as to whether the speaker is Rochester himself, or a satirised persona.[12] It criticises the vanities and corruptions of the statesmen and politicians of the court of Charles II.[11]
The libertine novel was an 18th century literary genre of which the roots lay in the European but mainly French libertine tradition. The genre effectively ended with the French Revolution. Themes of libertine novels were anti-clericalism, anti-establishment and eroticism.
Authors include Claude Prosper Jolyot de Crébillon (Les Égarements du cœur et de l'esprit, 1736; Le Sopha, conte moral, 1742), Denis Diderot (Les bijoux indiscrets, 1748), Marquis de Sade (L'Histoire de Juliette, 1797–1801), Choderlos de Laclos (Les Liaisons dangereuses, 1782), John Wilmot (Sodom, or the Quintessence of Debauchery, 1684).
Other famous titles are Histoire de Dom Bougre, Portier des Chartreux (1741) and Thérèse Philosophe (1748).
Precursors to the libertine writers were Théophile de Viau (1590–1626) and Charles de Saint-Evremond (1610–1703), who were inspired by Epicurus and the publication of Petronius.
Robert Darnton is a cultural historian who has covered this genre extensively.
Critics have been divided as to the literary merits of William Hazlitt's Liber Amoris, a deeply personal account of frustrated Lolita-like love that is quite unlike anything else Hazlitt ever wrote. Wardle suggests that it was compelling but marred by sickly sentimentality, and also proposes that Hazlitt might even have been anticipating some of the experiments in chronology made by later novelists.[13]
One or two positive reviews appeared, such as the one in the Globe, 7 June 1823: "The Liber Amoris is unique in the English language; and as, possibly, the first book in its fervour, its vehemency, and its careless exposure of passion and weakness—of sentiments and sensations which the common race of mankind seek most studiously to mystify or conceal—that exhibits a portion of the most distinguishing characteristics of Rousseau, it ought to be generally praised".[14] Dan Cruickshank in his book London's Sinful Secret summarized Hazlitt's infatuation stating: "Decades after her death Batsy (Careless) still haunted the imagination of the essayist William Hazlitt, a man who lodged near Covent Garden during the 1820s, where he became unpleasantly intimate with the social consequences of unconventional sexual obsession that he revealed in his Liber Amoris of 1823, in which he candidly confessed to his infatuation with his landlord's young daughter."[15]
Philosophy
During the Baroque era in France, there existed a freethinking circle of philosophers and intellectuals who were collectively known as libertinage érudit and which included Gabriel Naudé, Élie Diodati and François de La Mothe Le Vayer.[16][17] The critic Vivian de Sola Pinto linked John Wilmot, 2nd Earl of Rochester's libertinism to Hobbesian materialism.[18]
Theatre and film
• In Shakespeare's play Hamlet, Ophelia refers to her brother Laertes as "a puff'd and reckless libertine" (in Act 1, Scene 3).[19]
• A play, The Libertine (1994), was written by Stephen Jeffreys, and staged by the Royal Court Theatre based on the life of John Wilmot, 2nd Earl of Rochester. The 2004 film The Libertine, based on Jeffreys' play, starred Johnny Depp as Rochester. Michael Nyman set to music an excerpt of Rochester's poem, "Signor Dildo" for the film.[20]
• American Musical: The Music Man by Meredith Wilson. The tune "Ya Got Trouble" decries the libertine effects on a boy by being a pool player. He references the libertine men and scarlet women heading down to the Armory to a dance.
• Salò, or the 120 Days of Sodom, a 1975 film.
• Caligula, a 1979 film
• Confession of a Child of the Century, a 2012 film by Sylvie Verheyde.
Notable libertines
Some notable libertines include:
• Pope Alexander VI
• GG Allin
• Tallulah Bankhead
• Ivan Barkov
• Charles Baudelaire
• Aphra Behn
• Cyrano de Bergerac
•
Lord Byron
• Caligula
• Graham Capill
• Giacomo Casanova
• Neal Cassady
• Charles II of England
• Pierre Choderlos de Laclos
•
Aleister Crowley
• Lorenzo Da Ponte
• Edward VII of Great Britain
• Elagabalus
• George IV of Great Britain
• Otto Gross
• Henry IV of France
• Sebastian Horsley
• Pope John XII
• Don Juan
• Anton Szandor LaVey
• Louis XV of France
• Marilyn Manson
• Jim Morrison
• Nero
• Peter the Great
• Ami Perrin
• Arthur Rimbaud
• Marquis de Sade
• Charlie Sheen[21][22]
• Tiberius
• Paul Verlaine
• John Wilkes
• John Wilmot, 2nd Earl of Rochester
See also
• Amoralism
• Antinomianism
• Bacchanalia
• Hellfire Club
• Hookup culture
• Cyrenaics
• Free love
• Hypersexuality
• Incest taboo
• LaVeyan Satanism
• Libertine novel
• Lokāyata
• Moral nihilism
• Orgy
• Polyamory
• Rake (character)
• Sodomy
• Sodom, or the Quintessence of Debauchery
• Sodom and Gomorrah
• Sexual deviancy
• Swinging
• Taboo
• The Libertines (band)
References
1. "Libertine" at the Free Dictionary
2. "libertine" at WordNet
3. The Origins of Jewish Secularization in 18th Century Europe by Schmuel Feiner
4. Gordon, Alexander (1911). "Libertines". In Chisholm, Hugh. Encyclopædia Britannica. 16 (11th ed.). Cambridge University Press. p. 543.
5. Zophy, Johnathan W. (2003). A Short History of Renaissance and Reformation Europe: Dances Over Fire and Water (Third ed.). Prentice Hall. p. 226. ISBN 0-13-097764-0.
6. Michel Delon, ed. (2013). Encyclopedia of the Enlightenment. Routledge. pp. 2362–2363. ISBN 978-1-135-96005-6.
7. Talleyrand, Charles-Maurice de (2008). "Napoleon's European Legacy, 1853". In Blaufarb, Rafe. Napoleon: Symbol for an Age, A Brief History with Documents. New York: Bedford/St. Martin's. p. 151. ISBN 978-0-312-43110-5.
8. Young, Wayland (1966). Eros Denied. New York: Grove.
9. Fisher, Nicholas (2006). "The Contemporary Reception of Rochester's A Satyr against Mankind". The Review of English Studies. 57 (229): 185–220. doi:10.1093/res/hgl035.
10. Jenkinson, Matthew (2010). Culture and Politics at the Court of Charles II, 1660–1685. Boydell & Brewer. p. 101. ISBN 978-1-84383-590-5.
11. Jenkinson, Matthew (2010). Culture and Politics at the Court of Charles II: 1660–1685. Boydell & Brewer. p. 99. ISBN 978-1-84383-590-5. Retrieved 4 April 2013.
12. Thormählen, Marianne (25 June 1993). Rochester. Cambridge University Press. p. 191. ISBN 978-0-521-44042-4. Retrieved 4 April 2013.
13. Wardle, pp. 363–65. Wardle was writing in 1971; twenty-first-century critics continue to be sharply divided. David Armitage has assessed the book disparagingly as "the result of a tormented mind grasping literary motifs in a desperate and increasingly unsuccessful (and self indulgent) attempt to communicate its descent into incoherence...", while Gregory Dart has acclaimed it "the most powerful account of unrequited love in English literature". To James Ley, "It is ... an unsparing account of the psychology of obsession, the way a mind in the grip of an all-consuming passion can distort reality to its own detriment". Armitage, p. 223; Dart 2012, p. 85; Ley p. 38.
14. Quoted by Jones, p. 338.
15. Dan Cruickshank, London's Sinful Secret, p.92. St. Martin's Press, New York (2009).
16. René Pintard (2000). Le Libertinage érudit dans la première moitié du XVIIe siècle. Slatkine. p. 11. ISBN 978-2-05-101818-0. Retrieved 24 July 2012.
17. "Fideism". Stanford Encyclopedia of Philosophy.
18. "A Martyr to Sin". New York Times. September 15, 1974.
19. "Hamlet (full text)". MIT. Retrieved 2016-02-27.
20. "Signior Dildo by Lord John Wilmot - All Poetry". Oldpoetry.com. Retrieved 2011-06-12.
21. Charlie Sheen to tell Matt Lauer he's HIV+ (Philly.com)
22. Charlie Sheen's dubious comeback: His new "philanthropic approach" doesn't erase his abusive past (Salon Magazine)