Maria Alyokhina
by Wikipedia
Accessed: 8/9/18
NOTICE: THIS WORK MAY BE PROTECTED BY COPYRIGHT
YOU ARE REQUIRED TO READ

THE COPYRIGHT NOTICE AT THIS LINK

BEFORE YOU READ THE FOLLOWING WORK, THAT IS AVAILABLE SOLELY FOR PRIVATE STUDY, SCHOLARSHIP OR RESEARCH PURSUANT TO 17 U.S.C. SECTION 107 AND 108. IN THE EVENT THAT THE LIBRARY DETERMINES THAT UNLAWFUL COPYING OF THIS WORK HAS OCCURRED, THE LIBRARY HAS THE RIGHT TO BLOCK THE I.P. ADDRESS AT WHICH THE UNLAWFUL COPYING APPEARED TO HAVE OCCURRED. THANK YOU FOR RESPECTING THE RIGHTS OF COPYRIGHT OWNERS.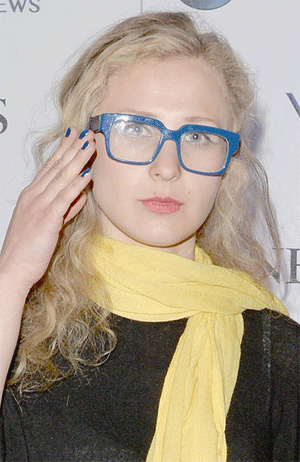 Maria Alyokhina in 2014
Native name Мари́я Влади́мировна Алёхина
Born Maria Vladimirovna Alyokhina
June 6, 1988 (age 30)
Moscow, Russian SFSR, Soviet Union
Nationality Russian
Education Institute of Journalism and Creative Writing
Occupation Political activist, student, musician
Organization Pussy Riot
Criminal charge Hooliganism motivated by religious hatred
Criminal penalty 2 years imprisonment
Criminal status Released under amnesty on December 23, 2013
Born: June 6, 1988 (age 27) (1988-06-06) Moscow, Russian SFSR, Soviet Union

-- Maria Alyokhina, by Alchetron.com
... her father a professor at a Moscow university, her mother a programmer of "big machines, not personal ...

-- Pussy Riot's Maria Alyokhina Takes on Vladimir Putin
Alyokhina's mother Natalya ...

-- Russia's Pussy Riot: Unmasked and on trial, by Alissa de Carbonnel, Maria Tsvetkova
her husband is Nikita, son is Philip, mother Natalya Alyokhina --

-- Words Will Break Cement: The Passion of Pussy Riot, by Masha Gessen
Maria Vladimirovna "Masha" Alyokhina (Russian: Мари́я Влади́мировна Алёхина, IPA: [ɐˈlʲɵxʲɪnə]; born June 6, 1988)[1] is a Russian political activist. She is a member of the anti-Putinist[2] punk rock group Pussy Riot.
Biography
On August 17, 2012, she was convicted of "hooliganism motivated by religious hatred" for a performance in Moscow's Cathedral of Christ the Saviour and sentenced to two years' imprisonment. She has been recognized as a political prisoner by the Union of Solidarity with Political Prisoners.[3] Amnesty International named her a prisoner of conscience due to "the severity of the response of the Russian authorities."[2]
At the time of her arrest, Alyokhina was a fourth-year student at the Institute of Journalism and Creative Writing in Moscow, where she participated in a sequence of literature workshops given by the poets Dmitry Vedenyapin and Alexey Kubrik. She too is a published poet.[4]
She has been involved in environmental activism with Greenpeace Russia, opposing development projects in the Khimki Forest, and was a volunteer at the Children's Psychiatric Hospital in Moscow.
Her son Filip was born in 2008. She is a vegan and reportedly collapsed from hunger during the trial, as no vegan meals were provided in detention.[5]
Improved Environmental Management

Citizen organizations were among the first to call attention to environmental issues in the region. By joining forces with independent media these groups became a strong voice for change. Citizen advocacy combined with USAID technical assistance has helped the development and adoption of new laws and policies in resource management. Sound environmental frameworks are now in place in many countries, including Estonia, Hungary, Poland, Romania, and Slovakia. Groundbreaking forestry codes have been adopted in Russia.

The Czech Republic and Poland have produced unprecedented levels of investments in environmental improvements....

The Power of the Eco-Press

In 1994, a group of independent journalists in Moldova had an idea that would have landed them in jail during Soviet times: start an independent magazine about the environment and raise the alarm about threats to the air, land and water. The magazine, Gazeta Natura, won small grants from USAID to buy printing equipment and expand the magazine's reach to Romania and Ukraine. Natura quickly proved that it was a new breed of magazine. In 1995, its reporters uncovered an explosive story: Moldova's government had secretly drafted a contract to sell 7,000 hectares of the Silva forest to a foreign firm. Natura's editors rushed the story into print. The government threatened to shut Natura down, but it was too late. Citizen groups bombarded the government with demands for public hearings and a parliamentary investigation. The public pressure worked. The sale was canceled, and the old growth forest was preserved.

-- A Decade of Change: Profiles of USAID Assistance to Europe and Eurasia, by USAID
The largest environmental NGOs survived the 1990s, in many cases by relying on funding from foreign governments and foundations to continue their work; small grass-roots groups also persisted, working on local issues...

Within the broader environmental movement, environmental organizations tend to fall into three broad categories (Henry 2010). First,

there are a limited number of "professional" environmental organizations, such as WWF and Greenpeace, which are based in Moscow or regional capitals

. In the second category are grassroots environmental organizations... Finally, in the third category are a number of government-sponsored environmental NGOS that receive funding from state programs and that work closely with state agencies to help them achieve their goals....

Many environmental NGOs in Russia were able to operate in the post-Soviet period due to foreign funding for their work from governmental donors such as USAID, the UK's DIFD, and private foundations. Larin and his co-authors describe environmentalists' struggle to continue their work in the 1990s as state funding for nature protection declined and few domestic alternatives emerged (Larin et al. 2003).

Foreign support influenced the development of the environmental movement. To survive, NGO representatives proposed projects on issues that interested foreign funders and environmentalists who had facility in foreign languages were more likely to successfully obtain grants. Contact with foreign partners offered the opportunity to exchange ideas as well as develop organizational capacity and new kinds of expertise. Globalization, Russia's integration into global consumer society, and the country's emerging role as a natural resource provider also changed the "master frames" of environmentalists (Yanitsky 2010, 191–194). This international orientation also may have increased the distance between environmentalists and average Russians, however.

-- The state of environmental protection in the Russian Federation: a review of the post-Soviet era, by Joshua P. Newell & Laura A. Henry
She played an active role in the Pussy Riot trial, cross-examining witnesses, and aggressively questioning the charges and proceedings.[6] She said in her closing statement:[7]
For me, this trial only has the status of a "so-called" trial. And I am not afraid of you. I am not afraid of lies and fiction, of the thinly disguised fraud in the sentence of this so-called court. Because you can only take away my so-called freedom. And that is the exact kind that exists now in Russia. But nobody can take away my inner freedom.
Alyokhina was released from prison on December 23, 2013[8] under an amnesty bill passed by the Russian Duma, allowing the release of several inmates. Following her release, Alyokhina and fellow Pussy Riot member Nadezhda Tolokonnikova announced their intention to campaign for prisoner's rights in Russia. On March 6, 2014, she was assaulted and injured at a fast food outlet by local youths in Nizhny Novgorod along with Tolokonnikova.[9]
Sochi detention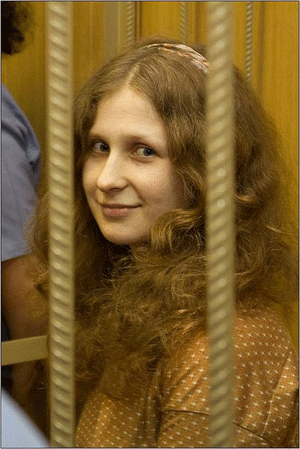 Alyokhina in 2012
In February 2014, Maria Alyokhina and Nadezhda Tolokonnikova, were detained in Sochi by the Adler Police in connection with an alleged hotel theft. They were released without charge.[10] On 19 February footage surfaced showing Nadezhda Tolokonnikova and Maria Alyokhina being attacked with horsewhips by Cossacks who were patrolling Sochi during the 2014 Winter Olympics.[11]
Awards and honors
She was co-winner of the Hannah Arendt Prize for Political Thought (2014).[12]
In popular culture
A documentary following the Pussy Riot court cases, Pussy Riot: A Punk Prayer, debuted at the 2013 Sundance Film Festival.[13]
In 2015, Alyokhina and her Pussy Riot bandmate Nadezhda Tolokonnikova appeared as themselves in Chapter 29 of House of Cards, a popular American television drama series that airs on Netflix. In the show, Alyokhina and Tolokonnikova heavily criticized a fictionalized version of Vladimir Putin for corruption, while dining in the White House.[14]
References
1. "Nadezhda Tolokonnikova, Maria Alyokhina and Yuri Andrukhovych receive the Hannah-Arendt-Prize 2014". Heinrich Boell Foundation. July 24, 2014. Retrieved January 2, 2015.
2. b "Russia: Release punk singers held after performance in church". Amnesty International. April 3, 2012. Archived from the original on July 23, 2012.
3. "Троих предполагаемых участниц Pussy Riot признали политзаключенными" [Three of the alleged participants of Pussy Riot recognized as political prisoners]. Росбалт (in Russian). March 25, 2012. Archived from the original on September 12, 2012. Google translation.
4. "Литературная карта России: Студия: Мария Алехина". Litkarta.ru. Retrieved January 2, 2015.
5. Robert Mackey (August 15, 2012). "Actress Writes to Putin to Demand Vegan Meals for Jailed Punk Protesters". The Lede. The New York Times. Retrieved August 22, 2012.
6. Miriam Elder (August 8, 2012). "Pussy Riot profile: Maria Alyokhina: Unofficial spokeswoman for Pussy Riot, Maria Alyokhina has challenged witnesses and remains defiant over the charges". The Guardian. Moscow. Retrieved August 9, 2012.
7. "'Так называемый процесс'". Novaya Gazeta. 8 August 2012. Retrieved 3 December 2012.
8. "Pussy riot member released". Npr.org. December 23, 2013. Retrieved January 2, 2015.
9. "2 Pussy Riots Band Members assaulted in Moscow". IANS. News.biharprabha.com. Retrieved 7 March 2014.
10. "Pussy Riot Members Nadezhda 'Nadya' Tolokonnikova and Maria Alyokhina Detained in Sochi Ahead of Protest Performance". Newsweek. Retrieved 2 January 2015.
11. "Pussy Riot whipped at Sochi Games by Cossacks". Bbc.co.uk. 19 February 2014. Retrieved 2 January 2015.
12. "Nadezhda Tolokonnikova, Maria Alyokhina and Yuri Andrukhovych receive the Hannah-Arendt-Prize 2014". Heinrich Böll Foundation. 24 July 2014. Retrieved July 25, 2014.
13. Stern, Marlow (2013-01-26). "Sundance's Best Documentary: 'Pussy Riot: A Punk Prayer'". The Daily Beast. Retrieved 2017-03-07.
14. "Chapter 29". House of Cards. Season 3. Episode 3. Netflix.
External links
• Media related to Maria Alyokhina at Wikimedia Commons
• Maria Alyokhina's blog (Russian)