Rightwing Russian activists attack Moscow art exhibition: Conservative Christian group takes offence over sculpture show depicting naked Christ and heads of John the Baptist.
The Moscow Times reports
by Ivan Nechepurenko and Michele Berdy
The Guardian
Tue 18 Aug 2015 02.00 EDT Last modified on Thu 22 Feb 2018 12.25 EST
NOTICE: THIS WORK MAY BE PROTECTED BY COPYRIGHT
YOU ARE REQUIRED TO READ

THE COPYRIGHT NOTICE AT THIS LINK

BEFORE YOU READ THE FOLLOWING WORK, THAT IS AVAILABLE SOLELY FOR PRIVATE STUDY, SCHOLARSHIP OR RESEARCH PURSUANT TO 17 U.S.C. SECTION 107 AND 108. IN THE EVENT THAT THE LIBRARY DETERMINES THAT UNLAWFUL COPYING OF THIS WORK HAS OCCURRED, THE LIBRARY HAS THE RIGHT TO BLOCK THE I.P. ADDRESS AT WHICH THE UNLAWFUL COPYING APPEARED TO HAVE OCCURRED. THANK YOU FOR RESPECTING THE RIGHTS OF COPYRIGHT OWNERS.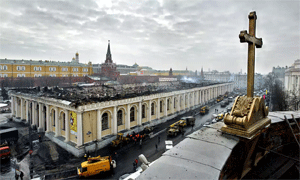 View of the Manezh exhibition hall in central Moscow. Photograph: Maxim Marmur/AFP/Getty Images
Russia has been accused of encouraging religious intolerance after rightwing activists attacked a major art exhibit in Moscow, claiming it offended their ultra-conservative beliefs and was therefore illegal under recent laws.
Members of God's Will, a Christian group led by self-proclaimed missionary Dmitry "Enteo" Tsorionov, vandalised the Sculptures We Don't See exhibit at the Manezh, a vast exhibition space next to Red Square, on Friday.

During the attack activists shouted that the works on display were offensive to people of faith and violated legislation introduced to deter protests such as that carried out by Pussy Riot in Moscow's main cathedral in 2012.

In a video of the incident one of the activists rips a linoleum engraving of a naked Christ made by Vadim Sidur, known as the Soviet Henry Moore, off its plinth. She then throws it on the floor and stamps on it.

The group's leader Enteo targeted a work by another artist, Megasoma Mars. This sculpture was titled Beheading of St John the Baptist #2 and comprised a series of heads displayed on plates. Enteo seized one of the heads and smashed the plate it had been on.
As a result, four works by Sidur and one Mars were damaged, said a spokesperson for the gallery. Sidur's engravings have been on display in a museum dedicated to the sculptor for 20 years without any problem, the exhibit's curator Vera Trakhtenberg added.
The spokeman said the gallery would file a complaint with the police.
But Enteo, who is famous for high-profile attacks on cultural events, said it was the art gallery that had violated the law. During his stunt he can be heard to say: "Jesus Christ and the Virgin Mary are being mocked. This is punishable under the criminal code."

Legistlation making "offending religious feelings" a crime was signed into law by Vladimir Putin in 2013 in response to an anti-governmnet protest by members of Pussy Riot in Moscow's Christ the Saviour cathedral.
The law, which carries up to a year in prison, does not clearly specify what qualifies as an offence.
Visitors to the exhibit attempted to protect the works during the attack. One of them, Lyudmila Dyagileva, called the activists "fanatics and extremists whose actions have nothing to do with faith and Christianity".

"If they get away with it, it will send a message that you can do anything you want," she said. "It is a signal that you can destroy everything if the authorities do nothing."

Enteo was detained briefly by the police on Friday before being released the same evening.

On Sunday he staged another protest, this time in front of the Manezh, in which he verbally attacked two elderly visitors. He said the pair could not be true believers and should be sent to a labour camp.
High-ranking members of the Russian Orthodox Church have criticised Enteo's activities.
What so-called Orthodox activists do has nothing to do with religion
-- Church spokesperson Vladimir Legoida
"What so-called Orthodox activists do, as a rule, has nothing to do with religion," Vladimir Legoida, a spokesman for the Moscow Patriarchate, wrote on Sunday, describing Sidur as "an artist acclaimed around the world".
The government has also condemned Enteo's God's Will movement.

The head of the presidential human rights council, Mikhail Fedotov, compared Enteo's actions with those of "barbarians from the Islamic State," Russian news site Interfax reported.
Konstantin Kosachyov, head of the international affairs committee in the Russian parliament's upper chamber, the Federation Council, called the trashing of the exhibit "disgusting".
A similar incident took place on Saturday in Kaliningrad, Russia's Baltic exclave.
During the Franz Kafka and George Orwell Intellectual Forum, a group of activists rushed into the open-air venue shouting: "We are patriots of Russia and you have sold yourselves to the US State Department," and threatened to burn everything there
, a witness of the incident wrote on Facebook.
Gaslighters will accuse others of actions — even when there is direct evidence that they are engaging in those same behaviors. So why do gaslighters do this? They are doing pre-emptive strikes and/or are projecting.

First, the pre-emptive strike tactic. The gaslighter is cheating — they are planning the secret meetings with their lovers, and getting a rush from it. They are invested in keeping up the charade. To keep you off-kilter, they start accusing you of cheating. The goal is to keep you so busy defending yourself and being emotionally distraught that you don't have enough time to pay attention to the gaslighter's own behavior. By accusing you, the gaslighter has bought themselves time.

The gaslighter can go as far as claiming they saw you out with someone — when in fact you were at home waiting for the gaslighter to show up late from work again. The gaslighter has you in a bind — you can't prove that something never happened. But you try and try to prove to them that you did nothing wrong — but whatever evidence you produce is not good enough for the gaslighter. You become more concerned about being falsely accused than paying attention to the gaslighter's own behavior.

The gaslighter may even present "evidence" to others of being manipulated by the victim. This evidence may be completely fabricated by the gaslighter, or the gaslighter takes facts and manipulates them, or "forgets" to share them. For example, the gaslighter tells your friends they are sure you are cheating because you "claimed" you were working late a few nights this week. You actually were working late a few nights this week — to earn extra money in overtime. But the gaslighter conveniently leaves this fact out when badmouthing you to your friends. When you remind the gaslighter that you told them you were working late, they deny you ever told them this — and then they bring up another reason why they are "convinced" you are cheating.

Let's say the gaslighter in your life is addicted to heroin. You suspect they have stolen money from you to feed their addiction. Before even getting a chance to confront them, the gaslighter calmly tells you that they are concerned you are an alcoholic. You immediately go into defense mode — no one has ever accused you of this before, and it is a shock. It throws you into a tailspin. The gaslighter brings up times where they knew you were drunk — but you don't recall any of these times. The gaslighter may even accuse you of blacking out, and claims that's why you can't remember. You start questioning your sanity — and this is exactly the exact goal of the gaslighter. Meanwhile, the gaslighter keeps using and stealing.

Besides direct contact with the victim and their family and friends, the gaslighter also uses social media as a way to accuse and deflect from their own behavior. The gaslighter knows that once something is posted on social media, the information travels quickly. The gaslighter is also in a position of power on social media by never answering any questions about the truth of their claims, thus perpetuating the gaslighter's lie.-- Why Gaslighters Accuse You of Gaslighting: Accusing you of their own behavior is a classic tactic of gaslighters, by Stephanie A. Sarkis Ph.D.
Jordan Reed contributed to this report. A version of this article originally appeared on The Moscow Times