Grigori Sokolnikov
by Wikipedia
Accessed: 9/29/18
NOTICE: THIS WORK MAY BE PROTECTED BY COPYRIGHT
YOU ARE REQUIRED TO READ

THE COPYRIGHT NOTICE AT THIS LINK

BEFORE YOU READ THE FOLLOWING WORK, THAT IS AVAILABLE SOLELY FOR PRIVATE STUDY, SCHOLARSHIP OR RESEARCH PURSUANT TO 17 U.S.C. SECTION 107 AND 108. IN THE EVENT THAT THE LIBRARY DETERMINES THAT UNLAWFUL COPYING OF THIS WORK HAS OCCURRED, THE LIBRARY HAS THE RIGHT TO BLOCK THE I.P. ADDRESS AT WHICH THE UNLAWFUL COPYING APPEARED TO HAVE OCCURRED. THANK YOU FOR RESPECTING THE RIGHTS OF COPYRIGHT OWNERS.
This name uses Eastern Slavic naming customs; the patronymic is Yakovlevich and the family name is Sokolnikov.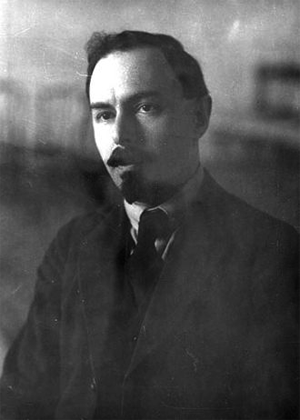 Grigori Sokolnikov
Григорий Сокольников
Sokolnikov grygory.JPG
Grigori Sokolnikov (1888-1939)
People's Commissar for Finance of the USSR
In office
6 July 1923 – 16 January 1926
Premier Vladimir Lenin (until 1924)
Alexei Rykov
Preceded by None—post created
Succeeded by Nikolai Bryukhanov
People's Commissar for Finance of the RSFSR
In office
22 November 1922 – 6 July 1923
Premier Vladimir Lenin
Preceded by Nikolay Krestinsky
Succeeded by Myron K. Vladimirov
Full member of the 6th, 7th Bureau
In office
11 March – 25 March 1919
In office
10 October 1917 – 29 July 1918
Candidate member of the 13th Politburo
In office
2 June 1924 – 1 January 1926
Personal details
Born Girsh Yankelevich Brilliant
15 August 1888
Romny, Poltava Governorate, Russian Empire
Died 21 May 1939 (aged 50)
Verkhneuralsk, Tyumen Oblast, Soviet Union
Political party All-Union Communist Party (bolsheviks)
Alma mater Saint Petersburg State University
Grigori Yakovlevich Sokolnikov[a] (born Girsh Yankelevich Brilliant;
1888–1939) was a Russian old Bolshevik revolutionary, economist, and Soviet politician.

[b]Biography
Grigori Sokolnikov was born Girsh Yankelevich Brilliant to a railway doctor in Romny on 15 August 1888. Sokolnikov was Jewish.
[1] He moved to Moscow as a teenager and joined the Bolshevik faction of the Russian Social Democratic Labour Party in 1905. He served time in prison and
studied economics whilst at the Sorbonne.

He returned to Russia in April 1917 along with Vladimir Lenin in the 'sealed train', and on arriving in Russia became part of the editorial board of the Bolsheviks' central party organ.[2]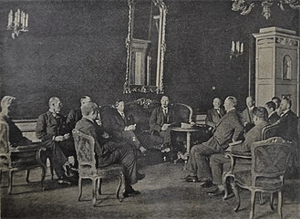 Grigori Sokolnikov, People's Commissar for Finance of the USSR, marked (1) negotiates in Berlin Sep 1923
Grigori Sokolnikov was a member of the first Politburo, with seven members: Lenin, Zinoviev, Kamenev, Trotsky, Stalin, Sokolnikov and Bubnov.
[3] After the October Revolution, he held various government positions. He was a member of the Joffe led delegation for peace negotiations with Germany. While Joffe accompanied the signatory team in protest as a consultant,
he replaced Leon Trotsky as chairman and signed the Brest-Litovsk treaty in 1918 on behalf of the Bolshevik government of Russia. Later, alongside Rosalia Zemlyachka, he became commissar of the Eighth army, using this position to order mass shootings during the Russian Civil War.[4] He was appointed People's Commissar of Finance following the introduction of the New Economic Policy and became a candidate member of the Politburo of the Communist Party in May 1924.
According to Boris Bajanov, as minister of finance Sokolnikov proved himself to be a capable administrator, accomplishing every task he was asked to do, such as
creating the first stable Soviet currency
. Bajanov also notes that despite Sokolnikov's past in the Red Army, he was not ruthless in his personality. Privately, Sokolnikov lost faith in the Soviet Union under Stalin and later described the Soviet economy as "state capitalist".[5]
He was removed from his position in the Sovnarkom (Council of People's Commissars) and demoted from the Politburo after calling for Joseph Stalin's removal as General Secretary of the Communist Party at the Fourteenth Congress of the Bolsheviks in December 1925. Sokolnikov was appointed instead as vice-chairman of Gosplan, the new economic planning agency
(an appointment that carried cruel irony since Sokolnikov himself was a bitter opponent of
heavy-handed centralized planning) and later as head of an oil company. He was the Soviet ambassador to the United Kingdom from 1929 to 1932.

During the Great Purge, Sokolnikov was arrested in 1937 and tried at the Trial of the Seventeen. He was sentenced to ten years of imprisonment.
Reportedly, he was assassinated in a prison by other convicts on 21 May 1939. A post-Stalin official investigation during the Khrushchev Thaw revealed that the murder was organized by the NKVD official K.P. Nikolaevich (ru) being ordered by Lavrenty Beria and Josef Stalin personally.[6]. In 1988, during perestroika, he was rehabilitated along with many other victims of the Great Purge.
Notes
1. Russian: Григорий Яковлевич Сокольников
2. Russian: Гирш Я́нкелевич Бриллиа́нт
References
1.
http://www.hrono.ru/biograf/bio_s/sokolnikov_g.php
2. Trotsky, L. 'A New Moscow Amalgam' in "Writings of Leon Trotsky (1936-37)", pg.120, Pathfinder, New York
3. Dmitri Volkogonov, Lenin. A New Biography, translated and edited by Harold Shukman (New York: The Free Press, 1994), p. 185.
4. Boris Bajanov, Bajanov révèle Staline, Gallimard, 1979
5.
http://www.marxists.org/reference/archi ... /12/18.htm
6. "ИЗ СПРАВКИ ПРЕДСЕДАТЕЛЯ КГБ ПРИ СМ СССР И.А. СЕРОВА В ЦК КПСС ПО ДЕЛУ «АНТИСОВЕТСКОГО ТРОЦКИСТСКОГО ЦЕНТРА» ОБ ОБСТОЯТЕЛЬСТВАХ УБИЙСТВА Г.Я. СОКОЛЬНИКОВА И К.Б. РАДЕКА".
• Soviet Policy in Public Finance, 1917–1928, by Gregory Y. Sokolnikov & Associates; translated by Elena Varneck, edited by Lincoln Hutchinson & Carl C. Plehn. Stanford University Press. 1931.
External links
• Grigory Sokolnikov Archive, part of Marxists Internet Archive.
• Grigorii Yakovlevich Sokolnikov and the development of the Soviet state, 1921–1929