Alexander (Aleksandr) (Alyaksandr) Bogdanov
by Wikipedia
Accessed: 9/30/18
NOTICE: THIS WORK MAY BE PROTECTED BY COPYRIGHT
YOU ARE REQUIRED TO READ

THE COPYRIGHT NOTICE AT THIS LINK

BEFORE YOU READ THE FOLLOWING WORK, THAT IS AVAILABLE SOLELY FOR PRIVATE STUDY, SCHOLARSHIP OR RESEARCH PURSUANT TO 17 U.S.C. SECTION 107 AND 108. IN THE EVENT THAT THE LIBRARY DETERMINES THAT UNLAWFUL COPYING OF THIS WORK HAS OCCURRED, THE LIBRARY HAS THE RIGHT TO BLOCK THE I.P. ADDRESS AT WHICH THE UNLAWFUL COPYING APPEARED TO HAVE OCCURRED. THANK YOU FOR RESPECTING THE RIGHTS OF COPYRIGHT OWNERS.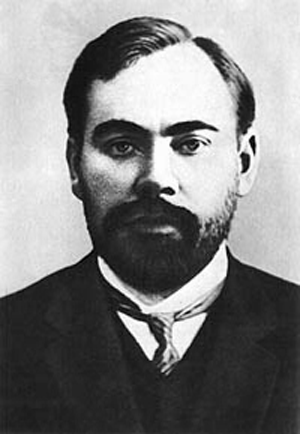 Alexander Bogdanov
Full member of the 4th, 5th Central Committee of the Russian Social Democratic Labour Party
In office
June 1906 – June 1909
Prospective member of the 3rd Central Committee of the Russian Social Democratic Labour Party
In office
1905–1906
Personal details
Born Alyaksandr Malinovsky
22 August 1873
Sokółka, Grodno Governorate, Russian Empire (now Poland)
Died 7 April 1928 (aged 54)
Moscow, Russian SFSR, Soviet Union
Nationality Russian
Political party RSDLP (Bolsheviks)
Alma mater Moscow University, Kharkiv University
Occupation Physician, philosopher, writer
Alexander Aleksandrovich Bogdanov (Russian: Алекса́ндр Алекса́ндрович Богда́нов; born Alyaksandr Malinovsky; Belarusian: Алякса́ндр Алякса́ндравіч Маліно́ўскі; 22 August 1873 [O.S. 10 August] – 7 April 1928) was a Russian and later Soviet physician, philosopher, science fiction writer, and revolutionary of Belarusian ethnicity.
He was a key figure in the early history of the Bolshevik majority faction of the Russian Social Democratic Labor Party, (RSDLP - later the Communist Party of the Soviet Union [CPSU]), originally established 1898, being one of its co-founders in 1903, after the split with the Mensheviks minority faction and a rival to Vladimir Lenin (1870-1924), until being expelled in 1909. Following the Russian Revolutions of 1917, when the Bolsheviks came to power in the collapsing Russian Empire, during the first decade of the subsequent Soviet Union in the 1920s, he was an influential opponent of the Bolshevik government and Lenin from a Marxist leftist perspective. Bogdanov received training in medicine and psychiatry. His wide various scientific and medical interests ranged from the universal systems theory to the possibility of

human rejuvenation through blood transfusion
. He invented an original philosophy called "tectology", now regarded as a forerunner of systems theory. He was also an economist, culture theorist, science fiction writer, and political activist. He was one of the Russian Machists.
Early years
Alyaksandr Malinovsky was born in Sokółka, Grodno Governorate, Russian Empire (now Poland), into a rural teacher's family, the second of six children. He attended the Gymnasium at Tula, which he compared to a barracks or prison. He was awarded a gold medal when he graduated.[1]
Upon completion of the gymnasium, Bogdanov was admitted to the Natural Science Department of Moscow University. In his autobiography, Bogdanov reported that, while studying at Moscow University, he joined the Union Council of Regional Societies, and he was arrested and exiled to Tula because of it.[2]
The occasion of his arrest and exile is as follows. The head of the Moscow Okhrana used an informant to acquire the names of members of the Union Council of Regional Societies, which included Bogdanov's name. on October 30, 1894, students rowdily demonstrated against a lecture by the famous history Professor Vasily Klyuchevsky who, despite being a well-known liberal, had written a favourable eulogy for the recently deceased Tsar Alexander III of Russia. Punishment of a few of the students was arbitrary and unfair that the Union Council requested a fair reexamination of the issue. That very night, the Okhrana arrested all the students on the list mentioned above - including Bogdanov - who were expelled from the university and banished to their hometowns.[3] Expelled from Moscow State University, he moved to the University of Kharkov where he graduated as a physician in 1899. Bogdanov remained in Tula from 1894 to 1899, where - since his own family was living in Sokółka - he lodged with Alexander Rudnev, the father of
Vladimir Bazarov, who became a close friend and collaborator in future years
. Here he met and married Natalya Bogdanovna Korsak, who, as a woman, had been refused entrance to the university. She was eight years older than him[4] and worked as a nurse for Rudnev. Malinovsky adopted the nom de plume that he used when he wrote his major theoretical works and his novels from her patronym.[5] Alongside Bazarov and Ivan Skvortsov-Stepanov he became a tutor in a workers' study circle. This was organised in the Tula Armament Factory by Ivan Saveliev, whom Bogdanov credited with founding Social Democracy in Tula. During this period, he wrote his Brief course of economic science which was published – "subject to many modifications made for the benefit of the censor" – only in 1897. He later said that this experience of student-led education gave him his first lesson in proletarian culture. In autumn 1895, he resumed his medical studies at the University of Kharkiv (Ukraine) but still spent much time in Tula. He gained access to the works of Lenin in 1896, particularly the latter's critique of Peter Berngardovich Struve. In 1899, he graduated as a medical doctor and published his next work, "Basic elements of the historical perspective on nature". However, because of his political views, he was also arrested by the Tsar's police, spent six months in prison, and was exiled to Vologda.
Bolshevism
Bogdanov dates his support for Bolshevism from autumn of 1903. Early in 1904, Martin Lyadov was sent by the Bolsheviks in Geneva to seek out supporters in Russia. He found a sympathetic group of revolutionaries in Tver. Bogdanov was then sent by the Tver Committee to Geneva, where he was greatly impressed by Lenin's One Step Forward, Two Steps Back. Bogdanov was arrested on 3 December 1905 and held in prison until 27 May 1906. Upon release, he was exiled to Bezhetsk for three years. However he obtained permission to spend his exile abroad, and joined Lenin in Kokkola, Finland. For the next six years, Bogdanov was a major figure among the early Bolsheviks, second only to Vladimir Lenin in influence. In 1904-1906, he published three volumes of the philosophic treatise Empiriomonizm (Empiriomonism), in which he tried to merge Marxism with the philosophy of Ernst Mach, Wilhelm Ostwald, and Richard Avenarius.
Haeckel, Ostwald, and the Monistic Religion

Another European movement explicitly designed to be an "anti-Christian" path of Lebensreform was the "Monistic Religion" of Ernst Haeckel (1834-1919). From his post as professor of zoology at the University of Jena, Haeckel dominated German evolutionary biology in the second half of the nineteenth century and was the most prominent proponent of the social implications of Darwinian theory. Over the years Haeckel made many creative departures from Darwin, so many in fact that the tenets of Darwinism were occluded by the renovations of Haeckelism. Since he was a prolific author, and wrote books and articles for both the scholarly and popular presses, it has been said that he dominated the discussion of evolutionary theory in German Europe by providing "the most comprehensive surveys of the Darwinist position authored by a German." [32]

Haeckel published his views on human evolution in 1868, before Darwin did so in 1871 with The Descent of Man. [33] Darwin himself acknowledged Haeckel's priority by several years in formulating the theory of the descent of humans from simian ancestors.

Historian of science and evolutionary biologist Ernst Mayr credits Haeckel for being "perhaps the first biologist to object vigorously to the notion that all science had to be like the physical sciences or to be based on mathematics." [34] Mayr says Haeckel was the first to insist that evolutionary biology was a historical science involving the historical methodologies of embryology, paleontology, and especially phylogeny.

In particular it was Haeckel's influential "Biogenetic Law" -- "ontogeny recapitulates phylogeny" -- based on the evidence of these historical methods in biology that eventually had profound implications not only for evolutionary biology, but for psychiatry and psychoanalysis, especially Jung's analytical psychology. Haeckel considered this law as a universal truth -- indeed, for much of his early career, perhaps the only universal truth. That the stages of individual development (ontogeny) could be shown to replicate, in order, the states of the development of the human race (phylogeny) was a compelling theory. Each adult human being, then, in both development and structure, was a living museum of the entire history of the species.

Taking this principle as a starting point, as early as 1866 Haeckel proposed a new "natural religion" based on the natural sciences, since "God reveals himself in all natural phenomena." [35] In many later publications he promoted his pantheistic natural religion based on scientific principles -- a philosophy he called "Monism" -- as a way of linking science and religion. Haeckel was interested in theorizing about the driving natural force of life and evolution, which he insisted Darwin left out of his (therefore) incomplete theories. His somewhat quasi-vitalistic descriptions of monism provided that. However, his first specific recommendations for a monistic religion came in 1892 in a speech in Altenburg. He argued fervently for a monism as a new faith founded on a "scientific Weltanschauung," thus going beyond a mere substitution of atheistic materialism for Christianity (as he was generally perceived as doing by his contemporaries and even by many historians today).

As the 1890s in Central Europe were marked by the rise of volkisch utopianism based on a rejection of the Christian myth and an emphasis on the worship of nature (particularly the sun), many took Haeckel's call for the establishment of a monistic religion in his best-selling book of 1899, Die Weltratsel (

The Riddle of the Universe

), to heart as a way of winning the Kulturkampf ("

the struggle for civilization

"). [36]

Haeckel himself exhibited a messianic zeal in promoting his logical, new pantheistic "nature religion" through lectures during which he would display his own beautiful hand-colored drawings and etchings of cells, embryos, and other natural phenomena that appealed on an emotional level to those seeking a greater meaning in life through the study of its apparent rationality, organization, beauty, and essential unity. It was visual material that had a striking "shock of the new" quality about it in an age without cinema or television

.  [37] Haeckel's bizarrely beautiful drawings of radiolarians may have been the source images for a dream Jung had as a teenager that convinced him to study the natural sciences instead of becoming a philologist or archaeologist. [38]

"In the sincere cult of 'the true, the good, and the beautiful,' which is the heart of our new monistic religion, we find ample compensation for the anthropistic ideals of 'God, freedom, and immortality' which we have lost," writes Haeckel, echoing Winckelmann's Apollonianism. [39] In a secular rite of passage, the monist is thus reborn through the rejection of the tenets of organized religion (separation), an initiation into the proof of the essential unity of matter and spirit (a period of liminality), and then participation in local societies promoting monistic ideas (reincorporation).

By 1904 groups all over Central Europe had formed and were known as the Monistenbund (the Monistic Alliance), with some trying out rituals based on this new scientific religion. In Jena in 1906, under the guiding hand of Haeckel himself, they were formally organized under a single administrative umbrella, like cells united within the individual identity of a larger body. The ground in German Europe has long been fertile for such ideas to take root, especially among German Darwinians, for "a large number of them had abandoned the Christian religion" and, like Haeckel, spoke out against organized religion. [40] The Monistenbund attracted many prominent cultural, occultist, and scientific celebrities as members, including physicist Ernst Mach and sociologist Ferdinand Tonnies. It also attracted such luminaries as the dancer Isadora Duncan, [41] then-Theosophist Rudolph Steiner, [42] and psychiatrist August Forel (1848-1931). [43] Forel was a former director of the Burgholzli and a dominant figure in Switzerland and in the French clinical tradition at the turn of the century. Although he is best remembered for his contributions to psychiatry (and his influence on other prominent figures, such as Bleuler, Adolph Meyer, and Jung), his Monistic League affiliation and his active promotion of eugenics and Social Darwinism are rarely discussed in the historical literature of psychiatry. [44]

Although Haeckel himself was not advocating an atheistic and materialistic philosophy at this time -- he preferred the label "monistic" -- this was the professed emphasis of many of his fanatical cultists.

Monism was the unity of matter and spirit (Geist). Haeckel's Apollonian ideals soon disintegrated into Dionysian excess in his view, and he soon distanced himself from his own movement. In 1911 Nobel-laureate Wilhelm Ostwald of Leipzig University, a physical chemist, became president of the Monistenbund and founded a "monistic cloister" devoted to initiating Social Darwinian cultural reforms in the areas of eugenics, euthanasia, and economics. An elite devoted to the preservation of the Monistic Religion clustered around the charismatic Ostwald and his volkisch metaphysical works. [45] Indeed, it is these works of speculative philosophy (Ostwald even embraced the term Naturphilosopllie for this exercise) that made him an international figure long before his 1909 Nobel Prize, and many considered him a prophet of the modern age. [46]

We know that Ostwald was a significant influence on Jung in the formation of his theory of psychological types. Jung mentions Ostwald's division of men of genius into "classics" and "romantics" in his very first public presentation on psychological types at the Psychoanalytical Congress in Munich in September 1913

(published in a French translation in December of that year in Archives de Psychologie), [47] The classics and romantics correspond, according to Jung, to the "introverted type" and the "extraverted type" respectively.

Long quotations from Ostwald appear in other of Jung's works between 1913 and 1921 -- precisely the period of Ostwald's most outspoken advocacy of eugenics, nature worship, and German imperialism through the Monistenbund. An entire chapter of Jung's Psychological Types is devoted favorably to these same ideas of Ostwald.

[48] Except for a one-sentence comment that "the concept of energy in Ostwald's monism" is "an example of the superstitious overvaluation of facts," Ostwald is often cited at length and frequently favorably. [49] We have evidence that Jung read the Annalen der Naturphilosophie that Ostwald founded in 1901 and that contains some of his essays on his vitalistic "modern theory of energetics," which may have influenced Jung's own later theoretical work on "psychic energy." [50]

World War I and Haeckel's death in 1919 reduced the size of the movement's membership.

Before his death Haeckel himself was briefly a member of the Thule Society, the secret organization of prominent nationalists that included prominent members of the National Socialist movement of the 1920s, such as Rudolph Hess. However, due to its exaltation of science over religion and the human over the divine, some early members of the German Communist Party (KDP) in places such as Leipzig were also members of the Monistenbund. East German scholars have tended to focus on Haeckel's similarities to Marxism rather than his many fundamental disagreements with it.

[51] During the communist reign in East Germany Haeckel was promoted as a great hero and his home, library, and artistic productions were carefully maintained by the communist regime in a museum in Jena. [52]

JUNG'S "HAECKELIAN UNCONSCIOUS" (1909-1912)

Jung read Haeckel copiously during his medical-school years: "I interested myself primarily in evolutionary theory and comparative anatomy, and I also became acquainted with neo-vitalistic doctrines," Jung reveals. [53] Haeckel dominated these sciences. Jung discusses him in his Zofingia lectures, and, given Haeckel's great fame, Jung was certain to know of the promotional efforts of Haeckel and his Monistenbund.

Jung read Die Weltriitsel in 1899 and based his own later phylogenetic theories of the unconscious on Haeckel's recommendations for a "phylogeny of the soul."

Haeckel proposes a "phylogenetic psychology" as a science of evolutionary research alongside embryology, paleontology, and biological phylogeny. Jung's own comparative method for compiling historical evidence for his hypothesis of the collective unconscious (which he began in October 1909) seems to have been based closely on the methodological suggestions of Haeckel. Haeckel wrote:

The theory of descent, combined with anthropological research, has convinced us of the descent of our human organism from a long series of animal ancestors by a slow and gradual transformation occupying many millions of years. Since, then,

we cannot dissever man's psychic life from the rest of his vital functions -- we are rather forced to a conviction of the natural evolution of our whole body and mind -- it becomes one of the main tasks of modern monistic psychology to trace the stages of the historical development of the soul of man from the soul of the brute.

Our "phylogeny of the soul" seeks to attain this object; it may also, as a branch of general psychology, be called phylogenetic psychology; or, in contradistinction to biontic (individual), phyletic psychogeny. And, although this new science has scarcely been taken up in earnest yet, and most of the "professional" psychologists deny its very right to exist, we must claim for it the utmost importance and the deepest interest. For, in our opinion, it is its special province to solve for us the great enigma of the nature and origin of the human soul. [54]

Just as Haeckel is responsible for introducing historical methodology to evolutionary biology, Jung introduced an analogous historical approach to the study of the evolution of the human mind and the phylogeny of its unconscious roots

in the first part of his Wandlungen und Symbole der Libido (1911). [55] When both parts -- which had originally appeared in the psychoanalytic Jahrbuch -- were published in book form in 1912, while the main title refers to Freud's influence on Jung, the second subtitle added to the volume, "Contributions to the History of the Evolution of Thought," may be an homage a Haeckel.

It is somewhat suspect that Jung never mentions Haeckel by name in this seminal volume although he borrows significantly from him.

Jung seems to have been put off by Haeckel's scientism and his perception of Haeckel as a strict mechanist.

This is how Jung introduces his "Haeckelian unconscious":

All this experience suggests to us that we draw a parallel between the phantastical, mythological thinking of antiquity and the similar thinking of children, between the lower races and the dreams. This train of thought is not a strange one for us, but quite familiar through our knowledge of comparative anatomy and the history of development, which show us how the structure and function of the human body are the results of a series of embryonic changes which correspond to similar changes in the history of the race. Therefore, the supposition is justified that ontogenesis corresponds in psychology to phylogenesis. Consequently, it would be true, as well, that the state of infantile thinking in the child's psychic life, as well as in dreams, is nothing but a re-echo of the prehistoric and the ancient.

[56]

Two pages of digression later, Jung resumes:

We spoke of the ontogenetic re-echo of the phylogenetic psychology among children, we saw that phantastic thinking is characteristic of antiquity, of the child, and of the lower races; but now we know also that our modern and adult man is given over in large part to this same phantastic thinking, which enters as soon as the directed thinking ceases. A lessening of the interest, a slight fatigue, is sufficient to put an end to the directed thinking, the exact psychological adaptation to the real world, and to replace it with phantasies. We digress from the theme and give way to our own trains of thought; if the slackening of the attention increases, then we lose by degrees the consciousness of the present, and the phantasy enters into the possession of the field.

[57]

And again, in summary:

Our foregoing explanations show wherein the products arising from the unconscious are related to the mythical. From all these signs it may be concluded that the soul possesses in some degree historical strata, the oldest stratum of which would correspond to the unconscious.

[58]

Haeckel thus becomes the key to understanding the biological ideas underlying Jung's hypothesis of a phylogenetic layer of the unconscious mind circa 1909.

In his first published theory to this effect, in 1911, Jung introduces the idea that his phylogenetic layer contains the mythological images and thinking of pagan antiquity: therefore, when Jung's use of language is analyzed to reveal his intent, it is a decidedly pre-Christian layer that has been covered up by centuries of Judeo-Christian sediment.

Although initially viewed as, perhaps, "psychosis" or "incipient psychosis" in 1909, by 1916 -- after repudiating the relevance of the Christian myth in his own life in 1912 --

Jung instead advocates deliberately cutting through centuries of strangling Judeo-Christian underbrush to reach the promised land of the "impersonal psyche," a pre-Christian, pagan "land of the Dead," and to thereby be revitalized.

The volkisch implications of this will be discussed at length in chapter 5.

BUILDING THE MARXIST GOD

A third movement of secular regeneration with mystery-cult aspects, which I will mention only very briefly here, can be found in the "god-building" movement in fin-de-siecle atheistic Russian Marxism. In the 1890s, a group of Bolsheviks led by Maxim Gorky (1838-1936), a friend and disciple of V. I. Lenin (1870- 1924), and Anatoly Lunacharsky (1875-1933) carried on a search in Russia for spiritual renewal through the promotion of what they called the "god-building movement" (bogostroitel'stvo). The god-building movement was a call for "scientific socialism" to be a religion with a god at its center who was human. Sacred cult sites devoted to a chosen atheistic genius of socialism would be established to remind the populace of the immortal, god-like achievements of a true socialist man and thereby renew the pilgrim's hopes of a better life through socialism. The god-building movement was to be a true deification of mankind and of human potential. Lunacharsky, the primary theorist of god-building, laid out the details of his ideas in 1908 and 1911 in a two-volume work, Religiia i sotsializm (Religion and Socialism). Lunacharsky's model seems to have been the cult of genius surrounding Wagner at Bayreuth (see below), as Lunacharsky was the most important promoter of Wagnerism in Russia at the turn of the century. [59]

Lenin detested the Bolshevik god-building movement, and in a 14 November 1913 letter to his friend and disciple Gorky he argues that the belief in any human god constructed by such a movement would be nothing more than necrophilia. For Lunacharsky, this new human god was to be a Marxist version of Nietzsche's ubermensch, who would be "a co-participator in the life of mankind, a link in the chain which stretches towards the overman, towards a beautiful creature, a perfected organism."

[60] This human god could be a political genius such as Lenin, or a scientific one, such as developed somewhat around the figure of T. D. Lysenko. Ironically, Lenin was made the first socialist deity in the years immediately following his death in 1924, as has been documented by historian Nina Tumarkin. [61]

THE NIETZSCHEAN FANTASY AND SPIRITUAL ELITISM

The logical extension of the hypothetical success of these secular programs for the renewal or rebirth of the individual through ostensibly secular philosophies and methodologies would be the production of a new elite that would revolutionize human culture and lead it to a new utopia. In Also Sprach Zarathustra, Nietzsche rhapsodized about this fantasy of a new nobility that would be "the adversary of all the rabble" and be godlike, self-creating "procreators and cultivators and sowers of the future."  [62] Psychoanalysis would have its elite of analysts and enlightened analyzed patients; the Monistic Religion, especially under Ostwald, would have its eugenically pure race of scientifically minded natural philosophers; the Marxists of Russia would have their vanguard of the proletariat and Lenin as their first deity.

The Nietzschean fantasy of the creation of a "New Man," a "genius" in the New Order of a revitalized society, was therefore at the root of these and other fin-de-siecle reform movements. Historians

Mosse

, Jost Hermand, and others have demonstrated that this same fantasy is one of the many mystical or prefascist sources of National Socialism.

-- The Jung Cult: Origins of a Charismatic Movement by Richard Noll
His work later affected a number of Russian Marxist theoreticians, including Nikolai Bukharin.[6] In 1907, he helped organize the 1907 Tiflis bank robbery with both Lenin and Leonid Krasin.
For four years after the collapse of the Russian Revolution of 1905, Bogdanov led a group within the Bolsheviks ("ultimatists" and "otzovists" or "recallists"), who demanded a recall of Social Democratic deputies from the State Duma, and he vied with Lenin for the leadership of the Bolshevik faction. In 1908 he joined Bazarov, Lunacharsky, Berman, Helfond, Yushkevich and Suvorov in a symposium Studies in the Philosophy of Marxism which espoused the views of the Russian Marxists. By mid-1908, the factionalism with the Bolsheviks had become irreconcilable. A majority of Bolshevik leaders either supported Bogdanov or were undecided between him and Lenin. Lenin concentrated on undermining Bogdanov's reputation as a philosopher. In 1909 he published a scathing book of criticism entitled Materialism and Empiriocriticism, assaulting Bogdanov's position and accusing him of philosophical idealism.[7] In June 1909, Bogdanov was defeated by Lenin at a Bolshevik mini-conference in Paris organized by the editorial board of the Bolshevik magazine Proletary and was expelled from the Bolsheviks.

He joined his brother-in-law Anatoly Lunacharsky, Maxim Gorky, and other Vperedists on the island of Capri, where they started the Capri Party School for Russian factory workers. In 1910, Bogdanov, Lunacharsky, Mikhail Pokrovsky, and their supporters moved the school to Bologna, where they continued teaching classes through 1911, while Lenin and his allies soon started the Longjumeau Party School just outside of Paris.
Bogdanov broke with the Vpered in 1912 and abandoned revolutionary activities. After six years of his political exile in Europe, Bogdanov returned to Russia in 1914, following the political amnesty declared by Tsar Nicholas II as part of the festivities connected with the tercentenery of the Romanov Dynasty.
During World War I
Bogdanov was drafted soon after the outbreak of World War I, and he was assigned as a junior regimental doctor with the 221st Smolensk infantry division in the Second Army commanded by General Alexander Samsonov. In the Battle of Tannenberg, August 26–30, the Second Army was surrounded and almost completely destroyed, but Bogdanov survived because he had been sent to accompany a seriously wounded officer to Moscow.[8] However following the Second Battle of the Masurian Lakes, he succumbed to a nervous disorder, and subsequently became Junior house surgeon at an evacuation hospital.[9] In 1916 he wrote four articles for Vpered which provided an analysis of the World War and the dynamics of war economies. He attributed a central role to the armed forces in the economic restructuring of the belligerent powers. He saw the army as creating a "consumers' communism" with the state taking over ever increasing parts of the economy. At the same time military authoritarianism was also spread to civil society. This created the conditions for two consequences: consumption-led war communism and the destruction of the means of production. He thus predicted that even after the war, the new system of state capitalism would replace that of finance capitalism even though the destruction of the forces of production would cease.[10]
During the Russian Revolution
Bogdanov had no party-political involvement in the Russian Revolution of 1917, although he did publish a number of articles and books about the events that unfurled around him. He supported the Zimmerwaldist programme of "peace without annexations or indemnities". He deplored the Provisional Government's continued prosecution of the war.
After the July Crisis, he advocated "revolutionary democracy" as he now considered the socialists capable of forming a government. However, he viewed this as a broad-based socialist provisional government that would convene a Constituent Assembly. In May 1917, he published Chto my svergli in Novaya Zhizn. Here he argued that between 1904 and 1907, the Bolsheviks had been "decidedly democratic" and that there was no pronounced cult of leadership. However, following the decision of Lenin and the émigré group around him to break with Vpered in order to unify with the Mensheviks, the principle of leadership became more pronounced. After 1912, when Lenin insisted on splitting the Duma group of the RSDLP, the leadership principle became entrenched. However, he saw this problem as not being confined to the Bolsheviks, noting that similar authoritarian ways of thinking were shown in the Menshevik attitude to Plekhanov, or the cult of heroic individuals and leaders amongst the Narodniks.
Every organisation, on achieving a position of decisive influence in the life and ordering of society, quite inevitably, irrespective of the formal tenets of the its programme, attempts to impose on society its own type of structure, the one with which it is most familiar and to which it is most accustomed. Every collective re-creates, as far as it can, the whole social environment after its own image and in its own likeness.[11]
After the October Revolution
At the beginning of February 1918, Bogdanov denied that the Bolsheviks' October rise to power had constituted a conspiracy. Rather, he explained that an explosive situation had arisen through the prolongation of the war. He pointed to a lack of cultural development in that all strata of society, whether the bourgeoisie, the intelligentsia, or the workers, had shown a failure to resolve conflicts through negotiation. He described the revolution as being a combination of a peasant revolution in the countryside and a soldier-worker revolution in the cities. He regarded it as paradoxical that the peasantry expressed itself through the Bolshevik party rather than through the Socialist Revolutionaries.
He analysed the effect of the First World War as creating 'War Communism' which he defined a 'consumer communism', which created the circumstances for the creation of state capitalism. He saw military state capitalism as temporary phenomenon in the West, lasting only as long as the war. However, thanks to the predominance of the soldiers in the Bolshevik Party, he regarded it as inevitable that their backwardness should predominate in the re-organisation of society. Instead of proceeding in a methodical fashion, the pre-existing state was simply uprooted. The military-consumerist approach of simply requisitioning what was required had predominated and could not cope with the more complex social relations necessitated by the market:
There is a War Communist party which is mobilising the working class, and there are groups of socialist intelligentsia. The war has made the army the end and the working class the means.[12]
He refused multiple offers to rejoin the party and denounced the new regime as similar to Aleksey Arakcheyev's arbitrary and despotic rule in the early 1820s.[13]
In 1918, Bogdanov became a professor of economics at the University of Moscow and director of the newly established Socialist Academy of Social Sciences.
Proletkult
Between 1918 and 1920, Bogdanov co-founded the proletarian art movement Proletkult and was its leading theoretician. In his lectures and articles, he called for the total destruction of the "old bourgeois culture" in favour of a "pure proletarian culture" of the future. It was also through Proletkult that Bogdanov's educational theories were given form with first the establishment of the Moscow Proletarian University. At first Proletkult, like other radical cultural movements of the era, received financial support from the Bolshevik government, but by 1920, the Bolshevik leadership grew hostile, and on December 1, 1920, Pravda published a decree denouncing Proletkult as a "petit bourgeois" organization operating outside of Soviet institutions and a haven for "socially alien elements". Later in that month, the president of Proletkult was removed, and Bogdanov lost his seat on its Central Committee.
He withdrew from the organization completely in 1921-1922.[14]
Arrest
Bogdanov gave a lecture to a club at Moscow University, which, according to Yakov Yakovlev, included an account of the formation of Vpered and reiterated some of the criticisms Bogdanov had made at the time of the individualism of certain leaders. Yakovlev further claimed that Bogdanov discussed the development of the concept of proletarian culture up to the present day and discussed to what extent the Communist Party saw Proletkult as a rival. He further hinted at the prospect of a new International that might emerge if there were a revival of the socialist movement in the West. He said he envisaged such an International as merging political, trade union, and cultural activities into a single organisation. Yakovlev characterised these ideas as Menshevik, pointing to the refusal of Vpered to acknowledge the authority of the 1912 Prague Conference. He cited Bogdanov's characterization of the October revolution as "soldiers'-peasants' revolt", his criticisms of the New Economic Policy, and his description of the new regime as expressing the interests of a new class of technocratic and bureaucratic intelligentsia, as evidence that Bogdanov was involved in forming a new party.[15]
Meanwhile, Workers' Truth had received publicity in the Berlin-based Menshevik journal Sotsialisticheskii Vestnik, and they also distributed a manifesto at the 12th Bolshevik Congress and were active in the industrial unrest which swept Moscow and Petrograd in July and August 1923. On 8 September 1923, Bogdanov was among a number of people arrested by the GPU (the Soviet secret police) on suspicion of being involved in them. He demanded to be interviewed by Felix Dzerzhinsky, to whom he explained that while he shared a range of views with Workers' Truth, he had no formal association with them. He was released after five weeks on 13 October; however, his file was not closed until a decree passed by the Supreme Soviet of the USSR on 16 January 1989. He wrote about his experiences under arrest in Five weeks with the GPU.[16]
Later years and death
In 1924, Bogdanov started his blood transfusion experiments, apparently hoping to achieve eternal youth or at least partial rejuvenation. Lenin's sister Maria Ulyanova was among many who volunteered to take part in Bogdanov's experiments. After undergoing 11 blood transfusions, he remarked with satisfaction on the improvement of his eyesight, suspension of balding, and other positive symptoms. His fellow revolutionary Leonid Krasin wrote to his wife that "Bogdanov seems to have become 7, no, 10 years younger after the operation". In 1925–1926, Bogdanov founded the Institute for Haemotology and Blood Transfusions, which was later named after him. But a later transfusion cost him his life, when he took the blood of a student suffering from malaria and tuberculosis.
(Bogdanov died, but the student injected with his blood made a complete recovery.) Some scholars (e.g. Loren Graham) have speculated that his death may have been a suicide, because Bogdanov wrote a highly nervous political letter shortly beforehand. Others, however, attribute his death to blood type incompatibility, which was poorly understood at the time.[17][4]
Legacy
Both Bogdanov's fiction and his political writings imply that he expected the coming revolution against capitalism to lead to a technocratic society.[18] This was because the workers lacked the knowledge and initiative to seize control of social affairs for themselves as a result of the hierarchical and authoritarian nature of the capitalist production process. However, Bogdanov also considered that the hierarchical and authoritarian mode of organization of the Bolshevik party was also partly to blame, although Bogdanov considered at least some such organization necessary and inevitable.
In the 1920s and 1930s,
Bogdanov's theorizing, being the product of a non-Leninist Bolshevik, became an important, though "underground", influence on certain dissident factions in the Soviet Union who turned against Bolshevik autocracy
while accepting the necessity of the Revolution and wishing to preserve its achievements.[19]
Writing

Fiction
In 1908, Bogdanov published the novel Red Star, about a utopia set on Mars. In it, he made predictions about future scientific and social developments. His utopia also dealt with feminist themes, which would become more common in later utopian science fiction, e.g., the two sexes becoming virtually identical in the future
, or women escaping "domestic slavery" (one reason for physical changes) and being free to pursue relationships with the same freedom as men, without stigma. Other notable differences between the utopia of Red Star and present day society include workers having total control over their working hours, as well as more subtle differences in social behavior such as conversations being patiently "set at the level of the person with whom they were speaking and with understanding for his personality although it might very much differ from their own".
The novel also gave a detailed description of blood transfusion in the Martian society.
Tectology
From 1913 until 1922, Bogdanov immersed himself in the writing of a lengthy philosophical treatise of original ideas, Tectology: Universal Organization Science. Tectology anticipated many basic ideas of Systems Analysis, later explored by Cybernetics and
Bogdanov attributed some of his ideas on the development of a monistic system to Ludwig Noire.In Tectology, Bogdanov proposed to unify all social, biological, and physical sciences by considering them as systems of relationships and by seeking the organizational principles that underlie all systems.
His three volume book anticipated many ideas later popularized by Norbert Wiener in Cybernetics and Ludwig von Bertalanffy in General Systems Theory. Both Wiener and von Bertalanffy may have read the German translation of Tectology, published in 1928.
In Russia, Vladimir Lenin (and later Joseph Stalin) considered Bogdanov's natural philosophy an ideological threat to dialectic materialism.
The rediscovery of Tectology occurred only in the 1970s.
Published works

Russian

Non-fiction
• Poznanie s Istoricheskoi Tochki Zreniya (Knowledge from a Historical Viewpoint) (St. Petersburg, 1901)
• Empiriomonizm: Stat'i po Filosofii (Empiriomonism: Articles on Philosophy) 3 volumes (Moscow, 1904–1906)
• Kul'turnye zadachi nashego vremeni (The Cultural Tasks of Our Time) (Moscow: Izdanie S. Dorovatoskogo i A. Carushnikova 1911)
• Filosofiya Zhivogo Opyta: Populiarnye Ocherki (Philosophy of Living Experience: Popular Essays) (St. Petersburg, 1913)
• Tektologiya: Vseobschaya Organizatsionnaya Nauka 3 volumes (Berlin and Petrograd-Moscow, 1922)
• "Avtobiografia" in Entsiklopedicheskii slovar, XLI, pp. 29–34 (1926)
• God raboty Instituta perelivanya krovi (Annals of the Institute of Blood Transfusion) (Moscow 1926-1927)
Fiction
• Krasnaya zvezda (Red Star) (St. Petersburg, 1908)
• Inzhener Menni (Engineer Menni) (Moscow: Izdanie S. Dorovatoskogo i A. Carushnikova 1912) The title page carries the date 1913[20]
English translation

Non-fiction
• Essays in Organisation Science (1919) Очерки организационной науки (Ocherki organizatsionnoi nauki) Proletarskaya kul'tura, No. 7/8 (April–May)
• 'Proletarian Poetry' (1918), Labour Monthly, Vol IV, No. 5-6, May–June 1923
• 'The Criticism of Proletarian Art' (from Kritika proletarskogo iskusstva, 1918) Labour Monthly, Vol V, No.6, December 1923
• 'Religion, Art and Marxism', Labour Monthly, Vol VI, No.8, August 1924
• Essays in Tektology: The General Science of Organization, translated by George Gorelik (Seaside, CA: Intersystems Publications, 1980)
• The Philosophy of Living Experience (1913/2015)
• A Short Course of Economics Science, (London: Communist Party of Great Britain, 1923)
Fiction
• Red Star: The First Bolshevik Utopia, edited by Loren Graham and Richard Stites; trans. Charles Rougle (Bloomington, IN: Indiana University Press, 1984):
• Red Star (1908). Novel. In English
• Engineer Menni (1913). Novel.
• "A Martian Stranded on Earth" (1924). Poem.
See also
• List of dystopian literature
• 1908 in literature
• Arkady Bogdanov, a character in K.S. Robinson's Mars Trilogy, inspired by Aleksandr Bogdanov
Notes
1. Bogdanov, Alexander (1974), "Autobiography", in Haupt, Georges; Marie, Jean-Jacques, Makers of the Russian Revolution: Biographies of Bolshevik Leaders, Allen & Unwin
2. Bogdanov, Autobiography
3. White, James (1981), ""Bogdanov in Tula", Studies in Soviet Thought, vol 2, no. 1
4. Huestis, Douglas W. "Alexander Bogdanov: The Forgotten Pioneer of Blood Transfusion". Transfusion Medicine Reviews. 21 (4): 337–340. doi:10.1016/j.tmrv.2007.05.008.
5. Biggart, John (1989), Alexander Bogdanov, Left-Bolshevism and the Proletkult 1904 - 1932, University of East Anglia, p. 170
6. Cohen p. 15
7. Woods, Part Three
8. Rogachevskii, Andrei (1995). "'Life Makes No Sense': Aleksandr Bogdanov's Experiences in the First World War". Proveedings of the Annual Conference of the Scottish Society for Russian and East European Studies: 105.
9. Biggart J. (1998) 'the Rehabitation of Bogdanov' in Bogdanov and His Work, Aldershot: Ashgate
10. Biggart, John (1990). "Alexander Bogdanov and the Theory of a "New Class"". Russian Review. 49 (3).
11. Biggart, John (1989), Alexander Bogdanov, Left-Bolshevism and the Proletkult 1904 - 1932, University of East Anglia, p. 170
12. Biggart, John (1989), Alexander Bogdanov, Left-Bolshevism and the Proletkult 1904 - 1932, University of East Anglia, p. 179
13. Rosenthal, p. 118
14. Rosenthal, p. 162
15. Yakolev, Vasily (January 4, 1923), "Menshevizm v Proletkul'tovskoi odezhde", Pravda, Moscow
16. 'The rehabilitation of Bogdanov' by John Biggart in Bogdanov and His Work: A Guide to the Published and Unpublished Works of Alexander A. Bogdanov (Malinovsky), 1873-1928, 1998, p. 12
17. Rosenthal, pp. 161–162
18. Sochor, p. ___
19. Socialist Standard, April 2007
20. Biggart, John; Gloveli, Georgii & Yassour, Avraham, Bogdanov and his Work, Aldershot: Ashgate, p. 254
Sources
• Cohen, Stephen F. 1980 [1973]. Bukharin and the Bolshevik Revolution: A Political Biography, 1888-1938. Oxford University Press. ISBN 0-19-502697-7. First published by Alfred A. Knopf in 1973. Published 1980 by Oxford University Press with corrections and a new introduction. Google Books preview as of 20101006
• Rosenthal, Bernice Glatzer. 2002. New Myth, New World: From Nietzsche to Stalinism. The Pennsylvania State University Press. Google Books preview as of 20101006
• Sochor, Zenovia. 1988. Revolution and Culture: The Bogdanov-Lenin Controversy. Cornell University Press.
• Socialist Standard. 2007 April. Bogdanov, technocracy and socialism. 106(1232): 10.
• Souvarine, Boris. 1939. Stalin: A Critical Survey of Bolshevism. New York: Alliance Group Corporation; Longmans, Green, and Co. ISBN 1-4191-1307-0
• Woods, Alan. 1999. Bolshevism: The Road to Revolution. Wellred Publications. ISBN 1-900007-05-3 Part Three: The Period of Reaction
Further reading
• Biggart, John; Georgii Gloveli; Avraham Yassour. 1998. Bogdanov and his Work. A guide to the published and unpublished works of Alexander A. Bogdanov (Malinovsky) 1873-1928, Aldershot: Ashgate. ISBN 1-85972-623-2
• Biggart, John; Peter Dudley; Francis King (eds.). 1998. Alexander Bogdanov and the Origins of Systems Thinking in Russia. Aldershot: Ashgate. ISBN 1-85972-678-X
• Brown, Stuart. 2002. Biographical Dictionary of Twentieth-Century Philosophers, London: Routledge. ISBN 0-415-06043-5
• Dudley, Peter. 1996. Bogdanov's Tektology (1st Engl transl). Hull, UK: Centre for Systems Studies, University of Hull.
• Dudley, Peter; Simona Pustylnik. 1995. Reading The Tektology: provisional findings, postulates and research directions. Hull, UK: Centre for Systems Studies, University of Hull.
• Gorelick, George. 1983. Bogdanov's Tektology: Nature, Development and Influences. Studies in Soviet Thought, 26:37–57.
• Jensen, Kenneth Martin. 1978. Beyond Marx and Mach: Aleksandr Bogdanov's Philosophy of Living Experience. Dordrecht: Kluwer. ISBN 9027709289
• Pustylnik, Simona. 1995. Biological Ideas of Bogdanov's Tektology. Presented at the international conference, Origins of Organization Theory in Russia and the Soviet Union, University of East Anglia (Norwich), Jan. 8-11, 1995.
• M. E. Soboleva. 2007. A. Bogdanov und der philosophische Diskurs in Russland zu Beginn des 20. Jahrhunderts. Zur Geschichte des russischen Positivismus [The history of Russian positivism.]. Hildesheim, Germany: Georg Olms Verlag. 278 pp.
External links
• Alexander Bogdanov Archive at marxists.org
• А. А. Bogdanov Biographic essay (English)
• International Alexander Bogdanov Institute (Russian)
• Short biography and bibliography in the Virtual Laboratory of the Max Planck Institute for the History of Science
• Red Hamlet
• Science in Russia and the Soviet Union: A Short History Loren R. Graham (Cambridge: Cambridge University Press, 1993 ISBN 0-521-28789-8 - Russian technocratic influence of engineers, subsequent deaths, trials and imprisonments
• About tectology John A. Mikes, prepared for the [International Conference on Complex Systems] New England Complex Systems Institute, September 21–27, 1997, in Nashua, NH