David M. Satterfield
by Wikipedia
Accessed: 12/10/17
NOTICE: THIS WORK MAY BE PROTECTED BY COPYRIGHT
YOU ARE REQUIRED TO READ

THE COPYRIGHT NOTICE AT THIS LINK

BEFORE YOU READ THE FOLLOWING WORK, THAT IS AVAILABLE SOLELY FOR PRIVATE STUDY, SCHOLARSHIP OR RESEARCH PURSUANT TO 17 U.S.C. SECTION 107 AND 108. IN THE EVENT THAT THE LIBRARY DETERMINES THAT UNLAWFUL COPYING OF THIS WORK HAS OCCURRED, THE LIBRARY HAS THE RIGHT TO BLOCK THE I.P. ADDRESS AT WHICH THE UNLAWFUL COPYING APPEARED TO HAVE OCCURRED. THANK YOU FOR RESPECTING THE RIGHTS OF COPYRIGHT OWNERS.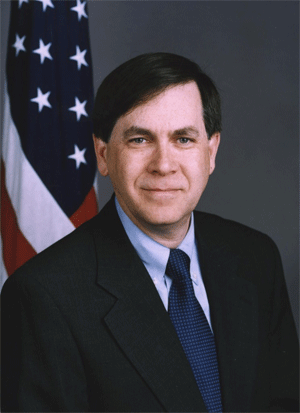 David Michael Satterfield
David Michael Satterfield (born December 18, 1954) is an American diplomat and U.S. Ambassador, who has served extensively in the Middle East, including the Persian Gulf area, Lebanon, and Iraq. He later served as a Senior Advisor on Iraq for Secretary of State Condoleezza Rice and is currently Director General of the Multinational Force and Observers, the peacekeeping force for the Sinai Peninsula. He was chargé d'affaires to Egypt from August 2013 to January 2014. He is currently serving as Deputy Assistant Secretary of the Bureau of Near Eastern Affairs.[1]
When I was living with Sarah McClendon, and helping her in 1986, I went everywhere she went, because she's the senior national White House correspondent. And I went to the State Department one day because I was curious about why there isn't peace in the Middle East. And I wanted to go to what I thought was the Middle East Department. There was a group of students, and I got a press pass ostensibly to go in and interview them. So I left them, and meandered up to the Near East section. And I had quite a few hours. I thought they were going to say, "What are you doing here?," because all the doors were open. They had these little buttons on each door that they could have closed, and you could have known somebody to get in, which I think is terrible to have the American people not know, and not be allowed in to the State Department without a special Sarah McClendon. If I hadn't been living with this senior White House correspondent, I as a citizen would not be welcome at the State Department. Now, if they are interested in peace, and they are interested in that kind of thing, they are certainly not showing it by the closed-door policy.

So I went in, and there were about 8 or 10 offices. I went in every single one. I was looking to find out who the leaders were. I knew about Aaron David Miller. I knew about David Satterfield, who really wasn't David Satterfield. His family were Zionists, who changed their name to David Satterfield, who was a Virginia senator back in the '30s who had a wonderful name. Like Jonathan Pollard who took the name "Pollard," which wasn't his name, because of Governor Pollard. I was married to Governor Pollard's grandson for 21 years. They take the names of honorable people, and then they're not honorable.

[Pastor Strawcutter] What was his name previous to Satterfield?

[Kay Griggs] Now Aaron David Miller, I think that is possibly his name. It might have been Muller. But I'm not saying that just because they change their name they are bad. But what I am saying is that there is this idea that, "go ahead and change it, and be somebody else." Kind of like a snake, changing colors for the moment; not being honorable and truthful. Saying, "my family is Bzezinski" – heck, I'd be "Brzezinski," I'm the 8th Katherine in a row from Scotland; it's ridiculous. But my daughter's Katherine and my granddaughter's Katherine. It's a family tradition -- weird -- but we're happy with that.

So David Satterfield, the reason I went there is because in the Spring I went to a dinner or luncheon that the World Affairs Council had in Norfolk. And he was speaking. And I'm very interested in peace, because as a Christian I want it. I know it's possible if people are reasonable. And this talk that David Satterfield gave, there were probably twenty mentions of Israel to one of the Palestinians. He was extremely biased and arrogant. The arrogance is what bothers me. Because you can't have peace or justice where there's imbalance.

-- Interview with Kay Griggs, by Pastor Strawcutter
Biography
Born in Baltimore, Maryland, Satterfield graduated from the University of Maryland, College Park, with a Bachelor of Arts in 1976.
He entered the Foreign Service in 1980, and has served overseas in Jeddah, Tunis, Beirut, and Damascus. Director of the Department of State Executive Secretariat Staff from 1990 to 1993, Satterfield served on the National Security Council Staff from 1993 to 1996 as Director for Near East and South Asian Affairs. He held the position of Director of the Department of State's Office of Israel and Arab-Israeli Affairs from 1996 to 1998, and was the Ambassador to Lebanon from September 1998 to June 2001.
The United States Senate confirmed Satterfield to succeed Edward William Gnehm, Jr. as Ambassador to Jordan, but shortly thereafter (on June 1, 2004) the Secretary of State designated him Principal Deputy Assistant Secretary for Near East Affairs (NEA) (having served for the previous three years as NEA Deputy Assistant Secretary), and in May 2005 he was sent to Iraq as Deputy Chief of Mission. As a result, he never assumed his post in Jordan. On 19 May 2006, the U.S. Department of State announced Satterfield's appointment as Coordinator for Iraq and Senior Adviser to Secretary of State Condoleezza Rice. [1]
In May 2009, Satterfield retired with the rank of career minister from his nearly 30-year career in the Foreign Service. Upon nomination by the U.S. government, he was then appointed director general of the Multinational Force and Observers (MFO), an independent international organization, by the Arab Republic of Egypt and State of Israel, and assumed office on July 1, 2009. The MFO, whose mission is the implementation of the security provisions of the Egyptian-Israeli Treaty of Peace, is headquartered in Rome, with peacekeeping responsibilities in the Sinai. The director general is responsible for exercising his authority through his staff at the headquarters in Rome, the force staff commander and his staff in the Sinai, and the director general's representatives and their staffs in Cairo and Tel Aviv. Satterfield served as chief of mission in Cairo from August 2013 to January 2014 and was special advisor to the Secretary of State for Libya from May to September 2014.[2] On 5 September 2017 he was appointed to serve as Deputy Assistant Secretary of the Bureau of Near Eastern Affairs.[1]
Ambassador Satterfield is the recipient of the:
Presidential Distinguished Executive Rank Award;
Presidential Meritorious Executive Rank Award;
The Secretary of State's Distinguished Service Award (for Iraq service);
Department of State Distinguished Honor Award;
Four Department of State Superior Honor Awards, notably for his work on the Middle East peace process;
Department of the Army Outstanding Civilian Service Award (for Iraq service).
References
1. "David M. Satterfield". U.S. Department of State. Retrieved 8 December 2017.
2.
http://mfo.org/en/biography-of-the-director-general