Hasty Pudding Club
by hastypudding.org
Accessed: 12/12/17
NOTICE: THIS WORK MAY BE PROTECTED BY COPYRIGHT
YOU ARE REQUIRED TO READ

THE COPYRIGHT NOTICE AT THIS LINK

BEFORE YOU READ THE FOLLOWING WORK, THAT IS AVAILABLE SOLELY FOR PRIVATE STUDY, SCHOLARSHIP OR RESEARCH PURSUANT TO 17 U.S.C. SECTION 107 AND 108. IN THE EVENT THAT THE LIBRARY DETERMINES THAT UNLAWFUL COPYING OF THIS WORK HAS OCCURRED, THE LIBRARY HAS THE RIGHT TO BLOCK THE I.P. ADDRESS AT WHICH THE UNLAWFUL COPYING APPEARED TO HAVE OCCURRED. THANK YOU FOR RESPECTING THE RIGHTS OF COPYRIGHT OWNERS.
UNIQUE. HISTORIC. PRESTIGIOUS. ICONIC.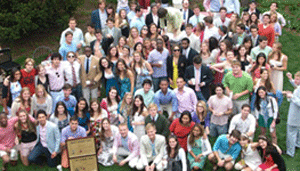 In 1795, twenty-one Harvard juniors crowded into the dorm room of one Nymphas Hatch to establish a new on-campus society. The members pledged to maintain the Club's secrecy and "to cultivate the social affections and cherish the feelings of friendship and patriotism" amongst them. Most importantly, they mandated that "the members in alphabetical order shall provide a pot of hasty pudding for every meeting."
Over two centuries later, the Pudding continues as a cornerstone of the Harvard experience and is the source of lasting friendships. The oldest social club in the United States, the Pudding boasts a distinguished membership, including five U.S. Presidents (John and John Quincy Adams, Theodore and Franklin D. Roosevelt, and John F. Kennedy), William Randolph Hearst, Jack Lemmon, and many other luminaries in entertainment, academia, politics, business, and public service.
Throughout the years, the Club has continued to attract a dedicated membership that carries on our many special traditions including weekly Members' Nights, Lecture Lunches, Charity Night and Service Days. The Hasty Pudding Club is the only co-ed social institution on Harvard's campus and accepts members from all four classes.
There is no other collegiate organization quite like it in the world.
HASTY PUDDING THEATRICALS HISTORY
The Hasty Pudding Theatricals have presented their unique brand of student-written theater every year since 1844, the only exceptions being for World Wars I and II.
THE PUDDING STORY
In 1795, twenty-one Harvard students crowded into a dorm room to celebrate the establishment of a new on-campus society. Members pledged to maintain the club's secrecy and "to cultivate the social affections and cherish the feelings of friendship and patriotism." Most importantly, they mandated that "the members in alphabetical order shall provide a pot of hasty pudding for every meeting." With this ritual, the Hasty Pudding club found its namesake, and the theatrical organization of today found its simpler roots.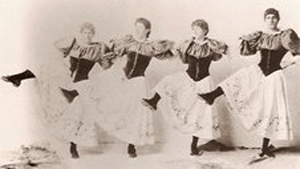 The turn of the century saw the introduction of a new tradition into club meetings. In response to increased rowdiness and anarchy, a mock criminal court was improvised to try club members for "insolence" and "contempt of the club." These trials were a great success, and the club constitution was amended to incorporate these dramatizations into every club meeting. No figure was safe from condemnation by this amateur court system — Cortez was convicted for "massacres and cruelties," the British Parliament stood guilty for its beheading of Charles I, and the college administration was indicted for "compelling the whole body of students to pursue the dry, repulsive . . . study of mathematics." Through the years, these productions became more elaborate, with the addition of costumes and eventually scripts. In 1844, Harvard senior Lemuel Hayward broke with tradition and secretly arranged the production of an opera, Bombastes Furioso, instead of the expected mock trial. Thus, the first Hasty Pudding show was born, starting a tradition that has continued for 160 productions, interrupted for only four years by the two World Wars.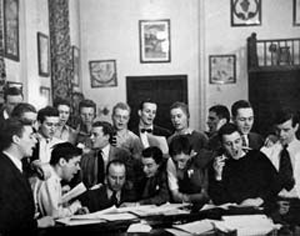 The first productions were adapted shows from the professional theatre of the era; by the 1860's, the Pudding was producing student-written shows. Productions were initially performed exclusively for club members, but as their popularity grew, audience exclusivity waned. Harvard granted theatre space to the Hasty Pudding in 1876, opening the shows to a general audience. The space was a dingy little building on the edge of the athletic field that the club secretary, Theodore Roosevelt, referred to as "the shed." In 1882, the club produced a landmark show that attracted national attention. Dido and Aeneas was a burlesque adaptation of Virgil's classic text, and was so popular that the Pudding was offered the opportunity to tour New York and Philadelphia. This national attention and financial success allowed the Pudding to construct the current clubhouse in 1888, and set the gold standard for all Pudding shows that were to follow.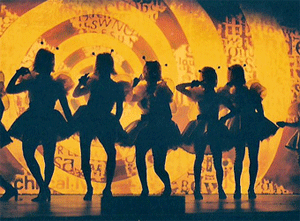 Photo by Heidi Hermiller
The modern Pudding show has evolved into a spectacle beyond anything ever envisioned by the founders of the original secret society. Undergraduates are now provided guidance by theatrical veterans in all aspects of the production while sets and costumes rival those of many professional shows. The group also donates thousands of dollars each year to the arts programs of Cambridge Public Schools, maintaining its presence in the community.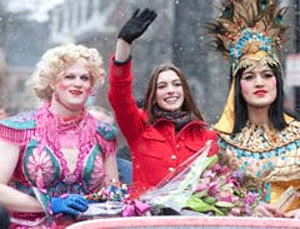 Still, the show remains in its essence a no-holds-barred burlesque, with men playing both the male and female roles. Women are involved in all other aspects of the show, from technical staff, to the band, to authoring and producing the show. With the introduction of the Woman of the Year celebration in 1951, and the Man of the Year in 1967, the Pudding has gained a truly international audience. Despite these factors, the Pudding remains at its heart an organization driven by the enthusiasm and exuberance of its undergraduates. This year's 169th production, HPT169, running February and March 2016, continues in this long and illustrious tradition that can only be described as uniquely 'Pudding.' The Hasty Pudding Theatricals have presented their unique brand of student-written theater every year since 1844, the only exceptions being for World Wars I and II. For more information about this year's show, click here.
"PUDDING" OTHERS FIRST

SUPPORTING ARTISTS WHO OTHERWISE WOULDN'T HAVE A VOICE.
The Hasty Pudding Institute of 1770's philanthropic mission is to provide educational and developmental support in all aspects of the performing arts for the underprivileged, to encourage satire and comedy, and to cultivate young talent around the world.
The Hasty Pudding makes a difference through three approaches:
* Direct service
* Grants to individuals and organizations (click here for 2014 grants list)
* Convening of like-minded organizations around special projects.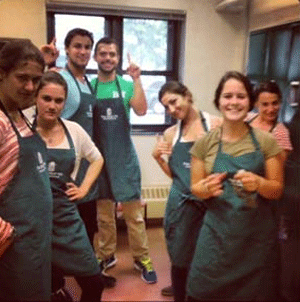 For undergraduates, membership in the club comes with a promise to help give back through volunteering and fundraising. Every month our members are asked to volunteer in a Service Day with local charities.
LOOK & LISTEN

GENERATIONS OF OLD PUDDING CONTENT!
Check out old production stills, soundtracks for past shows, old posters, & more. With almost 200 unique shows, there is so much old content to explore. With any questions about the music or composition from any past shows, please contact our Band VP at
band@hastypudding.org
. With any other questions or inquiries, email our President at
president@hastypudding.org
.
http://hastypudding.org/photos
http://hastypudding.org/songs
http://hastypudding.org/
HASTY PUDDING ALUMNI
John Adams, 1775
Attended First Continental Congress; Signed Declaration of Independence; First US Vice President, 1789; Second US President, 1796
John Quincy Adams, 1788
US Senator; Secretary of State under President James Monroe; Sixth US President, 1825-1829; US Representative
Phillips Brooks, 1855
Clergyman; lyricist of "O Little Town of Bethlehem"; namesake of Phillips Brooks House Associtation
Performed in the Pudding; It is rumored that he was cast for his height (he was around 6 foot 3)
Henry Hobson Richardson, 1859
Architect; designed Trinity Church, First Baptist Chruch, and Sever Hall amongst others; invented Richardson Romanesque style
Oliver Wendell Holmes, 1861
Served on the US Supreme Court for 30 years; Chief Justice of the Massachusetts Supreme Judicial Court
Performed in three Pudding productions, including 1860's Raising the Wind
Robert Todd Lincoln, 1864
Two-time Secretary of War (under Presidents James A. Garfield and Chester A. Arthur) and US Ambassador to the Court of St. James (under President Benjamin Harrison)
Vice President of HPC and Member of HPT
Charles Follen McKim, 1867
Architect and Founder of McKim, Mead, and White resposible for the Boston Public Library and Penn Station amongst others
Henry Cabot Lodge, 1872
Massachusetts Senator; US Senate majority leader; Best known for his battles with President Woodrow Wilson over the Treaty of Versailles; Successfully prevented the US entry to the League of Nations
Performed in and wrote Pudding shows
Edmund March Wheelwright, 1876
City Architect of Boston; Architect of the Longfelllow Bridge and the Harvard Lampoon Castle, among other projects
Performed in the Pudding and was Artist
Francis Attwood, 1880 (did not graduate)
Artist/cartoonist for Cosmopolitan and Life Magazine
Artist for the Pudding, designed sets and props
Theodore Roosevelt, 1880
26th President of the United States
Secretary; referred to the then-dingy theater space as "the shed".
Owen Wister, 1882
Author. Wrote The Virginian, effectively inventing the Western genre as we know it. Dedicated it to Teddy Roosevelt
Wrote 1882's Dido and Aeneas, which brought the Pudding widespread acclaim and was the impetus to build 12 Holyoke St.
William Randolph Hearst, 1885 (did not graduate)
Newspaper, publishing and business magnate; Publisher of The San Francisco Examiner and The New York Journal; US Representative
Played a character named Pretzel; was expelled from Harvard after presenting his teachers with chamber pots instead of pudding pots, was expunged from all Harvard records
George Santayana, 1886
Famous man-of-letters and historian: "Those who cannot remember the past are condemned to repeat it." and "Only the dead have seen the end of war."
Played Lady Elfrida in 1885's Robin Hood
JP Morgan, Jr., 1886
Helped to rescue the America economy during the Banking Panic of 1907; Prominent financier and investment banker
Business manager for 1889's The Duenna; Ironically, given his later financial successes, nearly bankrupted the Pudding while he was the manager
Franklin Delano Roosevelt, 1904
32nd President of the United States; New York State Senator; Assistant Secretary of the Navy; New York Governor
Played a chorus girl in HPT 59:Catnippers; Treasurer
Harry Elkins Widener, 1907
Book Collector; Died on the Titantic; Mother donated Widener Library in his memory
Performed in HPT 63: The Lotos-Eaters
John S. Reed, 1910
Journalist and prominent member of the American Communist Labor Party; Best known for his first hand account of the Bolshevik Revolution, Ten Days that Shook the World. Buried in the Kremlin Necropolis
Wrote the lyrics for HPT 66: Diana's Debut
Robert Benchley, 1912-1913
Columnist for The New Yorker and Vanity Fair; Algonquin Round Table member; Academy Award winner for his short film How to Sleep; appearances in many other films
Cast member in HPT 67: The Crystal Gazer and HPT 68: Below Zero
Robert Sherwood, 1918
Playwright, editor, screenwriter; Algonquin Round Table member; Sat on the board of Vanity Fair with Robert Benchley; wrote many notable American plays, including The Best Years of Our Lives, 1946 Academy Award for Best Screenplay
Wrote HPT 74: Barnum Was Right
Henry Cabot Lodge, Jr., 1924
United States Senator from Massachusetts; US Ambassador to United Nations, South Vietnam, West Germany, and the Holy See
Lyricist for HPT 77: Take A Brace
Alistair Cooke, 1932
American and British radio and television personality; host of Masterpiece Theatre on PBS for 22 seasons; Foreign correspondent for the London Times; Hosted Letter from America on BBC for fifty five years
Directed HPT 88: Hades, the Ladies
Archibald Cox, 1934
Law professor; Served as the US Solicitor General under President Kennedy; first special prosecutor for the Watergate scandal; Journal of Legal Studies "Most cited legal scholars of the 20th century"
Assistant Manager HPT 87: Step Lively
John F. Kennedy, 1940
35th US President; US Senator; US Representative
Active Member in the Hasty Pudding Club
Alan Jay Lerner, 1940
Won three Tony Awards and three Oscars for his work as a librettist, which included writing the book for movies Gigi, My Fair Lady, and An American in Paris; With fellow Harvard grad (and honorary Krok) Leonard Bernstein, wrote Lonely Men of Harvard
Wrote and participated in HPT 92: So Proudly We Hail and HPT 93: Fair Enough; often played pool with JFK in Farkas Hall
Jack Lemmon, 1947
Actor in more than 60 films, including Some Like It Hot and The Odd Couple; received two Academy Awards
First performed in drag in HPT: 97 Proof of the Pudding; President of the Pudding in 1947; Man of the Year in 1973
George Plimpton, 1948-1950
Sports writer for Sports Illustrated; known for co-founding and editing The Paris Review; Author of Paper Lion, among other books; has made cameo appearances in many shows and films
Performed in the Pudding
Fred Gwynne, 1951
Acted in sitcoms like Car 54, Where Are You? and The Munsters; Known for his role as Judge Chamberlain Haller in My Cousin Vinny
Played Pablo in HPT 101: Tomorrow is Manaña and the Sheriff in HPT 102: Heart of Gold
Ted Kennedy, 1956
United States Senator from MA; Lion of the Senate
Active Hasty Pudding Club member
Erich Segal, 1958
Wrote both novel and screenplay version of Love Story
Wrote HPT 110: The Big Fizz
Stockard Channing, 1965
Three-time Emmy and one-time Tony award winning actress; played Betty Rizzo in Grease film and First Lady Abby Bartlet in The West Wing
Tech member in HPT 116: William Had The Words; got her last name from marrying Pudding Member, Walter Channing
William Weld, 1966
68th Governor of Massachusetts; Federal prosecutor in the US Justice Department
Performed in the cast of HPT 116, 117, and 118; Cast VP in 1966
Doug Kenney, 1968
Co-founder of the National Lampoon; wrote Animal House and Caddyshack
Performed in HPT 118: Right Up Your Alley and HPT 119: A Hit And A Myth
Mark O'Donnell, 1976
Along with Thomas Meehan, received the Tony Award for Best Book of a Musical for Hairspray; Again with Meehan, wrote the 2007 film adaptation for Hairspray
Writer and librettist for three Pudding productions
Grover Norquist, 1978
Founder and President of Americans for Tax Reform
Production Assistant for HPT 128: Tots in Tinsletown
Deval Patrick, 1978
71st Governor of Massachusetts
Active Member of the Hasty Pudding Club
Charlie Baker, 1979
72nd Governor of Massachusetts; CEO of Harvard Pilgrim Health Care
Active Member of the Hasty Pudding Club
Paris Barclay, 1979
First African-American and openly gay President of the Directors Guild of America; Directed music videos for stars like Janet Jackson, LL Cool Jay, and Bob Dylan; Directed over 120 episodes for major television shows like Glee, The West Wing, and Lost; Earned two Emmy Awards for NYPD Blue; Executive producer of FX's highest rated series ever, Sons of Anarchy
Wrote the music for HPT 129: Cardinal Knowledge and HPT 131: Overtures in Asia Minor
Andy Borowitz, 1980
Creator of The Fresh Prince of Bel-Air; Co-produced Pleasantville; Creator of The Borowitz Report, a satire news website; New York Times bestselling author; first recipient of the National Press Club award for humor; Contributing writer for The New Yorker, The Borowitz Report
Wrote HPT 130: A Thousand Clones
Dean Norris, 1985
Actor with numerous roles, most notably as Hank Schrader in Breaking Bad
Performed in HPT 135: Of Mines and Men; video here
Paul Felix, 1987
Walt Disney animator and visual development designer for Mulan, Tarzan, The Emperor's New Groove, and Brother Bear, among others; Production designer for Lilo and Stitch; Art director for Bolt
Artist for the HPT 138: Between the Sheiks
Larry O'Keefe, 1991
Composer and lyricist for Bat Boy: The Musical; Sarah, Plain and Tall; and Legally Blonde: The Musical; and Heathers: The Musical
Performed in HPT 140 and HPT 143 shows; Composed HPT 142 and HPT 143 (book by Mo Rocca); Co-authored HPT 145 with Nell Benjamin and Mark O'Keefe
Mo Rocca, 1991
Was a regular contributor to The Daily Show with Jon Stewart and NBC's The Tonight Show and MSNBC's Countdown with Keith Olbermann; Specializes in political satire; Currently featured on CBS News Sunday Morning and My Grandmother's Raviloli
President of HPT in 1990; Authored HPT 142: Suede Expectations; Performed in HPT 140, 141, 142, and 143
Nell Benjamin, 1993
Co-wrote Cam Jansen; Sarah, Plain and Tall; and Legally Blonde: The Musical; wrote The Explorers Club
Co-wrote HPT 145: Romancing the Throne with the O'Keefe brothers; on Tech Crew for HPT 143, 144, and 145
David Javerbaum, 1993
Former Executive Producer of The Daily Show with Jon Stewart; Recipient of 11 Emmy Awards, two Grammy Awards, two Peabody Awards, and Television Critics Association Awards for Best Comedy and Best News Show; co-author/producer for America (The Book) and Earth (The Book). Last Testament of God.
Lyricist and co-author for HPT 144: Up Your Ante and HPT 146: A Forum Affair
​Mark O'Keefe, 1993
Screenwriter for Bruce Almighty, Evan Almighty and Click
Co-authored HPT 145: Romancing the Throne with brother Larry and Nell Benjamin
Rashida Jones, 1997
Actress in Boston Public, The Office, I Love You, Man, The Social Network, and Parks and Recreation, among other shows and movie
Co-composed the score for HPT 149: Me and My Galaxy; Businees Staff member HPT 147 and HPT 149
BJ Novak, 2001
Actor and writer for The Office. Appeared in Inglorious Basterds. Author.
Active Member of Hasty Pudding Club
Megan Amram, 2010
Internet phenom; Author; writer for Parks and Recreation; Wrote Science...For Her . Follow her @meganamram
Co-writer of HPT 161: Acropolis Now and HPT 162: Commie Dearest; Along with Alexandra Petri ('10), Amram was part of the Pudding's first all-female writing team