Rosemary Trible's long path to forgiveness after rape
by Katherine Calos
Richmond Times-Dispatch
May 2, 2010
NOTICE: THIS WORK MAY BE PROTECTED BY COPYRIGHT
YOU ARE REQUIRED TO READ

THE COPYRIGHT NOTICE AT THIS LINK

BEFORE YOU READ THE FOLLOWING WORK, THAT IS AVAILABLE SOLELY FOR PRIVATE STUDY, SCHOLARSHIP OR RESEARCH PURSUANT TO 17 U.S.C. SECTION 107 AND 108. IN THE EVENT THAT THE LIBRARY DETERMINES THAT UNLAWFUL COPYING OF THIS WORK HAS OCCURRED, THE LIBRARY HAS THE RIGHT TO BLOCK THE I.P. ADDRESS AT WHICH THE UNLAWFUL COPYING APPEARED TO HAVE OCCURRED. THANK YOU FOR RESPECTING THE RIGHTS OF COPYRIGHT OWNERS.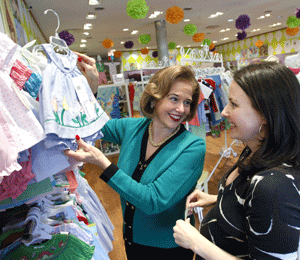 Rosemary Trible looks at baby clothes with her daughter, Mary Katherine Trible Peters, at Rattle & Roll in the River Road II Shopping Center.
Stories about rape often focus on the crisis. This story is about what happens in the rest of your life.
It's about faith and love, forgiveness and a near-death experience. It's about healing through good works. It's about the remarkable path of
Rosemary Trible, who was raped at gunpoint in Richmond 35 years ago. Only now, at age 61, has she gone public with a book about her experience.

One of the remarkable things about her story is that it remained a secret while she helped her husband, Paul S. Trible Jr., run for office in eight major political campaigns. He served as a Republican member of the U.S. House of Representatives and Senate for 12 years.
In 1996, he became president of Christopher Newport University, where she also has been very visible and involved as the president's wife.
During those years in politics and education, she did develop a quiet ministry working one on one with women in crisis. "I almost had a sense . . . when a woman was hurting, and especially if she'd been suffering in some way from fear or sexual assault," she said in a soft, whispery voice as she sat in the cheerful living room of the CNU president's house, a place that every CNU student visits at the beginning and end of college life.
"Through all these years, it's been how I reached out."
Now she's telling the world about her path "from victim to victory" in a book titled "Fear to Freedom: What if you did not have to be so afraid?" She'll be in Richmond to talk about it Tuesday
at a luncheon for Elijah House Academy
.
"There are so many more women and men affected by this. If my story, sharing it, could help any of those women, it would be worthwhile to be vulnerable," she said. "I want them to see not only the pain of what happens, but also that the lost joy can be found again and the cycle of fear can be broken."
Rosemary Trible has had a life full of victories.
She was America's Junior Miss in 1967
, four years after Diane Sawyer held the title.
By 1975, with her husband serving as Essex County commonwealth's attorney, she was hosting her own television show on WTVR at a time when that was a big step forward for women. Once a week, she devoted "Rosemary's Guestbook" to an important issue, such as interviews with rape victims early in December 1975.

A week after that show she decided to stay overnight at a hotel near the station, Richmond's CBS affiliate, instead of driving an hour home to Tappahannock. She wanted to tape three extra shows for the holiday break.

At about 11 p.m., she went downstairs to get a cup of coffee. When she returned and sat down at the desk to continue working on the scripts, a man rushed forward from the curtains.

"This man grabbed me around the neck with his gloved hands," she said. "He put this steel gun at my head and he said in this deep voice, 'OK, Miss Cute Talk Show Host, what do you do with a gun at your head?'

"Of course we hadn't talked about that on the show," she said, her voice lowering to a whisper, "and he wanted to prove a lesson to me that I would never forget.

"It was a night of horrors. I fought, I pled, I cried, I prayed. It was very violent. I remember finally saying the Lord's Prayer to keep from going into shock and to try to get my mind off of this horror.

"The last trigger, with the gun at my head, he said, 'I know where you live. I know who you are. And I will kill you if you tell.' That's the dagger that's the hardest thing. They plant this fear in your life that's like a dagger. It's the cycle of fear that really destroys your life."

As soon as he left, she called hotel security. Police investigated. She called her husband and went to the hospital.

"The next morning, I did the show on robot. I was determined. I knew he'd be watching. John Shand [the station manager] said, 'If you can't finish it, I'll walk on.' He said, 'Go home, I'll do the next three shows for you.'"

She worked there a few more months, but the strain was too much.

"Going back and forth to the station, that hour drive, there's this tape recorder in your head that says, 'I know where you live. I will kill you.' It was so combined with my work and where we lived.

"I'd always been a very hugging, affectionate person, and [after that] you couldn't be touched. People that you didn't know, strangers, would send this trigger of fear into you. I would drive home from the show and cry all the way.

"I finally realized it was important to be tender with myself. You have to give yourself some grace that you really have gone through a horrible crime. It's the kind of crime that, regardless of the circumstances, you have this feeling of shame and guilt. You feel like you'll never be pure again. It strips you of something that is a very personal part of yourself. No matter if it's a date rape or children raped by a father or uncle, whatever it is, it's like you take on the shame and guilt, and there's this inset of fear. Is this going to happen again? Is he going to find me?"
Her husband worked closely with Richmond police, but the attacker never was found. The assailant wore a mask and gloves, so there were no fingerprints and only a limited description. DNA profiling was not yet available.
Paul Trible recalls that the rape happened on the evening of a day that he was in court prosecuting a murder case.
"It was a tragic event," he said. "It was a difficult and challenging time for Rosemary and for us, but we dearly love each other. I was of course angry that this could have happened to my beloved wife.
"I love her dearly. I love Rosemary more today than when I walked her down the aisle 39 years ago. She is the joy of my life. It breaks my heart that she experienced the tragic events of that evening in Richmond, but she has triumphed over evil and her story hopefully can empower lots of people to do that."
To outside observers, their life retained the polish of perfection.
Within a year, Paul Trible, then 29, was running for Congress from the First District. Despite her fears, Rosemary went on the campaign trail, with former college roommate Rene Bowditch at her side for support. "We tried to stay with friends rather than hotels. You have to watch your triggers, and for me, staying in hotels was a trigger," she said.

Trible won, and their first child, Mary Katherine, was born 10 days after he was sworn into Congress in 1977. Paul Trible III was born in 1980. Both children live in Richmond now. Mary Katherine Peters is pregnant with the first grandchild.

"That brought some of the joy back into my life," Rosemary said, remembering Mary Katherine's birth.

When Mary Katherine was 6 months old, however, someone broke into their house in Old Town Alexandria while they were out for a stroll.

"All that fear came rushing back," she said. "I remember praying. It was a turning point. . . . I cried out to God, 'I can't live like a victim the rest of my life, and I can't deal with this fear again.' I really felt a sense of the presence of God, that, 'I'm here, I'm with you.'

"Somehow that was a real breakthrough for me, a beginning of trusting that I was going to be OK. The healing process really began from there and, about a year later, coming to a place of forgiveness."

A church conference in inner-city Washington was the catalyst.

"Have you ever gone into a room where you didn't know anyone and said, 'I'll sit next to anyone but that person,' and that person comes and sits next to you?" she asked. "He was a huge African-American man, about the stature of the man who raped me. He said, 'My name is Pat Patterson. I spent five years in Alcatraz and another seven years in Lorton prison.' And now my heart is really pounding. He said, 'That man over there, Pastor John Staggers, for two years he came to Lorton and told me about God and said if I asked to be forgiven, my sins and crimes can be forgiven. I accepted Christ and now I'm two weeks out of prison. I'm going to work with inner-city school kids because they can't finesse me. I've been there.'"

She remembered a biblical passage: "If anyone is in Christ, he is a new creation. Old things are passed away and all things become new."

"This man, Pat, I didn't need to be afraid of anymore. He wasn't the same criminal he was."

She excused herself from the church meeting and went to the restroom to pray: "'I forgive the man who raped me. And I will pray the rest of my life that he will understand about forgiveness, and [be so completely transformed that] I will spend eternity with the man that raped me.' It was like this burden came off of me and I realized the power of forgiveness.

"I walked back in that door and took his hand. We became great friends," They were so close that years later, she did a eulogy at Patterson's funeral, she said.
"I needed to go back into the place of fear -- the inner city -- to be healed of that fear."
For 11 years she worked with members of Congress and their families on inner-city projects. When she found out that six kids at an after-school program had been molested in the alleyway, "I got some friends involved and built a playground with a fence around it so it would protect those young people. It was so healing to be able to get involved in helping others who had been wounded."
Work with university students extends back to 1983 when the Tribles became the first hosts of the Virginia Student Leadership Forum on Faith and Values. In 1990, they joined with several congressional leaders in beginning the National Student Leadership Forum to bring together a diverse group from around the nation for study of Jesus' leadership model.
Though religion has been central to her life, she said, "it's not a requirement for healing. For me, my faith in God was a tremendous blessing. I encourage women to seek whatever they may believe in. I do believe with all my heart that a beautiful way to find healing in your life is faith. It was true for me."
She also encourages women to seek counseling and to find two "elephants" -- friends who will hold you up when you're weak the way two elephants will stand on either side of a wounded elephant to keep it from falling to the ground.
A final step in her healing came 14 years ago, just after they'd moved to CNU in Newport News. On an icy winter day, her car spun out while she was heading to Gloucester for a retreat being attended by six college students who'd been raped.
When she got the car turned around, she took the next exit and stopped.
"I knew I had been shaken. I didn't know how serious it was," she said. "I didn't realize I was lapsing into this comalike state."
Three hours passed before someone called the rescue squad. Snow was piling up around the car, and freezing temperatures were affecting her body, she said. Rescuers didn't know she had been in a wreck because the car was off the highway.
She remained unconscious for three days. "That first night, I had a near-life experience," she said. "I don't call it near-death.
"The spirit of the Lord was like a joy, like a friend that was with me. Ever since I'd stopped the car, there had been this white light that had embraced me. It began moving forward, like it was guiding me. The white opened up to a blue sky and an incredible wheat field. There were five lights coming toward me. It was like a welcoming committee." Behind the first light, she saw a dark shadow.
"Out of that shadow walked an African-American man. He said, 'I'm the man who raped you. I wouldn't be here but you prayed all those years for forgiveness and that I will spend eternity with you.' Somehow God had answered my prayer. This horrible man, who had destroyed my life and that of so many other women, I believe, was forgiven, even of the treacherous thing he had done.
"When I'm able to share that with someone who's been raped, it gives them new hope and an opportunity maybe to forgive a father or someone who's date-raped them. It'll set you free. When I forgave this man, he wasn't my problem any more. I had released him. That was a gift to my life."
As tragic as the rape was, she realizes that it also made her the person she is today. It has been used for a purpose in her life.
"I would not have the compassion for women if this had not happened to me, nor would I have understood the depth of pain that someone who experiences this crime would feel.
"And yet, the joy I've had in my life, and Paul, and the experiences we've been able to enjoy together, it's like another season has opened up in our life. I'm so grateful."
She was moved to write the book after hearing their rector ask two questions in a sermon: "What if you didn't have to be so afraid?" and "What if you could help others not be so afraid?"
She thought about it on the way home.
"Rosemary was uncommonly quiet," her husband recalled. "When Rosemary is quiet, I know something important is going on."
She told him she felt it was important to share her story. Would that be OK?
"I smiled to myself and thought, 'Surely, Paul, you're not going to stand between Rosemary and God.'" The children also agreed, and she started writing. The book already is in a second printing. It includes stories of others who've felt "broken" as well as a devotional guide for people who want to follow Trible's faith journey.
"I truly believe this issue will never get out of the darkness until we are willing and able to share it in the light," she said. "I'm grateful to have the opportunity to do that."
Contact Katherine Calos at (804) 649-6433 or kcalos@timesdispatch.com.