Walter P. Chrysler, Jr.: Gay & Bisexual Men of Importance
by Terry, Gay Influence gayinfluence.blogspot.com
January 1, 2018
NOTICE: THIS WORK MAY BE PROTECTED BY COPYRIGHT
YOU ARE REQUIRED TO READ

THE COPYRIGHT NOTICE AT THIS LINK

BEFORE YOU READ THE FOLLOWING WORK, THAT IS AVAILABLE SOLELY FOR PRIVATE STUDY, SCHOLARSHIP OR RESEARCH PURSUANT TO 17 U.S.C. SECTION 107 AND 108. IN THE EVENT THAT THE LIBRARY DETERMINES THAT UNLAWFUL COPYING OF THIS WORK HAS OCCURRED, THE LIBRARY HAS THE RIGHT TO BLOCK THE I.P. ADDRESS AT WHICH THE UNLAWFUL COPYING APPEARED TO HAVE OCCURRED. THANK YOU FOR RESPECTING THE RIGHTS OF COPYRIGHT OWNERS.
Here you will discover the back stories of kings, titans of industry, stellar athletes, giants of the entertainment field, scientists, politicians, artists and heroes – all of them gay or bisexual men. If their lives can serve as role models to young men who have been bullied or taught to think less of themselves for their sexual orientation, all the better. The sexual orientation of those featured here did not stand in the way of their achievements.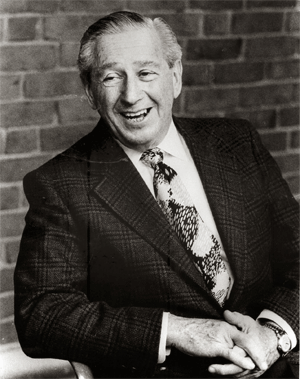 Automotive industry heir Walter P. Chrysler Jr. (1909-1988) was the son of a man who had amassed a great fortune in founding the Chrysler Corporation. Walter Jr., knowing that he would inherit vast sums of money, could thus indulge his passion for collecting art, an obsession that resulted in transforming a minor provincial museum in Norfolk, Va., into one of the nation's best, the Chrysler Museum of Art.
Walter Jr., who was a theatrical producer*, hung out in locations that had strong ties to the homosexual community. Although throughout his life he attempted to appear as a straight man, he had a home in Key West and displayed his growing art collection in Provincetown, Massachusetts, in a 19th-century church building he bought from the Methodists. The museum was nicknamed by locals as "The First Church of Chrysler" or "St. Walter's". The structure today serves as the Provincetown library.
*Among many others, he produced New Faces of 1952, which launched the careers of Eartha Kitt, Paul Lynde and Carol Lawrence. Chrysler also produced the film "The Joe Louis Story."
In 1956, Chrysler retired from business to devote his full-time attention to the arts. Soon thereafter an article appeared in Confidential magazine that exposed his homosexual activity, and
there had been persistent reports that he had been discharged from the Navy because "he was found to be homosexual." It was extraordinary for a healthy man to be discharged from the military during wartime.*
"Walter was transferred to Key West, and the rumors were flying. He got out of the navy. Now, we should have known that that was a strange thing, to be released from the navy during wartime."

Those rumors were spelled out in a 1955 Confidential Magazine article entitled "The Strange Case of Walter Chrysler Jr." It claimed Chrysler was forced to resign by the secretary of the navy because he'd been having "notorious wild parties" in his private Key West Home. R.L. Blazevig, a retired naval aviator who was also based at N.A.S. Key West during World War II, remembered instead that Chrysler was discharged because he was "found to be gay." Chrysler's own explanation for his December 5, 1944, departure was a recurrence of his ulcer problems.

Soon after Chrysler resigned his commission, Jean was invited to North Wales for the weekend. It was there that Chrysler proposed marriage to her. The wedding took place on a Saturday morning, January 13, 1945, in a simple ceremony at Norfolk's Freemason Street Baptist Church. The bride had no attendants and wore an aquamarine wool crepe dress.

"Nobody knew it was going to happen," Smith said. "It was a big secret. That was Walter's wish." Smith recalled that the Chryslers honeymooned at the Homestead Resort in Hot Springs, Virginia, but wondered, "Why go anywhere when you've got North Wales? They had an absolutely wonderful staff; they built a swimming pool and a tennis court. It was a dazzling place," Smith said. Jean Chrysler's siblings were invited to the estate on several occasions and were amazed by the art on view. They played bridge under a Velazquez; there was a Gilbert Stuart painting of George Washington over the mantel and a Degas in the dining room. In the North Wales drawing room hung the Picasso of two women at a bar that Chrysler had bought as part of his and Gertrude Stein's scheme to help the young Parisian gallery owners.

-- Legacy: Walter Chrysler Jr. and the Untold Story of Norfolk's Chrysler, by Peggy Earle
Again, according to Earle, "That Chrysler led something of a double life was widely acknowledged. The fact that he was gay was noted by many of those who knew him professionally and personally. As Chrysler biographer Vincent Cursio mentioned, '...in 1938 there was enormous social pressure on gay men to marry and give the appearance of living a normal life.' " Walter Jr. married twice, but there were no children. His first wife, Peggy Sykes, whose marriage to Chrysler lasted less than two years, left a man with few friends. She noted that the major love of his life was "art collecting." Peggy stopped inviting people to their home for socializing, because Chrysler would usually freeze out everyone, often refusing even to speak to their guests. Further alienation arose from his tendency to pay bills late, or not at all.
*Peggy Earle, "Legacy, Walter Chrysler Jr. and the Untold Story of Norfolk's Chrysler Museum of Art."
While a 14-year-old boy attending prep school, Walter Jr. purchased his first painting, a watercolor nude, with $350 in birthday money from his father. A dorm master considered the piece lewd and destroyed it – a Renoir! Undeterred, he continued to collect art, but there were scandals along the way.
Many of the artworks he purchased and displayed were called out as fakes. For that reason, Newport, RI, refused to accept the gift of his collection
, which had outgrown its home in Provincetown. In spite of such notoriety, Walter Jr. had impressive credentials – he had been a key figure in the creation of the Museum of Modern Art in New York City. However, much of his personal collection had to be stored in warehouses and lent out to museums across the country.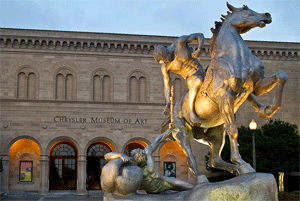 Walter Jr.'s second wife was from Norfolk, and he had himself been a Navy man stationed there, so he ultimately found success in 1971 when he presented Norfolk, Va., with his impressive collection of 10,000 art objects, to be housed in the Norfolk Academy of Arts and Sciences, which had been built in 1932. A condition of the gift was that the academy be renamed the Chrysler Museum of Art.
As New York Times art critic John Russell said, "It would be difficult to spend time in the Chrysler Museum in Norfolk, Virginia, and not come away convinced that the most underrated American art collector of the past 50 years and more was the late Walter P. Chrysler, Jr." Chrysler's collection is especially strong in art glass and incorporates a large body of Tiffany lamps. Louis Comfort Tiffany had been his neighbor when Walter Jr. was growing up on Long Island.
http://www.chrysler.org
Walter P. Chrysler Jr. enjoying a light-hearted moment with artist Andy Warhol: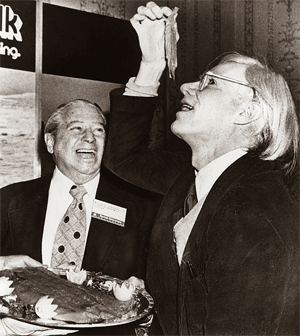 Update: New photos of of the North Wales estate have become available, so I added them to this previous post.
Your blogger's determined effort to enjoy a glorious fall day resulted in a drive to Warrenton, VA, a sleepy town in the center of fox hunting country. A brief conversation with locals informed me that North Wales, the estate formerly owned by Walter P. Chrysler Jr., had been sold recently. This morning I enjoyed researching the estate's history to provide an update to this blog post about Mr. Chrysler.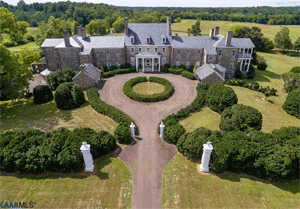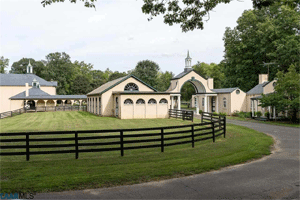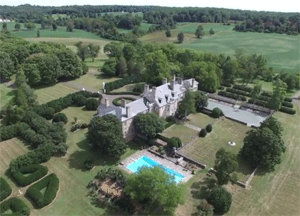 In 1941, one year after his father's death, Walter P. Chrysler Jr. used a portion of his recent inheritance to buy North Wales Farm (above), a fabled estate just outside Warrenton, Va., 45 miles west of Washington, DC (and a mere 30 miles from the home of your blogger). With a purchase price of $175,000, the property soon saw further expansion and improvements. The recently divorced Chrysler spent an additional $7.5 million on the estate, expanding the property to 4,200 acres. At the epicenter was a 56-room stone mansion (38,500 sq. ft. including 22 bedrooms, 17 baths and 16 fireplaces), formal gardens, tennis courts, ponds, bridges, fountains, not to mention miles of stone and board fences enclosing an estate that boasted more than 35 out-buildings.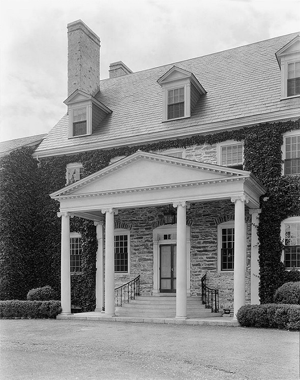 The oldest part of the house, dating back to 1776, was a mere 5-bay two-story stone manor house (above) built for William Allason. In 1914 North Wales was bought by Edward M. Weld of New York. In 1930 Fortune magazine noted that Weld "stretched the house to 37 rooms, built a riding stable of 40 stalls and a six furlong race track, stocked the cellar with $50,000 worth of liquors and went broke." North Wales was then converted to an exclusive private club for the fox hunting and horse breeding set. In 1941 Chrysler returned the mansion and estate grounds to private use. At the time of Chrysler's residency the expanded mansion numbered more than 50 rooms, providing plenty of space for Chrysler to display highlights of his vast art collection of Monets, Picassos, Rodins, Braques, Matisses and the like. He then set about constructing more than 35 miles of internal, paved roads while adding a conservatory to the mansion (for his mother's orchids), a swimming pool, an arcaded entrance to the equestrian center and a brick isolation barn.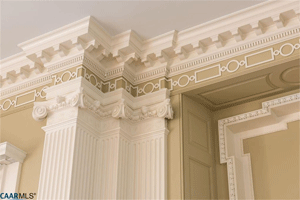 Under Chrysler's ownership, North Wales, with sweeping views of the Blue Ridge mountains, essentially functioned as its own community, home to a commercial poultry operation and various agricultural enterprises. Although he also raised cattle and sheep, Chrysler ensured that the estate retained its fame as a center for fox hunting and thoroughbred horse breeding. The splendidly furnished mansion was the site of many lavish charity events. Chrysler remarried in 1945, and his new bride used North Wales Farm as a center for raising champion long-haired Chihuahuas. However, in 1957 Chrysler sold North Wales Farm, a year after he retired from business in order to devote himself full time to the arts. The following year he opened the Chrysler Museum of Art in Provincetown, Massachusetts, in a former church.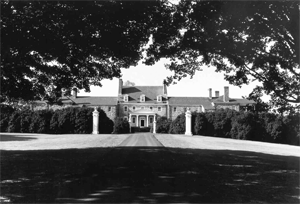 Now reduced to 1,470 acres, North Wales was purchased in 2014 by former Goldman Sachs partner David B. Ford of Greenwich, CT, for $21 million. The property is listed on the National Register of Historic Places. Mr. Ford had made headlines eight years earlier when he purchased the 30,000 sq. ft. French neoclassical-style Miramar mansion in Newport, RI, built in 1915 for the widow of Philadelphia mogul George Widener. Ford currently owns both mansions, all the better to avoid a cramped lifestyle (38,500 + 30,000 = 68,500 sq. ft. of luxe living). Impressive. Ford is also Director of the Philadelphia Orchestra Association and Chairman of the National Audubon Society.