The 1980 Campaign: Agents for Bush
by Bob Callahan*
Winter 1990
NOTICE: THIS WORK MAY BE PROTECTED BY COPYRIGHT
YOU ARE REQUIRED TO READ

THE COPYRIGHT NOTICE AT THIS LINK

BEFORE YOU READ THE FOLLOWING WORK, THAT IS AVAILABLE SOLELY FOR PRIVATE STUDY, SCHOLARSHIP OR RESEARCH PURSUANT TO 17 U.S.C. SECTION 107 AND 108. IN THE EVENT THAT THE LIBRARY DETERMINES THAT UNLAWFUL COPYING OF THIS WORK HAS OCCURRED, THE LIBRARY HAS THE RIGHT TO BLOCK THE I.P. ADDRESS AT WHICH THE UNLAWFUL COPYING APPEARED TO HAVE OCCURRED. THANK YOU FOR RESPECTING THE RIGHTS OF COPYRIGHT OWNERS.
On Inaugural Eve, January 21, 1981, George Herbert Walker Bush, the new Vice President of the United States, could pause and look back on his own failed presidential campaign and yet feel satisfied knowing that the interests of the Intelligence Community would be well-represented in the new Reagan-Bush administration.
A tough Wall Street lawyer, and a strong advocate of covert operations, William Casey, was about to be installed as Director of Central Intelligence (DCI). And George Bush, a former DCI, who also had many friends on Wall Street, was just "one heartbeat away" from the presidency of the United States.
To a great extent, George Bush owed his recent political fortune to several old CIA friends, chiefly Ray Cline, who had helped to rally the Intelligence Community behind Bush's candidacy in its early stages. It had been Ray Cline, after all, who had first started the loose organization of "Agents for Bush."
Bill Peterson of the Washington Post wrote in a March 1, 1980 article, "Simply put, no presidential campaign in recent memory -- perhaps ever -- has attracted as much support from the intelligence community as [has] the campaign of former CIA director George Bush."

It was true. By the first of March, Ray Cline had helped put together an intelligence community campaign support staff of such size, complexity and character, that, had the Bush campaign initiated its own covert actions, it undoubtedly had the capacity to bring down at least half of the world's governments based on its own past experiences and associations.

George Bush's CIA campaign staff included Cline, CIA Chief of Station in Taiwan from 1958 to 1962; Lt. General Sam V. Wilson and Lt. General Harold A. Aaron, both former Directors of the Defense Intelligence Agency. Also included were retired General Richard Stillwell, once the CIA's Chief of Covert Operations for the Far East, and at least twenty-five other retired Company directors, deputy directors and/or agents.

It is hard to overestimate the level of CIA support that then existed for Bush's presidential campaign. At the annual meeting of the Association of Former Intelligence Officers (AFIO) the previous fall, Bush's Virginia campaign coordinator (and the former director of AFIO) Jack Coakley, claimed to have counted 190 "Bush for President" buttons being worn by the convention's 240 delegates. [1]

CIA support for Bush was apparently not limited to off-duty or retired agents, either. One of Bush's earliest supporters, Angelo Codevilla, informed a Congressional committee that he was "aware that active duty agents of the Central Intelligence Agency worked for the George Bush primary election campaign." [2]

Codevilla made this statement in a sworn affidavit prepared for a 1984 House investigation. In an amended copy of the document, Codevilla later changed his statement from "I am aware ... " to "I have heard that active duty agents of the Central Intelligence Agency worked for the George Bush primary election campaign." [3]

It is an important correction (the possibility of jail hung on the distinction). Given the extent of CIA involvement in the Bush campaign, it is a wonder that "the spook issue" was not discussed more in the press. Some of Bush's CIA backers themselves worried that it might be. "I can see the headlines [now]," said one former covert operations officer, "Bush Sprinkles Campaign With Former Spooks." [4]

One person who wasn't surprised by the lack of adverse press coverage of the CIA's role in the Bush campaign was Ray Cline. Calling attention to his own resignation in disgust from the Agency in 1973, Cline claimed that he had been promoting the pro-CIA agenda that Bush had embraced for years, and that he had found the post-Church hearings criticism had died down some time ago. "I found there was a tremendous constituency for the CIA when everyone in Washington was still urinating all over it," Cline said, in his typically colorful manner. "It's panned out almost too good to be true. The country is waking up just in time for George's candidacy." [5]
Bush and Counterterrorism
The Bush presidential campaign not only set the tone for the role and structure of the intelligence apparatus in the new Reagan administration, it also took up a new foreign policy theme which would reap huge political dividends in the years to come. This new theme was terrorism/counterterrorism.
In July 1979, George Bush and Ray Cline attended a conference in Jerusalem where this theme was given its first significant political discussion before leaders of Israel, Great Britain, and the United States.
It would take an enormously important event to keep a major American presidential candidate away from campaigning on the Fourth of July weekend. For George Bush, the Jerusalem Conference on International Terrorism was such an event. The Jerusalem Conference was hosted by the Israeli government and, not surprisingly, most of Israel's top intelligence officers and leading political leaders were in attendance. [6]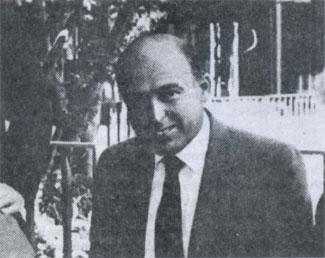 Credit: Hoover Institute
Angelo Codevilla knew of CIA agents in Bush campaign.
Israeli Prime Minister Menachem Begin rose to the podium on July 2, 1979 to provide the conference with its opening address. By the summer of 1979, even Menachem Begin was willing to join in the bashing of his old Camp David friend, Jimmy Carter - a practice which had become almost endemic by the fall of 1979.
The Israelis were angry with Carter because his administration had recently released its Annual Report on Human Rights wherein the Israeli Government was taken to task for abusing the rights of the Palestinian people on the West Bank and Gaza Strip.
Israel's new anti-Carter tone was mild, however, compared to the rhetoric of the two separate U.S. delegations which attended the conference. The first delegation was led by the late Senator Henry "Scoop" Jackson of Washington. It included the noted black civil rights leader Bayard Rustin; Ben Wattenberg of the American Enterprise Institute; and Norman Podhoretz and Midge Decter of Commentary Magazine. The members of this delegation were registered Democrats, yet all became very active in neo-conservative politics during the Reagan years.
The Republican delegation was led by George Bush. It included Ray Cline, and two important members of Bush's Team B from his CIA days -- Major General George Keegan, a Bush supporter who had served as intelligence chief for the United States Air Force; and Harvard Professor Richard Pipes. [7]
Looking for a mobilizing issue to counter the Carter-era themes of detente and human rights, the Bush people began to explore the political benefits of embracing the terrorism/ counterterrorism theme.
As Jonathan Marshall of the Oakland Tribune explains: "At the conference, Ray Cline developed the theme that terror was not a random response of frustrated minorities, but rather a preferred instrument of East bloc policy adopted after 1969 when the KGB persuaded the Politburo of the Communist Party of the Soviet Union to accept the PLO as a major political instrument in the Mideast and to subsidize its terrorist policies by freely giving money, training, arms and coordinated communications." [8]
In Ray Cline's imagination, terrorism had now hardened into a system -- an international trouble making system. Richard Pipes elaborated on the Cline hypothesis. "The roots of Soviet terrorism, indeed of modern terrorism," Pipes stated, "date back to 1879 ... .It marks the beginning of that organization which is the source of all modern terrorist groups, whether they be named the Tupamaros, the Baader-Meinhoff group, the Weathermen, Red Brigade or PLO. I refer to the establishment in 1879 of a Congress in the small Russian town of Lipesk, of an organization known as Narodnaya Volya, or the People's Will." [9]
According to Philip Paull, who wrote his master's thesis on the subject of the Jerusalem Conference, "If Pipes was to be believed, the Russians not only support international terrorism, they invented it!" [10]
The Bush/Cline/Pipes definition of terrorism was of course both expeditious and powerfully political. "Left out of their equation," Jonathan Marshall comments, "was any mention of terrorist acts by CIA-trained Cuban exiles, Israeli ties to Red Brigades, or the function of death squads from Argentina to Guatemala. Soviet sponsorship, real or imagined, had become the defining characteristic of terrorism, not simply an explanation for its prevalence. Moreover, there was no inclination whatsoever to include, under the rubric of terror, bombings of civilians, or any other acts carried out by government forces rather than small individual units." [11]
Within days after the conference, the new propaganda war began in earnest. On July 11, 1979 the International Herald Tribune featured a lead editorial entitled "The Issue is Terrorism" which quoted directly from conference speeches. The same day Congressman Jack Kemp placed selected quotes from the conference in the Congressional Record. In his syndicated column of July 28,1979, former CIA employee William F. Buckley blasted two of his favorite targets in one single mixed metaphor: "No venture is too small to escape patronage by the Soviet Union," Buckley stated, "which scatters funds about for terrorists like HEW in search of welfare clients." Then in August, George Will, who also attended the conference, wrote about it in the Washington Post.
Before the year was out Commentary, National Review, and eventually New Republic writers would all churn out yard after yard of copy on this theme. Soon after, Claire Sterling, who had also attended the conference, would create the first ''bible'' of this new perspective with the publication of her highly controversial book, The Terror Network. [12]
With the help of George Bush and Ray Cline, the Jerusalem Conference had managed to start a propaganda firestorm.
In the following decade, the theme of terrorism/counterterrorism would grow increasingly important to George Bush. He would become the ranking authority on this subject in the Reagan White House. Indeed, it would be Bush's own Task Force -- the Vice President's Task Force on Combatting Terrorism -- which would eventually provide Oliver North back channel authorization through which he would bypass certain dissenting administration officials in his ongoing management of the Reagan/Bush Secret War against Nicaragua. [13]
Uncle Bill
As important as Ray Cline's advice and support had been to George Bush, the real turning point in Bush's quest for the White House came when William Casey convinced Ronald Reagan to choose Bush as his running mate. [14]
Bush and Casey were, after all, old friends. By 1979, the two had worked closely on a number of intelligence matters for over a dozen years. In 1962, for example, William Casey and Prescott Bush -- George's father -- co-founded the National Strategy Information Center in New York City. The elder Bush and Casey were both leading Republican conservative members of New York's Wall Street community, and both could claim a background in intelligence matters while members of the U.S. military. [15]
In subsequent years, the organization which William Casey and Prescott Bush created became increasingly embroiled in political controversy. The National Strategy Information Center had funded a series of Forum World Features publications until it was publicly revealed that the Forum was a CIA proprietary operating out of London and was engaged in a variety of anti-left disinformation campaigns.
The Bush/Casey think tank had also played a pioneering role in establishing chairs and scholarships on numerous U.S. college campuses where friends of the CIA were able to gain a modicum of intellectual credibility teaching courses on intelligence and national security issues.
The Center for Strategic and International Studies (CSIS), at Georgetown University, was in many ways an outgrowth of the original Bush/Casey think tank -- CSIS's illustrious faculty included Henry Kissinger, George Carver, Michael Ledeen, and Ray Cline.
William Casey's relationship with young George Bush culminated in 1976 when Casey was appointed to the President's Foreign Intelligence Advisory Board, and George Bush was appointed Director of Central Intelligence. It had long been William Casey's contention that the CIA's assessment of Soviet military strength seriously underestimated the potential Soviet threat. In his young friend, Casey finally found a CIA Director willing to do something about the problem.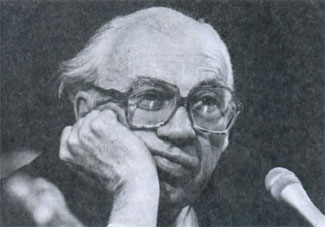 William Casey.
What George Bush and William Casey actually did was to form their own study group to provide the CIA with some competitive analysis -- a new Team B analysis to contrast with the agency's own standard Team A analysis. Not surprisingly, the new Team B concluded that the CIA had indeed woefully underestimated the real Soviet threat. This argument was, of course, the primary justification for the massive U.S. arms build-up under Reagan. [16]
Team B was led by George Bush's future adviser, Professor Richard Pipes and by General Daniel Graham who later became a leader in the fight to develop Star Wars technology. Indeed, the entire anti-Soviet, "evil Empire" tone of the Reagan administration was set by this group of Bush-Casey analysts. The die, as they say, had been cast.
William Casey was entirely aware of this background when he approached the California governor with his recommendation for a vice presidential running mate. While some found George Bush too wimpish for their taste, Casey would not be so easily misled. Casey knew that when it came to issues of consequence for the CIA, George Bush could be counted on to do the right thing. It was spring at Langley, and the talk was of Restoration.
_______________
Notes:
* Bob Callahan is the editor of The Big Book of American Irish Culture (Viking Penguin), and a former book columnist for the San Francisco Examiner. Bring Me Geronimo's Skull, the first in a series of George Bush comic books written by Callahan, and illustrated by artist Jim Pearson, will be published by Eclipse Books & Comics in the Spring of 1990.
1. Washington Post, March 1, 1980.
2. "Unauthorized Transfers of Nonpublic Information During the 1980 Presidential Campaign." Report prepared by the Subcommittee on Human Resources of the Committee on Post Office and Civil Service, House of Representatives (Washington, D.C.: Government Printing Office, 1984), pp. 1112-14.
3. Ibid.
4. Op. cit., n. 1.
5. Ibid.
6. Philip Paull, "International Terrorism: The Propaganda War," University of San Francisco MA Thesis, San Francisco, CA, 1982, p. 8.
7. Ibid, pp. 103-07.
8. Jonathan Marshall, Peter Dale Scott, and Jane Hunter, The Iran Contra Connection: Secret Teams and Covert Operations in the Reagan Era (Boston: South End Press, 1987), p. 210.
9. Op. cit., n. 6, pp. 18-19.
10. Ibid, p. 19.
11. Op. cit., n. 6, p. 211.
12. See Frank Brodhead and Edward S. Herman, "The KGB Plot to Assassinate the Pope," CovertAction Information Bulletin, No. 19, pp. 13-24.
13. See Peter Dale Scott, "The Task Force on Combatting Terrorism," this issue.
14. New York Times, May 7, 1987.
15. Prescott Bush served in Army Intelligence during the First World War and William Casey was a veteran of the OSS.
16. The Nation, August 27/September 3, 1988, p. 158. See also, John Ranelagh, The Agency: The Rise and Decline of the CM (New York: Simon and Schuster, 1987), pp. 622-24.