BLACK MAN KILLED BY POLICE? McCULLOCH DOES IT AGAIN
by Barton Kunstler
November 25, 2014
NOTICE: THIS WORK MAY BE PROTECTED BY COPYRIGHT
YOU ARE REQUIRED TO READ

THE COPYRIGHT NOTICE AT THIS LINK

BEFORE YOU READ THE FOLLOWING WORK, THAT IS AVAILABLE SOLELY FOR PRIVATE STUDY, SCHOLARSHIP OR RESEARCH PURSUANT TO 17 U.S.C. SECTION 107 AND 108. IN THE EVENT THAT THE LIBRARY DETERMINES THAT UNLAWFUL COPYING OF THIS WORK HAS OCCURRED, THE LIBRARY HAS THE RIGHT TO BLOCK THE I.P. ADDRESS AT WHICH THE UNLAWFUL COPYING APPEARED TO HAVE OCCURRED. THANK YOU FOR RESPECTING THE RIGHTS OF COPYRIGHT OWNERS.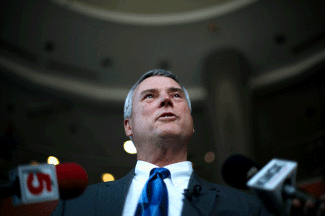 After not indicting the police officer that killed Michael Brown, St. Louis Prosecutor Robert McCulloch stated that the grand jury's job was to determine precisely what occurred. Was the decision a callous disregard for justice?
St. Louis Prosecutor Robert McCulloch's statement explaining the grand jury's decision not to indict Darren Wilson for Michael Brown's death was a manipulative, carefully crafted deception that is consistent with the dishonesty and callous disregard for justice that has marked his career.
We have no reason to doubt that the grand jury was totally sincere in their vote not to indict Wilson on any charges. I trust that they did, as McCulloch stated, examine every shred of evidence, deliberate with integrity, and work hard to keep their emotions in check. But there are other ways the process can be manipulated and I believe McCulloch's statement indicates that this is exactly what was done.
Throughout, McCulloch stated that the grand jury's job was to determine precisely what occurred. That is not, however, the purpose of a grand jury, which is convened to determine whether a crime was probably committed, although the exact probability is not precisely defined. The grand jury also decides who is like responsible for the crime. They do this, in the great majority of cases, when the prosecutor (McCulloch and his two assistants) "only introduce[s] key facts sufficient to show the probability, both to save time and to avoid revealing all the evidence."
However, McCulloch repeatedly insisted on the importance of hearing every witness and examining all the evidence in order to make sure that the right decision is reached. But in fact he is describing a trial to determine guilt, not a grand jury hearing to decide whether to indict.
Thus the grand jury members likely found themselves boxed in. They did not insist on weighing every witness's veracity or judging the timing of the ten gunshots that Wilson aimed at Brown. It was the prosecutor's office that decided to present the witnesses and go through all the evidence. This level of scrutiny contains its own logic—that if there was sufficient doubt raised as to whether Wilson was justified in killing Brown, then the grand jury could not indict.
The alternative was to present the fact that there were many witnesses who have different accounts of what happened. It should have been pointed out that the guidelines for when a police officer can use deadly force are vague. The prosecutor might have indicated that Brown's ten wounds would raise doubt in people's minds. He could also have noted that police are not immune from criminal charges stemming from the overuse of violence. To balance this, the prosecutor could point out that an officer might feel threatened and that the grand jury's job is to determine whether the threat represented by Brown absolves Wilson of using deadly force. In doing so, they need to determine not only whether the officer "feels" threatened but whether he had alternative means of dealing with the situation other than firing multiple shots at Brown.
One might argue that perhaps this was done, but I would suggest that the sheer mass of data considered was inappropriate to a grand jury. It was designed to make them think that the conflicting accounts, and the discredited witnesses, raised significant doubt as to Wilson's guilt. The medium is the message. Here, the medium was the intense scrutiny of every bit of evidence, and the message was that if it didn't indicate guilt, one should cast a vote for acquittal. But this was not the trial and the probing of evidence went far beyond the need to demonstrate that a crime may well have been committed by the officer who fired the gunshots. Let the jury way the credibility of the witnesses under examination at trial. But this is a trial that Robert McCulloch did not want to prosecute.
That is no surprise. McCulloch has a long history of using unethical practices in working with and defending the police. In 2000, two black men were killed by police officers firing 21 shots. The cops said the two men drove towards them and tried to run them down. McCulloch said that every witness testified to this. However, a federal probe said that only three of thirteen officers said the car was moving forward. A federal probe determined that the car was not moving forward. (Sound familiar? McCulloch continually repeated that Michael Brown was shot as he headed towards Wilson). McCulloch's response to the findings: "These guys [the two men killed] were bums." (Pistor, 2014). In other words, no big deal. In 1997, McCulloch manipulated his grand jury powers to order the police to identify a whistleblower who was acting lawfully. McCulloch lied by saying the whistleblower threatened him; later he admitted he lied but said he didn't do anything wrong.
So, a self-convicted liar. A manipulator of grand juries. A man utterly compromised in presenting the Michael Brown case to the grand jury.
McCulloch stressed that the most reliable witnesses said Brown was approaching Wilson when he was shot. He also stated over and over that the autopsy disproved the statements of the less reliable witnesses, i.e., those who said Brown was shot in the back or who later admitted they hadn't really seen the whole thing. He virtually convicted Brown of the crime of shoplifting, thus creating that tried and true rationale for a police killing: well, if Michael Brown hadn't done something wrong in the first place, none of this would have happened.
McCulloch's repeating of the scientific nature of the evidence is also more diversion. Of course it's scientific: it's an autopsy, or in this case, three autopsies. That is not where the deception or manipulation occurred. The real crime is in the underlying assumption that McCulloch leans on and that exposes the sickening corruption of this case.
That comes down to the most important aspect of this shooting. An unarmed young man is suspected of stealing cigarillos. A policeman questions him. A tussle ensued with Brown outside the car and Wilson inside it. The gun goes off, obviously in Wilson's hand as it is Brown who is slightly wounded. Brown runs away. Wilson gets out of the car and fires more shots. Brown turns around. Some witnesses say Brown approached Wilson—or did he charge him? McCulloch was unclear about that. Either way, Wilson unleashes another salvo of shots at Brown, inflicting, all told, ten wounds counting the two from the original engagement at the car.
The crime, as virtually every black person in America knows and that many whites seem to have trouble grasping because it usually doesn't happen to their children, is this: since when is it okay for a cop who is facing an unarmed teenager to shoot to kill? This was not a single shot that happened to strike Michael Brown in the heart. Not a shot at the leg that opened the femoral artery. Not wrestling over the gun that accidentally went off. But ten bullets, eight after Brown ran from the car.
It is this assumption that should have been challenged and that should have resulted in an indictment. We have gotten to a point in this country where the mere feeling of being threatened is license for a police officer to unload. A twelve year old with a toy gun in a playground? Shoot him! A suspect in a robbery holding a cell phone or his keys? Shoot him! A guy in a stairwell in New York City when two cops happen to approach, a young man with a girlfriend and baby just about to enter his apartment. Shot dead.
McCulloch bemoans the tragic loss of Brown's life but his entire presentation is just another way of saying, "But, after all, if he hadn't behaved in an unruly fashion…" That is a lot of bull. Cops are supposedly trained in self-defense, in using their nightsticks, in defusing situations. The kid is charging you, take out your truncheon and whack him on the arms or legs. Wrestle him to the ground. Hell, shoot him in the foot. But six shots to the chest and head? If that's what we have come to accept as the new normal in this country, then…oh wait, it's not the new normal. White cops have been killing young black men with impunity forever. But somehow it's not a crime.
McCulloch can shed his crocodile tears over the tragic loss of Michael Brown's life but he has acted true to the culture of the Ferguson police, an exceptionally racist department with a long history of racist violence. One family's tragedy reflects a level of callousness and corruption that corrodes our political culture and national fabric. Darren Wilson did not set out to kill Michael Brown, but the fact that he did, and the way that he did it, arose out of a culture of police violence and prosecutorial corruption to which Wilson himself fell prey. He was responsible, though, just as a culture of inner city violence does not excuse a young man who shoots someone in a fit of anger. The failure to indict Wilson condemns more black youths to the same fate as Michael Brown suffered, and this country to further division and mistrust.