Activists Crash O'Malley's Presidential Announcement: 'He Must Atone' for Zero Tolerance Policing
by Kira Lerner
May 31, 2015
NOTICE: THIS WORK MAY BE PROTECTED BY COPYRIGHT
YOU ARE REQUIRED TO READ

THE COPYRIGHT NOTICE AT THIS LINK

BEFORE YOU READ THE FOLLOWING WORK, THAT IS AVAILABLE SOLELY FOR PRIVATE STUDY, SCHOLARSHIP OR RESEARCH PURSUANT TO 17 U.S.C. SECTION 107 AND 108. IN THE EVENT THAT THE LIBRARY DETERMINES THAT UNLAWFUL COPYING OF THIS WORK HAS OCCURRED, THE LIBRARY HAS THE RIGHT TO BLOCK THE I.P. ADDRESS AT WHICH THE UNLAWFUL COPYING APPEARED TO HAVE OCCURRED. THANK YOU FOR RESPECTING THE RIGHTS OF COPYRIGHT OWNERS.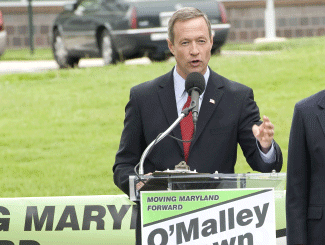 Former Baltimore Mayor Martin O'Malley (D) recently announced his campaign for the presidency, but many activists and protestors showed up disapproving of his failed police policies. After his speech was over, O'Malley quickly exited, but the activists continued.
Former Baltimore Mayor Martin O'Malley (D) chose the Charm City skyline to provide the backdrop for his speech Saturday morning announcing his campaign for the presidency. While the former Maryland governor spoke about the American Dream, telling the audience "there is no such thing as a spare American," protesters and activists shared the spotlight as they spoke out about O'Malley's failed police policies from the other side of the stage.
"Last month, television sets around the world were filled with the anger and the rage, and the flames of some of the humblest and hardest hit neighborhoods of Baltimore," O'Malley said, addressing early in his speech the unrest and racial tensions that swept Baltimore after the death of Freddie Gray. "For all of us who have given so much of our energies to making our city a safer, fairer, more just and more prosperous place, it was a heartbreaking night in the life of our city."
From his stage overlooking Baltimore's Inner Harbor, he added that "what took place here was not only about race, not only about policing in America" but about "everything it is supposed to mean to be an American."
But Baltimore residents who were also in attendance in Federal Hill Park said Gray's death last month and the ensuing demonstrations and riots were a direct result of O'Malley's police policies as mayor. A few minutes into O'Malley's speech, Megan Kenny, a Baltimore activist holding a sign reading "Stop Killer Cops," began marching and chanting "black lives matter" as police attempted to stop the interruption.
"The unrest and the unlawful police practices stem from O'Malley's zero tolerance policies," Kenny said. "His zero tolerance policies were ineffective, period."
As mayor of Baltimore from 1999 to 2007, O'Malley instated a "broken windows"-style of policing in an attempt to reduce crime which was rampant in the city at the time. Police officers were encouraged to make arrests for minor-level offenses, with the idea being that minor disorders create an environment in which violent crime occurs. O'Malley also implemented CityStat, a data-tracking management tool which was able to maximize efficiency and hold local government accountable. But Kenny said the tool also encouraged police to unfairly target minority neighborhoods and disproportionately lock up black men and women.
"There was a staggering number of arrests under his administration," she said. "I want to be very clear about this — crime data is not a measure of civilian behavior. Crime data and arrest statistics are a measure of police behavior."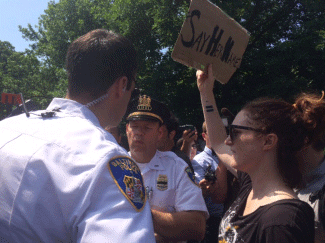 Activist Megan Kenny is approached by police.
CREDIT: KIRA LERNE
R
Matthew Crenson, a political science professor at Johns Hopkins University who is writing a book on the political history of Baltimore, told ThinkProgress the tough-on-drugs policing strategy put in place by O'Malley contributed to the unrest seen in the city today.
"One of the possible costs is that this creates a great deal of tensions in relationships between the police and communities in their policing, because it means they're always hassling people for minor offenses," he said. "And that could conceivably create the atmosphere in which it's very easy for a riot to break out when something like Freddie Gray's death occurs. All the other Freddie Grays who live in segregated neighborhoods in Baltimore rise up and attack the police."
Since his time as mayor, academics have come to question the effectiveness of the broken windows policing, Crenson said, adding that O'Malley takes credit for improving the safety of Baltimore when the rate of violent crime was actually dropping across the country, even in cities that did not use his style of policing.
"Not only that, but it continued to drop after he was out of office and the succeeding mayor abandoned the no tolerance policing policy," Crenson said.
Also in the audience at O'Malley's speech was Tawanda Jones, whose brother Tyrone West was killed by Baltimore cops in 2013.
"My brother was brutally murdered and it stems from him," Jones told ThinkProgress, pointing to O'Malley on stage. "He locked up 100,000 people for nothing, made all the stop-and-frisk laws, and now our black people get pulled over for doing nothing, just driving. And we still don't have answers."
West was killed by police officers after he was pulled over while driving through Northeast Baltimore in July 2013. His family has maintained that he was brutally beaten by the officers, although an autopsy revealed he had a heart condition which was exacerbated by the violent encounter. An independent review panel last year found that police made tactical errors and did not follow basic policies.
"[O"Malley] goes around bragging about all the arrests he made," Jones said. "Petty crimes! And meanwhile, our people are dying. Our streets aren't even safe anymore because all of the anger here in our city. And now you want to be the president? If he wants to come home, he must atone."
Jones and other activists also staged a "die-in" in the park, laying in the grass holding signs accusing O'Malley's zero tolerance policies of creating an environment where black men and women are killed by police.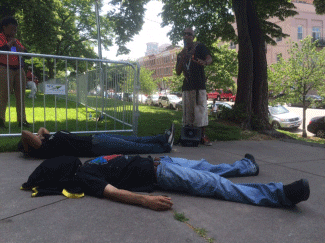 Activists stage a "die-in" in the park where O'Malley announced his campaign.
CREDIT: KIRA LERNER
African-American activist Kwame Rose approached O'Malley supporters from the street directly outside the event area. In addition to O'Malley's failed policing policies, Rose also took issue with O'Malley's spending as mayor.
"Martin O'Malley devoted a lot of attention and efforts to push legislation to fund a new youth juvenile justice center in downtown Baltimore — a $300 million facility," he told ThinkProgress. "Meanwhile, there hasn't been a new school built in Baltimore City in 50 years… It doesn't add up."
Not all Baltimore residents focused on the negative side of O'Malley's leadership on Saturday. Community activist Robert Nowlin was one of four speakers to introduce the new presidential contender at his event.
"Martin O'Malley took the initiative to walk with me on my walk against crime," Nowlin, the vice president of the Pen Lucy Neighborhood Association said, speaking about how rampant drug dealing made his neighborhood one of the most dangerous in the country before O'Malley's time as mayor. "He was the one leader who had the nerve to come into our communities and do that. I love him, my family loves him, and many, many people in Baltimore City and Maryland love him."
After O'Malley's speech ended, the former governor and his family quickly left the public and entered a private tent behind the stage. Protesters, meanwhile, marched the mile from the park to Baltimore's War Memorial Plaza where they were met by a different group of demonstrators — Baltimore police officers.

The tensions attributed to O'Malley by activists were quickly and blatantly apparent. The blue-clad officers and their families marched around the plaza chanting "blue lives matter" as calls were made through a megaphone for people to donate to "support our six" — the six police officers recently indicted for Gray's murder.
Black Lives Matter activists stood on the side, watching the march and occasionally engaging in heated arguments with the off-duty officers and their supporters. "Indict, convict, send those killer cops to jail. The whole damn system is guilty as hell," they yelled together. "All night, all day, we're gonna fight for Freddie Gray."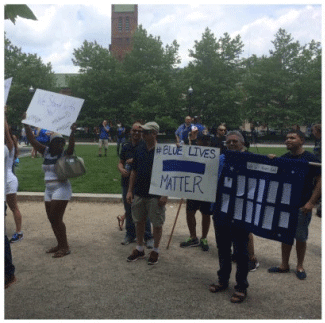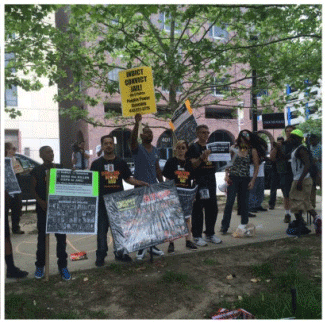 Two groups of protesters confront each other — Baltimore police officers and Black Lives Matter activists.