Black Lives Matter Is Winning. That's Why Conservatives Want to Stop It.
by Terrance Heath
November 6, 2015
NOTICE: THIS WORK MAY BE PROTECTED BY COPYRIGHT
YOU ARE REQUIRED TO READ

THE COPYRIGHT NOTICE AT THIS LINK

BEFORE YOU READ THE FOLLOWING WORK, THAT IS AVAILABLE SOLELY FOR PRIVATE STUDY, SCHOLARSHIP OR RESEARCH PURSUANT TO 17 U.S.C. SECTION 107 AND 108. IN THE EVENT THAT THE LIBRARY DETERMINES THAT UNLAWFUL COPYING OF THIS WORK HAS OCCURRED, THE LIBRARY HAS THE RIGHT TO BLOCK THE I.P. ADDRESS AT WHICH THE UNLAWFUL COPYING APPEARED TO HAVE OCCURRED. THANK YOU FOR RESPECTING THE RIGHTS OF COPYRIGHT OWNERS.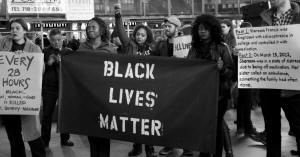 While the #BlackLivesMatter Movement is feeling the right-wing backlash, black Americans are telling the truth about their lives and it's working. Is that why conservatives are desperate to stop it?
The right-wing backlash against the #BlackLivesMatter movement has intensified in recent weeks. There are two primary reasons for this: (1) black Americans are telling the truth about their lives, and (2) it's working.
• New Jersey governor and GOP presidential candidate Chris Christie accused #BlackLivesMatter of "creating" an atmosphere that leads people to call for the death of police officers.
• GOP presidential candidate Sen. Ted Cruz (R-Texas) accused #BlackLivesMatter of "literally suggesting and embracing and celebrating the murder of police officers."
• South Carolina Republican governor Nikki Halley demanded that #BlackLivesMatter denounce violent acts "or else you're going to get tagged with them."
• Fox News host Elizabeth Hasslebeck declared that #BlackLivesMatter should be classified as a hate group.
• Fox News hosts Bill O'Reilly and Sean Hannity compared #BlackLivesMatter to the Ku Klux Klan.
• Fox News contributor Juan Williams accused #BlackLivesMatter of "inciting violence against cops."
• Even FBI Director James Comey, has suggested that videos and hashtags have cowed police and increased violent crime.
There's little proof to these claims. Comey even conceded that he had little evidence to support his theory.
• There's no evidence of an increase in violent crime. Rates in most cities are pretty much as they have been. Upticks in violent crime in cities that have seen protests over police shootings of black residents have been cited by conservatives as "proof" of the "Ferguson effect," but violent crime rates in those cities were on the rise before the police shootings and ensuing protests.
• There's been no increase in police killings during Barack Obama's presidency. In fact, cop killings are down 10 percent since the Bush era, and down 17 percent this year so far.
Since it first appeared as a Twitter hashtag after the 2013 acquittal of George Zimmerman in the killing of unarmed black teenager Trayvon Martin, #BlackLivesMatter has grown into a national social justice movement that influences public opinion and commands the attention of presidential candidates. The ubiquity of smartphones and increased availability of wifi access had the unexpected egalitarian effect of bringing cheap Internet access to poor and underserved communities. All of the above adds up to more black Americans than ever before having the tools of the media in their hands.
As a result, stories that would have remained strictly local news and been quickly forgotten have developed into national stories. Ten years ago, almost no one would have heard about what happened to Trayvon Martin, Rekia Boyd, Jonathan Ferrell, Renita McBride, Tamir Rice, Eric Garner, Sandra Bland, or Michael Brown.
The steady stream of such stories may give the impression that there's been a sudden increase in police violence against African-Americans. The truth is that these stories have always happened. We're just hearing more about them. "We've been in business for 130 years," said Robert Bogle, president and CEO of The Philadelphia Tribune, an African-American newspaper.
"What is being exposed nationally is something that's been troubling us in Philadelphia as African-Americans," he said. "Yes, we have written about it. We've talked about it. This is the African-American experience, and for some reason non-African-Americans don't believe it."
The sheer volume of stories shows, as President Obama said recently, "The African-American Community is not just making this up, and it's not just something being politicized. It's real, and there's a history there."
People aren't just making this up.
A video recorded in a classroom at Spring Valley High School in Columbia, South Carolina showed school police officer Ben Fields approaching a black teenager, slamming her and her desk to the ground, tossing her across the room, and handcuffing her.
According to other students, the confrontation began when the young woman refused to put away her cell phone during class, and refused to leave class. An administrator called in Deputy Fields. Fields arrested another black female student who recorded the assault and protested his behavior.
A coalition of nearly 6,000 black parents in Columbia said the Spring Valley arrest reflects a broader bias. Rev. Hugh Harmon, chairman of the Richmond Two Black Parents Association (RTBPA) said, "The issue with a lot of parents is the disproportionate way in which expulsions and suspensions were being doled out to young men that look like myself." The RTBPA formed three years ago, in response to parents concerns about punishments targeting black students.
School officials denounced Deputy Fields actions as "reprehensible," and "over the line. Fields has a history of going "over the line."
• Fields and a number of other officers are being sued by student Ashton James, who claims that Fields and other officers violated his civil rights by targeting him and other students for "gang activity" where there was none.
• Another lawsuit filed in 2007 alleges that Fields harassed and violated the civil rights of a married couple in an apartment parking lot.
• Several students tweeted that Fields has been "slamming" students for years, including a pregnant girl in 2012, earning him the nickname "Officer Slam."
Fields has since been fired.
Spring Valley is just the latest of these stories.
Former tennis pro James Blake was standing outside his Manhattan hotel waiting for a car to take him to the U.S. Open, when a plainclothes NYPD officer, mistaking James for a non-violent identity-theft suspect, tackled him out of nowhere. Four other officers joined in detaining a non-resisting Blake.
Blake cooperated throughout, and offered identification. The officers did not give him their names, though he eventually saw badges on some of them. He was released when a retired detective who happened to be passing by recognized him.
Seattle police officer Cynthia Whitlatch arrested seventy-year old veteran William Wingate, for using a golf club as a walking cane. Whitlatch arrested Wingate, claiming that he'd swung the golf club at her as she came around a corner. Video captured by her dashboard camera told a different story.
At no point does Wingate raise the golf club. Whitlatch spots Wingate on the corner, and makes several turns to circle back around to him. Whitlatch blatantly lied, and was ultimately fired.
University of Cincinnati police officer Ray Tensing stopped Sam Dubose, a 43-year-old unarmed black man, because his car didn't have a front license place. Tensing shot and killed Dubose, after Dubose started the engine in an apparent attempt to get home — just a few blocks away.
Immediately after the shooting, Tensing told the dispatcher, "I'm not injured. I almost got ran over by the car. Tensing's report echoed the claim that he was almost run over, was dragged by the car, and was forced to shoot Dubose.
Tensing's body cam video told another story.
A university investigation found the shooting was "not justified" and that Tensing was "not factually accurate" in his account. Tensing has since been terminated and indicted for murder.
South Carolina police officer Michael Slager stopped Walter Scott, an unarmed black man, for a faulty tail light. Fearing arrest for unpaid child support, Scott ran. Slager shot Scott in the back as he ran away, but told the dispatcher that Scott fought with him and tried to grab his taser.
A bystander with a smartphone caught Slager on video shooting a fleeing Scott, handcuffing Scott's body, retrieving his taser and dropping it near Scott's body — to make the scene match the story he'd already told.
Slager has since been fired. A grand jury has indicted Slager for murder in the death of Sam Dubose.
Cleveland police officers claimed that 12-year-old Tamir Rice was sitting underneath a public pavilion with five other people; that he picked a gun up from the table and put it in his waistband when he saw the police car; that officers got out of their car and told Rice three times to put his hands up; and that Rice reached into his waistband to get the gun, and was shot by police.
Video footage from a nearby security camera told a different story.
Rice was alone. He was standing. He did not reach for his gun, which was a toy in the first place. (Police officers later made a show of pointing out that the gun did not have an orange tip indicating it was a toy, which was beside the point because the officers never saw the gun.) Police officers shot and killed Rice less than three-seconds after pulling up.
As the saying goes, there are at least three sides to every story: yours, mine, and the truth. We're engaged in a national conversation about structural racism and policing, because #BlackLivesMatter activists have amplified these stories, and in doing so have shifted public opinion.
• According to a recent Pew poll, 50 percent of Americans believe racism is a "big problem" in America — up 17 percentage points from the last time Pew asked this question, in 2010.
• Fifty-nine percent believe changes are necessary to give African-Americans equal rights — up from 46 percent last year.
• A dozen police officers have been charged with murder or manslaughter this year (not including the six Baltimore officers facing trial in the death of Freddie Gray), up from an average of just five per year from 2005 to 2014.
These changes are largely due to the work of #BlackLivesMatter activists, and suggests that their work may yet change the country. The Ferguson protests worked. #BlackLivesMatter is winning. That's why conservatives are desperate to stop it.