"Killings: The Youngest Victims": Excerpt from "Voices for Freedom: An Amnesty International Anthology
by Amnesty International Publications
© 1986 Amnesty International Publications
NOTICE: THIS WORK MAY BE PROTECTED BY COPYRIGHT
YOU ARE REQUIRED TO READ

THE COPYRIGHT NOTICE AT THIS LINK

BEFORE YOU READ THE FOLLOWING WORK, THAT IS AVAILABLE SOLELY FOR PRIVATE STUDY, SCHOLARSHIP OR RESEARCH PURSUANT TO 17 U.S.C. SECTION 107 AND 108. IN THE EVENT THAT THE LIBRARY DETERMINES THAT UNLAWFUL COPYING OF THIS WORK HAS OCCURRED, THE LIBRARY HAS THE RIGHT TO BLOCK THE I.P. ADDRESS AT WHICH THE UNLAWFUL COPYING APPEARED TO HAVE OCCURRED. THANK YOU FOR RESPECTING THE RIGHTS OF COPYRIGHT OWNERS.
KILLINGS: THE YOUNGEST VICTIMS
Revelations of the killing and merciless ill-treatment of school children in the Central African Empire in 1979 provoked a world outcry against Emperor Jean-Bedel Bokassa. First reports of the deaths were verified by Amnesty International and published in early May 1979. The following account comes from 'Children', a report on human rights violations perpetrated against children.
The Central African Empire briefly became the focus of world attention during 1979 after Amnesty International condemned the killing and merciless treatment of hundreds of school children who were arrested in April.
The children, aged between 8 and 16, had originally protested in January against new regulations compelling them to purchase and wear government uniforms. At the time the students had not been paid their study grants and many of the school children's fathers who were employed by the government had not received their wages for several months.
The protest about the uniforms therefore grew into a broader protest against the government's management of the country's economy. Students and school children also began demanding the restoration of the Republic (the Central African Empire was the Central African Republic until Jean-Bedel Bokassa made himself Emperor in December 1976).
The January demonstrations in the capital city, Bangui, were followed by protests in the provinces, and by numerous arrests. The arrest of four students in early April resulted in a students' and school children's strike on 9 April.
By mid-April young people began stoning government cars, including that of the Emperor. On 18, 19 and 20 April the Imperial Guard, which functions under the personal command of the Emperor, searched homes for children involved in the protests and took large numbers into custody.
More than a hundred children are known to have been taken on 18 April to Bangui's central Ngaragba Prison where they were held in such crowded conditions that in one cell alone between 12 and 28 of them were reported to have suffocated to death.
Other children were reported to have been stoned by members of the Imperial Guard to punish them for throwing stones at the Emperor's car. Some were bayonetted or beaten to death with sharpened sticks and whips. One boy was reported by a survivor to have been killed with the pocket knife he was carrying in his pocket when he was seized by the Imperial Guard.
Amnesty International has received reliable reports that between 50 and 100 children were killed in prison. One witness said he had counted the bodies of 62 dead children.
Several days later Emperor Bokassa described himself at a public function in Bangui as 'the father and protector of children' and said that the remaining children in prison would be released. As international protests grew over the reports of the killings,
he denied that any such deaths had occurred but later admitted that some 'grown-up youths' had been killed
.
High-level confirmation of the killings came from an unexpected source. General Sylvestre Bangui, Ambassador in France and the United Kingdom for the Central African Empire, called a news conference at his embassy in Paris on 22 May to announce his resignation as ambassador and to reveal eye-witness descriptions of the killings.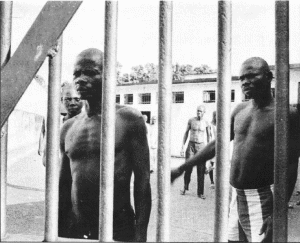 Political prisoners detained by former Emperor Bokassa of the Central African Empire (now Republic) await their imminent release after a change of government. Bangui, 26 September 1979.
Students and children in Ethiopia have, for several years, been victims of political arrest, torture and killing under the country's Provisional Military Government, the Derg, which came to power in 1974. Students in Ethiopia have a tradition of radical political protest, developed in opposition to the government of Emperor Haile Selassie under which they were frequently subjected to arbitrary arrest and torture. Many have also opposed the policies of the Provisional Military Government, and have met a similar fate.
One of the worst incidents known to Amnesty International took place on 29 April 1977 when soldiers and paramilitary guards in Addis Ababa attacked gatherings of students and other young people at night on suspicion that they were preparing a May Day demonstration against the Derg. It is estimated that about 500 young people were killed that night. The Secretary General of the Swedish Save the Children Fund, Hakan Landelius, reported: 'One thousand children have been massacred in Addis Ababa and their bodies, lying in the streets, are ravaged by roving hyenas ... The bodies of murdered children, mostly aged from 11 to 13 years, can be seen heaped on the roadside when one leaves Addis Ababa'.
In November 1977 Lieutenant Colonel Mengistu Haile Mariam, the chairman of the Derg, ordered that 'Red Terror' should be inflicted on 'counter-revolutionaries' in response to assassinations which the Derg claimed had taken the lives of many government officials since October 1976. The 'Red Terror' campaign lasted from November 1977 to June 1978. It involved mass arrests of students and young people as well as the systematic use of torture and the summary execution of large numbers of these young people. Summary executions frequently took place in public places at night, with the victims' bodies being displayed with placards warning, 'This was a counterrevolutionary', 'The Red Terror will flourish'. Victims' relatives were ordered, at times, to join In public condemnation of those killed. At other times they were permitted to purchase the bodies for burial -- 'paying for the bullet', as it was called.
It has been estimated that about 5,000 young people aged between 12 and 25 years were killed in Addis Ababa during the 'Red Terror', particularly between December 1977 and February 1978, when killings and imprisonment reached a peak, and when about 100 or more were reported killed each night. In early 1978 the campaign spread to other towns and rural areas too, although by May bodies were rarely seen exposed in the streets of the capital and many of those arrested had been released. In June 1978 the government ended its reference to 'Red Terror', but similar practices have been reported in Ethiopia since then.
Just prior to the January 1979 Conference of Latin American Bishops San Salvador's Archbishop Oscar Romero issued a decree in which he suspended all religious services in his country following the killing of young catechists by security forces.
On the weekend of 20 January a Roman Catholic priest, Father Octaviano Ortiz Luna, had gathered together some 40 young people between the ages of 12 and 19 for a Christian study program. Security forces broke into their meeting house at dawn and carried out arrests and killings. Father Octaviano and David Alberto Caballero, Jorge Alberto Gomez, Roberto Orellana and Angel Morales -- all boys -- were shot dead.
The government-controlled press published photographs of the dead, announcing the liquidation of a nest of guerrillas.
The remaining young people were charged with preparing subversive material and with opposing authority. Following widespread protests, they were released from custody.
Published October 1979