Ending the Drug Wars: Report of the LSE Expert Group on the Economics of Drug Policy
THE LONDON SCHOOL OF ECONOMICS AND POLITICAL SCIENCE
May 2014
NOTICE: THIS WORK MAY BE PROTECTED BY COPYRIGHT
YOU ARE REQUIRED TO READ

THE COPYRIGHT NOTICE AT THIS LINK

BEFORE YOU READ THE FOLLOWING WORK, THAT IS AVAILABLE SOLELY FOR PRIVATE STUDY, SCHOLARSHIP OR RESEARCH PURSUANT TO 17 U.S.C. SECTION 107 AND 108. IN THE EVENT THAT THE LIBRARY DETERMINES THAT UNLAWFUL COPYING OF THIS WORK HAS OCCURRED, THE LIBRARY HAS THE RIGHT TO BLOCK THE I.P. ADDRESS AT WHICH THE UNLAWFUL COPYING APPEARED TO HAVE OCCURRED. THANK YOU FOR RESPECTING THE RIGHTS OF COPYRIGHT OWNERS.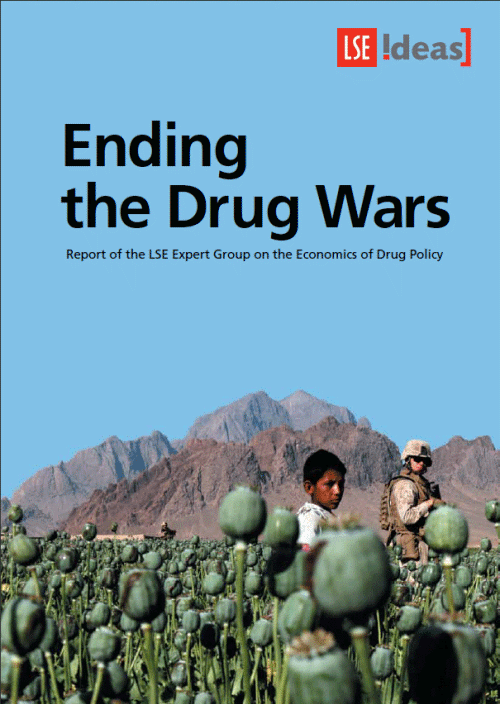 It is time to end the 'war on drugs' and massively redirect resources towards effective evidence-based policies underpinned by rigorous economic analysis.
The pursuit of a militarised and enforcement-led global 'war on drugs' strategy has produced enormous negative outcomes and collateral damage. These include mass incarceration in the US, highly repressive policies in Asia, vast corruption and political destabilisation in Afghanistan and West Africa, immense violence in Latin America, an HIV epidemic in Russia, an acute global shortage of pain medication and the propagation of systematic human rights abuses around the world.

The strategy has failed based on its own terms. Evidence shows that drug prices have been declining while purity has been increasing. This has been despite drastic increases in global enforcement spending. Continuing to spend vast resources on punitive enforcement-led policies, generally at the expense of proven public health policies, can no longer be justified.
The United Nations has for too long tried to enforce a repressive, 'one-size-fits-all' approach. It must now take the lead in advocating a new cooperative international framework based on the fundamental acceptance that different policies will work for different countries and regions.
This new global drug strategy should be based on principles of public health, harm reduction, illicit market impact reduction, expanded access to essential medicines, minimisation of problematic consumption, rigorously monitored regulatory experimentation and an unwavering commitment to principles of human rights.
Signed:
Professor Kenneth Arrow, 1972 Nobel Prize in Economics.
Luis Fernando Carrera Castro, Minister of Foreign Affairs, Guatemala.
Nick Clegg, Deputy Prime Minister of the United Kingdom of Great Britain and Northern Ireland.
Professor Paul Collier, CBE, University of Oxford.
Professor Michael Cox, LSE IDEAS.
Alejandro Gaviria Uribe, Minister of Health and Social Protection, Colombia.
Professor Conor Gearty, London School of Economics.
Aleksander Kwasniewski, President of the Republic of Poland (1995 – 2005).
Professor Margot Light, LSE IDEAS.
Baroness Molly Meacher, UK House of Lords.
Professor Sir Christopher Pissarides, 2010 Nobel Prize in Economics.
Professor Danny Quah, LSE IDEAS.
Professor Dani Rodrik, Princeton University.
Professor Jeffrey Sachs, Columbia University.
Professor Thomas Schelling, 2005 Nobel Prize in Economics.
George Shultz, US Secretary of State (1982 – 1989).
Professor Vernon Smith, 2002 Nobel Prize in Economics.
Dr Javier Solana, EU High Representative for Common Foreign and Security Policy (1999 – 2009).
Baroness Vivien Stern, UK House of Lords.
Professor Arne Westad, LSE IDEAS.
Professor Oliver Williamson, 2009 Nobel Prize in Economics.
Contributors
LSE Expert Group on the Economics of Drug Policy*
Professor Danny Quah (Chair) is Senior Fellow at LSE IDEAS. He is also Professor of Economics and International Development and Kuwait Professor at LSE. He had previously served as LSE's Head of Department for Economics (2006 – 2009) and Council Member on Malaysia's National Economic Advisory Council (2009 – 2011). He is Tan Chin Tuan Visiting Professor at the National University of Singapore.
John Collins (Coordinator) is the International Drug Policy Project Coordinator at LSE IDEAS. He is also a PhD Candidate in the Department of International History at the London School of Economics. His research focuses on the history of international drug control. He edited the 2012 LSE IDEAS Special Report Governing the Global Drug Wars.
Professor Laura H. Atuesta Becerra is a Professor and Research Fellow in the Drug Policy Program at the Centro de Investigación y Docencia Económica (CIDE), Mexico. Her research focuses on the economics of illegal drugs and the effects of drugs on income inequality, internal migration and conflict. Previously she worked at the Inter-American Development Bank.
Professor Jonathan P. Caulkins is the H. Guyford Stever Professor of Operations Research and Public Policy at Heinz College, Carnegie Mellon University. His research focuses on modelling the effectiveness of interventions related to drugs, crime, violence, delinquency and prevention.
Dr Joanne Csete is Deputy Director for the Open Society Foundations' Global Drug Policy Program. Previously she was an Associate Professor of Public Health at Columbia University, the founding director of the HIV and Human Rights Program at Human Rights Watch, Executive Director of the Canadian HIV/AIDS Legal Network and a senior technical advisor at UNICEF.
Professor Ernest Drucker is an Adjunct Professor of Epidemiology at the Mailman School of Public Health, Columbia University. He is also a Scholar in Residence and Graduate Faculty at the John Jay College of Criminal Justice, City University of New York and a Professor Emeritus of Family and Social Medicine, Montefiore Medical Center/Albert Einstein College of Medicine.
Dr Vanda Felbab-Brown is a Senior Fellow with the Center for 21st Century Security and Intelligence in the Foreign Policy program at the Brookings Institution. She is an expert on international and internal conflicts and non-traditional security threats, including insurgency, organised crime, urban violence and illicit economies.
Professor Mark A.R. Kleiman is Professor of Public Policy in the UCLA School of Public Affairs. He is a leading expert in the field of crime control and drug policy. In addition to his academic work, he provides advice to local, state and national governments on crime and drug policy.
Professor Alejandro Madrazo Lajous is a Professor and Researcher in the Legal Studies Division of the Centro de Investigación y Docencia Económica (CIDE) in Mexico. His research focuses on measuring the legal-institutional costs of drug policies and their implications for socioeconomic development.
Professor Daniel Mejia is an Associate Professor in the Department of Economics at Universidad de los Andes and a Director of the Research Centre on Drugs and Security, Colombia. His research focuses on conducting econometric analysis of interdiction and eradication policies, with a particular emphasis on the outcomes of Plan Colombia.
Pascual Restrepo is a PhD candidate in economics at the Massachusetts Institute of Technology (MIT). Born in Colombia, his research focuses on empirical and theoretical analyses of the costs and benefits of policies implemented under the 'war on drugs'. In particular, his latest research quantifies the collateral costs in terms of violence created by drug markets in transit and production countries.
Professor Peter Reuter is a Professor in the School of Public Policy and the Department of Criminology at the University of Maryland. He founded and directed RAND's Drug Policy Research Center from 1989-1993. He also served as the founding President of the International Society for the Study of Drug Policy (ISSDP). Among his six books is (with Robert MacCoun) Drug War Heresies: Learning from other Vices, Times and Places.
Jeremy Ziskind is a crime and drug policy analyst with BOTEC Analysis. His work for BOTEC has included advising the Washington State Liquor Control Board on rules and regulations for its newly legalised cannabis industry. Jeremy previously held positions with the Office of National Drug Control Policy (ONDCP) and the Vera Institute of Justice.
Contents
• Foreword
• Contributors
• Executive Summary
• The Economics of a New Global Strategy, by John Collins
• Effects of Prohibition, Enforcement and Interdiction on Drug Use, by Jonathan P. Caulkins
• Why Is Strict Prohibition Collapsing?, by Daniel Mejia and Pascual Restrepo
• The Mobility of Drug Trafficking, by Peter Reuter
• Improving Supply-Side Policies, by Vanda Felbab-Brown
• Internally Displaced Populations in Colombia and Mexico, by Laura H. Atuesta Becerra
• The Constitutional Costs of the 'War on Drugs', by Alejandro Madrazo Lajous
• Mass Incarceration as a Global Policy Dilemma, by Ernest Drucker
• Costs and Benefits of Drug-Related Health Services, by Joanne Csete
• Lawful Access to Cannabis: Gains, Losses and Design Criteria, by Mark A.R. Kleiman and Jeremy Ziskind