Smallpox Pandemic Planned: Are You Ready?
by Vaccination Liberation
The following has been taken verbatim from a flyer being circulated by Vaccination Liberation. The flyer is part of a campaign to alert Americans of the looming public health disaster accompanying mass smallpox vaccination.

VacLib can be contacted at http://www.vaclib.org. You can access the website and help save your community, friends and family from the cowpox pandemic being planned for America.
Your state and local health officials, on orders from the federal Centers for Disease Control and Prevention (CDC), are now making plans to give the people of our state smallpoxvaccinations.This is the same CDC that sent Saddam Hussein deadly bio-warfare agentsincluding anthrax germsin the 1980s, according to congressional records and media reports.
In November 2002, Congress passed the infamous Homeland Security Act, authorizing the federal government to make vaccinations MANDATORY.
If "Intere$ted Partie$" can produce ONE CASE of smallpox anywhere in the U.S.,the CDC will ship the smallpox vaccine to your area. Then public announcements will instruct citizens to report to mass vaccination clinics.
CDC officials admit that smallpox is NOT explosively contagious. Transmission generally requires seven days of close contact with a person who is obviously ill withfever and rash. Because of the slow transmission rate, smallpox would NOT make a successful bio-terrorist weapon. By contrast, a government sponsored mass vaccination program guarantees a nationwide smallpox epidemic because a live virus will be implanted in millions of people, who will then be infectious to others for up to 21 days after vaccination.
Federal officials and medical experts admit that no one knows for sure if the vaccinia smallpox vaccine really creates immunity to the variola smallpox virus.
Government experts admit that mass vaccination may cause thousands of deaths and millions of serious adverse reactions, which include: Progressive vaccinia (victims die after the vaccine virus eats away flesh, bone and gut); brain damaging encephalitis, paralysis, smallpox sores all over the body, scarring and blindness (if the scab virus enters the eyes).
People with weak immune systems are at high risk for serious complications from smallpox vaccine.CDC's official list of persons at high risk includes:
 Children under 18, especially infants, due to high risk of brain inflammation
 Pregnant women (an infected fetus can be either stillborn or die at birth)
 Millions of people with eczema or other acute skin conditions
 Those who are immuno-suppressed from cancer, AIDS, herpes, chronic fatigue, MS, diabetes and organ transplants
 Those allergic to vaccine chemicals and antibiotics
Because the smallpox vaccine is so dangerous, leading medical organizations recommend against universal smallpox vaccination. These include:The American Medical Association, the Association of American Physicians and Surgeons, the American Academy of Pediatrics and the American Academy of Family Physicians.
Both old and new smallpox vaccines are experimental. The outdated Wyeth (Dryvax) and Aventis stocks dredged up by the CDC were made decades ago, using obsolete techniques and diseased cow (mad cow?) lymph. The new vaccines, to be made from human fetal tissue or monkey serum, will be recombinant at a time when many scientists believe that genetically engineered vaccines may be responsible for our nationwide epidemic of auto-immune and neurological conditions including autism, diabetes, chronic fatigue, rheumatoid arthritis, Lupus and MS-like illnesses.
Commercial vaccines are often contaminated with cancer viruses, bacteria and mycoplasma which escape the filtering process. For example, the cancer-causing Simian Virus 40, which contaminated early polio vaccines 40 years ago, is now being found in bone and brain tumors, as well as Hodgkin's Disease. Although dozens of recent studies reveal equally serious contamination of modern vaccines, the CDC admits that there is no funding available for determining which vaccines are contaminated. Especially worrisome are reports that the European consortium manufacturing the new smallpox vaccine knowingly sold AIDS-tainted blood products to hemophiliacs in the 1980s.
A mass smallpox campaign could prove as disastrous as the government's recent anthrax vaccine disaster.Dr. Garth Nicolson, a world-renown cancer researcher and Nobel Prize nominee, told Congress in 2002 that contaminated anthrax vaccines administered to Armed Forces personnel are partially responsible for debilitating chronic illnesses now suffered by tens of thousands of them.Dr. Nicolson confirms that commercial vaccines are often contaminated withmycoplasma, causing symptoms associated with Gulf War Syndrome. When Dr. Nicolson examined the mycoplasma infecting sick Gulf War vets,he discovered that some strains had been genetically engineered with a portion of the HIV virus! Apparently this HIV-implanted mycoplasma was placed in Department of Defense vaccines for experimental purposes.
Who will compensate those who develop chronic illness, or the families of those who die from the smallpox vaccine?Under provisions of the Homeland Security Act, technicians who administer the smallpox vaccine are protected from liability. Only one in four vaccine-damaged children is compensated by the federal government's vaccine compensation program. AndDr. Nicolson told Congress that sick Gulf War vets are still waiting for adequate medical and financial compensation for their illnesses.
For additional documentation, go to:
www.vaclib.org/basic/smallpoxindex.htm
YOUR LIFE MAY DEPEND ON IT!
Vaccination: It isn't just about smallpox
Webster's Dictionary gives the following as the 5th definition of the word cult: "[a] system for the cure of disease based on the dogma, tenets, or principles set forth by its promulgator to the exclusion of scientific experience or demonstration."
Those who believe that injecting live and dead viruses, animal DNA and toxic chemicals into the body creates immunity to disease are, by definition, members of a cult. By extension, those who promote and administer these substances are the high priests and priestesses of this cult. Regardless of what we have been conditioned to believe, there is no proof that vaccines prevent the spread of disease. There is, however, centuries of proof that vaccines cause the spread of disease. As for the safety issue, look around and understand that the common denominator for epidemics of cancers, Developmental / behavioral / sociopathic disorders, chronic and imunosuppressive diseases is vaccination.
Vaccines do not prevent disease and they are not safe. To the contrary, they spread disease and create new diseases. And now the high priests of the vaccination cult are contemplating a campaign to put a pox upon the land by inoculating every man, woman and child in America with their cow pus cocktail. We have to stop them.
The following books and websites will aid your efforts to save those closest to you from being sacrificed on the altar to the gods of medical experimentation:
1. "Pasteur Exposed: The False Foundations of Modern Medicine," by Ethel Douglas Hume
2. "Vaccination, Social Violence and Criminality: The Medical Assault on the American Brain," by Harris L. Coulter, Ph.D.
3. "Vaccines: Are They Really Safe and Effective?" by Neil Z. Miller
4. "Immunization: The Reality Behind the Myth," Walene James
5. "DPT: A Shot in the Dark" by Harris L. Coulter, Ph.D. and Barbara Loe Fisher
6. "Vaccination and Immunization: Dangers, Delusions and Alternatives," by Leon Chaitow
7. "The Sanctity of Human Blood: Vaccination is Not Immunization," by Tim O'Shea, D.C.
8. "Vaccination: 100 Years of Orthodox Research shows that Vaccines Represent a Medical Assault on the Immune System," by Viera Scheibner, Ph.D.
9. "What Every Parent Should Know About Childhood Immunization," by Jamie Murphy
10. "Immunization: History, Ethics, Law and Health," by Catherine J.M. Diodati
11.
www.vaclib.org
(
www.vaclib.org/basic/smallpoxindex.htm
)
12.
www.whale.to/vaccines.htm
13.
www.vaccinationdebate.com
14.
www.allaboutsmallpox.com
15.
www.mercola.com
The five sites above could keep a person busy reading for quite some time. Since the topic of vaccination is so huge, most people will zero in on a specific area of interest. Each site can be mined for links that will lead you to a comprehensive understanding of your particular area of investigation. You will be amazed to discover that books, magazine articles and reports published in esteemed science and medical journals have been pointing out the medical illogic of vaccination for 200 years. Good luck.
What Can I Do?
 demand a copy of your state's "smallpox plan"
 submit a "letter to the editor"
 call into radio talk shows
 print out flyers for mass distribution from
www.vaclib.org/basic/smallpoxindex.htm#flyer
 post flyers on bulletin boards and share them with store clerks, friends and neighbors: encourage them to also duplicate and distribute
 write or call your health district director with pertinent questions (sample letters at
www.vaclib.org/news/healthdept.htm
)
 purchase 100 copies of Smallpox Alert! for distribution (see page 3 for ordering details)
The birth of Smallpox Alert!
Since Health and Human Services Secretary Tommy Thompson declared in October, 2001, that he was going to personally make sure a smallpox vaccine with every American's name on it would soon be available, Vaccination Liberation, The Idaho Observer newspaper and a handful of brilliant researchers began studying smallpox as a public health concern. We have learned much about "the pox" and its long and interesting public health history. So much, in fact, that we can say with absolute certainty that the mass vaccination campaign being planned by top public health authorities is 180 degrees off the beam. The CDC's own literature shows how a mass vaccination effort against smallpox will likely produce a public health disaster of cataclysmic proportions.
As our theory of a vaccine-induced pandemic accumulated scientific and anecdotal support, the CDC's dream of a nationwide vaccination administration machine was getting closer and closer to being a militarily-enforced reality.
Pro-mass vaccination articles began appearing regularly in newspapers and magazines last summer. On Sept. 22, 2002, the CDC released a 49-page report to the 50 state health departments that outlined how they can vaccinate up to a million people in 10 days. State and local health districts were expected to forward their community mass vaccination plans to the CDC by Nov. 22.
Our local public health district director would not answer adequately our respectfully submitted questions, nor would she let us review the "confidential" plan submitted to the CDC. Though the state plan is allegedly available we have yet to see it. "Why would public health plans be confidential?" we wondered.
Then, beginning Dec. 1, 2002, three different people informed us that police had told them citizens will be arrested as a public health risk if they refuse the smallpox vaccine.
That was the final straw. Several of us met Dec. 3, 2002, to design a flyer that would be circulated to stop this medically illogical insanity. We decided, in addition, to publish an eight-page Smallpox Alert!
So, here we are. Sound the Smallpox Alert! Help us to stop the government from perpetrating a discompassionate and misguided crime against your children, your family members, friends and countrymen. (DWH, ILC, et al)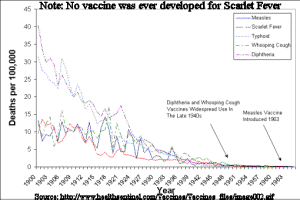 Pro-vaccinators argue that vaccination is solely responsible for the decline of certain diseases. The chart above shows that incidence of five diseases were on the way out before vaccinations were routinely administered. The truth is that improved public sanitation and year-round access to fresh produce brought about by the advent of refrigeration and motorized transportation -not vaccines- were responsible for the reduction of incidence of disease. Source Article www.healthsentinel.com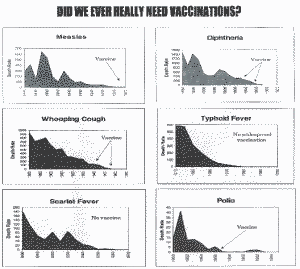 Individual Graphs (Australia)
DID WE EVER REALLY NEED VACCINATIONS?
From: Vaccination, A Parents Dilema, Greg Beattle, c 1997, Oracle Press, Queensland, Australia, p. 36-57