Monsanto blocks research on GMO safety
by Jeremy Bloom
Occupy Monsanto
February 14, 2011
NOTICE: THIS WORK MAY BE PROTECTED BY COPYRIGHT
YOU ARE REQUIRED TO READ

THE COPYRIGHT NOTICE AT THIS LINK

BEFORE YOU READ THE FOLLOWING WORK, THAT IS AVAILABLE SOLELY FOR PRIVATE STUDY, SCHOLARSHIP OR RESEARCH PURSUANT TO 17 U.S.C. SECTION 107 AND 108. IN THE EVENT THAT THE LIBRARY DETERMINES THAT UNLAWFUL COPYING OF THIS WORK HAS OCCURRED, THE LIBRARY HAS THE RIGHT TO BLOCK THE I.P. ADDRESS AT WHICH THE UNLAWFUL COPYING APPEARED TO HAVE OCCURRED. THANK YOU FOR RESPECTING THE RIGHTS OF COPYRIGHT OWNERS.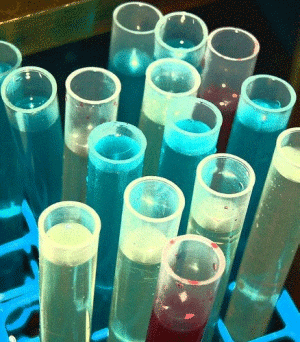 Monsanto has been systematically blocking researchers from using its patented gene modified (GMO) seeds to learn if there are problems with them, according to an explosive op-ed in yesterday's LA Times by Doug Gurian-Sherman of the Union of Concerned Scientists.
This doesn't come as a huge surprise, but it's encouraging that it's hitting the mainstream media.
Soybeans, corn, cotton and canola — most of the acres planted in these crops in the United States are genetically altered. "Transgenic" seeds can save farmers time and reduce the use of some insecticides, but herbicide use is higher, and respected experts argue that some genetically engineered crops may also pose serious health and environmental risks. Also, the benefits of genetically engineered crops may be overstated.

We don't have the complete picture. That's no accident. Multibillion-dollar agricultural corporations, including Monsanto and Syngenta, have restricted independent research on their genetically engineered crops. They have often refused to provide independent scientists with seeds, or they've set restrictive conditions that severely limit research options.
When Monsanto won a Supreme Court case last year allowing deregulation of their GMO Alfalfa, David Snively, Monsanto's senior vice president and general counsel, called the decision "important for every American farmer, not just alfalfa growers."
"All growers can rely on the expertise of USDA and trust that future challenges to biotech approvals must now be based on scientific facts, not speculation," said Snively.
But how can we get accurate science if Monsanto and other agribusiness block access? Now it looks like scientists are starting to speak out… at least behind closed doors. Here's Gurian-Sherman again:
Whatever the reasons, the results are clear: Public sector research has been blocked.

In 2009, 26 university entomologists — bug scientists — wrote a letter to the Environmental Protection Agency protesting restricted access to seeds. The letter went public, but not most of the writers' identities. They were afraid of retaliation from the companies that might further hamper their research.

"No truly independent research can be legally conducted on many critical questions involving these crops," they wrote. Christian Krupke, a Purdue University entomologist who signed the letter, put it more succinctly to a reporter for a scientific journal. "Industry is completely driving the bus," he said.

…This is not how science should operate. Agricultural companies are still the gatekeepers, choosing who gets to do research and what topics are studied. To ensure that agricultural science serves the public, Congress should change patent law and create a clear exemption for agricultural research.

…The companies that produce the seeds claim that genetically engineered crops are safe and are better than traditional crops in a range of ways. It's time for these companies to back up their rhetoric. The only way to test their grand assertions is to let independent science take its course.
Years of abuse
There have been numerous reports of these kinds of issues over the years. Here's a sampling…
According to Gurian-Sherman,
In 2001, the seed company Pioneer, owned by Dow Chemical, was developing a strain of genetically engineered corn that contained a toxin to help it resist corn rootworm, an insect pest.

A group of university scientists, working at Pioneer's request, found that the corn also appeared to kill a species of beneficial ladybug, which indicated that other helpful insects might also be harmed. But, according to a report in the journal Nature Biotechnology, Dow said its own research showed no ladybug problems, and it prohibited the scientists from making the research public

.
A recent Truthout report detailed the story of Dr. Gilles-Eric Seralini, a scientist at the University of Caen in France.
Seralini's supporters claim the scientist has faced intimidation from within the French scientific community after he published several studies showing Monsanto GM corn and glyphosate posed risks to human health.
If Genetically Modified Organisms (GMOs) are perfectly safe, why are scientists who investigate them routinely harassed? Over at Natural Food List, Jeffrey M. Smith of The Institute For Responsible Technology has assembled a discouraging list of scientists and researchers who have been attacked, threatened, and worse – just for looking into the safety of the genetically modified food that millions of Americans eat every day.
Withholding evidence
When Ohio State University plant ecologist Allison Snow discovered problematic side effects in GM sunflowers, Pioneer Hi-Bred International and Dow AgroSciences blocked further research by withholding GM seeds and genes.

After Marc Lappé and Britt Bailey found significant reductions in cancer-fighting isoflavones in Monsanto's GM soybeans, the seed seller, Hartz, told them they could no longer provide samples.
Mexican maize mischief
Responding to science with threats
Biologist Arpad Pusztai had more than 300 articles and 12 books to his credit and was the world's top expert in his field. But when he accidentally discovered that genetically modified (GM) foods are dangerous… Pusztai was fired. He was silenced with threats of a lawsuit, his team was dismantled, and the protocols never implemented. His Institute, the biotech industry, and the UK government, together launched a smear campaign to destroy Pusztai's reputation

.
Threats and ridicule
Embryologist Andrés Carrasco told a leading Buenos Aires newspaper about the results of his research into Roundup

, the herbicide sold in conjunction with Monsanto's genetically engineered Roundup Ready crops. Dr. Carrasco, who works in Argentina's Ministry of Science, said his studies of amphibians suggest that the herbicide could cause defects in the brain, intestines, and hearts of fetuses… According to an article in Grain, the biotech industry "mounted an unprecedented attack on Carrasco, ridiculing his research and even issuing personal threats." When he held meetings with the public to inform them of this, they were attacked by a violent mob.
Fire it off
Hungarian Professor Bela Darvas discovered that Monsanto's GM corn hurt endangered species in his country. Monsanto immediately shut off his supplies. Dr. Darvas later gave a speech on his preliminary findings and discovered that a false and incriminating report about his research was circulating. He traced it to a Monsanto public relations employee, who claimed it mysteriously appeared on her desk—so she faxed it out

.
Contamination
Ignacio Chapela, a microbial ecologist from UC Berkeley… discovered that the indigenous corn varieties in Mexico—the source of the world's genetic diversity for corn—had become contaminated through cross pollination with GM varieties. The government had a ban against GM corn to prevent just this possibility, but apparently US corn imported for food had been planted nonetheless… [The Mexican government's] top biotech man demanded that he withdraw his article. According to Chapela, the official intimidated and threatened him, even implying, "We know where your children go to school."
According to a scathing opinion piece in an August 2009 Scientific American, "Agritech companies have given themselves veto power over the work of independent researchers. . . . Only studies that the seed companies have approved ever see the light of a peer-reviewed journal."
New Zealand Parliament member Sue Kedgley told a Royal Commission in 2001: "Personally I have been contacted by telephone and e-mail by a number of scientists who have serious concerns about aspects of the research that is taking place . . . and the increasingly close ties that are developing between science and commerce, but who are convinced that if they express these fears publicly, . . . or even if they asked the awkward and difficult questions, they will be eased out of their institution."
Read the full report at Natural Food List.