Part 1 of 2
CHAPTER 4: Finding a 'Cause' and a Treatment (1994)
As time went on Jared and Marie began to realize more and more that the veterans, at least a rather large subset of them, were suffering from biological exposures, such as chronic infections, and chemical exposures. The McNichols had been receiving blood from veterans of the Gulf War, and they had begun to analyze the blood samples for infections. Word had gotten around the Airborne and Special Forces units that a research group in Austin, Texas had helped some officers from the Gulf War with their 'undiagnosed illnesses.' Since the veterans didn't seem to be getting much help from the Medical Corps, as a last resort they began to contact the Mc ichols to get some possible help for their problems. For the most part these were professional soldiers, airmen, sailors and marines, not youngsters that had never seen combat before or saw it for the first time in the Gulf War. They had been there before and didn't have problems after the combat ended like they had now. For these combat-tested veterans their post-war illnesses were something new. And they were particularly disdainful of the liberal use of PTSD to describe their clinical problems. If they didn't have PTSD after other wars, why should they have it now? What was so different about the Gulf War? Had we become a nation of people who were prone to psychological problems? Or was something else involved, something that no one wanted to acknowledge or recognize?
Jared McNichols had been compiling a list of Gulf War veterans' health complaints and asking for their medical records, if they could get them. Since military medical records and especially shot records were disappearing or being classified at astonishing rates, these records would not be available for analysis. That in itself was very suspicious. The Gulf War was the first conflict in history where veterans' shot records were lost, hidden or classified, possibly to prevent scrutiny of the vaccines that were given during deployment. The rationale that the DoD was giving out to reporters who dared to question their wisdom on the classification of Gulf War era shot records was that they did not want our potential enemies to find out what vaccines were given to individuals before or during deployment so that they would not know what countermeasures were taken against biological weapons. Most veterans that contacted the McNichols, however, were sarcastic about this rationale and doubted if Saddam had access to or was even interested in their individual shot records. The McNichols were convinced more than ever that many if not most of these veterans had chronic infections that either caused their illnesses or at least exacerbated their illnesses, and one possible source for infections was the military vaccines that were so liberally given to personnel during deployment When a small number of shot records surfaced, usually because the veteran made a copy or hid the records, there were unidentified vaccines listed on the records. Were these unidentified vaccines experimental vaccines? Why was the information on the Gulf War era shot records so important that these records had to be classified as secret and hidden away from public scrutiny, and why were so many lost, over 500,000 by some estimates? Unfortunately, the saga of the lost or classified shot records has never been resolved.
One of the well-known problems in the manufacturing of commercial vaccines was biological contamination, and this was usually contamination by bacteria that can enter the vaccines at a number of points in the manufacturing process. Usually such contamination can be identified before the vaccine lots are released, especially if the contamination was via rapidly growing, commonly found bacteria, the most common type of contamination in commercial biological preparations. Possible contamination of vaccine lots was usually ruled out by incubating samples from various vaccine lots at body temperatures for varying times to see if bacteria grow out in the samples. Alternatively, samples of the vaccines can be inoculated into broth cultures containing medium that support the growth of most bacteria. However, not all contaminating bacteria will grow under these conditions, especially slow-growing bacteria and other possible contaminants such as viruses. Also, low-levels of contamination may not be identifiable in such analyses.
Returning to the possibility that biological exposures were important in Gulf War Illnesses, as they were now calling the Gulf War Syndrome, Jared made a list of most commonly found chronic infections that could be causing much of the problem. The list of signs and symptoms that Jared compiled was mainly from bacterial infections and included: Brucella species, the bacteria that causes brucellosis, mainly a veterinary illness that is endemic in the Middle East and elsewhere; Mycoplasma species, the small bacteria that lack a rigid cell wall and are responsible for many if not most infection-based asthma, bronchitis and genitourinary cases; Coxiella burnetti, the bacteria that causes Q-Fever, a chronic disease marked by undulating fevers and respiratory distress; plague caused by Yersinia pestis, an insect-borne bacillus-type bacteria that causes high fevers and pneumonia; and tularemia caused by Francisella tularensis, a small bacillus-type bacteria that causes pneumonia and swollen lymph nodes. Other than bacteria, the list is short and includes: leishmaniasis, an insect-borne disease caused by a systemic parasite that causes fever, cough, stomach pain and distortion and diarrhea. Most of these infectious agents have also been developed as incapacitating Biological Warfare agents by various countries, and certainly by the United States in its Biodefense programs. Jared moved to the large white board in his office and made a new table.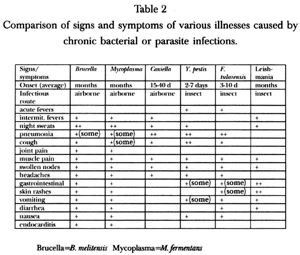 The table was not complete, but a rough picture began to form. Since most of the veterans did not experience symptoms until 3-6 months to over a year after they returned, most of the more acute infectious diseases were unlikely but not ruled out entirely. For example, low-level exposures might require longer to present than acute exposures. Some of the veterans were diagnosed with leishmania, a parasitic infection usually spread by the bite of a sand fly. There was a test for this parasite, but less than 100 cases were found in the Gulf War veterans, according to the U. S. Army Institute of Pathology Research.
Thus the McNichols were left with two infections that fit the signs and symptom profiles better than the others. They were also more likely than the rest because their natural history or pathogenesis was more consistent with the time of onset of symptoms: Brucella species and Mycoplasma species. These types of infections were not well known by civilian physicians. In fact, one of the problems that Jared and Marie would later face was the almost complete lack of simple knowledge of the average physician about many types of chronic infections. And these types of infections would be difficult to find in clinical samples or even more difficult to find in commercial vaccines.
Most physicians have been trained to recognize the presence of acute bacterial infections, because such infections if they progress to systemic or system wide infections can cause sepsis if not diagnosed early on. In this condition the rapidly growing bacteria flood every organ and tissue with rapidly dividing microorganisms, and their release of bacterial toxins poisons virtually every tissue in the body, a situation that can be fatal. Our immune systems usually recognize these rapidly growing bacteria, but the rapid proliferation of a microorganism can outstrip the ability of our immune systems to identify and destroy the invaders. By sheer numbers alone the microorganism invaders can overwhelm the immune system and its ability to destroy them. However, the slow-growing Brucella and Mycoplasma species proliferate so slowly and hide inside cells and tissues that they are not so readily apparent as their fast-growing relatives. These slow-growing bacteria can be much more insidious. They hide from the immune system rather than attempting to overwhelm it by rapid proliferation, and they take their time to slowly destroy tissues and cells that they colonize, and almost like parasites, they slowly take over their host.
The slow-growing pathogenic bacteria usually begin their infectious invasion by gaining access to the tissues, entering cells and interfering with their metabolism. They can also slowly attack the energy systems of the cell, such as the mitochondria, the little batteries in our cells that provide most of the energy that our cells need to function. This was why infected patients experience chronic fatigue and loss of energy-their energy generating systems are slowly being destroyed. The slow-growing intracellular bacterial infections can also cause genetic changes in cells, because some of the substances that they release are toxic to our DNA and the genes that make up our genetic apparatus. Slowly our genes can be modified in subtle ways that eventually can cause problems, such as genetic deletions or mutations. Many of the symptoms caused by such infections occur when specific tissues and glands are invaded. For example, if the thyroid gland is colonized by the microorganisms, changes in the production of thyroid hormones can occur. Sometimes the production of thyroid hormones can be reduced, sometimes it can be elevated, or the overall levels of thyroid hormones can even remain within the normal range or slightly out of normal range while fluctuating or cycling. Other problems occur when our bodies attempt to circumvent the infection, and this can result in the release of chemical substances that mimic some of the steps that occur during an immune response, resulting in intermittent fevers and malaise.
Very simple in genetic terms, Brucellas and Mycoplasmas need the cellular metabolism of a host cell to provide them with the building blocks for their synthetic machinery. During their evolution they lost the ability to make many of the things that they need to survive and grow, so they had to evolve as cellular thieves that steal what they need from their colonized host cells. They also evolved as experts in circumventing our immune systems. In the process of infection they can release substances that slowly circumvent host responses that begin to identify them as foreign and react against them. For example, they are masters at fooling the immune systems into seeing their exteriors as normal host structures, and they can actually release chemical substances that paralyze host immune responses so they won't be stopped from their slow infection process. They can also remove host membrane structures and incorporate them into their own bacterial membranes. For example, this can happen when the intracellular bacteria leave cells to infect other cells. In the process of escaping from the host cell, they often pull out small pieces of host cell membranes and escape with the normal host structures incorporated in their own bacterial membrane. Although this sounds innocuous, it can set up an autoimmune response if the host incorrectly identifies its own antigens as belonging to the bacterial invader. Instead of mounting an immune response that neutralizes the bacteria, the host inadvertently mounts an immune response against itself, an autoimmune response, resulting in host cell and tissue destruction. Such inappropriate immune responses are important in rheumatic diseases, such as rheumatoid arthritis. Interestingly, one of the more common complaints of the veterans was joint pain and loss of joint mobility, similar to the most common symptoms of rheumatoid arthritis. Most rheumatoid arthritis patients have similar types of chronic intracellular infections in their synovium, the tissues in the joints that separate bone.
In the process of colonizing virtually every tissue and organ system, the slow-growing intracellular bacteria can cause multiple signs and symptoms. Unfortunately, none of these were distinctive enough to warn physicians as to what might be the cause. Not just any species of Brucella or Mycoplasma can cause all of the signs and symptoms that were seen in the veterans, but now the range of likely infections could be narrowed considerably. There were other infections that would have to be considered, such as Rickettesial and other slow-growing bacteria and some parasite infections, but this was a good place for the McNichols' laboratory to start looking.
Since Marie had suffered from a mycoplasmal infection that almost killed her, Jared decided that they should investigate the possibility of infection by Mycoplasmas before anything else. First, they needed to decide which species of Mycoplasmas that they should investigate. There were approximately 50 different species of Mycoplasma that had been identified and had appeared in one publication or another, and they wanted to do a general as well as a specific search. Narrowing the number to those species that had been identified in humans, the number dropped to about a dozen. Then narrowing the search even more to those species identified as pathogenic in humans or suspected of causing chronic illnesses similar to Gulf War Illnesses, the number dropped again to about six.
At this point the McNichols research team could focus on any type of bacteria, a specific class of bacteria or on a specific species of bacteria. They decided to concentrate on a class of Mycoplasmas first because that seemed to be a good place to start. In order to approach the problem they had to devise a general approach for detecting essentially all species of Mycoplasmas and a more specific approach to detect certain species of Mycoplasma that were already associated with chronic human illnesses. Since they did not expect every case of Gulf War Illness to be caused by chronic bacterial or other infections, they would have to link any laboratory findings with the signs and symptoms of individual patients.
If the McNichols research team did not find any evidence for Mycoplasmas in the veterans' blood, then they could go down the list starting next with Brucella species. Certain Brucella species were already known to produce a chronic disease in man, brucellosis, and the signs and symptoms of the veterans were also similar to brucellosis. Brucellosis is an endemic infectious disease caused by a known infection that was found in the Middle East and associated with domestic animal herds like catlle and sheep where the infection can be fatal. Moreover, in countries like Saudi Arabia and Kuwait brucellosis was not an uncommon disease. It was not present in epidemic proportions, but hundreds of cases had been reported each year in these countries. Since the veterans were exposed to a variety of environmental toxins, such as chemicals, smoke, among other contaminants, their immune systems may not have prevented them from being infected by natural bacterial invaders already present in the Middle East. On the other hand, they might be dealing with something much more sophisticated, such as Biological Warfare agents. The fear was that if they found evidence for Mycoplasma or Brucella species, that these would be modified microorganisms, not the usual fairly benign species associated with some isolated chronic infections or animal diseases. Since the microorganisms that the McNichols' laboratory were looking for were slow-growing bacteria that caused chronic illnesses, it was unlikely that they were dealing with anthrax or other more rapidly growing bacteria. If these turned out to be modified agents, then they were looking for 'incapacitating agents' not 'lethal agents' designed to quickly kill their host.
The data indicate an infection in the Gulf War veterans
Now that the Gulf War Illness Research Team, as Jared was calling it, had settled on an overall approach to rule in or rule out chronic infections in the Gulf War Illnesses, Jared searched the medical and scientific literature for anything that he could find on Mycoplasmas and human illnesses. He was struck by the research of the U.S. Army Institute for Pathology Research on Mycoplasma fermentans incognitus published by Dr. Ming Lon. Was Dr. Lon the same researcher that Marie had spoken to when she was dying of some unknown infection? The publications indicated that Dr. Lon first thought that the Mycoplasma fermentans incognitus was a virus because of its small size and small genetic content, but he later found that it was a very small bacterium that had invaded cells just like a virus.
What had confused Dr. Lon was that the Mycoplasmafermentans incognitus or Mfi did not have a rigid cell wall like most bacteria, and it had considerably less genetic information than common bacteria. In fact, when Dr. Lon reported on the structure of Mfi, the description was so devoid of notable features that no wonder it remained an elusive, 'silent' infection for so long. Usually one can use the techniques of immunology to determine if an infection has occurred, because most bacteria elicited a strong immune response in their host. But in the case of Mfi, there was little evidence to suggest that it stimulated a strong immune response. If they used the presence of antibodies against Mfi to find infections, they could be completely fooled. In fact, Dr. Lon had already indicated that he could not find antibodies against Mfi in Gulf War veterans, a result that indicated to Jared that there were others who were also thinking along the same lines that chronic bacterial infections might cause some of the illnesses in the veterans. Thus their idea may not be so far-fetched after all.
To get around the problem that Mycoplasmas like Mfi were not likely to elicit a strong immune response, Jared decided that they would have to use another approach to find out whether Mfi or other Mycoplasmas might be present in Gulf War Illness cases. One approach that was not dependent on host immune response or on finding unusual antigens on the surface of the bacteria was to use the unique genetics of the bacteria to find it. For this approach Jared and Marie would have to use the genetic information available in scientific publications-mainly from the Army and other civilian researchers to probe for Mfi and other Mycoplasmas in the veterans' blood. Because they wanted a fast, reproducible approach that could be adapted to other infectious agents as well, they decided on using the same type of genetic assay for any of the bacteria that they thought might be involved.
Since every living thing must have the appropriate genetic information to reproduce, survive and grow, or in the case of viruses the genetic information to reproduce and circumvent or usurp host metabolism to grow and be assembled, the presence of an infectious agent can be determined by finding its specific genetic or DNA signature. Each species of microorganism had unique DNA (or RNA) sequences that could be used to positively identify that particular species. Once the specific DNA sequence was known, one only had to look for this unique sequence in a sea of DNA sequences from the host genetic information and from the genetic sequences of other bacteria, parasites, fungi and viruses. The bad news was that it was extremely difficult to find small amounts of anything in a sea of similar molecules.
The first thing that Jared and Marie had to do was decide which unique genes or genetic sequences of the genes that they should look for in the clinical samples. Jared eventually settled on two types of target genes-the genes that had been found to be the same in all Mycoplasma species and the genes that were unique to different Mycoplasma species. Fortunately, bacteriologists had been researching the differences in genetics of various bacteria for decades, and some information was already available from the literature that pointed to certain genes as common and certain genes as unique. Also, the techniques of molecular biology had already been developed to probe for differences in the genes of bacteria in various types of infections, so the McNichols team would not have to start from scratch in their quest to determine if veterans had any type of disease-causing bacteria in their systems.
Jared scanned the genetic database available on-line at the NIH and found DNA sequence information on a few genes of interest to the group. First was a general group of genes found in all bacteria that had some genetic variations and differences, depending on the path of their evolution over millions of years. This would prove useful as a starting point, but it could not be used by itself to identify a particular species of bacteria. Other genes would have to be identified to positively tell if a particular species of bacteria was present. To identify the unique gene differences they were looking for, they settled on two approaches. First, they would use the Gene Tracking technique that Marie had developed at Belford College of Medicine. Using this technique the bacterial DNA bound to proteins called nucleoproteins would be isolated and the bound genes would be probed using complimentary DNA sequences, usually about 20 or more of the DNA building blocks arrayed in a specific sequence that will bind tightly to the target DNA sequences in the bacterial gene.
This is like a lock and key reaction, and the specific complimentary structure of DNA in each and every living organism makes this possible. Since the key or probe to be used to bind to the species-specific DNA sequence was radioactive, they would be able to find the gene they were looking for after separating the nucleoproteins from the remainder of the cells' components by its radioactive signal. Once the radioactive probe bound to the unique DNA sequence, the complex of lock and key emits a radioactive signal. Second, they would use a technique that actually amplifies a small segment of the target gene sequence and makes millions of DNA copies of the gene sequence that then can be probed or even sequenced to prove the identity of the gene segment. This technique is called Polymerase Chain Reaction or PCR because it uses an enzyme reaction to replicate the small pieces of unique genetic information or sequence of DNA that can then be identified. Because this technique is so powerful, the scientist that developed this technique won the Nobel Prize for his contribution.
Various controls would also have to be devised to control for contamination, reaction specificity, fidelity of the reaction product, presence of interfering materials and other controls for the assays that they would use to make sure of their results. This all took tremendous time, effort and funds for equipment, supplies and personnel. Funds for this effort were in short supply, and the only funds available that Jared could use were from his endowed chair. None of the grant and contract funding that Jared had in ample supply could be used. Even with the resources, it seemed a slow and laborious process that took months to accomplish, but finally they were ready to run the tests on the veterans' blood samples.
The first tests that Marie and Jared's technician Bob Sonan ran in the laboratory indicated the presence of bacteria in the blood in most of the samples, but they could not identify the particular species. This was very disappointing, because no one would believe their results unless they could identify a particular type or species of bacteria. And the type of bacteria that they identified would have to be a known pathogen; otherwise no one would believe that it was responsible for causing illness in the patients. In these preliminary tests the unknown bacteria was found in the cellular fraction of the blood not in the blood plasma, the cell-free portion of the blood. In the cellular fraction of the blood were the red blood cells that carry the oxygen to the tissues, various white blood cells that were primarily used to fight infections and the platelet fraction involved in blood clotting. The evidence for bacteria was only found in the white blood cell fraction. The bacteria were likely inside some of the white blood cells that were in the blood.
Finally they would make the adjustments in methodology so that Marie's Gene Tracking technique worked with the clinical samples. After months of labor and refining their procedures to meet the challenge of finding a few bacteria in the white blood cell fraction of patients' blood, they finally had a useful but still time-consuming laboratory technique. It would still take more time to get the polymerase chain reaction or PCR procedure to work, but it was a start. As a first step, a gene common to bacteria but with unique genus and species sequences differences was used to generate a 'general' and also some unique 'species-specific' probes to the common and unique DNA sequences in genes found in all species of Mycoplasmas or to specific species of Mycoplasmas. respectively. The first tests that were positive did not indicate that the veterans had the more common or usual types of Mycoplasmas, such as Mycoplasma penumoniae, a common respiratory infection that had been already found in military recruits suffering from a type of pneumonia.
The negative results were disappointing and unexpected, since it was actually reported in a military medical journal that military recruits came down with chronic illnesses like a type of 'community' or infectious pneumonia caused by Mycoplasma pneumoniae. This airborne infection can spread rapidly in over-crowded conditions. The Mc ichols group next decided to try for other Mycoplasma species, including the one that Dr. Lon had reported, Mycoplasma jermentans incognitus or Mfi, and for the first time they were able to identify a unique Mycoplasma species in the samples. In fact, 80% of the preliminary tests revealed Mfi as the type of Mycoplasma found in the blood samples when they found any evidence for a bacterial infection. The next most common species found was even less expected, Mycoplasma genitalium, a mycoplasmal infection usually associated with urinary tract infections not system-wide infections that caused multiple signs and symptoms.
Not every blood sample examined showed evidence of a Mycoplasma or even bacteria of unknown type, but almost half did, indicating that there were other infections to consider or other potential causes of the Gulf War Illnesses. This was also reasonable, since Jared did not expect to see the same infection in every blood sample or even in a high percentage of samples, just as they did not expect to find the same cause of Gulf War Illness in each patient. These were obviously heterogeneous illnesses, and only the American press would expect everything to be explained by 'one' cause, such as PTSD, probably just to make their job easier and make their press reports more succinct. At this time very few researchers were looking for infections in the Desert Storm veterans, except for one physician in New Orleans who had found remnants of bacterial cell walls in the urine of veterans and possibly Dr. Lon at the U. S. Army Institute for Pathology Research.
Most researchers who were not psychiatrists assumed that complex chemical exposures were 'the cause' of the Gulf War Illnesses, and in fact Jared and Marie would face determined competition from a medical research group in Dallas who thought that the McNichols' research was completely wrong and that the veterans with Gulf War Illnesses had come down with their illnesses due solely to exposures to chemicals, such as organophosphates like insecticides and nerve agents. Jared in particular thought that this was quite narrow thinking, to imagine that it was solely chemical exposures that caused all the veterans' illnesses. The Dallas group did not identify any chemicals but they did find that the brain scans of the veterans were unusual in that they showed areas of damage that could have been caused by chemicals or other toxins. Unfortunately, this same type of damage could also have been caused by infectious agents that penetrated into the brain and released bacterial toxins that can cause the same kind of damage, but the Dallas group never considered this before attacking Jared and Marie for suggesting that many of the ill veterans may have system-wide or systemic infections, including brain infections.
Thus Jared and Marie would get their first taste of Gulf War Illness politics. Because they didn't use press releases or press agents to defend their unpublished research, they would be immediately attacked if they spoke out about their results, especially in public. No one wanted to hear that infections might be involved in Gulf War Illnesses, especially the military physicians who were trying to promote PTSD as 'the cause.' Actually it would turn out that both Texas research groups were probably correct, although they both had many detractors, especially at the Pentagon. The fact that the researchers were apparently fighting among themselves actually played into the hands of the Pentagon. Finally, a scientific gadfly in Oakland, California at a small for-profit biotechnology company claimed that the veteran's illness were due to chromosomal damage that he found in about one-half of a group of veterans' blood samples. Of course, Jared and Marie and even Dr. Lon knew that intracellular infections like Mfi caused the same type of chromosomal damage along with chemicals, so this result could also have been due to infections like Mfi, chemical exposures or both.
The elusive Mfi and how does it fit with Gulf War Illnesses?
Within one week Jared, Marie and Bob Sonan had some preliminary results that they obtained in Jared's laboratory at The D. O. Madison. They then met in Jared's office to discuss the data on about 70 patients who served in Desert Storm. Jared was now very curious about the conversations that Marie had years ago with Dr. Lon of the U. S. Army Institute of Pathology Research. The lab results on the veterans indicated that the type of Mycoplasma was not the one that Jared expected, it was a type that was considered at the time relatively uncommon, Mycoplasmaftrmentans incognitus or Mfi.
Marie filled in some information for Bob Sonan who was attending the meeting. "When I was sick, I think that I had the same type of mycoplasma infection that Dr. Lon reported on, and when I did speak to him, he also thought that I might have Mfi. He said that I was very lucky to be alive from his experience. At the time he indicated that he had found evidence for Mfi in the Gulf War veterans, but when I tried to talk to him later about his comments to me, he denied it completely and said all of the tests on the Gulf War veterans were negative. I found this a bit disconcerting." Jared was skeptical and said, "Why would he tell you that they were positive and then change the whole story later on? Did he say that his preliminary experiments had been wrong or that they had contamination or something else that could explain the mistake?" Marie responded, "No, not at all. In fact, he almost seemed reluctant to even discuss his experiments, as if he was instructed not to talk about it, and he said they were probably all false-positives." Jared was skeptical, "That's pretty fishy! You would think that a scientist like Dr. Lon would have gone into a detailed explanation on what went wrong and why they could not repeat their initial results."
The McNichols had been frustrated by the way other researchers acted when they discussed their results on Gulf War Illnesses. Bob Sonan related to them, "Now I know why you want us to look for mycoplasmas in the Gulf War veterans. But even if we find them, they don't want to admit it." Jared smiled, "It sure looks that way. They don't want to admit anything, except PTSD. The whole thing is very suspicious. As I recall the Army pathologist, Dr. Lon, told Marie that we couldn't use antibody-based assays to detect the Mfi, and he's right, you wouldn't expect Mfi to produce much of an antibody reaction because it's mostly inside cells." Marie added, "Actually, Dr. Lon told me that he couldn't detect Mfi by antibody tests but he could find it with other tests, but it was difficult." Jared asked, "By any chance did Lon say what those other tests were?" Marie answered, "He did say that he was having a hard time correlating his molecular biology testing for Mfi with his other results." Jared added, "It's also very hard to find any information on Mfi in the medical literature. There were only a few publications on Mfi, and almost all of them were from Dr. Lon, who now denies that the Gulf War veterans have any infections."