Part 2 of 2
A significant strategic shift in a major Muslim state would also create potential safe havens for a number of nonstate groups. A government sympathetic to al-Qaeda and its affiliates, and holding considerable military capabilities and perhaps popular support, would be less concerned with potential fallout from external action, such as what occurred with the fall of the Taliban.
Figure 5.1 shows how the actors change in terms of probability of acting and the hazard of their acting in the case of "Pakistan going bad."
The nation going bad, in this case shown as Pakistan, is much more probable to act contrary to U.S. objectives. We see that the hazard from al-Qaeda and its affiliates grows as they obtain access to advanced capabilities. It is likely that other state-supported actors, ranging from Islamic schools to paramilitary organizations, would follow the trend of becoming more dangerous and more likely to act against U.S. interests.
Figure 5.2 shows how factors that influence the threat of SJ change when a major Muslim nation "goes bad." We can see from this that there would be an increased source of funding, arms, and safe havens to the SJ. All of these factors increase the threat posed by SJ.
Figure 5.1: Target Diagram for "Pakistan Goes Bad"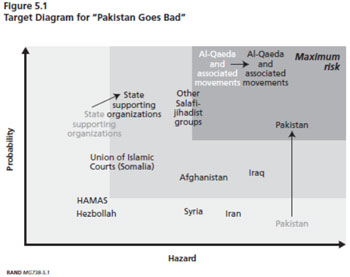 RAND MG738-5.1
Direct state support through funding, training, weapons procurement, and recruiting mechanisms can greatly increase a nonstate actor's capabilities to act on its motives. Advanced and up-to-date military technologies, including small arms, anti-tank weaponry, and sophisticated knowledge of explosives, are often available. The acquisition can occur through various means, including black and gray market activities, illicit trading regimes, and back-channeled, state-supported lines.
The effects of collaboration in the area of expanding support for radical SJ terrorism around the world is tested in the "Major Muslim Nation Goes Bad" trajectory. If a major Muslim state were seized by a pro-jihadist group, one of the largest non-WMD risks to U.S. and Western interests would be that the new leadership would provide money and training to a wide range of SJ groups throughout the world, including al-Qaeda, and would work to use these groups to destabilize other Muslim states.
Figure 5.2: Influence Diagram for "Major Muslim Nation Goes Bad"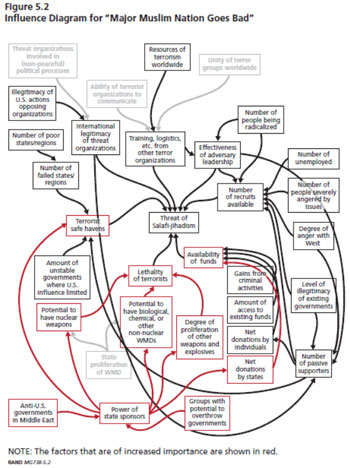 NOTE: The factors that are of increased importance are shown in red.
RAND MG738-5.2
For example, a radical Pakistani government could be expected to overtly support the Taliban in its efforts to overthrow the democratic government of Afghanistan. Such a regime could also redouble its efforts to weaken India's control of Kashmir by funding transnational jihadist groups that have been fighting against Indian security forces in that province (e.g., the Lashkar-e-Toiba organization). A projihadist Pakistan might also cast a wider net and offer support to SJ terror groups in Europe and the Middle East.
Even a Muslim state that has gone "a little bit bad" might offer support where none existed before. Before state sponsorship or normative proxy wars could be executed, however, the state sponsor would have to make two assumptions regarding the ramifications of that support.
First, it would have to be convinced that its leverage over its proxy was so strong that the proxy would have to obey its commands to attack the Americans. This condition is not as easily met as many may believe. Most terrorist/insurgent groups are more independently minded than many Western analysts give them credit for. For instance, although Hezbollah is often portrayed in the U.S. press as a mindless extension of Iran, most Middle East experts agree that Hezbollah is first and foremost a Lebanese organization with its own identity, aspirations, and plans. It does indeed receive much military aid from Iran, but it does not feel bound to accede to every request or directive from Tehran.
Second, and equally important, the state sponsor would have to be sanguine about its ability not to leave its "fingerprints" on any attack on U.S. interests by its proxy. Having solid deniability would be a necessary insurance policy against the prospect of a sudden and large-scale American counterattack. If either one of these conditions fails to hold, it is likely that the state sponsor would be deterred from urging its proxy to strike at the United States.
State support is not limited to ideologically equivalent networks. Ideologies may transcend religious support to advance higher-order objectives, as was thought to be occurring as Hezbollah vied for power during the confrontations in Lebanon in the summer of 2006:
For Hizbullah, and even for Iran, [the] play for power in the region serves an ideological aim. Their influence over the Palestinians does not mean they want to spread Shiite Islam in Palestine. It's to confront Israel and the U.S. It's to spread resistance; that is the religion they want to spread. (Amal Saad-Ghorayeb, as quoted in Peterson (2007))
Expanding Scope
The "Expanding Scope" trajectory is the reverse of "Narrowing of Threat." Here a decision is made that radical Shiism, the Iranian state itself, regional terrorists, and other non-Islamic terror groups are part of the long war. The long war here is expanded beyond Salafi-jihadism. The catalyst for this turn of events could be either a major terrorist attack against U.S. interests or a substantial increase in state support for nonstate organizations. The long war, in this formulation, would become a true global war on terror if it were to include an expanded set of groups using terrorist tactics.
Based on continuing support and association of state actors with the SJ threat, a long-term confrontation with Iran could become a key part of American foreign and military policy. The U.S. military footprint around Iran (including in Iraq and Afghanistan) would expand.
The SOF force structure would likely grow if this trajectory happened because SOF would have to conduct global operations against al-Qaeda and its affiliates, Hezbollah, the Iranian intelligence services, Fuerzas Armadas Revolucionarios de Colombia (FARC), and the Liberation Tigers of Tamil Eelam (LTTE). The motives, means and opportunities for these groups as described in the trajectory are shown in Table 5.4.
In the "Expanding Scope" trajectory, the anti-American, antiglobalization ideologies of the present have gained strength and credibility and have created a larger consort. In a more threatening case, disparate ideologies have set aside differences to unite in a common cause: the usual Shia-Sunni divide is less defined and violent groups of Muslims begin cooperating. In this future, the United States faces a grave threat to the status quo in the Muslim world and potentially severe threats to its own security, including its economic security.
Table 5.4: Motives, Means, and Opportunities for the "Expanding Scope" Trajectory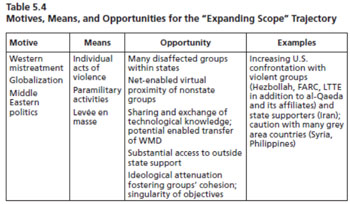 Motive / Means / Opportunity / Examples

Western mistreatment -- Globalization -- Middle Eastern politics / Individual acts of violence -- Paramilitary activities -- Levée en masse / Many disaffected groups within states -- Net-enabled virtual proximity of nonstate groups -- Sharing and exchange of technological knowledge; potential enabled transfer of WMD -- Substantial access to outside state support -- Ideological attenuation fostering groups' cohesion; singularity of objectives / Increasing U.S. confrontation with violent groups (Hezbollah, FARC, LTTE in addition to al-Qaeda and its affiliates) and state supporters (Iran); caution with many grey area countries (Syria, Philippines)
The coalescence of violent ideologies in the Muslim world, or the operational cooperation of disparate anti-Western ideologies across the world, is certainly a worst case and probably a highly unlikely future scenario. However, if such a worst case were to unfold, the United States would likely face a highly diffuse yet organized network of foes, whose ability to project power and create crises in various parts of the globe would seriously tax American military and political prowess. In fact, a conflict on this scale would likely become an international issue, with international cooperation and mobilization required on a scale not seen since the last world war.
For the United States to expand the scope of the long war to the extent portrayed in this trajectory, there would have to be a shift in the ideology of at least one or more major non-SJ terrorist groups that would transform the United States from simply being an antagonistic force that supports Israel and other enemy governments into an active enemy that needs to be confronted. This kind of transformation took place within al-Qaeda in 1996 after bin Ladin moved to Afghanistan and before the organization proclaimed its "jihad" against the United States with the bombing of the U.S. embassies in Kenya and Tanzania. Hezbollah, which launched several attacks against the United States in Lebanon in the 1980s, could undergo such a transformation if its leadership were to change or if it were to suffer a sudden reversal of fortune in Lebanese politics.9 In these cases, a Category 3 religious nationalist group (see Chapter Three, Figure 3.1 for definitions of the categories) would reduce its political efforts and expand its military interests outside of the immediate region, thus planting itself into Category 1.
Uncertainties Addressed.
This trajectory addresses three uncertainties explicitly: domestic support for the long war, capabilities of nonstate actors, and the draw of conventional war.
One type of trigger for the "Expanding Scope" trajectory would be a major terrorist attack on U.S. interests either inside or outside the United States by a non-SJ group such as Hezbollah or the Colombian FARC. Examples of such an event include the bombing of an American embassy, an attack on a group of U.S. tourists abroad, the bombing of a major American military base overseas, or a bombing attack in a large American city (perhaps involving weapons of mass effect). This sort of attack, using Hezbollah as the example, would cause a shift in actors as shown in Figure 5.3. In the figure, the probability of Iran and Syria acting in support of Hezbollah increases, but in fact the opposite might occur if they feel they need to disassociate themselves from Hezbollah.
Another kind of trigger would be a scenario in which a non-SJ extremist group is on the verge of overthrowing a pro-U.S. regime in a strategically important country. The most obvious example of this kind of scenario would be a Hezbollah push to remove the democratically elected government of Lebanon through a combination of popular protests and terrorism. Another possibility would be a serious effort by the FARC to take down the Colombian government.
This sort of attack would not only cause the long war to be expanded to include the perpetrators of the attack and their allies, but would also result in a significant increase in support for the long war within the United States. This would likely result in increased funding for the long war, possibly at the expense of other programs.
Figure 5.3: Target Diagram for the "Expanding Scope" Trajectory Where Hezbollah Attacks the West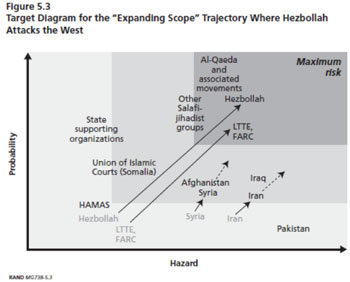 RAND MG738-5.3  
The level of challenge posed to the United States in "Expanding Scope" would be dependent upon uncertainties in the rate of technology proliferation to the non-SJ terrorist insurgent groups. If these groups are receiving current generation anti-tank weaponry, man-portable airdefense systems (MANPADS), improvised explosive devices (IEDs), and mortars, the risks to U.S. personnel and their local partners would increase substantially. Any spread of nuclear technology to these groups would, needless to say, raise the risks involved by orders of magnitude.10 Most likely, this proliferation would in some way be aided by state sponsorship, and the extent to which states would become involved in arms transfers and facilitating new and advanced weaponry remains uncertain. One deterrent to expanded collaboration from a state to a nonstate SJ entity would be the ensuing geopolitical repercussions.
In the case of the "Expanding Scope" trajectory, the shift of a non-SJ terror group to a posture of direct confrontation with the United States could, under certain conditions, be driven by the preferences and demands of the group's state sponsor(s), if it has them. If, for example, Iran were to face serious economic sanctions coordinated by the United States, it could pressure Hezbollah to strike against U.S. interests in response. Using a proxy to harm the United States would allow a state sponsor to defend its interests without risking a full-scale confrontation with the United States and its Western allies. The two assumptions stated above that Iran would have to make hold in this case.
The existence of conventional war is important to mention here because in this trajectory the aggressive new U.S. posture against radical Shiite groups like Hezbollah raises the possibility that the United States could be drawn, either wittingly or unwittingly, into a conventional conflict with Iran. An escalation spiral could be touched off, for instance, if a U.S. military strike in Lebanon against Hezbollah were to kill a number of Iranian advisers. If a conventional conflict with Iran were to commence, the whole nature of this trajectory would change— it would become a very high intensity scenario.
Holding Action
"Holding Action" would be a response to series of geopolitical shocks that would compel the United States to temporarily scale back its efforts in the long war against the worldwide constellation of SJ groups. These shocks would divert U.S. attention to more traditional kinds of threats that would require a response with large amounts of conventional forces and diplomatic capital. There are several plausible examples of these kinds of shocks.
Perhaps the most likely trigger for this trajectory would be a sudden Chinese push to overturn the balance of power in the Western Pacific, possibly by blockading or invading Taiwan. There are, however, other scenarios that could come to pass instead. A sudden, violent implosion of North Korea, a North Korean deployment of nuclear-capable ICBMs, an Iranian campaign to close the Straits of Hormuz, the declaration of a Russian-Iranian military alliance, a major Indo-Pakistani war, and a Venezuelan-sponsored destabilization of the Andes region are all shocks that would require serious focus by American political and military leaders to the extent that the long war would have to be deemphasized.
In the case of an event like these, the United States might seek to counter the Salafi-jihadist movement by trying to use just the minimum level of military resources necessary to keep the jihadist movement from spreading. In this vision, the United States might turn to some of its allies to conduct a significant portion of the global direct action effort against al-Qaeda and its affiliates. The inclusion of these allies might be facilitated by a growth in an anterior threat that would necessitate U.S. actions elsewhere for the good of others. The United States might try to bring significant contingents of European SOF (British, French, etc.) into its global anti–al-Qaeda campaign in order to free up capabilities to combat the conventional threat.
Uncertainties Addressed.
The "Holding Action" trajectory addresses two main uncertainties: the draw of conventional war and domestic support.
As might be expected, the main driver for the "Holding Action" trajectory is a changing geopolitical landscape that increases the draw of conventional war. Geopolitical fault lines and changes in the balance of power, development of advanced weaponry, hostile actions against strategic throughways, or advanced alliances being formed would be the root causes of this trajectory. Most of the crises that would lead to a "Holding Action" trajectory would be caused by a hostile state's perception that there was a window of opportunity for great gains that it could take advantage of without major risks. Windows of opportunity are particularly tempting if a state believes that long-term trends favor its adversary.11
Internal crises, like a North Korean implosion, would, on the other hand, be caused by strong external pressures on a weak, unstable state. These pressures would probably be caused by economic sanctions and aid restrictions or, alternatively, by Western support for local opposition groups.
If the new crisis involves a conventional conflict, e.g., a war with China in the Taiwan Straits, then the chances that the "Holding Action" trajectory will last for a long time grow larger. But if the new crisis does not require that the United States actually fight a conventional war, but only deter a new adversary or stabilize an imploded state, then the chances decrease that the "Holding Action" trajectory will go on for several years.
Funding for the long war is also a critical variable in the "Holding Action" trajectory. If the U.S. leadership is able to address the new geopolitical crises without severely cutting funds for the war against the SJ forces, then the "Holding Action" trajectory would be relatively short and perhaps even insignificant from the strategic perspective. If, however, funding for the long war has to be reduced by a significant percentage to pay for the cost of dealing with a major new geopolitical crisis, then the "Holding Action" trajectory might last for several years and require the United States to depend on key allies to press much of the fight against al-Qaeda and its affiliates. The funding uncertainty is complicated because it does not depend just on strategic calculations about the distribution of military resources, but also on the growth rate of the U.S. economy at the moment, the size of the federal budget deficit, and the percent of GDP currently devoted to defense expenditures, among other things.
The U.S. domestic political environment is also important here. If the Congress feels it has some fiscal leeway, it might be willing to increase defense spending to the point where the United States could both fight the long war at full speed and also deal with the new geopolitical crisis posited here.
Figure 5.4 shows which factors are likely to cause a change in the U.S. strategy, thus resulting in the "Holding Action" trajectory as described above. The figure also indicates that an increased conventional threat (i.e., a decrease in the waning of conventional threats) would lead to a loss of funding and require the training/equipping of forces for other tasks. Additionally, the loss of support for the long war in the face of this other threat could also influence domestic politics and public opinion.
Figure 5.4: Influence Diagram Showing Factors Affecting the U.S. Ability to Prosecute the Long War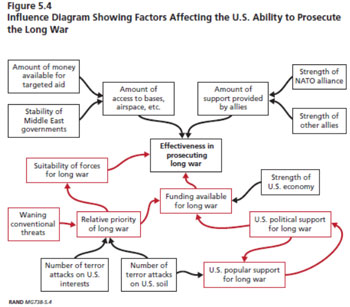 RAND MG738-5.4
Sustained Sunni-Shia Conflict
The "Sustained Sunni-Shia Conflict" trajectory posits that the combination of memories of the intensive sectarian violence in Iraq during 2006–07 and the emergence of a largely Shiite regime in that country produces deep fault lines between Shia and Sunni communities throughout the Muslim world.
These fault lines are manifested by an upsurge in political instability and violent conflict in those Middle Eastern and South Asian countries that contain mixed Sunni-Shiite populations. In this vision of the future long war, Bahrain, Saudi Arabia, Pakistan, and Lebanon are all plagued by sectarian fighting, while disenfranchised and poor Shiite communities lash out at their Sunni-dominated governments. Local government security forces respond in every case with heavy force. Many Shiite clerics are arrested and held without charge. In Saudi Arabia and Pakistan, Shiite uprisings elicit vicious reprisals against Shia noncombatants from radical Salafi-jihadist militias and street gangs. The televised scenes of bloodletting from these countries spur the Iranian government to action. The clerical regime in Tehran could set about to provide covert financial assistance and military training to Shiite militias and self-defense forces throughout the Muslim world, including those in the Eastern Province of Saudi Arabia. Similarly, the expanding Sunni-Shia conflicts could be accelerated by the overt inclusion of Sunni supporters from Saudi Arabia and Jordan meddling across state borders, increasing international attention.
U.S. leaders are very concerned about these developments and decide to concentrate, in the short term, on shoring up the traditional Sunni regimes in Saudi Arabia, Egypt, and Pakistan as a way of containing Iranian power and influence in the Middle East and Persian Gulf. U.S. economic aid and security assistance to these governments increases rapidly as the sectarian violence worsens in the region.
Washington also provides specialized counterterrorism (CT) assistance to the beleaguered governments of Bahrain and Lebanon so that these regimes can control the Iranian-sponsored Shiite terrorist groups on their soil that are now growing in size and sophistication (i.e., Bahraini Hezbollah and Lebanese Hezbollah).
This trajectory compels the United States to walk a diplomatic tightrope in that it would have to maintain a strong strategic relationship with the Iraqi Shiite government while at the same time buttressing the conservative Sunni regimes in the Middle East that view the Iraqi regime as a challenge to the established order. U.S. diplomacy would have to work to maximize the influence of moderate Shiites in the Iraqi regime at the expense of hard-line Iranian-supported fundamentalists.
One of the oddities of this long war trajectory is that it may actually reduce the al-Qaeda threat to U.S. interests in the short term. The upsurge in Shia identity and confidence seen here would certainly cause serious concern in the Salafi-jihadist community in the Muslim world, including the senior leadership of al-Qaeda. As a result, it is very likely that al-Qaeda might focus its efforts on targeting Iranian interests throughout the Middle East and Persian Gulf while simultaneously cutting back on anti-American and anti-Western operations.12 Al-Qaeda would probably intensify its efforts to destabilize the Iraqi government and might also undertake a terror campaign against Hezbollah's social services infrastructure in southern Lebanon. In this vision of the long war, it is conceivable that al-Qaeda might attempt to execute a "spectacular" attack inside Iran itself. The MMO for this trajectory are shown in Table 5.5.
This trajectory is driven by a combination of ideology and governance shortcomings. Ideology plays an obvious role in this trajectory because the core issue in the Shia-Sunni split involves different views on the legitimate leadership of the Muslim polity. These disagreements cut to the heart of identity in the Muslim world and have created major fault lines in the Muslim community for many centuries.
Moreover, while these fault lines have been blurred for decades by colonial intrusion and various types of nationalism, the Salafi-jihadist ideology takes direct aim at any competing ideological framework, attempting to delegitimize other concepts as "un-Islamic." Hence, the disintegration of secular ideologies and proper governance (which could smooth relations between competing groups) would provide openings for this type of trajectory to occur.
Table 5.5: Motives, Means, and Opportunities for the "Sustained Sunni-Shia Conflict" Trajectory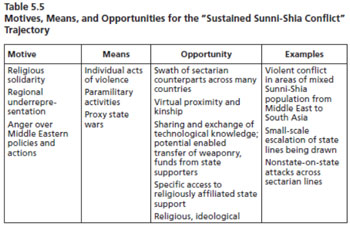 Motive / Means / Opportunity / Examples

Religious solidarity -- Regional underrepresentation -- Anger over Middle Eastern policies and actions / Individual acts of violence -- Paramilitary activities -- Proxy state wars / Swath of sectarian counterparts across many countries -- Virtual proximity and kinship -- Sharing and exchange of technological knowledge; potential enabled transfer of weaponry, funds from state supporters -- Specific access to religiously affiliated state support -- Religious, ideological / Violent conflict in areas of mixed Sunni-Shia population from Middle East to South Asia -- Small-scale escalation of state lines being drawn -- Nonstate-on-state attacks across sectarian lines
Poor governance exacerbates the ideological tension in that many of the conservative Sunni regimes in the Muslim world have discriminated systematically against Shiites for years. In Saddam's Iraq, for example, all of the top positions in the Ba'ath Party, the military, and the intelligence services were reserved for Sunnis even though Shiites are more than 50 percent of the total Iraqi population. Sunni areas of Iraq received more modern hospitals, schools, and roads than did Shia districts, where the infrastructure was usually allowed to decay. In Saudi Arabia, Shiites have long faced restrictions on their celebration of religious festivals and have often been forbidden to construct new mosques. Schools in Shiite areas are run by Sunni administrators and teach students that Shiism is illegitimate. Finally, the establishment Sunni clerics in Saudi Arabia relentlessly attack Shiism in the press, referring to Shiites as apostates or worse. This systematic discrimination has created a deep resentment toward the government in many Shiite communities that can easily be ignited into street violence given the right political spark.
Uncertainties Addressed.
The "Sustained Sunni-Shia Conflict" trajectory addresses two main uncertainties: Middle East political stability and international support and legitimacy of U.S. actions.
Stability in the Middle East, particularly in the political situation, plays a large role in the creation of the "Sustained Sunni-Shia Conflict" trajectory. If the region is tense and unstable, as it was during the 2006 Israel-Hezbollah war when Hezbollah was seen as stealing the mantle of anti-Israeli resistance from Sunni rejectionist forces, sectarian passions would be high and more difficult to control. Conversely, a period of relative calm, similar to the mid-1990s when there were hopes that the Oslo accords would succeed, would reinforce those forces and actors seeking sectarian peace in the Arab world.
Middle Eastern political stability can be affected to a large part by the eventual outcome of the Iraq war.13 For instance, the full institutionalization of a Shiite-dominated government in Iraq could facilitate this trajectory. If it became clear that the Sunnis in Iraq would be permanently consigned to a second-tier political status, there would be considerable anxiety among many Sunni populations and clerics in the Arab world, who would fear spreading Shiite influence in their own countries. States where Shiites outnumber Sunnis, like Bahrain and Lebanon, would be especially vulnerable to this trigger. At the same time, disenfranchised Shiite populations in countries like Saudi Arabia and Pakistan would be emboldened by the symbol of Iraq, home of the ancient caliphate, being ruled by Shiites. This could cause them to consider using street violence against local Sunnis to achieve their own objectives.
Another potential trigger for this trajectory would be, obviously, the continuation of intense Sunni-Shia sectarian violence in Iraq. The specter of mass bloodletting going on for several years could inflame already tense communal relations in mixed Shia-Sunni parts of the Muslim world.
Aggressive Iranian foreign policy in the Persian Gulf could also spark a more widespread conflict among Sunni and Shia.14 If Tehran were to continue on its current path of developing nuclear weapons and seeking to expand its military presence and influence in the Persian Gulf, the conservative Arab Sunni states might feel compelled to use the rhetoric of Sunni solidarity and superiority to rally their populations behind them against Iran. This could spark spontaneous violence against the Shiite minorities in Saudi Arabia, Kuwait, Jordan, and Yemen.
The level of U.S. political legitimacy in the Middle East and Persian Gulf also plays a role in the "Sustained Sunni-Shia Conflict" trajectory. If the United States is perceived as weak and/or lacking credibility as an honest actor in the region, Washington will probably not have the diplomatic capability to induce local governments to undertake the actions necessary to halt mass sectarian violence, nor will it be able to consistently deter Iranian expansionism in the region. A scenario in which America is politically weak in the Middle East would be relatively more likely to move toward the Shia-Sunni conflict trajectory. On the other hand, if America is able to regain its reputation and standing in the region, this trajectory would become less likely because U.S. diplomatic pressure would be more powerful and could force local regimes to use the necessary mixes of carrots and sticks to stop sectarian conflict.
Chronic Insurgencies/Instability
The "Chronic Insurgencies/Instability" trajectory, unlike "Major Muslim Nation Goes Bad," does not posit the successful overthrow of a major allied Muslim government, but instead paints a picture in which several U.S. allies and friends face serious insurgencies and unrest that drain their resources and decrease regime legitimacy. The insurgencies are driven in large part by similar grievances incurred in many of the trajectories being described, namely, internally generated issues with inefficient and ineffective governmental structures, dilapidated infrastructure in terms of basic services, and questions of legitimacy of the current leaders.
In this trajectory, Pakistan would face major revolts in both the federally administered tribal areas (FATA) and Baluchistan. Saudi Arabia would be contending with an al-Qaeda–led fundamentalist insurgency in the conservative Wahhabi heartland areas to the north of Riyadh. Egypt would be dealing with a resurgence of the once-defunct Egyptian Islamic Group (EIG), while the still maturing Iraqi government would have its hands full with both radical Sunni tribes and al-Qaeda fighters operating in Al Anbar province. Jordan and Lebanon could also face major internal security threats here. The Lebanese government would be challenged by an ever more assertive Hezbollah, while Jordan might have to contend with those tentacles of al-Qaeda in Iraq that stretch into the conservative Sunni towns south of Amman.
None of these insurgencies would be strong enough to topple an existing regime. However, the sum of all of them would create an atmosphere of instability and chaos in the Middle East that would complicate American long war efforts and strategy. There would likely be an increased number of ungoverned zones in which terrorists and organized crime syndicates could operate with impunity. This would hold down economic growth in the region and increase unemployment in countries that already face very large youth bulges. If insurgent elements in Saudi Arabia were to start targeting oil pipelines on a regular basis, the resulting spike in global oil prices would adversely affect the global economy as well.
Undoubtedly, the United States would respond to this trajectory with a stepped-up program of COIN/FID assistance to the affected countries. U.S. advisers might go into the field with some local security forces, but U.S. combat units would probably not be deployed into any of the affected states with the exception of Iraq, where some U.S. combat units might remain for the long term. Intensive intelligence sharing with Egypt, Saudi Arabia, Iraq, and Pakistan would also occur here. The United States would generally want to keep its footprint in the region small.
Finally, the security assistance would be accompanied by a diplomatic effort to promote a series of slow political and organizational reforms in the affected states—reforms that would increase government legitimacy (by, for example, streamlining bureaucracies and improving the delivery of basic services), thereby reducing support for insurgent groups. These reforms would be most likely to work in Egypt and Iraq; they would be less probable to work in Saudi Arabia and Pakistan. The MMO for this trajectory are shown in Table 5.6.
Defective governance helps drive "Chronic Insurgencies/Instability" because it furnishes many of the original grievances that are at the root of instability in the Muslim world. Corruption, nepotism, inefficiencies, dilapidated infrastructure, and poor delivery of basic services like electricity all reduce the legitimacy of ruling regimes in much of the Muslim world. This problem is particularly acute in the Arab world, where Egypt has served as a prototypical example of ineffective governance, but these kinds of governance shortcomings can be seen in countries like Pakistan, Bangladesh, and Uzbekistan as well. When corruption and poor service delivery are combined with stagnant economies, inflexible labor markets that produce high levels of youth unemployment, and political repression, great opportunities are created for extremist Islamist groups and ambitious tribal leaders to present themselves as an alternative to the regime and mobilize followers for violence against the authorities.
Table 5.6: Motives, Means, and Opportunities for the "Chronic Insurgencies/ Instability" Trajectory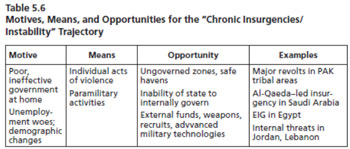 Motive / Means / Opportunity / Examples

Poor, ineffective government at home -- Unemployment woes; demographic changes / Individual acts of violence -- Paramilitary activities / Ungoverned zones, safe havens -- Inability of state to internally govern -- External funds, weapons, recruits, advvanced military technologies / Major revolts in PAK tribal areas -- Al-Qaeda-led insurgency in Saudi Arabia -- EIG in Egypt -- Internal threats in Jordan, Lebanon
Uncertainties Addressed.
The "Chronic Insurgencies/Instability" trajectory addresses two main uncertainties: prevalence of safe havens and capabilities of nonstate actors.
Whether or not safe havens are established is another factor that will determine how seriously this trajectory could affect the security environment in parts of the Muslim world. If several insurgent/terrorist groups are able to seize control of undergoverned zones and use them as sanctuaries where they can train, plan, and recruit in peace, the threat posed by "Chronic Insurgencies/Instability" will grow. Safe havens are a real force multiplier for insurgent groups, and their existence is often a key indicator of the probability of success of an insurgency. In the 1960s, the existence of safe havens in Laos and Cambodia helped the Viet Cong to control the tempo of the guerrilla war in South Vietnam. In more contemporary times, the creation of a government-approved safe haven for the FARC in southern Colombia in the 1990s paved the way for an upsurge in FARC activity that threw more and more of Colombia into chaos. It was only when government forces reoccupied the safe haven zone that the FARC's fortunes on the battlefield began to decline. Indeed, if North Waziristan were to become a long-term safe haven for al-Qaeda and its affiliates and the Taliban in Pakistan, it is virtually certain that the insurgency in Afghanistan would become harder for NATO and Afghan government forces to control.
Figure 5.5: Influence Diagram for the "Chronic Insurgencies/Instability" Trajectory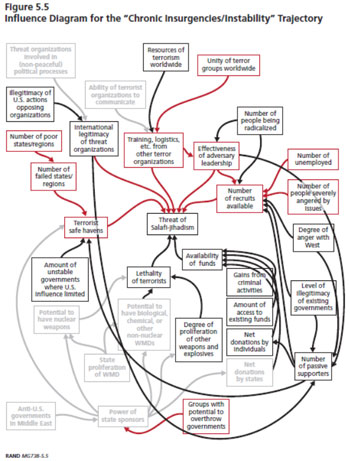 RAND MG738-5.5
Figure 5.5 shows the relationship between poor states, failed states, safe havens, and the threat level. It also shows how the unity of terrorist organizations, possible in this trajectory, might fuel an increased threat. Additionally, the insurgencies themselves are likely to fuel local anger and unemployment, leading to an increased number of recruits.
In addition to the safe havens necessary, outside state and nonstate actors providing support in terms of funds, weapons, and recruits to at least some of the insurgent and terrorist groups could drive "Chronic Insurgencies/Instability" in the Muslim world and beyond. Although it is clear that external support is usually not the root cause of the instability and insurgencies, it most certainly exacerbates conflicts, often transforming them from minor nuisances into large, persistent conflagrations that either tie down large numbers of government soldiers or create undergoverned zones that can breed transnational terrorism. This trajectory anticipates that, based on past behavior, Iran would be a major state sponsor of the Hezbollah insurgency in southern Lebanon and the radical Shiite groups opposing Iraqi government authority in southern Iraq. Tehran could also conceivably provide covert assistance to elements of the Taliban fighting in eastern and southern Afghanistan. Although the Taliban are ideologically incompatible with Iran, Tehran might see some advantage to be gained from bleeding American and NATO forces in Afghanistan so that they have no opportunity to pose a threat to eastern Iran or to the growing Iranian political and economic interests in western Afghanistan. Instability in the tribal areas of Pakistan could well be fueled by financial contributions to rebellious tribes and al-Qaeda elements from wealthy Persian Gulf donors and charities with a Wahhabist bent.
Modern military technologies enable many insurgent groups to withstand the onslaught of government security forces better than their predecessors could. If the spread of advanced military technology to insurgent and terrorist groups accelerates, the security implications of this trajectory would become more serious for the United States in that local military and security forces may become unable to deal with the security threats without significant military intervention by the United States and its allies. New communications technologies allow insurgent and terrorist groups to operate seamlessly as networked architectures made up of a large set of compartmentalized cells that are only loosely linked to the senior leadership. These architectures ensure that no single wave of arrests and subsequent interrogations can lead to the unraveling of the whole organization.
Advances in kinetic technologies have also benefited the cause of insurgent groups. New versions of hand-held rocket weapons like the RPG family and portable anti-tank missiles like the Kornet allow small cells of insurgents to pack a potent punch against the more lightly armored vehicles of a conventional army or security force. Advanced triggering mechanisms for IEDs allow these groups to hold major roads and highways at risk for long periods even against an army with sophisticated electronic countermeasures. Finally, MANPADS have become more capable over time and have also widely proliferated on international black markets. The latest generation of these systems can legitimately threaten even advanced attack helicopters as well as slowmoving transport aircraft.
By the same token, a rapid increase in collaboration between powerful outside actors, like Iran and some insurgent groups, would worsen the picture for this trajectory. An increased flow of funds and weapons and a larger pipeline for the training of insurgent and terrorist recruits in foreign training camps sponsored by outside actors could increase the potency of an insurgent group very quickly. Indeed, if the level of collaboration rises above a certain point, the "Chronic Insurgencies/ Instability" trajectory could change into the "Major Muslim Nation Goes Bad" trajectory as the threat expands to the point where the regime's survival could be in jeopardy without a large infusion of military aid from the West. The case of the Mahdi Army in Iraq is instructive here. This force evolved rapidly from a ragtag militia into a fairly disciplined paramilitary entity that exerts control over large parts of southern Iraq and can openly challenge both the Iraqi army and al- Qaeda in Iraq when it is on its home turf.
_______________
Notes: (Chapter 5)
1 "Transnational Web" describes a future wherein the most serious threats to national security are posed not by states but by nonstate actors such as transnational, globally distributed entities, e.g., multinational corporations, transnational criminal organizations, and terrorist networks that have usurped power and are exerting increased influence through collaboration driven by advanced communication technologies.
2 For instance, major actions in Somalia, Mali, or Indonesia, would increase pressure on the administration in power to take rapid action, even if only by supporting local proxies. Such action would open a major new theater in the long war, thus vitiating Steady State.
3 For an additional discussion of a "war of ideas" and associated ideological counterstrategy, see Rosenau (2006).
4 The issue of improving U.S. strategic communications has already attracted much highlevel attention. The Defense Science Board devoted a major study effort to this issue. See DSB (2004). A hint of the challenges that would be faced in a full-fledged "War of Ideas" can be found in Kepel (2004).
5 A third important potential problem could be Algeria. With its uranium deposits, fuel manufacturing plant, and alleged reprocessing capability, any realignment of Algeria could create medium- to longer-term problems regarding WMD proliferation. See Albright and Hinderstein (2001) for a more complete discussion.
6 The logic here assumes a rational actor.
7 The U.S. intelligence community was actively worrying about the short-term security of Pakistan's nuclear arsenal in the late summer of 2007 as internal opposition to President Musharraf increased. See Barbara Starr, "Sources: U.S. Assessing Pakistan Nukes If Musharraf Falls," posted on CNN.com on August 10, 2007.
8 See Daly et al. (2005) for accounts of Aum Shinrikyo and al-Qaeda attempts to acquire nuclear WMD.
9 A U.S. choice to support Israel in going after Hezbollah without a marked change in Hezbollah's political or military stance might also occur, but it would not be a part of the long war as constructed in this document.
10 The spread of chemical, biological, and radiological weaponry would not be as dramatic a change.
11 One of the reasons why Germany entered World War I in 1914, for example, was a belief among German leaders that Russia's economic and population growth would make Russia virtually unbeatable in war in another decade.
12 Indeed, one of the most prominent SJ clerics in the Persian Gulf region, Hamed al-Ali, is already openly calling for radical Sunnis to fight Iran and the Shiites with as much vigor as they devote to fighting the United States and its Western allies.
13 The specific topic of alternative outcomes of the Iraq and Afghanistan wars and their importance to the futures discussed will be covered in a future publication.
14 Predicting the direction of Iranian foreign policy in the middle to long term is difficult because of the fragmented nature of the Iranian national security decisionmaking process. See Kamrava (2007). On the growing power of the Islamic Revolutionary Guards Corps in the Iranian state, see Khalaji (2007).