Members of Several Well-Known Hate Groups Identified at Capitol Riot
In partnership with: ProPublica
by A.C. Thompson Ford Fischer
pbs.org
January 9, 2021
NOTICE: THIS WORK MAY BE PROTECTED BY COPYRIGHT
YOU ARE REQUIRED TO READ

THE COPYRIGHT NOTICE AT THIS LINK

BEFORE YOU READ THE FOLLOWING WORK, THAT IS AVAILABLE SOLELY FOR PRIVATE STUDY, SCHOLARSHIP OR RESEARCH PURSUANT TO 17 U.S.C. SECTION 107 AND 108. IN THE EVENT THAT THE LIBRARY DETERMINES THAT UNLAWFUL COPYING OF THIS WORK HAS OCCURRED, THE LIBRARY HAS THE RIGHT TO BLOCK THE I.P. ADDRESS AT WHICH THE UNLAWFUL COPYING APPEARED TO HAVE OCCURRED. THANK YOU FOR RESPECTING THE RIGHTS OF COPYRIGHT OWNERS.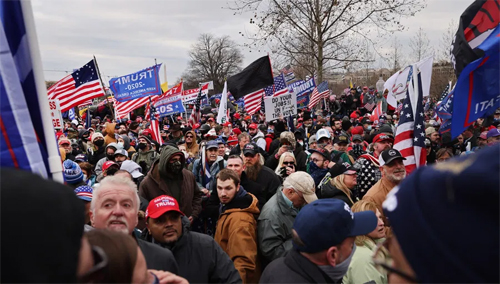 A crowd gathers outside the U.S. Capitol on Wednesday in Washington, D.C. (Spencer Platt/Getty Images)
This story is part of an ongoing collaboration between ProPublica and FRONTLINE that includes an upcoming documentary.
Members of the ultranationalist street gang known as the Proud Boys were easy to spot at the protests that flared across the United States throughout 2020, often in the middle of a brawl, typically clad in black and yellow outfits.
But in December, as the group's leaders planned to flood Washington to oppose the certification of the Electoral College vote this week for President-elect Joe Biden, they decided to do something different.
"The ProudBoys will turn out in record numbers on Jan 6th but this time with a twist…," Henry "Enrique" Tarrio, the group's president, wrote in a late-December post on Parler, a social media platform that has become popular with right-wing activists and conservatives. "We will not be wearing our traditional Black and Yellow. We will be incognito and we will spread across downtown DC in smaller teams. And who knows….we might dress in all BLACK for the occasion."
Enrique Tarrio @NobleLead

1 week ago

The Washington Post for some reason believed that one of the many hotels we frequent was newsworthy. Because of this the hotel decided to close for 3 days. A hotel that prides itself with saying they haven't closed their doors since it's open in the 1920s. They have fallen victim to to the fake news. With @TheProudBoys you can see in real time the media machine do the globalists dirty work. The media is the ENEMY of the people. We had already stopped using the hotel as a hub 3 months ago. With the new ability I've been able to put 1000 boots on the ground we outgrew any single hotel.

The ProudBoys will turn out in record numbers on Jan 6th but this time with a twist...

We will not be wearing our traditional Black and Yellow. We will be incognito and we will spread across downtown DC in smaller teams.

And who knows...we might dress in all BLACK for the occasion.

The night calls for a BLACK tie event.

48 Laws of Power #3 #4 #14 #15 #17 #29 #37 #39 #48 [see below]
Henry "Enrique" Tarrio's Parler post in late December. (ProPublica screenshot)
The precise composition of the mob that forced its way into the Capitol on Wednesday, disrupting sessions of both houses of Congress and leaving a police officer and four others dead, remains unknown. But a review by a ProPublica-FRONTLINE team that has been tracking far-right movements for the past three years shows that the crowd included members of the Proud Boys and other groups with violent ideologies. Videos reveal the presence of several noted hardcore nativists and white nationalists who participated in the 2017 white power rally in Charlottesville, Virginia, that President Donald Trump infamously refused to condemn.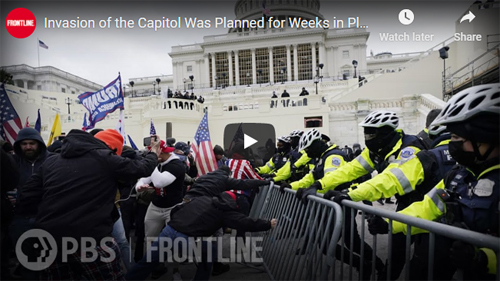 Tarrio does not appear to have been present during the insurrection. Two days before members of the House and Senate gathered to certify the Electoral College results, Washington's Metropolitan Police Department arrested Tarrio and charged him with possessing high-capacity firearm magazines and destruction of property over the burning of a Black Lives Matter banner last month. A judge barred him from entering the city while he awaits trial.
But it appears that Tarrio's followers heeded his advice. A journalist working with ProPublica and FRONTLINE encountered members of the Proud Boys in dark clothes walking through Washington on the night before the attack. The four men posed for a photo and confirmed their membership in the group. Few participants involved in the Capitol siege were seen wearing Proud Boys colors or logos.
Ford Fischer

@FordFischer

I came across some Proud Boys dressed in black around H Street.

They're basically using American flags on their masks, arms, or shirts to distinguish themselves from actual antifa activists.

I asked to take pic, this is what I got.

5:49 PM Jan 5, 2021 from Washington, DC
Four men who confirmed membership in the Proud Boys posed for a photo the night before the attack.
But since the incident, Proud Boys social media channels have flaunted their direct role in the attack and looting of the Capitol.
One prominent Proud Boys account encouraged rioters as the chaos was unfolding: "Hold your ground!!!… DO NOT GO HOME. WE ARE ON THE CUSP OF SAVING THE CONSTITUTION."
So far, police have arrested more than 80 people in connection with the attack, including at least one Proud Boy, Nick Ochs. They have seized pipe bombs and Molotov cocktails and arrested at least six people on illegal firearms charges, including one Maryland man who was captured in the visitors' center of the Capitol. More arrests are expected.
As the crowds ringing the Capitol swelled on Wednesday, a small group of men clad in body armor shuffled toward the doors at the center of the building's east-facing facade.
The eight men, whose movements were captured on video, were identified by ProPublica and FRONTLINE as members of the Oath Keepers, a long-standing militia group that has pledged to ignite a civil war on behalf of Trump. Members of the group joined the protesters and insurrectionists flooding into the Capitol. Footage from later in the day shows Oath Keepers dragging a wounded comrade out of the building.
Stewart Rhodes, a former soldier and Yale law school graduate, who founded the Oath Keepers in 2009 and built it into a nationwide network, was seen on video standing outside the Capitol building. While he was not seen entering the Capitol, he could be seen talking with his militia followers throughout the day.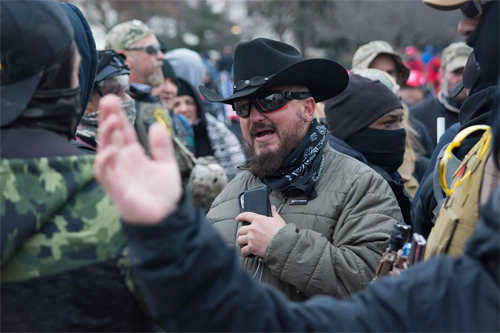 Stewart Rhodes, founder of the Oath Keepers, at the Capitol on Wednesday. (Ford Fischer)
Several other of the participants ProPublica and FRONTLINE identified from video have direct links to the white nationalist movement, which has seen a resurgence of activity during the Trump era.
One was Nick Fuentes, an internet personality who streams a daily talk show on DLive, an alternative social media platform. Fuentes, who marched in Charlottesville during the 2017 white power rally there, speaks frequently in anti-Semitic terms and pontificates on the need to protect America's white heritage from the ongoing shift in the nation's demographics. He has publicly denied believing in white nationalism but has said that he considers himself a "white majoritarian."
Fuentes, who spoke at pro-Trump rallies late last year in Michigan and Washington, D.C., said he was at the rally on Wednesday but didn't follow the mob into the Capitol. One group of Fuentes' supporters, who call themselves the Groyper Army, was filmed running through the Capitol carrying a large blue flag with the America First logo.
Days before the Capitol was stormed, Fuentes seemed to encourage his followers to kill state legislators in a bid to overturn Biden's electoral victory, as Megan Squire, a computer science professor at Elon University who follows online extremist communities, noted on Twitter.
"What can you and I do to a state legislator — besides kill him?" he said with a smirk. "We should not do that. I'm not advising that, but I mean, what else can you do, right?"
Squire fears that Fuentes' incendiary rhetoric will inspire his followers to engage in more drastic — even lethal — acts of political violence. "Instead of trying to appear democratic he's making an argument for fascism, for monarchism," she said. "He's criticizing democracy at every turn. He doesn't believe in democracy and it's scary because his fans find him fascinating."
DLive recently announced that it has booted Fuentes from its platform.
Another figure inside the Capitol with ties to white nationalists was Tim Gionet, a livestreamer who uses the handle Baked Alaska and who participated in the Charlottesville rally, which left one woman dead. Gionet was photographed within the Capitol and apparently used DLive to stream from within the building as events unfolded. Part of his video appeared to show him in Nancy Pelosi's office, according to the Southern Poverty Law Center, which tracks hate groups.
Other extremist figures present either at the rally or within the Capitol included Vincent James Foxx, an online propagandist for the Rise Above Movement, a now-defunct Southern California white supremacist group.
Also on scene: Gabe Brown, a New Englander who helped create Anticom, a now-defunct organization devoted to physically combating leftists. In 2017, Anticom members posted a vast trove of bomb-making manuals to a private online chatroom.
The militant group members joined with scores of others who rampaged inside the Capitol.
Rep. André Carson, a Democrat from Indiana, said the scene reminded him of a Ku Klux Klan rally. Photos from within the Capitol showed one unidentified man carrying a Confederate battle flag and another wearing a sweatshirt emblazoned with a skull and the words "Camp Auschwitz," a reference to the infamous Nazi death camp.
Carson and other House members who spoke to ProPublica and FRONTLINE said the body would be launching an extensive investigation of the Capitol Police force and its mishandling of Wednesday's events.
The rioters, said Carson, who is Black, "were hostile. They were venomous. And I think there was a sense of entitlement that they carried that somehow their country was being taken away from them."
After the siege, a Boogaloo Bois group called the Last Sons of Liberty, which includes militants from Virginia, posted a video to Parler purporting to document their role in the incident — a clip that shows members inside the Capitol. A loose-knit confederation of anti-government militants, the Boogaloo Bois have been tied to a plot to kidnap Michigan Gov. Gretchen Whitmer and to the murder of two law enforcement officers in California. ProPublica and FRONTLINE have been unable to independently confirm their involvement.
Some far-right activists are already calling for retribution over the death of Ashli Babbitt, a 35-year-old Air Force veteran from California who was shot and killed by a security officer. "We've got a girl that's dead. She's shot, laying on the ground in there," said Damon Beckley, leader of a group called DC Under Siege, in an interview just outside the Capitol while the riot was ongoing. "We're not putting up with this tyrannical rule. … If we gotta come back here and start a revolution and take all these traitors out — which is what should happen — then we will."
Another person took to Parler to say that they were planning to show up, armed, in Washington for Inauguration Day. "Many of us will return on January 19, 2021 carrying Our weapons," wrote the Parler user, who goes by the handle Colonel007. "We will come in numbers that no standing army or police agency can match."
The Proud Boys also celebrated on social media. On Parler, one Proud Boys leader posted a photo of members of Congress cowering in fear and captioned it with a menacing statement: "Today you found out. The power of the people will not be denied."
Logan Jaffe of ProPublica and Lila Hassan, Dan Glaun and Zoe Todd of FRONTLINE contributed reporting.

Correction, Jan. 9, 2021: This story has been updated to remove the name of an individual who upon further investigation could not be definitively identified.
*******************************
The 48 Laws of Power
by Robert Greene
© Joost Elffers and Robert Greene, 1998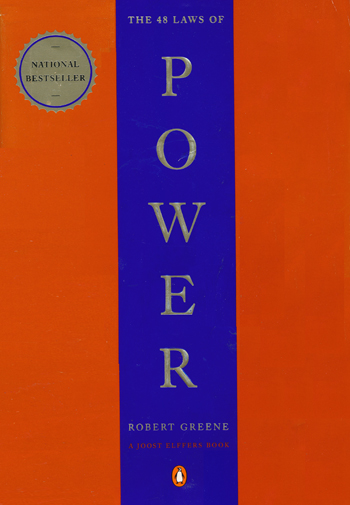 CONTENTS
• PREFACE
• LAW I: NEVER OUTSHINE THE MASTER: Always make those above you feel comfortably superior. In your desire to please or impress them, do not go too far in displaying your talents or you might accomplish the opposite -- inspire fear and insecurity. Make your masters appear more brilliant than they are and you will attain the heights of power.
• LAW 2: NEVER PUT TOO MUCH TRUST IN FRIENDS, LEARN HOW TO USE ENEMIES: Be wary of friends -- they will betray you more quickly, for they are easily aroused to envy. They also become spoiled and tyrannical. But hire a former enemy and he will be more loyal than a friend, because he has more to prove. In fact, you have more to fear from friends than from enemies. If you have no enemies, find a way to make them.
• LAW 3: CONCEAL YOUR INTENTIONS: Keep people off balance and in the dark by never revealing the purpose behind your actions. If they have no clue what you are up to, they cannot prepare a defense. Guide them far enough down the wrong path, envelop them in enough smoke, and by the time they realize your intentions, it will be too late.
• LAW 4: ALWAYS SAY LESS THAN NECESSARY: When you are trying to impress people with words, the more you say, the more common you appear, and the less in control. Even if you are saying something banal, it will seem original if you make it vague, open-ended, and sphinxlike. Powerful people impress and intimidate by saying less. The more you say, the more likely you are to say something foolish.
• LAW 5: SO MUCH DEPENDS ON REPUTATION-GUARD IT WITH YOUR LIFE: Reputation is the cornerstone of power. Through reputation alone you can intimidate and win; once it slips, however, you are vulnerable, and will be attacked on all sides. Make your reputation unassailable. Always be alert to potential attacks and thwart them before they happen. Meanwhile, learn to destroy your enemies by opening holes in their own reputations. Then stand aside and let public opinion hang them.
• LAW 6: COURT ATTENTION AT ALL COST: Everything is judged by its appearance; what is unseen counts for nothing. Never let yourself get lost in the crowd, then, or buried in oblivion. Stand out. Be conspicuous, at all cost. Make yourself a magnet of attention by appearing larger, more colorful, more mysterious than the bland and timid masses.
• LAW 7: GET OTHERS TO DO THE WORK FOR YOU, BUT ALWAYS TAKE THE CREDIT: Use the wisdom, knowledge, and legwork of other people to further your own cause. Not only will such assistance save you valuable time and energy, it will give you a godlike aura of efficiency and speed. In the end your helpers will be forgotten and you will be remembered. Never do yourself what others can do for you.
• LAW 8: MAKE OTHER PEOPLE COME TO YOU-USE BAIT IF NECESSARY: When you force the other person to act, you are the one in control. It is always better to make your opponent come to you, abandoning his own plans in the process. Lure him with fabulous gains -- then attack. You hold the cards.
• LAW 9: WIN THROUGH YOUR ACTIONS, NEVER THROUGH ARGUMENT: Any momentary triumph you think you have gained through argument is really a Pyrrhic victory: The resentment and ill will you stir up is stronger and lasts longer than any momentary change of opinion. It is much more powerful to get others to agree with you through your actions, without saying a word. Demonstrate, do not explicate.
• LAW 10: INFECTION: AVOID THE UNHAPPY AND UNLUCKY: You can die from someone else's misery -- emotional states are as infectious as diseases. You may feel you are helping the drowning man but you are only precipitating your own disaster. The unfortunate sometimes draw misfortune on themselves; they will also draw it on you. Associate with the happy and fortunate instead.
• LAW 11: LEARN TO KEEP PEOPLE DEPENDENT ON YOU: To maintain your independence you must always be needed and wanted. The more you are relied on, the more freedom you have. Make people depend on you for their happiness and prosperity and you have nothing to fear. Never teach them enough so that they can do without you.
• LAW 12: USE SELECTIVE HONESTY AND GENEROSITY TO DISARM YOUR VICTIM: One sincere and honest move will cover over dozens of dishonest ones. open-hearted gestures of honesty and generosity bring down the guard of even the most suspicious people. Once your selective honesty opens a hole in their armor, you can deceive and manipulate them at will. A timely gift-a Trojan horse-will serve the same purpose.
• LAW 13: WHEN ASKING FOR HELP, APPEAL TO PEOPLE'S SELF-INTEREST, NEVER TO THEIR MERCY OR GRATITUDE: If you need to turn to an ally for help, do not bother to remind him of your past assistance and good deeds. He will find a way to ignore you. Instead, uncover something in your request, or in your alliance with him, that will benefit him, and emphasize it out of all proportion. He will respond enthusiastically when he sees some-- thing to be gained for himself.
• LAW 14: POSE AS A FRIEND, WORK AS A SPY: Knowing about your rival is critical. Use spies to gather valuable information that will keep you a step ahead. Better still: Play the spy yourself. In polite social encounters, learn to probe. Ask indirect questions to get people to reveal their weaknesses and intentions. There is no occasion that is not an opportunity for artful spying.
• LAW 15: CRUSH YOUR ENEMY TOTALLY: All great leaders since Moses have known that a feared enemy must be crushed completely. (Sometimes they have learned this the hard way.) If one ember is left alight, no matter how dimly it smolders, a fire will eventually break out. More is lost through stopping halfway than through total annihilation: The enemy will recover, and will seek revenge. Crush him, not only in body but in spirit.
• LAW 16: USE ABSENCE TO INCREASE RESPECT AND HONOR Too much circulation makes the price go down: The more you are seen and heard from, the more common you appear. If you are already established in a group, temporary withdrawal from it will make you more talked about, even more admired. You must learn when to leave. Create value through scarcity.
• LAW 17: KEEP OTHERS IN SUSPENDED TERROR: CULTIVATE AN AIR OF UNPREDICTABILITY Humans are creatures of habit with an insatiable need to see familiarity in other people's actions. Your predictability gives them a sense of control. Turn the tables: Be deliberately unpredictable. Behavior that seems to have no consistency or purpose will keep them off balance, and they will wear themselves out trying to explain your moves. Taken to an extreme, this strategy can intimidate and terrorize.
• LAW 18: DO NOT BUILD FORTRESSES TO PROTECT YOURSELF-ISOLATION IS DANGEROUS: The world is dangerous and enemies are everywhere-everyone has to protect themselves. A fortress seems the safest. But isolation exposes you to more dangers than it protects you from-it cuts you off from valuable information, it makes you conspicuous and an easy target. Better to circulate among people, find allies, mingle. You are shielded from your enemies by the crowd.
• LAW 19: KNOW WHO YOU'RE DEALING WITH-DO NOT OFFEND THE WRONG PERSON: There are many different kinds of people in the world, and you can never assume that everyone will react to your strategies in the same way. Deceive or outmaneuver some people and they will spend the rest of their lives seeking revenge. They are wolves in lambs' clothing. Choose your victims and opponents carefully, then never offend or deceive the wrong person.
• LAW 20: DO NOT COMMIT TO ANYONE: It is the fool who always rushes to take sides. Do not commit to any side or cause but yourself. By maintaining your independence, you become the master of others -- playing people against one another; making them pursue you.
• LAW 21: PLAY A SUCKER TO CATCH A SUCKER-SEEM DUMBER THAN YOUR MARK: No one likes feeling stupider than the next person. The trick, then, is to make your victims feel smart-and not just smart, but smarter than you are. Once convinced of this, they will never suspect that you may have ulterior motives.
• LAW 22: USE THE SURRENDER TACTIC: TRANSFORM WEAKNESS INTO POWER: When you are weaker; never fight for honor's sake; choose surrender instead. Surrender gives you time to recover; time to torment and irritate your conqueror, time to wait for his power to wane. Do not give him the satisfaction of fighting and defeating you-surrender first. By turning the other cheek you infuriate and unsettle him. Make surrender a tool of power.
• LAW 23: CONCENTRATE YOUR FORCES: Conserve your forces and energies by keeping them concentrated at their strongest point. You gain more by finding a rich mine and mining it deeper; than by flitting from one shallow mine to another -- intensity defeats extensity every time. When looking for sources of power to elevate you, find the one key patron, the fat cow who will give you milk for a long time to come.
• LAW 24: PLAY THE PERFECT COURTIER: The perfect courtier thrives in a world where everything revolves around power and political dexterity. He has mastered the art of indirection; he flatters, yields to superiors, and asserts power over others in the most oblique and graceful manner. Learn and apply the laws of courtiers hip and there will be no limit to how far you can rise in the court.
• LAW 25: RE-CREATE YOURSELF: Do not accept the roles that society foists on you. Re-create yourself by forging a new identity, one that commands attention and never bores the audience. Be the master of your own image rather than letting others define it for you. Incorporate dramatic devices into your public gestures and actions--your power will be enhanced and your character will seem larger than life.
• LAW 26 : KEEP YOUR HANDS CLEAN: You must seem a paragon of civility and efficiency: Your hands are never soiled by mistakes and nasty deeds. Maintain such a spotless appearance by using others as scapegoats and cat's-paws to disguise your involvement.
• LAW 27: PLAY ON PEOPLE'S NEED TO BELIEVE TO CREATE A CULTLIKE FOLLOWING: People have an overwhelming desire to believe in something. Become the focal point of such desire by offering them a cause, a new faith to follow. Keep your words vague but full of promise; emphasize enthusiasm over rationality and clear thinking. Give your new disciples rituals to perform, ask them to make sacrifices on your behalf. In the absence of organized religion and grand causes, your new belief system will bring you untold power.
• LAW 28: ENTER ACTION WITH BOLDNESS: If you are unsure of a course of action, do not attempt it. Your doubts and hesitations will infect your execution. Timidity is dangerous: Better to enter with boldness. Any mistakes you commit through audacity are easily corrected with more audacity. Everyone admires the bold; no one honors the timid.
• LAW 29: PLAN ALL THE WAY TO THE END: The ending is everything. Plan all the way to it, taking into account all the possible consequences, obstacles, and twists of fortune that might reverse your hard work and give the glory to others. By planning to the end you will not be overwhelmed by circumstances and you will know when to stop. Gently guide fortune and help determine the future by thinking far ahead.
• LAW 30: MAKE YOUR ACCOMPLISHMENTS SEEM EFFORTLESS: Your actions must seem natural and executed with ease. All the toil and practice that go into them, and also all the clever tricks, must be concealed. When you act, act effortlessly, as if you could do much more. Avoid the temptation of revealing how hard you work-it only raises questions. Teach no one your tricks or they will be used against you.
• LAW 31: CONTROL THE OPTIONS: GET OTHERS TO PLAY WITH THE CARDS YOU DEAL: The best deceptions are the ones that seem to give the other person a choice: Your victims feel they are in control, but are actually your puppets. Give people options that come out in your favor whichever one they choose. Force them to make choices between the lesser of two evils, both of which serve your purpose. Put them on the horns of a dilemma: They are gored wherever they turn.
• LAW 32: PLAY TO PEOPLE'S FANTASIES: The truth is often avoided because it is ugly and unpleasant. Never appeal to truth and reality unless you are prepared for the anger that comes from disenchantment. Life is so harsh and distressing that people who can manufacture romance or conjure up fantasy are like oases in the desert: Everyone flocks to them. There is great power in tapping into the fantasies of the masses.
• LAW 33: DISCOVER EACH MAN'S THUMBSCREW: Everyone has a weakness, a gap in the castle wall. That weakness is usually an insecurity, an uncontrollable emotion or need; it can also be a small secret pleasure. Either way, once found, it is a thumbscrew you can turn to your advantage.
• LAW 34: BE ROYAL IN YOUR OWN FASHION: ACT LIKE A KING TO BE TREATED LIKE ONE: The way you carry yourself will often determine how you are treated: In the long run, appearing vulgar or common will make people disrespect you. For a king respects himself and inspires the same sentiment in others. By acting regally and confident of your powers, you make yourself seem destined to wear a crown.
• LAW 35: MASTER THE ART OF TIMING: Never seem to be in a hurry -- hurrying betrays a lack of control over yourself, and over time. Always seem patient, as if you know that everything will come to you eventually. Become a detective of the right moment; sniff out the spirit of the times, the trends that will carry you to power. Learn to stand back when the time is not yet ripe, and to strike fiercely when it has reached fruition.
• LAW 36: DISDAIN THINGS YOU CANNOT HAVE: IGNORING THEM IS THE BEST REVENGE: By acknowledging a petty problem you give it existence and credibility. The more attention you pay an enemy, the stronger you make him; and a small mistake is often made worse and more visible when you try tofix it. It is sometimes best to leave things alone. If there is something you want but cannot have, show contempt for it. The less interest you reveal, the more superior you seem.
• LAW 37: CREATE COMPELLING SPECTACLES: Striking imagery and grand symbolic gestures create the aura of power -- everyone responds to them. Stage spectacles for those around you, then, full of arresting visuals and radiant symbols that heighten your presence. Dazzled by appearances, no one will notice what you are really doing.
• LAW 38: THINK AS YOU LIKE BUT BEHAVE LIKE OTHERS: If you make a show of going against the times, flaunting your unconventional ideas and unorthodox ways, people will think that you only want attention and that you look down upon them. They will find a way to punish you for making them feel inferior. It is far safer to blend in and nurture the common touch. Share your originality only with tolerant friends and those who are sure to appreciate your uniqueness.
• LAW 39: STIR UP WATERS TO CATCH FISH: Anger and emotion are strategically counterproductive. You must always stay calm and objective. But if you can make your enemies angry while staying calm yourself, you gain a decided advantage. Put your enemies off-balance: Find the chink in their vanity through which you can rattle them and you hold the strings.
• LAW 40: DESPISE THE FREE LUNCH: What is offered for free is dangerous -- it usually involves either a trick or a hidden obligation. What has worth is worth paying for. By paying your own way you stay clear of gratitude, guilt, and deceit. It is also often wise to pay the full price -- there is no cutting corners with excellence. Be lavish with your money and keep it circulating, for generosity is a sign and a magnet for power.
• LAW 41: AVOID STEPPING INTO A GREAT MAN'S SHOES: What happens first always appears better and more original than what comes after. If you succeed a great man or have a famous parent, you will have to accomplish double their achievements to outshine them. Do not get lost in their shadow, or stuck in a past not of your own making: Establish your own name and identity by changing course. Slay the overbearing father, disparage his legacy, and gain power by shining in your own way.
• LAW 42: STRIKE THE SHEPHERD AND THE SHEEP WILL SCATTER: Trouble can often be traced to a single strong individual -- the stirrer, the arrogant underling, the poisoner of goodwill. if you allow such people room to operate, others will succumb to their influence. Do not wait for the troubles they cause to multiply, do not try to negotiate with them -- they are irredeemable. Neutralize their influence by isolating or banishing them. Strike at the source of the trouble and the sheep will scatter.
• LAW 43: WORK ON THE HEARTS AND MINDS OF OTHERS: Coercion creates a reaction that will eventually work against you. You must seduce others into wanting to move in your direction. A person you have seduced becomes your loyal pawn. And the way to seduce others is to operate on their individual psychologies and weaknesses. Soften up the resistant by working on their emotions, playing on what they hold dear and what they fear. Ignore the hearts and minds of others and they will grow to hate you.
• LAW 44: DISARM AND INFURIATE WITH THE MIRROR EFFECT: The mirror reflects reality, but it is also the perfect tool for deception: When you mirror your enemies, doing exactly as they do, they cannot figure out your strategy. The Mirror Effect mocks and humiliates them, making them overreact. By holding up a mirror to their psyches, you seduce them with the illusion that you share their values; By holding up a mirror to their actions, you teach them a lesson. Few can resist the power of the Mirror Effect.
• LAW 45: PREACH THE NEED FOR CHANGE, BUT NEVER REFORM TOO MUCH AT ONCE: Everyone understands the need for change in the abstract, but on the day-to-day level people are creatures of habit. Too much innovation is traumatic, and will lead to revolt. If you are new to a position of power, or an outsider trying to build a flower base, make a show of respecting the old way of doing things. If change is necessary, make it feel like a gentle improvement on the past.
• LAW 46: NEVER APPEAR TOO PERFECT: Appearing better than others is always dangerous, but most dangerous of all is to appear to have no faults or weaknesses. Envy creates silent enemies. It is smart to occasionally display defects, and admit to harmless vices, in order to deflect envy and appear more human and approachable. Only gods and the dead can seem perfect with impunity.
• LAW 47: DO NOT GO PAST THE MARK YOU AIMED FOR; IN VICTORY, LEARN WHEN TO STOP: The moment of victory is often the moment of greatest peril. In the heat of victory, arrogance and overconfidence can push you past the goal you had aimed for, and fry going too far, you make more enemies than you defeat. Do not allow success to go to your head. There is no substitute for strategy and careful planning. Set a goal, and when you reach it, stop.
• LAW 48: ASSUME FORMLESSNESS: By taking a shape, by having a visible plan, you open yourself to attack. Instead of taking a form for your enemy to grasp, keep yourself adaptable and on the move. Accept the fact that nothing is certain and no law is fixed. The best way to protect yourself is to be as fluid and formless as water; never bet on stability or lasting order. Everything changes.