Bennett backs decision to ban book about Jewish-Arab love affair
Despite admitting he did not read the whole book, the Education Minister said he backs the decision to exclude the book Borderlife by Dorit Rabinyan from the mandatory reading list for high school students.
by Omri Ariel
Dec 31, 2015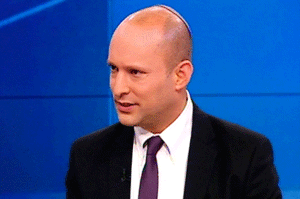 Photo credit: Channel 2 News
Israel's Education Minister Naftali Bennett has expressed his support of the ministry's controversial decision to exclude from high school curricula a book that depicts a love story between an Israeli woman and a Palestinian man. In an interview to Channel 2 News, Bennett said the education system "should not promote values which go against the values of the country."
"The book includes a comparison of IDF soldiers to Hamas terrorists," Bennett claimed ...
THE MOSSAD'S FALSE FLAG AL QAEDA CELL

Rashid Abu Shbak, the head of Palestinian Preventive Security in the Gaza Strip said on Friday, December 6, 2002 that his forces had identified a number of Palestinian collaborators who had been ordered by Israeli security agencies to "work in the Gaza Strip under the name of Al-Qaeda." Al-Jazeera TV reported that the Palestinian authorities had arrested a group of Palestinian "collaborators with Israeli occupation" in Gaza, who were trying to set up an operation there in the name of bin Laden's Al-Qaeda. The Palestinian Authority spokesman said the members of the group had confessed that they were recruited and organized by the Israeli intelligence, Mossad. Sharon had personally claimed on December 4, 2002 that he had proof of Al-Qaeda operations in Gaza, and used the allegations to justify brutal Israeli Defense Forces attacks in the Gaza Strip the next day -- which was the start of the Islamic holiday, Eid, celebrating the end of Ramadan. Ten civilians were killed in the IDF assaults. Reuters published an extensive featured story on the affair by Diala Saadeh on December 7, 2002, under the headline "Palestinians: Israel Faked Gaza Al Qaeda Presence." The article quoted President Arafat, who told reporters at his West Bank Ramallah headquarters, "It is a big, big, big lie to cover [Sharon's] attacks and his crimes against our people everywhere." Information Minister Yasser Abed Rabbo explained: "There are certain elements who were instructed by the Mossad to form a cell under the name of Al Qaeda in the Gaza Strip in order to justify the assault and the military campaigns of the Israeli occupation army against Gaza." (Haaretz, Reuters and Al Jazeera, December 7, 2002) Sharon is of course a past master of false-flag tactics like these, having been implicated in the direction of

the Abu Nidal organization

and also in the setting up of Hamas....

There is no doubt that the Mossad controlled a part of the central committee of the organization known as

Abu Nidal

, after the nom de guerre of its leader, Sabri al Banna. In 1987-88, just as the first Palestinian intifada uprising was getting under way, there emerged in the occupied territories the organization known as Hamas. Hamas combined a strong commitment to neighborhood social services with the rejection of negotiations with Israel and the demand for a military solution which was sure to be labeled terrorism. Interestingly enough, one of the leading sponsors of Hamas was Ariel Sharon, a former general who was then a cabinet minister. These facts are widely recognized; US Ambassador to Israel Daniel Kurzer, an observant Jew, stated late in 2001 that Hamas had emerged "with the tacit support of Israel" because in the late 1980s "Israel perceived it would be better to have people turning toward religion, rather than toward a nationalistic cause." (Ha'aretz, Dec. 21, 2001) In an acrimonious Israeli cabinet debate around the same time, Israeli extremist Knesset member Silva Shalom stated:

"between Hamas and Arafat, I prefer Hamas ... Arafat is a terrorist in a diplomat's suit, while the Hamas can be hit unmercifully." (Ha'aretz, Dec. 4, 2001) This tirade provoked a walkout by Shimon Peres and the other Labor Party ministers. Arafat added his own view, which was that "Hamas is a creature of Israel which, at the time of Prime Minister Shamir, gave them money and more than 700 institutions, among them schools, universities, and mosques. Even [Israeli Prime Minister] Rabin ended up admitting it, when I charged him with it, in the presence of Mubarak." (Corriere della Sera, Dec. 11, 2001) With incredible arrogance, the Bush administration has pronounced Arafat as unfit to be a negotiating partner. In effect, they are choosing Hamas -- or worse, an act of incalculable folly for Israel and for the United States as well.

--

9/11 Synthetic Terror Made in USA, by Webster Griffin Tarpley
"and it describes a romance between a Jewish woman and a former Palestinian security prisoner. The question is – should I force Israeli children to read this? Is this our top priority, to have in our curricula the notion that the IDF soldiers are sadistic?"
On Wednesday, the Education Ministry announced that it had disqualified the book "Gader Haya" (translated into English as Borderlife) by Dorit Rabinyan.
Bennett added that while he was not personally involved with making the decision, he fully backs it, and also admitted that he had only read parts of the book. "There are thousands of authors who want to be included in the reading list for high school students, but 99.9% of them stay out," he said.
Bennett did not comment on a controversial statement made by his ministry's spokeswoman, who suggested that the book was rejected not mainly because of its depiction of IDF soldiers, but rather because of fear that it might promote cultural assimilation between Jews and Arabs.
"This isn't censorship," he concluded. "Whoever wants to buy the book can buy it."