Part 1 of 2
Boris Yeltsin presidential campaign, 1996
by Wikipedia
Accessed: 8/5/18
NOTICE: THIS WORK MAY BE PROTECTED BY COPYRIGHT
YOU ARE REQUIRED TO READ

THE COPYRIGHT NOTICE AT THIS LINK

BEFORE YOU READ THE FOLLOWING WORK, THAT IS AVAILABLE SOLELY FOR PRIVATE STUDY, SCHOLARSHIP OR RESEARCH PURSUANT TO 17 U.S.C. SECTION 107 AND 108. IN THE EVENT THAT THE LIBRARY DETERMINES THAT UNLAWFUL COPYING OF THIS WORK HAS OCCURRED, THE LIBRARY HAS THE RIGHT TO BLOCK THE I.P. ADDRESS AT WHICH THE UNLAWFUL COPYING APPEARED TO HAVE OCCURRED. THANK YOU FOR RESPECTING THE RIGHTS OF COPYRIGHT OWNERS.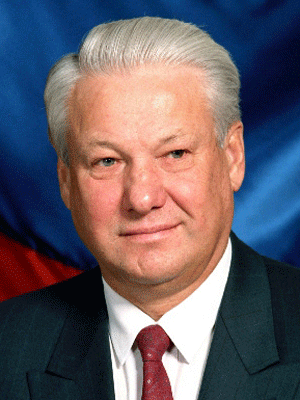 Boris Yeltsin presidential campaign, 1996
Candidate Boris Yeltsin
President of Russia
(1991–1999)
Affiliation Independent
Status Announced:
15 February 1996
Registered:
3 April 1996
Advanced to runoff:
16 June 1996
Won election:
3 July 1996
Headquarters President-Hotel in Moscow[1][2]
Key people Anatoly Chubais (campaign manager and chairman of campaign council)
Oleg Soskovets (campaign manager)
Tatyana Dyachenko (key advisor and member of campaign council)
Sergei Filatov (campaign organizer, head of campaign headquarters, co-head of ODOP)
Viktor Ilyushin (member of campaign council, co-head of ODOP)
Yury Yarov (executive head, member of campaign council)
Slogan Now we are united!
The Boris Yeltsin presidential campaign, 1996 was the reelection campaign of Russian President Boris Yeltsin in the 1996 election.
Yeltsin was ultimately reelected, despite having originally been greatly expected to lose the election due to an immensely low level of public support prior to the official launch of his campaign.[1][3][4][5][6][7]
Background
Yelstin's approval had tanked after he had introduced significant reforms meant to push Russia towards a market-based economy
.[1][8][9] He had eliminated the majority of Soviet-era price controls, privatized a large number of significant state assets, permitted the ownership of private property, welcomed free-market principles, and additionally allowed for a stock exchange to be established and for commodities exchanges and private banks to be created.[9] While some Russians (largely
oligarchs) thrived under his reforms
, many others faced significant hardships as a result of them.[8][9] A
significant portion of the Russian populace had faced increased poverty under his leadership.[9] Additionally, crime rates had significantly increased during his presidency.[4]
Yeltsin had originally risen to power on a populist message of anticorruption and an opponent of Moscow's establishment politics. A political maverick, he was cast-out by the Soviet political establishment.[1]
He found a base of support among liberal and pro-western democratic movements.
In 1990, those movements united to form the Democratic Russia. This group held a base of power primarily in Moscow, Saint Petersburg, and the Urals.[1]
This political alliance brought him into power in June 1991, and helped him to resist a coup attempt in August 1991.
The alliance formed the base of Russia's first noncommunist government.[1] However, this alliance never merged into a single political organization.[1] Yeltsin never officially joined the front, intending to maintain a level of separation between himself and partisan politics.[1] Thus, it consequentially splintered, leaving him without a unified base of support.[1]
Under Yeltsin's leadership, Russia faced the stigma of being a fallen international superpower.[9] Russia encountered a massive amount of corruption and lawlessness.[9] Russia's economy also faced a decline in industrial production and the Russian populace's qualify of life and life expectancy declined.[9][3]
As president, Yeltsin had allowed for a far more free media to exist than his Soviet predecessors had. In doing so, he not only allowed Russians to enjoy Western pop-culture, but he also permitted open criticism of his own leadership to be published by the press.[9]
1993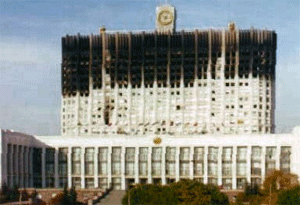 Burnt White House following the 1993 constitutional crisis
Following the 1993 Russian constitutional crisis, the Yeltsin government adopted a more nationalist and authoritarian agenda than they had previously championed.
[1][9] Yeltsin saw a favorable result in the 1993 constitutional referendum vote.[1]
However, at the same time as the constitutional referendum, the pro-Yeltsin and pro-reform Russia's Choice party fared disastrously in the legislative elections. Russia's Choice might have seen their prospects harmed by Yeltsin's own refusal to officially align himself with or endorse the party.[1] A reason for Yeltsin's refusal to voice his support of the party might have been a desire of Yeltsin's to continue to separate himself from partisan politics,[1][10] while another reason might have been tension between Yeltsin and key members of the Russia's Choice party such as Yegor Gaidar and Boris Fyodorov.[1] Nevertheless, the party had been expected to garner as much as a 40% plurality of the vote. However, the party instead garnered merely 15.5% of the votes, placing behind
Vladimir Zhirinovsky's Liberal Democratic Party.[1] Zhirinovsky had successfully appealed to a chunk of the Russian electorate that had grown tired of both the communist leadership of the past and the current "democratic" leadership under Yeltsin.[1][11] Zhirinovsky had espoused a protofascist views and "law-and-order" rhetoric laced with racist undertones.
[1] Combined, the core reformist (pro-Yeltsin) parties, including the Russia's Choice and Party of Russian Unity and Accord, received a mere 27.5% of the vote, whilst the core opposition parties received 43.3%.[1]
The underperformance of the pro-Yeltsin forces in the 1993 legislative election alarmed some in Yelstin's camp of an urgent need for Yeltsin to revive his faltering public image.[1]
1994
Over the course of 1994, Yeltsin became more and more separated from core reformist politicians and organizations.[1] At the same time, Yeltsin was also becoming more and more separated from the opposition government and its leader, Prime Minister Viktor Chernomyrdin.[1] Instead, Yeltsin increasingly relied on the advice of First Deputy Prime Minister Oleg Soskovets and his own bodyguard and confidant Alexander Korzhakov.[1] Soskovets had been shaping Yeltsin's campaign strategy.
1995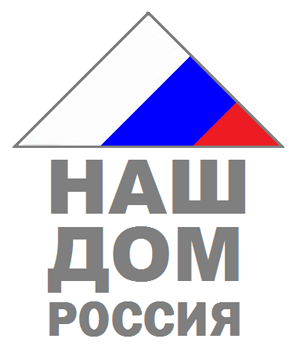 Our Home Russia fared poorly in the 1995 legislative election
The result 1995 legislative election was not better for Yeltsin. Core reformist (pro-Yeltsin) parties performed marginally worse than 1993, receiving a combined 25.5% of the vote.[1] Core opposition parties garnered 42.5% of the vote.[1]
The opposition Communist Party gained power in the 1995 legislative election. Its leader, Gennady Zyuganov, had a strong grassroots organization, especially in the rural areas and small towns. Zyuganov had appealed effectively to nostalgia for an era of Soviet prestige on the international stage and socialist domestic order.
It was already clear at this time that Zyuganov was going to challenge Yeltsin for the presidency the following year.[12]
In the 1995 legislative elections, Zhirinovsky's Liberal Democratic Party placed second with 11.18% of the vote. Prime Minister Viktor Chernomyrdin's centrist, non-reformist, party Our Home – Russia won 10.13%, placing third.[1]
The result of the 1995 legislative elections seemed to further indicate that support for Yeltsin's reformists was indeed in political decline.[1][13] The largest reformist party at the time, Grigory Yavlinsky's Yabloko won only 6.9% of the vote.[1] The next-largest reformist party, Yegor Gaidar's Democratic Choice of Russia, won a paltry 3.9%.[1] Yeltsin's advisers viewed this as evidence that it would be disastrous for Yeltsin to campaign as a reformist/democrat.[1] Indeed, polling in December placed Yeltsin behind both Zyuganov and Zhirinovsky.[14]
Campaign strategies

Soskovets strategy
Yeltsin's original, abandoned, campaign strategy had been devised by Oleg Soskovets in response to the defeat of pro-Yeltsin parties in the 1993 and 1995 legislative elections.
Soskovets decided that for Yeltsin to win in 1996, he would need to adopt some of Zhirinovsky's style of rhetoric
.[1] Soskovets worked alongside others, such as Alexander Korzhakov, to devise a strategy.[1] According to their strategy, Yelstin would need to position himself as an intermediate between the reformers and the Zhirinovsky-style protofascists by adopting the platforms of both. Yeltsin initially obliged, and took action to pivot and adjust his image accordingly.[1]
Abandonment of Soskovets strategy
In late-January 1996, members of Yeltsin's inner-circle began to inform him that they were worried that Soskovets' strategy was a losing strategy.[1] Soskovets' standing with Yeltsin was severely harmed after he failed to complete the campaign's signature drive by the deadline Yeltsin had assigned him.[4]
By February, Yeltsin had begun to abandon Soskovets' advice
. At this time, several shadow campaigns were hard at work to support Yeltsin's candidacy, and were developing alternative campaign strategies for Yeltsin to adopt.[1] By early February, Sergei Filatov (a former member of Yeltsin's government) had been appointed as the interim head of the campaign headquarters. Filatov was also tasked with laying the groundwork for Yeltsin's official campaign committee. Filatov's appointment consequentially supplanted much of Soskovets' authority within the campaign.[15]
On March 23, in a meeting with Anatoly Chubais and members of
Semibankirschina [The Seven Bankers]
that polling showed him to be headed towards a defeat.[1][3]
Panic stuck Yeltsin's inner circle after their meeting with the Semisbankirschina made it clear to them that the
opinion polls indicated that Yeltsin could not win. Some members of the inner-circle, such as Alexander Korzhakov, urged Yeltsin to cancel or postpone the election in order to prevent a Communist victory.
[16][17] Others, such as Yegor Gaidar, urged Yeltsin to forgo seeking a second term, so that they could instead run a reform-minded candidate that would capable of winning the election.[4]
Instead of abandoning his candidacy, Yeltsin reorganized his campaign organization. Yeltsin's own daughter Tatyana Dyachenko was instrumental in convincing him to replace Soskovets as his campaign head.[1] While Yelstin distrusted his campaign advisors, he placed great trust in the advice of his daughter.[18]
On March 23, day after the meeting with the Semibankirschina team, Yeltsin fired Soskovets
, officially ending the Soskovets campaign.[1][3]
Adoption of a new campaign strategy
The campaign's revised strategy became more clear after liberal figures solidified their control of the campaigns central leadership. They rejected the premise of the earlier Soskovets campaign strategy, believing that trying to appeal towards communists and fascists would be a losing strategy. Instead, they formed an entirely new strategy for his campaign.[1][7]
Russia lacked a strong party system, thus partisan divides were less a factor for campaigns as they were in democracies with more developed party systems, such as France, the United Kingdom and the United States.[1] In both the 1993 and 1995 parliamentary elections, half of Russia's parliamentary seats were decided by voting in single-mandate districts. However, the other half was determined by a national system of proportional representation. Proportional representation encouraged the existence of a plethora of political parties and little incentive for party consolidation. In 1993, thirteen separate parties contested in legislative elections. In 1995, forty-three different parties did.[1] This was seen by the campaign's new leadership as being problematic to Yeltsin's candidacy. They believed that in order to win he would need to convince voters that he was the lesser evil, which he would be unable to effectively do without first convincing voters that they had only two options.[1]
The campaign worked to recast Yeltsin as an individual single-handedly fighting to stave off communist control. The campaign framed a narrative that portrayed Yeltsin as Russia's best hope for stability.[19] The campaign worked to shift the narrative of the election into a referendum on whether voters wanted to return to their communist past (with Zyuganov), or continue with reforms (with Yeltsin).[5][4]
Also important to Yeltsin's new stagey was to highlight the divide between the moderate and radical sides of the left-wing, highlight the left's radical views, and portray Zyuganov as a government bureaucrat with no practical government experience.[20]
Yeltsin's campaign also sought to replicate factors that had previously contributed to his victories in the 1991 presidential election and the 1994 constitutional referendum.[4] One such factor he sought to replicate was the public's perception of his leadership. In 1991, Yeltsin had been widely seen as a vigorous leader. This was no longer the case. Thus, Yeltsin took an active approach to campaigning in order to project an revive of vigor.[21] Another factor he replicated was the allocation of funds to popular causes, something he had also done in advance of the 1991 election and 1994 referendum.[21] He also repeated tactics used in 1991 and 1994 by firing unpopular officials, slowing down the pace of economic reforms (a plurality of Russians felt that the reforms needed to be more gradual), and promising to pivot a number policies in the direction favored by the public.[21]
Campaigning in first round

Early developments
Many predicted that Russia would succumb to the same trend that many other post-Soviet transition democracies, where nationalist politicians unseated incumbent leaders.[22]
Before Yelstin announced his intention to seek a second term, there was speculation that he would retire from politics due to his ailing health and the growing disapproval of his performance.[8] At the time Yeltsin was recuperating from a series of heart attacks.[8][9] Despite some efforts to revive the public's perception, Yeltsin still possessed a strongly negative image, with both domestic and international observers taking note his occasionally erratic behavior.[1][8] Additionally, amongst the aforementioned economic decline, Yeltsin encountered poor optics by enjoying the benefits of power, enjoying luxuries he himself had once criticized Soviet leaders for, such as chauffeured limos.[9] Yeltsin's popularity came close to zero.[8]
According to the former Kremlin Chief of Staff Sergey Filatov, Yeltsin initially did not plan to participate in the elections, but with the success of the Communist party in the legislative elections, he changed his decision.[23][24] Former Yeltsin's adviser Sergey Stankevich claimed that the Mayor of St. Petersburg Anatoly Sobchak was considered as a candidate for the presidency instead of Yeltsin, as Sobchak had all the necessary resources and had all the chances to win. However, at the end of 1995 Sobchak finally abandoned this idea, and Yeltsin still decided to be re-elected.[25][26]
In January, Yeltsin distributed an internal memo, which was soon leaked in the press. The memo urged his government to undertake radical measures to insure he would retain power. One of the suggested actions was to dismiss regional governors that did not provide a sufficient level of support to Our Home – Russia during the 1995 legislative elections. Other actions suggested in the memo were to channel government money into his election campaign, use state-run media to bolster his candidacy, cut funding to state-owned regional newspapers that supported opposition candidates, and to insure that positions in the Central Election Commission were occupied by individuals favoring Yeltsin.[15]
On January 22, Yeltsin stated that he would announce the final decision on whether he was going to run sometime between February 13 and 15. Yeltsin commented,
I realize that if I agree [to run], the struggle will be tough...Those who [I would] be running against are not exactly ordinary people, but we'll organize the campaign taking account of the experience in other countries.[15]
By this time, it was widely anticipated that, despite his unpopularity, Yeltsin was going to seek reelection.[15]
The days leading up to the announcement were characterized by a number of figures with connections to Yeltsin signaling whether or not they would support his reelection campaign. For instance, on February 5, Vyacheslav Kostikov, Yeltsin's former spokesman, indicated his opposition to Yeltsin's candidacy by delivering a crass and harshly-worded rebuke of the President. On February 8, Prime Minister Chernomyrdin denied long-standing rumors that he would seek presidency himself, declaring that Yeltsin had his, "complete and unconditional support."[13]
Announcement of candidacy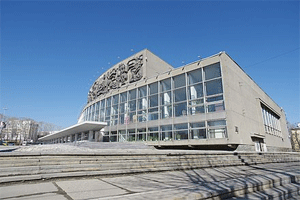 Yeltsin's campaign announcement was held in the Youth Palace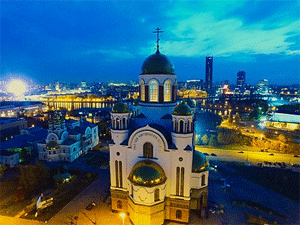 Yeltsin declared his candidacy in his native Yekaterinburg
On February 15, 1996, Yeltsin officially declared his intentions to seek a second term in a speech delivered at the Youth Palace in his native Yekaterinburg.[3][27][13] While delivering his announcement, Yeltsin's voice was uncharacteristically hoarse.[3] Yeltsin proclaimed, "the people want me to run a second time."[13]
Despite Yeltsin's insistence that the Russian public desired to see him run for reelection, polling indicated immense disinterest in his candidacy. On the day that he announced his candidacy, the majority of major polls showed him to be either in fourth or fifth place. Most political observers had already disregarded his prospects.[3] Polling showed him to possess an approval rating of 6%.[18][28][29] Joseph Stalin was found to be polling more favorably, scoring both lower negatives and higher positives than Yeltsin.[18][28] Polling also found that the majority of Russians believed that Yeltsin was to blame for wrecking the country's economy.[28]
The campaign faced the challenge of convincing voters that despite bleak circumstances under his incumbency, Russia would fare better under Yeltsin's continued leadership.[8]
Winter 1996
By the virtue of Yeltsin's incumbency, his campaign effort was given access to a plethora of resources that no other campaign had, making the advantage of his incumbency immense. While he was, on one hand, burdened by the failures of his incumbency, he was also provided substantial utilities by virtue his position as the head of the Russian government.[1][30] Yeltsin's campaign had access to the resources of agencies such as the FSB the FAPSI.[1] Korzhakov's own analytic center and regional heads of administration who Korzhakov helped to appoint were willing to assist the campaign.[1] The campaign used these resources for intelligence gathering and monitoring campaign spending, however they otherwise benefited only marginally from them.[1] However, Yeltsin found other means of using his incumbency as a tool for his campaign. Being an incumbent, he could demonstrate his willingness to fulfill promises he was making on the campaign trail.[31] In March he doubled a large number of pensions.[31] This received flak from his opponents, who accused him of essentially buying votes, however, Yeltsin's team argued that he was simply doing his job as President.[31] In early March, Yeltsin decreed that 40 million landowners in Russia would have the right to buy and sell property. This move made land a tradable commodity in Russia for the first time since 1917. Yeltsin hoped that this would benefit peasants and provide them a reason to embrace reforms, thus undermining their support for the communists.[32]
On March 15, the Communist Party, which constituted the largest faction in the State Duma, moved to pass a (largely symbolic) non-binding resolution denouncing the Dissolution of the Soviet Union.[3] This played right into Yeltsin's hands. Allegedly, Yeltsin's aides had they laid the groundwork for the vote by giving nationalists in the Duma the go-ahead to vote with the Communists and by coordinating the proceedings so that only Yeltsin's least popular allies in parliament speak out against the resolution.[3] When it passed, Yeltsin attacked the Communists by alleging that if one is to claim that the Soviet breakup was illegal, then Russia itself was an illegitimate state. This, seemingly inconsequential, vote now positioned Zyuganov as an apparent extremist.[3] Polling ultimately showed that less than a third of Russian's approved of the resolution.[32] The Communists proved unable to effectively respond to this development.[3] Soon after this, Yeltsin's own poll numbers began to improve.[3]
On March 24, Chernomydrin announced that Our Home is Russia would back Yeltsin's candidacy. He also announced his intention to form a broad coalition of parties to back Yeltsin's campaign.[33]
On March 27, 1996, Yeltsin benefited from International Monetary Fund director Michel Camdessus' approval of a $10.2 billion loan for Russia.[34][35][36]
Spring 1996
Throughout the Winter of 1996, Soskovets' strategy was losing traction. At the start of Spring, however, the strategy was entirely abandoned when Yeltsin fired Soskovets as his campaign manager.[1] As was detailed previously, new campaign leadership was added to the campaign, and a new strategy was being adopted.[1]
Yeltsin's candidacy was officially filed on April 3.[37] That same day, Democratic Russia leaders Lev Ponomaryov and Gleb Yakunin gave Yeltsin their personal endorsements, and encouraged members of their party to follow their lead.[37]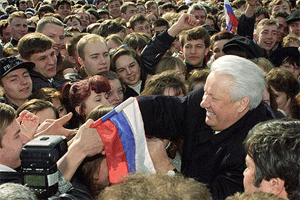 Boris Yeltsin at his campaign's first official rally on April 4 in Belgorod. Belgorod was seen as a communist stronghold. In the 1995 legislative election, 35% of its electorate had voted for the Communist Party in its party list vote, and they had elected in their single-district vote Nikolai Ryzhkov[37] (Yeltsin's closest opponent in the 1991 presidential election).
Immediately after officially filing his candidacy, Yeltsin launched his first campaign tour.[6] He decided to travel to southern Russia's agricultural region, home to the Red Belt (where the Communists were particularly strong).[38][6] He began his travels with a trip to the city of Belgorod.[37] On his visit, Yeltsin was greeted with unexpectedly warm reception. Thereafter, the Yeltsin campaign staff arranged an exhaustive travel schedule for the president and Yelstin campaigned vigorously, maintaining a high media profile.[3][8][6][39]
Yeltsin traveled around the country and visited factories, met with voters.[40][41] As an advantage of his incumbency, Yeltsin had the liberty of traveling on the presidential jet. In contrast, Zyuganov had to travel by commercial flights.[30]
Many of Yeltsin's early stump speeches had a forward-looking tone, promising a better future for all Russians, and seeking to reposition him as a unifying force in Russian politics.[6] In an April speech Yeltsin said,
"We have ceased to see the world in terms of red and white. Before our eyes, it has become multicolored, vivid, and bright."[6]
Yeltsin worked diligently to convince Russian voters that he would be able to make it to the second round of the election and defeat Zyuganov. He was publicly dismissive of suggestions that a third force might coalesce.[21]
In April, for the first time a number of polls were showing Yeltsin leading Zyuganov. Polls also showed that Yeltsin's support was higher amongst younger, urban, and higher-income Russians, while Zyuganov's support was higher amongst older, poorer, and rural voters.[31] Polling showed signs that Yeltsin had likely benefited some from his recent announcement of plans to peacefully end the conflict in Chechnya.[31] Yeltsin also was benefiting from the Communist Party running a relatively poor campaign. The Communists had been rather unsuccessful in their marketing of Zyuganov's candidacy, failing to create appealing messaging.[31]
During the nation's Victory Day Celebration, Yeltsin gave an address to crowds in Red Square from atop Lenin's Tomb. He praised the Russian people, Russian soldiers, and the Allies (unlike Zyuganov, who failed to acknowledge the allied forces in the speech he delivered across town). After delivering his speech, Yeltsin broke with tradition and became the first Russian leader in 51 years to leave Moscow during the Victory Day celebration. Following a brief meeting with veterans in Gorky Park, he flew to Volgograd (Stalingrad), the site of some of the fiercest fighting during the war. Yeltsin said that, although the Volgograd region had consistently voted Communist in past elections, he felt morally obligated to visit the site due to its importance. Upon arriving in Volgograd, Yeltsin was reportedly greeted by crowds carrying signs saying "We love you" and "Yeltsin is a democrat."Victory Day Celebration: From atop Lenin's tomb, President Yeltsin addressed the crowds in Red Square celebrating the 51st anniversary of the end of World War II. Yeltsin praised the Russian people, Russian soldiers, and unlike his Communist rival speaking across town, the Allies. Yeltsin also called attention the recently reinstated red flag labeling it "a living link between the generations." He then became the first Russian leader in 51 years to leave Moscow during the Victory Day celebration. After meeting briefly with veterans in Gorky Park, Yeltsin flew to Volgograd (Stalingrad), site of some of the fiercest fighting during the war. Yeltsin explained, although the region has consistently voted Communist in recent elections, he felt morally obligated to visit a site of such importance. According to the government's ITAR-TASS press agency, crowds greeted Yeltsin carrying signs saying "We love you" and "Yeltsin is a democrat."[42]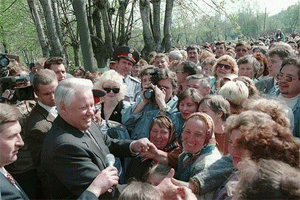 Yelstin campaigning on May 7
In early May, Yeltsin refused Zyuganov's challenge to hold a debate, saying,
I was a Communist for 30 years and had so much of that demagoguery that today, with my democratic views, I cannot bear this demagoguery any more...For this reason, I don't need the debate with Zyuganov. I stick to my beliefs, while he wants to drag the country backward.[42]
He went on to say, he did not have time to debate all of the ten candidates, and it would not be fair to debate just one.[42]
Over the Victory Day (May 9th) weekend, Yeltsin's campaign began a heavy advertising campaign. This was in violation of election laws, which mandated that candidates could not run television, billboard, or radio advertisements earlier than March 15.[16] The advertisements were created for the campaign by the Russian advertising firm Video International.[16] The advertisements starred veterans, and were commissioned by the Igor Malashenko (who was in charge of the campaign's image management and television advertising) to serve as the first step of an effort to Yeltsin's image among older voters.[1][16]
In May, Yeltsin's campaign saw a boost when The World Bank provided Russia a loan.[43] Yeltsin's campaign got a boost from the announcement of a $10 billion loan to the Russian government from the International Monetary Fund.[8] Yeltsin used trillions of rubles from the IMF loans to begin repaying government debt to state employees.[44]
At the May 17 CIS Summit in Moscow, leaders of the other nations that formerly composed the Soviet Union offered their collective endorsement of Yeltsin's candidacy.[44]
Yeltsin's campaign received a boost when on May 27, he and acting Chechen President Zelimkhan Yandarbiyev signed a cease-fire. Following the signing ceremony, Yeltsin boarded a plane and immediately embarked on a surprise six-hour trip to Chechnya, where he visited soldiers and declared victory. This fulfilled a promise that Yeltsin had made that he would personally visit war-torn Chechnya before the day of the election.[44]
On May 31, Yeltsin unveiled his official campaign platform in the city of Perm. The choice of location made headlines, as Perm was widely seen to favor the Communist Party.[19] Perm was also thought to be especially unlikely to support Yeltsin because both the Liberal Democratic Party and the Communist Party had beaten pro-Yeltsin parties there months earlier in the 1995 legislative election.[19] Yeltsin's campaign took a gamble by choosing to actively campaign in Perm, which ultimately paid-off when Yeltsin won the majority of its vote in the first round of the election, defeating Zyuganov by a wide-margin.[19]
Summer 1996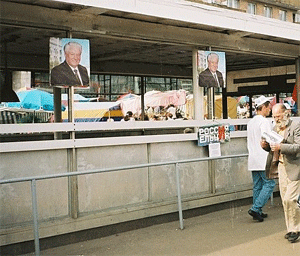 Campaign advertisements grace the Moscow Metro ahead of the June election
By the summer of 1996, all major polls showed Yeltsin making notable gains.[44]
Back in April, Filatov sought for the campaign to avoid anti-communist campaigning (as this risked providing Zyuganov free publicity). However, by June, he had revised his approach, and the campaign issued direct criticism of the Communist platform.[6]
Near the end of the campaign, Dzhokhar Dudayev's widow endorsed Yeltsin for President of Russia. This further neutralized criticisms of his handling of the Chechen War.[5]
The campaign held GOTV in the run up to the day of the election. This included organizing rock concerts aimed at increasing youth turnout.[19][30] A June concert at Red Square drew 100,000 attendees.[30] In cities such as Perm, concerts were held the weekend prior to the election.[19]
Result of the first round
The government's decision to allow a wide election-day voting window (with polls open from 8 AM to 10 PM) was believed to allow for a greater voter turnout. Experts speculated that a stronger turnout would benefit Yeltsin's campaign.[19]
Yeltsin confidently issued predictions that he would place first in the first-round. However, his campaign's leaders kept their cards fair closer to their chest. Ultimately, Yeltsin did win the first round, albeit by only 3 percentage points. In carrying 35% Yeltsin placed between five and ten points lower than public polling had predicted he would. However, he had placed relatively near the projections of the campaign's internal polling.[1]
Many in Yeltsin's camp were actually happy that the result was close. They believed that a close margin would help motivate pro-reformist voters to participate in the second round of voting. They had feared a landslide first-round result in his favor would lead Yeltsin's supporters to be less motivated to vote in the second round.[1]
Some viewed Yeltsin as benefiting from Russian voters in the 1996 election possessing a greater concern with choosing the candidate that championed the political and economic future that they preferred with Russia, rather than evaluating the incumbent's performance.[1]
Yeltsin had also benefited from the inadequacy of his opponents' campaign efforts. Much of the opposition were mired with technical ineptness, ideological confusion, and political baggage. Many of his opponents became their own enemies, making it completely unnecessary for Yeltsin to concentrate any efforts on combatting their candidacies.[3]
Campaigning in the second round
After the results of the first round were announced, Yeltsin's campaign publicly expressed confidence that was that Yeltsin was going to win the next round, declaring their belief that most of Yavlinski, Zhirinovski, Lebed and Fyodorov's supporters were going to vote for Yeltsin in the second round.[43] To emphasize this anticipated coalition of support, Yeltsin's campaign adopted the slogan "Now we are united!"[43]
Two days after the first round of voting, Yeltsin hired Alexander Lebed as his national security advisor and, in return, received Lebed's endorsement.[1][3][45][5][46][47][48] During the first round, Yeltsin had brokered a secretive arrangement in which Lebed had agreed to support him in the second round.[3]
Entering the second round, the predominate concerns of voters were the war in Chechnya, skyrocketing prices, unemployment, and economic decline. Voters also desired for whoever won the presidency to oversee timely control over the payment of pensions and salaries and achieve peace in Chechnya.[43] Yeltsin's campaign aimed to convince voters that Yeltsin was successfully implementing measures to address all of these concerns. They also sought to convince the voters that Russia would not suffer a second Perestroika.[43]
Early in the runoff, the campaign encountered major road bumps. Days after the first round the campaign had to handle controversy in the fallout of the Xerox Affair.[47] Additionally, Yeltsin's health presented significant obstacle to the campaign.[1]
In addition to firings related to the aforementioned Xerox Affair, there were a number of other shakeups in Yeltsin's presidential administration. Yeltsin fired Pavel Grachev, at the request of Lebed.[49]
A week into the runoff campaign, Yeltsin fell ill upon returning from a campaign visit to Kaliningrad.[3] Yeltsin himself publicly insisted it was merely a cold or sore throat.[38] Despite their heavy efforts to cover-up Yeltsin's health problems, the campaign failed to entirely conceal from the public that the president's health had deteriorated significantly over the course of the campaign.[45] Rumors variably alleged that Yeltsin was, in fact, suffering from exhaustion, a breakdown, or depression.[3] Months after the election, it would be disclosed that he had, in fact, suffered a heart attack.[1][50]
For a period of time after the heart attack, Yeltsin ceased making campaign appearance and disappeared from public view. To cover up Yeltsin's absence, Yeltsin's campaign team created a "virtual Yeltsin" shown in the media through staged interviews that never happened and pre-recorded radio addresses.[51] He later returned to the campaign trail, however, with a drastically lighter travel itinerary than he had in the first round.[1][48]
During the runoff campaign, one of the advertising agencies working for Yeltsin's campaign printed over a million adhesive-backed posters with Zyuganov's image on them and the warning, "This could be your last chance to buy food!" These posters appealed to a genuine fear of hunger amongst the Russian populace, and were plastered on the windows of food markets all across the country. This proved to be an effective scare tactic.[3] Posters were printed by the campaign in the closing weeks which warned "The Communist Party hasn't changed its name and it won't change its methods".[6] By evoking unpleasant memories of communist rule, the campaign hoped to spur turnout amongst anticommunist voters and weaken the coalition between nationalists and Communists.[6]
Despite the tone of his campaign material, a little more than a week before Election Day, Yeltsin indicated a willingness to work with the Communists declaring that he was, "ready for dialogue and co-operation with all those for whom the fate of Russia is a top priority", including "honest Communists".
Near the close of the runoff campaign, Lebed became a burden to the campaign. Lebed made several incendiary remarks, which attracted controversey. On June 26, just a week before the election. While addressing an assembly of Cossacks on behalf of the campaign, Lebed said particular Russian religious sects, including Mormons, were "mold and scum" which had been "artificially brought into our country with the purpose of perverting, corrupting, and ultimately breaking up our state". In these remarks Lebed said that such "foul sects", needed to be outlawed be outlawed because they posed "a direct threat to Russia's security". He argued that Russia needed "established, traditional religions", which he named as being Russian Orthodoxy, Islam and Buddhism (noticeably omitting Judaism from this list of acceptable religions).[48]
On the day of the election, when Yeltsin made an appearance at a polling station in order to cast his own vote, he was described as appearing "shaky", drawing further concerns about his health.[45]
Result of the second round
Yeltsin won the final round of the election by a decisive margin, managing to defeat Zyuganov by nearly ten million votes.[45] On the night of the election, Zyuganov publicly conceded the race to Yeltsin, and congratulated him on his victory.[45]
Yelstin was re-inaugurated as President the following month.
Yeltsin's reelection defied a pattern amongst post-Soviet transition democracies of nationalists unseating incumbent leaders during their immediate bids for reelection.[22]
Platform and positions
Yeltsin was generally seen as representing the status quo, whereas Zyuganov was seen as opposing it.[1] On some issues Yeltsin was seen as being to the right of Zyuganov, whilst on other issues he was perceived as being to the left of Zyuganov.[1] Overall, however, Yeltsin was seen as a progressive or a liberal, while Zyuganov was seen as conservative.[1] Yeltsin was pro-reform, whilst Zyuganov was anti-reform.[1] Yeltsin was anticommunist, while Zyuganov was procommunist.[1] Yeltsin was a democrat, while Zyuganov was a nationalist.[1]
Yelstin was viewed as bolstering the causes of centrists, whilst Zyuganov was viewed as representing the nationalists.[1]
In early March, Soskovets, still the de-juror chairman of the campaign, publicly outlined the themes of Yeltsin's campaign as being, social support, strengthening Russian statehood, fighting crime, and emphasizing how government activities were promoting stability.[32]
On April 6 Yeltsin addressed a congress of his supporters. He announced that he would delay unveiling his campaign platform, until following month, claiming this was to prevent his opponents from "distorting or using" his program. However, Yeltsin did provide a very general overview of what his program might entail. He spoke on the themes of the family, fighting crime, ending the war in Chechnya, and strengthening CIS integration. Yeltsin promised that he would win so that "these elections will not be the last."[52]
On May 31, Yeltsin announced his official campaign program at an event in the city of Perm.[19] The platform was detailed in a 127-page document entitled Russia: Individual, Family, Society, State.[44]
His platform echoed much of his 1991 platform's rhetoric. It made promises to complete economic reform, to rewrite the tax code, compensate swindled investors, strengthen Russia's social welfare system and turn the nation's army into a modern professional fighting-force.[44]
In his platform, Yeltsin claimed to have pulled Russia back from the brink of catastrophe, bringing it toward a more definitive future. He took credit himself for overseeing the development of a multi-party democracy and the foundations of a liberal-market economy. He also credited himself for keeping Russia's territorial integrity intact, and reintegrating Russia with the world.[44]
In his platform, Yeltsin wrote,
As president I know better than most how difficult life is for you at the moment. I feel all your pain, all the country's pain. However, I am sure that this is the pain of a recovering organism.