"Crack King" (Freeway Ricky Ross)
by Myra Panache
© 2016
NOTICE: THIS WORK MAY BE PROTECTED BY COPYRIGHT
YOU ARE REQUIRED TO READ

THE COPYRIGHT NOTICE AT THIS LINK

BEFORE YOU READ THE FOLLOWING WORK, THAT IS AVAILABLE SOLELY FOR PRIVATE STUDY, SCHOLARSHIP OR RESEARCH PURSUANT TO 17 U.S.C. SECTION 107 AND 108. IN THE EVENT THAT THE LIBRARY DETERMINES THAT UNLAWFUL COPYING OF THIS WORK HAS OCCURRED, THE LIBRARY HAS THE RIGHT TO BLOCK THE I.P. ADDRESS AT WHICH THE UNLAWFUL COPYING APPEARED TO HAVE OCCURRED. THANK YOU FOR RESPECTING THE RIGHTS OF COPYRIGHT OWNERS.
Introduction:
Rayful Edmond, III may have introduced crack cocaine to the East Coast (Washington, D.C.) but 'Freeway'
Ricky Ross has the distinction of introducing crack to the West Coast (Los Angeles). Ross was also the first person to cook up powdered cocaine into 'rocks,' he invented this process, calling it, 'ready rock.'
Ross grossed $3 million dollars per day in drug profits despite being illiterate, he couldn't read or write.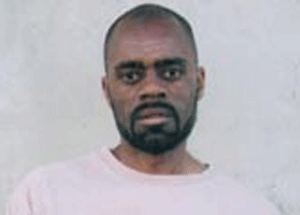 "CRACK KING" (FREEWAY RICKY ROSS):
Ricky Donnell Ross (pictured above) grew up poor in Troup, Texas. He and his family moved to South Central, Los Angeles.
Ross was a talented tennis player at Dorsey High in the 1970's. His dream of a college scholarship evaporated when his coach discovered he could neither read nor write.
Ross dropped out of school and attended a trade center where he learned to bind books. To pay his bills, Ross picked up a side racket, stolen car parts. He was arrested in the late 70's for stealing a car and had to quit the trade center while the charges were pending.
During the Christmas holidays, a friend told Ross about a jet-set drug called cocaine, the friend also told Ross that the drug was going to be the new thing and everybody was doing it. At the time, in South Central, cocaine was virtually non-existent because it was the drug of the rich and famous. Intrigued, Ross set off to find out more about this drug.
Ross got connected through a former teacher who hooked him up with a South American contact who sold Ross inexpensive amounts of cocaine.
Ross would eventually head the first cocaine ring in South Central, grossing upwards to $3 million dollars per day.
Despite being the biggest drug deal to come up from the streets of South Central, Ross had a reputation for helping people out and giving money back to the community. He also drove flashy cars and wore expensive clothes and he never got high, he didn't drink or beat women.
He invested the money in millions of dollars worth of real estate, including houses, motels, theaters and several other businesses. His nickname 'Freeway,' came for the fact that he owned properties near the Harbor Freeway in Los Angeles.
Ross would set up five cookhouses, where he turned the powder into crack. The houses had huge steel vats of cocaine bubbling atop restaurant-size gas ranges.
Barry and I walked outside of the cafe so that we could talk privately. I asked Barry to level with me concerning the drugs and who was involved. I felt that Barry Seal was the only person I had met to date that I could get a straight answer out of. The following is what Barry Seal told me concerning the drugs in general and, more specifically, the destination of the drugs which we delivered to San Lorenzo on 9 and 10 April, 1985.

"The Contras needed weapons for their rebellion against the Sandinistas. When the CIA approached the Contras in the early 80's they promised total support in weapons, training, and money required to sustain the operations. This is what prompted the Nicaraguans to begin open recruiting against the Ortega-led Sandinista government. But, as time went on, the U.S. renigged on their promise to the rebels. Not only did the U.S. cut money needed for medical and food supplies for the Contra camps, but they also refused to provide the weaponry needed to stay alive. This left the Contras in a hell of a spot. William Casey met with Adolfo Colero and it was decided that the Contras would get the much needed money and weapons in exchange for cocaine. Casey put Ollie North over the project. North, at the CIAs promptings, recruited Seal to oversee delivery of the products, and a man named Ramon Navarro (Medellin Cartel) to train the Contras in the manufacturing process. Colero was the "point man" for the Contras. He dealt with Washington and others as needed. Contra leader Enrique Bermudez was tasked with getting the cocaine kitchens built and protected. Bermudez had solicited three other Contra commanders to assist in this project. Their names are Commander Fernando, Commander Franklin, and Commander Marlan. Ramon Navarro supplied the cocaine paste and raw coca leaves to the Contras. The U.S. provided the equipment. It was delivered to the camps by Chinook helicopters (CH-47) out of Ft. Campbell, Kentucky (159th Aviation Battalion). It was Barry's job to deliver the finished product and monies to destinations as dictated by Mr. North.

Barry gave me the names of his various drop points and told me to be very wary of North. "He'll give up his mamma if he has to!" was his comment concerning North's lack of honor. He also gave me the names of U.S. officials, politicians, and drug enforcement officials involved in the cocaine enterprise.

I asked him to be exact about the shipments so that I could better understand. He used the six coolers that we just delivered as his example. He said that these coolers and the coolers delivered the previous day would be taken to El Salvador. From El Salvador they would be taken to a site in Southern California. There it would be distributed in rock form called "crack." I made note of his comments and his "Boss Hog" list, as Barry called it, on the back of the flight plan concerning this specific flight. The notes were made on the evening of 10 April, 1985.

Transcription:

Delivered 6 coolers of cocaine to SLN. Met Bany Seal in C-123. Ramon Navarro was with Seal. Asked Seal what was up with the cocaine being made in contra camps. - Said it was a CIA OPN. This shipment was going to Calif to make a drug called crack. Seal said that the CIA planned to get all the niggers in the U.S. hooked on it & then throw 'em in prison. Said the $'s for the crack goes to buy weapons for the contras. Asked him who is involved -- he said it goes all the way to the white house. Said I could talk to the boss -- he'd be here (in Honduras) in a couple days. Took notes on back of AA. Msn request for RMTC. Will include with this flight plan. Msn RQ dtd 6 April.

-- The Chip Tatum Chronicles: Testimony of Government Drug Running, by Chip Tatum
Ross was being supplied with 100 kilos of cocaine a week, which was rocked up and distributed to major gangs in his area.
At wholesale prices, that's $65 million to $130 million worth of cocaine per year, depending on the going price of a kilo.
Ross expanded his empire to include: St. Louis, New Orleans, Texas, Kansas City, Oklahoma, Indiana and Seattle.
In city after city, local dealers either bought from Ross or got left behind. It didn't make a difference to Rick what anyone else was selling if for. It would just go in and undercut himself $10,000 a key.
Before long, the supplier was giving Ross hundreds of kilos of cocaine on consignment -- sell now, pay later -- strategy that aided in the expansion of Ross' crack empire.
In 1987, under pressure from a Task Force, Ross decided to retire from the drug trade and move to Cincinnati but he shelved these plans when he was approached and agreed to help a friend unload 13 kilos of cocaine, the friend offered the kilos to Ross for $10,000 per kilo.
Ross started during business in New York and Miami. In 1986, Ross was arrested on federal charges in Los Angeles for conspiracy to distribute cocaine in St. Louis. The case was later dismissed for lack of evidence.
In 1988, Ross allegedly attended a meeting in Kentucky, about the transportation of cocaine from Miami on an unknown date.
In 1989, the DEA tried to seize assets owned by Ross that were believed to be the proceeds of drug sales.
Ricky Ross also became the suspect in a bank robbery in Indianapolis, Indiana. A bank teller identified Ross from a photographic spread as the bank robber. The U.S. Attorney's Office in Indiana decline to prosecute the case.
Ross was suspected of another robbery for the theft of $337,673 in jewelry from the 'Shane Company' in Indianapolis.
Early investigative reports found that beginning in 1987, Ross had recruited young blacks from Los Angeles to travel to Cincinnati to sell cocaine and crack on the streets. Most of these people were reported gang members. The recruits were given apartments, beepers, cocaine and instructions on how to conduct street sales by using phone booths, pagers and mopeds. The drugs were stored in the trunks of parked cars placed around the neighborhoods. In Cincinnati, Ross was known as the "Six Million Dollar Man" because people perceived that he was making a fortune.
In June 1989, ten individuals, including Ross were indicted on drug charges in Cincinnati. After Ross was arrested on state charges in Los Angeles for assault on a police officer, he was transported back to Cincinnati and held without bail, pending trial on indictment.
Ross pled guilty to the charges in Cincinnati and was sentenced to 121 months in prison and three years supervised release -- a sentence within the guideline range.
After his release, he was arrested again in 1993 on a warrant issued from Smith County, Texas, arising out of the interception of a call in 1988, which Ross agreed to supply a cousin in Tyler, Texas with two kilos of cocaine. Ross pled no contest to the Texas state charges of conspiracy to possess cocaine and was sentenced to ten years to run concurrently with his federal sentence in Ohio. He was paroled in 1994 by the state of Texas.
After his release, Ross said he hoped to head back to his old neighborhood as soon as possible and devote his life to warning youngsters about the mistakes that kept him locked up for most of the last five years. Ross was reportedly broke, having lost his drug profits to attorney fees, shaky business deals and double-crossing rivals. Ross also stated that he learned to read and write in jail.
Ross didn't keep that promise to go clean, in 1996, Ross was sentenced to life imprisonment after being convicted of trying to purchase more than 100 kilograms of cocaine from a federal agent. The sentence was brought to a federal court of appeals where his sentence was reduced to 20 years. Ross is eligible for parole in two 2008.
Currently a movie is in pre-production based on his life, titled "Freeway" Ricky Ross. The movie is slated for a 2008 release.
Source: "Dark Alliance" series by Gary Webb