Bill Clinton Says Black Lives Matter Protesters Defend Gang Leaders, Crack Dealers
by Kevin Gosztola
April 8, 2016
NOTICE: THIS WORK MAY BE PROTECTED BY COPYRIGHT
YOU ARE REQUIRED TO READ

THE COPYRIGHT NOTICE AT THIS LINK

BEFORE YOU READ THE FOLLOWING WORK, THAT IS AVAILABLE SOLELY FOR PRIVATE STUDY, SCHOLARSHIP OR RESEARCH PURSUANT TO 17 U.S.C. SECTION 107 AND 108. IN THE EVENT THAT THE LIBRARY DETERMINES THAT UNLAWFUL COPYING OF THIS WORK HAS OCCURRED, THE LIBRARY HAS THE RIGHT TO BLOCK THE I.P. ADDRESS AT WHICH THE UNLAWFUL COPYING APPEARED TO HAVE OCCURRED. THANK YOU FOR RESPECTING THE RIGHTS OF COPYRIGHT OWNERS.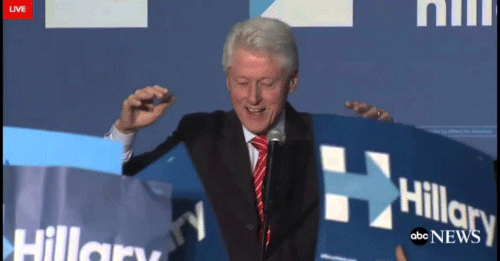 'Remarkably,' writes Gosztola, Bill Clinton undermined a previous apology by Hillary Clinton "by justifying her 'super-predator' comments and support for the crime legislation he signed into law." (Photo: YouTube/Screenshot)
Former President Bill Clinton accused protesters of
defending gang leaders and crack dealers
, who killed the black lives protesters say matter, while stumping for his wife, Hillary, at a presidential campaign event in Philadelphia.
The protesters from the movement for black lives were present to call attention to Clinton's crime policy, which increased sentencing minimums for federal offenses, and how young black Americans were criminalized as "super-predators." They also called attention to the devastating impact of welfare reform and policies in the War on Drugs, which Bill Clinton strengthened.
Bill Clinton responded, "I don't know how you would characterize the gang leaders, who got 13-year-olds hopped up on crack and sent them out in the street to murder other African American children. Maybe you thought they were good citizens. She didn't. She didn't. You are defending the people who killed the lives you say matter. Tell the truth."
RACISM AND CRACK

On October 30, 1995, President Clinton signed legislation preventing a reduction in federal mandatory minimum penalties for the possession of crack cocaine from taking effect, as recommended by the U.S. Sentencing Commission. The legislation overturning the recommendation of the U.S. Sentencing Commission passed the House 332 to 83 and was approved by the Senate unanimously. But the debate over the federal crack penalties -- five years in prison for five grams, or roughly 130 "rocks" of crack -- focused on two charges: (1) that the law was unjust because the crack penalties were two to six times higher than for a comparable quantity of powder cocaine; and most divisive of all, (2) that the law was racist because over 90 percent of those sentenced under it were black. When the Reverend Jesse Jackson addressed the Million Man March in Washington on October 16, he said of the federal crack law and its enforcement: "That's wrong. It's immoral. It's unfair. It's racist. It's ungodly. It must change." [44]

In fact, it is unlikely the controversy would have arisen if crack were a race-neutral plague. Unfortunately, in the crack trade, both predator and prey come disproportionately from black, inner-city communities. As noted above, cocaine-driven emergency room admissions for African-Americans are at historic high levels -- 900 percent above the rate for the population as a whole.

Yet Reverend Jackson and others maintained, against the evidence, that crack is no different than powder cocaine. And having played the race card, few national leaders ventured to challenge him with the facts:

• Crack is a much more powerful psychoactive agent than powder cocaine. Crack reaches the brain in just 19 seconds, making it far more addictive than snorted powder.

• Crack use is associated with the explosion in the most horrifying cases of child abuse in recent years. And while drug addiction has long been a path to prostitution, crack has created what is called on the street the "freak house" phenomenon, where female crack addicts (variously known as "rock stars" or "toss-ups") gather to trade sex for their next five-dollar piece of crack.

• Crack dealers are notorious for raising violent drug trafficking to new extremes: the trial of Washington, D.C.'s First Street Crew, for example, was marked by the shooting of eleven witnesses -- five of them fatally. When federal law enforcement agencies have assisted local officials in apprehending crack organizations like the First Street Crew, their actions disproportionately benefited minority inner-city residents who have to put up with the drive-by shootings and the unlivable neighborhoods. ...

And no one has credibly claimed that federal enforcement patterns reflect bias....

In fact, very few federal crack defendants are low-level, youthful, and nonviolent. According to the U.S. Sentencing Commission, of the 3,430 crack defendants convicted in 1994, there were just 51 youthful, small-time crack offenders with no prior criminal history and no weapons involvement (48 of the 51 were black). [46] And under the so-called safety valve provision of the 1994 Crime Act, which repealed mandatory minimum penalties for first-time, nonviolent offenders, cases similar to these 51 are now eligible for specially lenient sentences.

What the Reverend Jackson actually did in charging racism was to identify the interests of the black community with a small number of predatory criminals, instead of with the millions of inner-city residents who have equal rights to safe neighborhoods. He used race to argue for denying the protection of law to black Americans.

-- Body Count: Moral Poverty ... And How to Win America's War Against Crime and Drugs, by William J. Bennett, John J. Dilulio, Jr., John P. Walters
-- CIA: WE PUT THE COKE IN AMERICA

[Zach Weissmueller, Reason Magazine reporter] Hi, I'm Zach Weissmueller for Reason.tv. We're here with "Freeway" Rick Ross today. He was the notorious drug dealer from the 1980s who is widely credited with introducing crack cocaine on a mass scale in Los Angeles, and eventually nationwide. A federal judge sentenced Ross to life in prison for purchasing more than 100 kg of cocaine from a federal agent, but an Appeals Court found that this amounted to oversentencing, and Ross walked free in 2009. His latest autobiography tells the story of his rise to and fall from power. He'll be featured in an upcoming documentary "Freeway: Crack in the System," and he's portrayed by Michael K. Williams in the new movie "Kill the Messenger," about the late journalist Gary Webb....

One of the more controversial claims involves Oscar Danilo Blandon, a supplier who turned out to be a federal agent, and was the person who ultimately led to your downfall. You were a source for the journalist Gary Webb who claimed that Blandon was funneling cocaine money to the Contras either with the help of the CIA, or with a kind of turn the other cheek attitude for the CIA.

Do you stand by Webb's reporting?

["Freeway" Rick Ross] Since Gary has passed, you know, the CIA has come out and admitted that they were working with known drug traffickers. So now it's no longer this myth or perception that it may have happened or it may not have happened. It absolutely happened. The government admitted it. They put it in their own report.

[Zach Weissmueller, Reason Magazine reporter]Sometime it spins off into theories like, "Oh, the government purposely created the crack epidemic in L.A." You wouldn't go that far, would you?

["Freeway" Rick Ross] It doesn't matter if they purposely planned on doing that. What wound up happening is it flooded the ghettos of America. 600,000 Black men are in prison right now for non-violent crimes. Our prison industry has boomed. So that happened! You know, "why did it happen?; was it purposely targetted?" We may never know. Oliver North and those guys were given a pardon before they ever went to trial, so the evidence never came out.

[Zach Weissmueller, Reason Magazine reporter] Has the drug war, over the past 40 years, which is very much aligned with your life, been a success or a failure?

["Freeway" Rick Ross] You know, people ask me, "Oh, do you think drugs should be illegal?" I don't know. But what I do know is that the drug war that we're fighting right now is a total failure. There's more drugs on the streets of America than ever before. I think it's time to take all of these old people out of here who have been sitting back making money off the prison industry not caring if it's going to end the drug war.

[Zach Weissmueller, Reason Magazine reporter] You made millions of dollars selling drugs. How do you think your life would have been different if there had not been a war on drugs at that time?

["Freeway" Rick Ross] Well, without this artificial price that we put on cocaine, I wouldn't have been selling cocaine. You give a kid the opportunity to make $1,000 a week, rather than being broke, no less than going to MacDonalds and working for at that time $3.50 an hour, you know, which one would he choose?"
In February, after a Black Lives Matter activist confronted her at a fundraiser in South Carolina, Hillary Clinton apologized for calling black youth "super-predators" when she was First Lady. She said, "I shouldn't have used those words, and I wouldn't use them today." However, she did not repudiate the crime policies, which she supported in the 1990s.
Remarkably, Bill Clinton, one of her campaign's most valuable surrogates, undermined her February apology by justifying her "super-predator" comments and support for the crime legislation he signed into law.
"I had an assault weapons bill in it. I had money for inner city kids for out of school activities," Bill Clinton argued. "We had 110,000 police officers so we could put people on the street, not in these military vehicles, and the police would look like the people they're policing," he said, although
it must be noted that it was the Clinton administration which first authorized the Pentagon to sell military vehicles to police departments.
He maintained African American groups, who "thought black lives matter," told him to take the crime legislation and get it passed because their kids were being shot in the streets by gangs.
"We had 13 year-old kids planning their own funerals. She don't want to hear any of that," Clinton said, referring to one of the protesters. "You know what else she doesn't want to hear? Because of that bill, we had a twenty-five year low in crime, a thirty-three year low in the murder rate. And listen to this—because of that and a background check law, we had a forty-six year low in the deaths of people by gun violence, and who do you think those lives were that mattered? Whose lives were saved that mattered?"
Except, Bill Clinton's main talking point about the crime bill is a lie. It did not create the "twenty-five year low."
In September 2014, Glenn Kessler of The Washington Post did a fact check and gave the claim three Pinocchios. The Community Oriented Police Services (COPS), which funded tens of thousands of additional police, was only responsible for a "1.3 percent decline in the overall crime rate," according to the Government Accountability Office.
The COPS program was "not the primary or even secondary factor in
the dramatic reduction in crime during the 1990s," and the "precise reasons for which remain a mystery,"
Kessler wrote. Funding community police was not the "primary reason" for why the crime rate "went way down."
Michelle Alexander provided a robust critique against the policies of the Clintons in her post, "Why Hillary Clinton Doesn't Deserve Black People's Votes," which was published in early February. It highlighted the federal "three strikes" law," the creation of "dozens of new federal capital crimes," "100-to-1 sentencing disparity for crack versus powder cocaine, which produced staggering racial injustice," and the elimination of "Pell grants for prisoners seeking higher education," along with the signing of legislation, which imposed "a lifetime ban on welfare and food stamps for anyone convicted of a felony drug offense—an exceptionally harsh provision given the racially biased drug war that was raging in inner cities." The Clinton administration made it easier to deny public housing to anyone with a criminal record.
Rather than fully rehash Bill Clinton's record, let's focus on the right-wing nature of his statement about protesters supporting gang leaders and crack dealers, who were responsible for the deaths of black Americans.
One thing the Clintons have not confronted is the pseudo-science, which fueled the perception of "super-predators" who were responsible for high rates of crime in inner cities.
As Eddie Glaude, a professor and chair of the African American Studies Department at Princeton University, emphasized back in February, John DiIulio coined the term "super-predator" to create a "moral panic around a so-called 'new breed of criminal.'" However, his findings were proven incorrect. The data he relied upon was wrong. There were "no super-predators on the horizon."
"Bad social science drove public policy and ruined the lives of countless people," Glaude declared. Quite a number of black politicians supported this "bad social science," and DiIulio recanted his theory of "super-predators" in 2001. "If I knew then what I know now, I would have shouted for prevention of crimes," he said, when he was an aide for President George W. Bush.
To be clear, DiIulio's theory was the following, "America is now home to thickening ranks of juvenile 'super-predators'—radically impulsive, brutally remorseless youngsters, including ever more preteenage boys, who murder, assault, rape, rob, burglarize, deal deadly drugs, join gun-toting gangs, and create serious communal disorders."
None of this was addressed as wrong. Bill Clinton defended what everyone who supported the bill at the time thought, in the same way one might defend their vote for the Iraq War by pointing out that the majority of the political class supported the invasion.
Also, Bill Clinton defended his welfare reform bill, suggesting it contributed to the largest drop in poverty. This statement misrepresents what positive effects the legislation had for Americans.
In 2006, Joel Berg, executive director for the New York City Coalition Against Hunger who was part of Clinton's administration, argued, "Poverty reduction occurred despite the bill. The act was signed into law in the summer of 1996 and took full effect in 1997. According to the U.S. Census Bureau, between 1993 and 1997, there was a 25% (7.7 million person) drop in poverty. Between 1997 and 2000, poverty declined by 15%, a four million person decrease. In other words, poverty dropped more rapidly before welfare reform than after welfare reform."
Both Hillary and Bill Clinton are fond of noting Hillary's work with Marian Wright Edelman for the Children's Defense Fund. Bill Clinton mentioned her as he challenged the protesters. However, Edelman thought the welfare reform legislation was a "moment of shame," and her husband, Peter Edelman, resigned from the Clinton administration in protest against the bill.

As Peter Edelman described in an essay for The Atlantic in 1997, there was an effort to make cuts to balance the budget, but "the only deep, multi-year budget cuts" enacted were cuts affecting low-income Americans. A Department of Health and Human Services study found 2.6 million people, including 1.1 million children, would move into poverty. Eleven million families would lose income.
Finally, in one of the most cringe-inducing parts of Bill Clinton's remarks, he said, "All I know is this election's about the future. They're trying to blame her for something she didn't do. So, I'll tell you another story about a place where black lives matter: Africa."
[White Man] Go back to AFRICA!
He proceeded to tell a story about a picture from Dar es Salaam, Tanzania, which showed a crafts store called "The Hillary Clinton Store." Clinton suggested there was a store named after her in Tanzania because Hillary has "tripled" the number of Africans whose lives were saved from AIDS by lowering the costs of drugs.
The Clinton Health Access Initiative, which was responsible for the effort to lower the costs for drugs for AIDS, has been the subject of controversy. It "failed to disclose its donors from 2010 to 2013, violating an agreement Hillary Clinton forged with President Obama as a condition of becoming secretary of state," according to the Boston Globe.
As secretary of state, foreign contributions sharply increased. The Boston Globe conducted a review of donors that found "prominent examples of overlapping interests," involving corporations like Hewlett-Packard and German drug manufacturer Bayer AG.
In other words, the Clinton Health Access Initiative has been utilized to keep up the flow of corporate cash into the bank accounts of the Clintons and maintain mutually beneficial ties to corporations.
Plus, as the Boston Globe pointed out,
South African president Nelson Mandela signed a law in 1997, which "angered pharmaceutical companies because it allowed South Africa to import HIV/AIDS medicines from countries where the same drug sold for a lower price." Bill Clinton's administration "sided with U.S. drug companies and put South Africa on a trade watch list in 1998 and 1999."
This was apparently a moment in history when black lives in Africa didn't matter.
Copyright FDL Media Group ©, All Rights Reserved.