De Monarchia of Dante Alighieri
edited with translation and notes by Aurelia Henry
© 1904 by Aurelia Henry
NOTICE: THIS WORK MAY BE PROTECTED BY COPYRIGHT
YOU ARE REQUIRED TO READ

THE COPYRIGHT NOTICE AT THIS LINK

BEFORE YOU READ THE FOLLOWING WORK, THAT IS AVAILABLE SOLELY FOR PRIVATE STUDY, SCHOLARSHIP OR RESEARCH PURSUANT TO 17 U.S.C. SECTION 107 AND 108. IN THE EVENT THAT THE LIBRARY DETERMINES THAT UNLAWFUL COPYING OF THIS WORK HAS OCCURRED, THE LIBRARY HAS THE RIGHT TO BLOCK THE I.P. ADDRESS AT WHICH THE UNLAWFUL COPYING APPEARED TO HAVE OCCURRED. THANK YOU FOR RESPECTING THE RIGHTS OF COPYRIGHT OWNERS.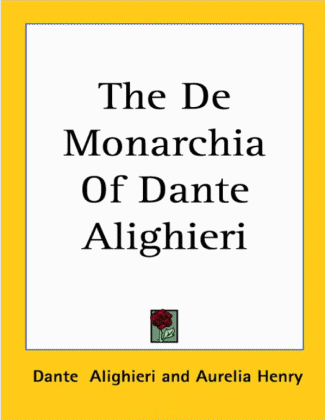 Soleva Roma, che il buon mondo feo,
Duo Soli aver, che l'una e l'altra strada
Facean vedere, e del mondo e di Deo.
-- PURGATORIO, xvi. 106

TO MY MOTHER, THIS LITTLE VOLUME OF FIRST FRUITS IS AFFECTIONATELY DEDICATED
Table of Contents:
• Preface
• Introduction
• BOOK I: WHETHER TEMPORAL MONARCHY IS NECESSARY FOR THE WELL-BEING OF THE WORLD
o I. Introduction
o II. To what end does government exist among all men?
o III. To actualize the whole capacity of the possible intellect in speculation and action
o IV. To attain this end humanity requires universal peace
o V. When several things are ordained for one end, one must rule and the others obey
o VI. The order which is found in the parts of the human race should be found in the race as a whole
o VII. The relation of kingdoms and nations to the monarch should be that of humanity to God
o VIII. Men are made in the image of God; but God is one
o IX. Men, as the sons of Heaven, should follow in the footprints of Heaven
o X. In order to settle all disputes a supreme judge is necessary
o XI. The world is best ordered when in it Justice is preeminent
o XII. Humanity is ordered for the best when most free
o XIII. He who is best adapted for ruling is the best director of other men
o XIV. What one agent can do is better done by one than by many
o XV. In every sort of thing that is best which is most one
o XVI. Christ willed to be born in the fullness of time when Augustus was Monarch
• BOOK II: WHETHER THE ROMAN PEOPLE RIGHTFULLY APPROPRIATED THE OFFICE OF MONARCHY
o I. Introduction
o II. What God wills in human society is to be held as right
o III. The Romans as the noblest people deserved precedence before all others
o IV. Because the Roman Empire was aided by miracles it was willed of God
o V. The Roman people in subduing the world had in view the good of the state and therefore the end of Right
o VI. He who purposes Right proceeds according to Right
o VII. The Roman people were ordained for Empire by nature
o VIII. The decree of God showed that Empire belonged to the Roman people
o IX. The Romans were victorious over all contestants for Empire
o X. That which is acquired by single combat is acquired with Right
o XI. The single combats of the Roman people
o XII. Christ in being born proved that the authority of the Roman Empire was just
o XIII. Christ in dying confirmed the jurisdiction of the Roman Empire over all humanity
• BOOK III: WHETHER THE AUTHORITY OF THE ROMAN MONARCH DERIVES FROM GOD IMMEDIATELY OR FROM SOME VICAR OF GOD
o I. Introduction
o II. God wills not that which is counter to the intention of nature
o III. Of the three classes of our opponents and the too great authority many ascribe to tradition
o IV. The opponents' argument adduced from the sun and moon
o V. Argument from the precedence of Levi over Judah
o VI. Argument from the election and deposition of Saul by Samuel
o VII. Argument from the oblation of the Magi
o VIII. Argument from the prerogative of the keys consigned to Peter
o IX. Argument from the two swords
o X. Argument from the donation of Constantine
o XI. Argument from the summoning of Charles the Great by Pope Hadrian
o XII. Argument from reason
o XIII. The Authority of the Church is not the source of Imperial authority
o XIV. The Church received power of transference neither from God, from herself, nor from any Emperor
o XV. The prerogative of conferring authority upon the Empire is contrary to the nature of the Church
o XVI. The authority of the Empire derives from God directly
• BIBLIOGRAPHY
• INDEX
Whoever contemplates the good of the state contemplates the end of Right....If, therefore, the Romans had in view the good of the state, the assertion is true that they had in view the end of Right.

That in subduing the world the Roman people had in view the aforesaid good, their deeds declare. We behold them as a nation holy, pious, and full of glory, putting aside all avarice, which is ever adverse to the general welfare, cherishing universal peace and liberty, and disregarding private profit to guard the public weal of humanity. Rightly was it written, then, that "The Roman Empire takes its rise in the fountain of pity."

Concerning corporate assemblies, in which individuals seem in a measure bound to the state, the solitary authority of Cicero in the second book of Moral Duties is sufficient. "So long," he says, "as the dominion of the Republic was upheld by benefits, not by injuries, war was waged in behalf either of allies or dominion, for a conclusion either beneficent or necessary, the Senate was a harbor of refuge for kings, peoples, and nations. Our magistrates and generals strove for praise in defending with equity and fidelity the provinces and the allies; so this government might rather have been called a defense than a dominion of the whole world."

Of individual persons I shall speak briefly. Can we say they were not intent on the common weal who in sweat, in poverty, in exile, in deprivation of children, in loss of limbs, and even in the sacrifice of their lives, strove to augment the public good?

Did not the renowned Cincinnatus leave to us a sacred example, when he freely chose the time to lay aside that dignity which, as Livy says, took him from the plough to make him dictator? After his victory, after his triumph, he gave back to the consuls the imperial sceptre, and voluntarily returned to toil at the plough handle behind his oxen. Cicero, disputing with Epicurus in his volume of the Chief Good, remembered and lauded this excellent action, saying, "And thus our ancestors took great Cincinnatus from the plough that he might become dictator."

And did not Brutus first teach that the love of sons and of all others should be subordinated to the love of national liberty? When he was consul, Livy says, he delivered up to death his own sons for conspiring with the enemy. In the sixth book our Poet revives the glory of this hero: "In behalf of beauteous liberty shall the father doom to death his own sons instigating new wars."

That people, then, which was victorious over all the contestants for Empire gained its victory by the decree of God. For as it is of deeper concern to God to adjust a universal contention than a particular one, and as even in particular contentions the decree of God is sought by the contestants, according to the familiar proverb, "To him whom God grants aught, let Peter give his blessing," therefore undoubtedly among the contestants for the Empire of the world, victory ensued from a decree of God. That among the rivals for world-Empire the Roman people came off victor will be clear if we consider the contestants and the prize or goal toward which they strove. This prize or goal was sovereign power over all mortals, or what we mean by Empire. This was attained by none save by the Roman people, not only the first but the sole contestant to reach the goal contended for.

The kingdom is apportioned by the sword, and the fortune of the mighty nation that is master over sea, over land, and over all the globe, suffers not two in command. Wars engaged in for the crown of Empire should be waged without bitterness.

If to contradict the truth thus manifested, the usual objection be raised concerning the inequality of men's strength, it may be refuted by the instance of David's victory over Goliath. And if the Gentiles seek another instance, they may refute it by the victory of Hercules over Antaeus.

Now let presumptuous jurists behold how far they stand beneath that watch-tower of reason whence the human mind looks out upon these principles, and let them be silent, content to give counsel and judgment according to the import of the law.

Thus far the argument has progressed through reason based chiefly on rational principles, but from now on it shall be re-demonstrated through the principles of Christian faith.

Now Christ willed to be born of a Virgin Mother under an edict of Roman authority, according to the testimony of Luke, his scribe, in order that the Son of Man, made man, might be numbered as a man in that unique census. This fulfilled the edict. It were perhaps more reverent to believe that the Divine Will caused the edict to go forth through Caesar, in order that God might number Himself among the society of mortals who had so many ages awaited His coming. So Christ in His action established as just the edict of Augustus, exerciser of Roman authority. Since to decree justly presupposes jurisdictional power, whoever confirms the justice of an edict confirms also the jurisdictional power whence it issued.

By the sin of Adam we are all sinners, according to the Apostle: "As by one man sin entered into the world, and death by sin, so death passed upon all men, for that all have sinned.'" If satisfaction had not been given for this sin through the death of Christ, we, owing to our depraved nature, should still be children of wrath.

For greater clearness, let it be understood that punishment is not simply penalty visited upon the doer of wrong, but penalty visited upon the doer of wrong by one having penal jurisdiction. Wherefore unless punishment is inflicted by a lawful judge, it is no punishment; rather must it be called a wrong. If therefore Christ did not suffer under a lawful judge, his penalty was not punishment. Lawful judge meant in that case one having jurisdiction over the entire human race, since all humanity was punished in the flesh of Christ, who, as the Prophet says, "hath borne our griefs and carried our sorrows." And Tiberius Caesar, whose vicar was Pilate, would not have possessed jurisdiction over the entire human race had not the Roman Empire existed by Right. Wherefore let those who pretend they are sons of the Church cease to defame the Roman Empire, to which Christ the Bridegroom gave His sanction both at the beginning and at the close of His warfare.

It must be understood that man alone of all beings holds the middle place between corruptibility and incorruptibility, and is therefore rightly compared by philosophers to the horizon which lies between the two hemispheres. Man may be considered with regard to either of his essential parts, body or soul. If considered in regard to the body alone, he is perishable; if in regard to the soul alone, he is imperishable.

If man holds a middle place between the perishable and imperishable, then, inasmuch as every mean shares the nature of the extremes, man must share both natures. And inasmuch as every nature is ordained for a certain ultimate end, it follows that there exists for man a twofold end, in order that as he alone of all beings partakes of the perishable and the imperishable, so he alone of all beings should be ordained for two ultimate ends.

Ineffable Providence has thus designed two ends to be contemplated of man: first, the happiness of this life, which consists in the activity of his natural powers, and is prefigured by the terrestrial Paradise; and then the blessedness of life everlasting, which consists in the enjoyment of the countenance of God, to which man's natural powers may not attain unless aided by divine light, and which may be symbolized by the celestial Paradise.

To these states of blessedness, just as to diverse conclusions, man must come by diverse means. To the former we come by the teachings of philosophy, obeying them by acting in conformity with the moral and intellectual virtues; to the latter through spiritual teachings which transcend human reason, and which we obey by acting in conformity with the theological virtues, Faith, Hope, and Charity. Now the former end and means are made known to us by human reason, which the philosophers have wholly explained to us; and the latter by the Holy Spirit, which has revealed to us supernatural but essential truth through the Prophets and Sacred Writers, through Jesus Christ, the coeternal Son of God, and through His disciples. Nevertheless, human passion would cast all these behind, were not men, like horses astray in their brutishness, held to the road by bit and rein.

Wherefore a twofold directive agent was necessary to man, in accordance with the twofold end; the Supreme Pontiff to lead the human race to life eternal by means of revelation, and the Emperor to guide it to temporal felicity by means of philosophic instruction. And since none or few -- and these with exceeding difficulty -- could attain this port, were not the waves of seductive desire calmed, and mankind made free to rest in the tranquillity of peace, therefore this is the goal which he whom we call the guardian of the earth and Roman Prince should most urgently seek; then would it be possible for life on this mortal threshing-floor to pass in freedom and peace.

-- De Monarchia of Dante Alighieri