The Genealogy of Morals
by Friedrich Nietzsche
Translated by Horace B. Samuel, M.A.
First published in 1887
NOTICE: THIS WORK MAY BE PROTECTED BY COPYRIGHT
YOU ARE REQUIRED TO READ

THE COPYRIGHT NOTICE AT THIS LINK

BEFORE YOU READ THE FOLLOWING WORK, THAT IS AVAILABLE SOLELY FOR PRIVATE STUDY, SCHOLARSHIP OR RESEARCH PURSUANT TO 17 U.S.C. SECTION 107 AND 108. IN THE EVENT THAT THE LIBRARY DETERMINES THAT UNLAWFUL COPYING OF THIS WORK HAS OCCURRED, THE LIBRARY HAS THE RIGHT TO BLOCK THE I.P. ADDRESS AT WHICH THE UNLAWFUL COPYING APPEARED TO HAVE OCCURRED. THANK YOU FOR RESPECTING THE RIGHTS OF COPYRIGHT OWNERS.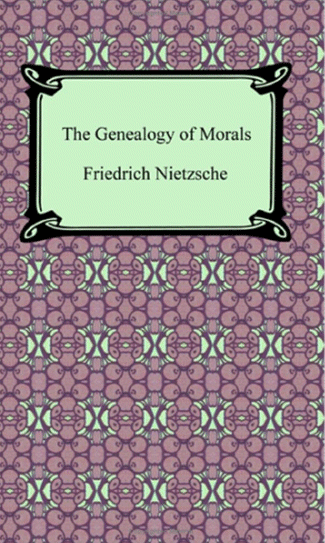 Table of Contents
• Editor's Note
• Preface
• First Essay: "Good and Evil," "Good and Bad"
• Second Essay: "Guilt," "Bad Conscience," and the Like
• Third Essay: What is the Meaning of Ascetic Ideals?
• Peoples and Countries
"Rome against Judaea, Judaea against Rome." Hitherto there has been no greater event than that fight, the putting of that question, that deadly antagonism. Rome found in the Jew the incarnation of the unnatural, as though it were its diametrically opposed monstrosity, and in Rome the Jew was held to be convicted of hatred of the whole human race: and rightly so, in so far as it is right to link the well-being and the future of the human race to the unconditional mastery of the aristocratic values, of the Roman values.... The Romans were the strong and aristocratic; a nation stronger and more aristocratic has never existed in the world, has never even been dreamed of; every relic of them, every inscription enraptures, granted that one can divine what it is that writes the inscription. The Jews, conversely, were that priestly nation of resentment par excellence, possessed by a unique genius for popular morals: just compare with the Jews the nations with analogous gifts, such as the Chinese or the Germans, so as to realise afterwards what is first rate, and what is fifth rate.

Which of them has been provisionally victorious. Rome or Judaea? but there is not a shadow of doubt; just consider to whom in Rome itself nowadays you bow down, as though before the quintessence of all the highest values ... to three Jews, as we know, and one Jewess (to Jesus of Nazareth, to Peter the fisher, to Paul the tent-maker, and to the mother of the aforesaid Jesus, named Mary). This is very remarkable: Rome is undoubtedly defeated. At any rate there took place in the Renaissance a brilliantly sinister revival of the classical ideal, of the aristocratic valuation of all things ... but immediately Judaea triumphed again, thanks to that fundamentally popular (German and English) movement of revenge, which is called the Reformation.... Judaea proved yet once more victorious over the classical ideal in the French Revolution ... and in opposition to resentment's lying war-cry of the prerogative of the most, in opposition to the will to lowliness, abasement, and equalisation, the will to a retrogression and twilight of humanity, there rang out once again, stronger, simpler, more penetrating than ever, the terrible and enchanting counter-war-cry of the prerogative of the few! Like a final sign-post to other ways, there appeared Napoleon, the most unique and violent anachronism that ever existed, and in him the incarnate problem of the aristocratic ideal in itself — consider well what a problem it is: — Napoleon, that synthesis of Monster and Superman.

***

[T]he fitting of a hitherto unchecked and amorphous population into a fixed form, starting as it had done in an act of violence, could only be accomplished by acts of violence and nothing else — that the oldest "State" appeared consequently as a ghastly tyranny, a grinding ruthless piece of machinery, which went on working, till this raw materials of a semi-animal populace was not only thoroughly kneaded and elastic, but also moulded. I used the word "State"; my meaning is self-evident, namely, a herd of blonde beasts of prey, a race of conquerors and masters, which with all its warlike organisation and all its organising power pounces with its terrible claws on a population, in numbers possibly tremendously superior, but as yet formless, as yet nomad. Such is the origin of the "State." That fantastic theory that makes it begin with a contract is, I think, disposed of. He who can command, he who is a master by "nature," he who comes on the scene forceful in deed and gesture — what has he to do with contracts? Such beings defy calculation, they come like fate, without cause, reason, notice, excuse, they are there as the lightning is there, too terrible, too sudden, too convincing, too "different," to be personally even hated....They are ignorant of the meaning of guilt, responsibility, consideration, are these born organisers; in them predominates that terrible artist-egoism, that gleams like brass, and that knows itself justified to all eternity, in its work, even as a mother in her child.

***

The Brandenburg nobility and the Prussian nobility in general (and the peasant of certain North German districts), comprise at present the most manly natures in Germany. That the manliest men shall rule: this is only the natural order of things.

***

What I observe with pleasure in the German is his Mephistophelian nature; but, to tell the truth, one must have a higher conception of Mephistopheles than Goethe had, who found it necessary to diminish his Mephistopheles in order to magnify his "inner Faust." The true German Mephistopheles is much more dangerous, bold, wicked, and cunning, and consequently more open-hearted.

***

A larger number of the higher and better-endowed men will, I hope, have in the end so much self-restraint as to be able to get rid of their bad taste for affectation and sentimental darkness, and to turn against Richard Wagner as much as against Schopenhauer. These two Germans are leading us to ruin; they flatter our dangerous qualities. A stronger future is prepared for us in Goethe, Beethoven, and Bismarck than in these racial aberrations.

***

I could wish that the counting mania and the superstitious belief in majorities were not established in Germany, as with the Latin races, and that one could finally invent something new even in politics! It is senseless and dangerous to let the custom of universal suffrage — which is still but a short time under cultivation, and could easily be uprooted — take a deeper root: whilst, of course, its introduction was merely an expedient to steer clear of temporary difficulties.

***

A giving-up of the English principle of the people's right of representation. We require the representation of the great interests.

***

The condition of Europe in the next century will once again lead to the breeding of manly virtues, because men will live in continual danger. Universal military service is already the curious antidote which we possess for the effeminacy of democratic ideas, and it has grown up out of the struggle of the nations.

***

Peace and laisser aller are not types of politics for which I have any respect. Ruling, and helping the highest thoughts to victory — the only things that can make me interested in Germany. England's small-mindedness is the great danger now on earth. I observe more inclination towards greatness in the feelings of the Russian Nihilists than in those of the English Utilitarians. We require an intergrowth of the German and Slav races, and we require, too, the cleverest financiers, the Jews, for us to become masters of the world.

***

We require an unconditional union with Russia, together with a mutual plan of action which shall not permit any English schemata to obtain the mastery in Russia. No American future!

***

With the freedom of travel now existing, groups of men of the same kindred can join together and establish communal habits and customs. The overcoming of "nations."

***

Enough; here, as in other matters, the coming century will be found following in the footsteps of Napoleon — the first man, and the man of greatest initiative and advanced views, of modern times. For the tasks of the next century, the methods of popular representation and parliaments are the most inappropriate imaginable.

***

The sick are the great danger of man, not the evil, not the "beasts of prey." They who are from the outset botched, oppressed, broken, those are they, the weakest are they, who most undermine the life beneath the feet of man, who instil the most dangerous venom and scepticism into our trust in life, in man, in ourselves....What do they really want? At any rate to represent righteousness, love, wisdom, superiority, that is the ambition of these "lowest ones," these sick ones!...The sick woman especially: no one surpasses her in refinements for ruling, oppressing, tyrannising. The sick woman, moreover, spares nothing living, nothing dead; she grubs up again the most buried things (the Bogos say, "Woman is a hyena").

***

The reading from the vantage of a distant star of the capital letters of our earthly life, would perchance lead to the conclusion that the earth was the especially ascetic planet, a den of discontented, arrogant, and repulsive creatures, who never got rid of a deep disgust of themselves, of the world, of all life, and did themselves as much hurt as possible out of pleasure in hurting — presumably their one and only pleasure. Let us consider how regularly, how universally, how practically at every single period the ascetic priest puts in his appearance: he belongs to no particular race; he thrives everywhere; he grows out of all classes. Not that he perhaps bred this valuation by heredity and propagated it — the contrary is the case. It must be a necessity of the first order which makes this species, hostile, as it is, to life, always grow again and always thrive again. — Life itself must certainly have an interest in the continuance of such a type of self-contradiction. For an ascetic life is a self-contradiction: here rules resentment without parallel, the resentment of an insatiate instinct and ambition, that would be master, not over some element in life, but over life itself, over life's deepest, strongest, innermost conditions; here is an attempt made to utilise power to dam the sources of power; here does the green eye of jealousy turn even against physiological well-being, especially against the expression of such well-being, beauty, joy, while a sense of pleasure is experienced and sought in abortion, in decay, in pain, in misfortune, in ugliness, in voluntary punishment, in the exercising, flagellation, and sacrifice of the self. All this is in the highest degree paradoxical: we are here confronted with a rift that wills itself to be a rift, which enjoys itself in this very suffering, and even becomes more and more certain of itself, more and more triumphant, in proportion as its own presupposition, physiological vitality, decreases....

Granted that such an incarnate will for contradiction and unnaturalness is induced to philosophise; on what will it vent its pet caprice? On that which has been felt with the greatest certainty to be true, to be real; it will look for error in those very places where the life instinct fixes truth with the greatest positiveness. It will, for instance, after the example of the ascetics of the Vedanta Philosophy, reduce matter to an illusion, and similarly treat pain, multiplicity, the whole logical contrast of "Subject" and "Object" — errors, nothing but errors! To renounce the belief in one's own ego, to deny to one's self one's own "reality" — what a triumph! and here already we have a much higher kind of triumph, which is not merely a triumph over the senses, over the palpable, but an infliction of violence and cruelty on reason....But let us, forsooth, my philosophic colleagues, henceforward guard ourselves more carefully against this mythology of dangerous ancient ideas, which has set up a "pure, will-less, painless, timeless subject of knowledge"; let us guard ourselves from the tentacles of such contradictory ideas as "pure reason," "absolute spirituality," "knowledge-in-itself": — in these theories an eye that cannot be thought of is required to think, an eye which ex hypothesi has no direction at all, an eye in which the active and interpreting functions are cramped, are absent; those functions, I say, by means of which "abstract" seeing first became seeing something; in these theories consequently the absurd and the nonsensical is always demanded of the eye. There is only a seeing from a perspective, only a "knowing" from a perspective, and the more emotions we express over a thing, the more eyes, different eyes, we train on the same thing, the more complete will be our "idea" of that thing, our "objectivity." But the elimination of the will altogether, the switching off of the emotions all and sundry, granted that we could do so, what! would not that be called intellectual castration?... "Life turned against Life," is — so much is absolutely obvious — from the physiological and not now from the psychological standpoint, simply nonsense....the ascetic ideal springs from the prophylactic and self-preservative instincts which mark a decadent life....it points to a partial physiological depression and exhaustion, against which the most profound and intact life-instincts fight ceaselessly with new weapons and discoveries. The ascetic ideal is such a weapon: its position is consequently exactly the reverse of that which the worshippers of the ideal imagine — life struggles in it and through it with death and against death; the ascetic ideal is a dodge for the preservation of life....The ascetic priest is the incarnate wish for an existence of another kind, an existence on another plane, — he is, in fact, the highest point of this wish, its official ecstasy and passion: but it is the very power of this wish which is the fetter that binds him here; it is just that which makes him into a tool that must labour to create more favourable conditions for earthly existence, for existence on the human plane — it is with this very power that he keeps the whole herd of failures, distortions, abortions, unfortunates, sufferers from themselves of every kind, fast to existence, while he as the herdsman goes instinctively on in front. You understand me already: this ascetic priest, this apparent enemy of life, this denier — he actually belongs to the really great conservative and affirmative forces of life....His "nay," which he utters to life, brings to light as though by magic an abundance of graceful "yeas"; even when he wounds himself, this master of destruction, of self-destruction, it is subsequently the wound itself that forces him to live.

***

[F]or what purpose did Nature give me my foot? — To kick, by St. Anacreon, and not merely to run away! To trample on all the worm-eaten "chairs," the cowardly contemplators, the lascivious eunuchs of history, the flirters with ascetic ideals, the righteous hypocrites of impotence! All reverence on my part to the ascetic ideal, in so far as it is honourable! So long as it believes in itself and plays no pranks on us! But I like not all these coquettish bugs who have an insatiate ambition to smell of the infinite, until eventually the infinite smells of bugs; I like not the whited sepulchres with their stagey reproduction of life; I like not the tired and the used up who wrap themselves in wisdom and look "objective"; I like not the agitators dressed up as heroes, who hide their dummy-heads behind the stalking-horse of an ideal; I like not the ambitious artists who would fain play the ascetic and the priest, and are at bottom nothing but tragic clowns; I like not, again, these newest speculators in idealism, the Anti-Semites, who nowadays roll their eyes in the patent Christian-Aryan-man-of-honour fashion, and by an abuse of moralist attitudes and agitation dodges, so cheap as to exhaust any patience, strive to excite all the blockhead elements in the populace (the invariable success of every kind of intellectual charlatanism in present-day Germany hangs together with the almost indisputable and already quite palpable desolation of the German mind, whose cause I look for in a too exclusive diet, of papers, politics, beer, and Wagnerian music, not forgetting the condition precedent of this diet, the national exclusiveness and vanity, the strong but narrow principle, "Germany, Germany above everything," and finally the paralysis agitans of "modern ideas").

***

The ascetic ideal has an aim — this goal is, putting it generally, that all the other interests of human life should, measured by its standard, appear petty and narrow....Where is the counterpart of this complete system of will, end, and interpretation? Why is the counterpart lacking? Where is the other "one aim"? But I am told it is not lacking, that not only has it fought a long and fortunate fight with that ideal, but that further it has already won the mastery over that ideal in all essentials: let our whole modern science attest this — that modern science, which, like the genuine reality-philosophy which it is, manifestly believes in itself alone, manifestly has the courage to be itself, the will to be itself, and has got on well enough without God, another world, and negative virtues.

With all their noisy agitator-babble, however, they effect nothing with me; these trumpeters of reality are bad musicians, their voices do not come from the deeps with sufficient audibility, they are not the mouthpiece for the abyss of scientific knowledge — for to-day scientific knowledge is an abyss — the word "science," in such trumpeter-mouths, is a prostitution, an abuse, an impertinence. The truth is just the opposite from what is maintained in the ascetic theory. Science has to-day absolutely no belief in itself, let alone in an ideal superior to itself, and wherever science still consists of passion, love, ardour, suffering it is not the opposition to that ascetic ideal, but rather the incarnation of its latest and noblest form. Does that ring strange? There are enough brave and decent working people, even among the learned men of to-day, who like their little corner, and who, just because they are pleased so to do, become at times indecently loud with their demand, that people to-day should be quite content, especially in science — for in science there is so much useful work to do. I do not deny it — there is nothing I should like less than to spoil the delight of these honest workers in their handiwork; for I rejoice in their work. But the fact of science requiring hard work, the fact of its having contented workers, is absolutely no proof of science as a whole having to-day one end, one will, one ideal, one passion for a great faith; the contrary, as I have said, is the case. When science is not the latest manifestation of the ascetic ideal — but these are cases of such rarity, selectness, and exquisiteness, as to preclude the general judgment being affected thereby — science is a hiding-place for every kind of cowardice, disbelief, remorse, despectio sui, bad conscience — it is the very anxiety that springs from having no ideal, the suffering from the lack of a great love, the discontent with an enforced moderation. Oh, what does all science not cover to-day? How much, at any rate, does it not try to cover? The diligence of our best scholars, their senseless industry, their burning the candle of their brain at both ends — their very mastery in their handiwork — how often is the real meaning of all that to prevent themselves continuing to see a certain thing? Science as a self-anaesthetic: do you know that?

***

[A]rt, I repeat, in which lying is sanctified and the will for deception has good conscience on its side, is much more fundamentally opposed to the ascetic ideal than is science...Consider the periods in a nation in which the learned man comes into prominence; they are the periods of exhaustion, often of sunset, of decay -- the effervescing strength, the confidence in life, the confidence in the future are no more. The preponderence of the mandarins never signifies any good, any more than does the advent of democracy, or arbitration instead of war, equal rights for women, the religion of pity, and all the other symptoms of declining life....Has there not been since the time of Copernicus an unbroken progress in the self-belittling of man and his will for belittling himself? Alas, his belief in his dignity, his uniqueness, his irreplaceableness in the scheme of existence, is gone — he has become animal, literal, unqualified, and unmitigated animal, he who in his earlier belief was almost God ("child of God," "demi-God"). Since Copernicus man seems to have fallen on to a steep plane — he rolls faster and faster away from the centre — whither? into nothingness? into the "thrilling sensation of his own nothingness"? — Well! this would be the straight way — to the old ideal?

***

[Man's] problem was not suffering itself, but the lack of an answer to that crying question, "To what purpose do we suffer?" Man, the bravest animal and the one most inured to suffering, does not repudiate suffering in itself: he wills it, he even seeks it out, provided that he is shown a meaning for it, a purpose of suffering. Not suffering, but the senselessness of suffering was the curse which till then lay spread over humanity — and the ascetic ideal gave it a meaning! It was up till then the only meaning; but any meaning is better than no meaning; the ascetic ideal was in that connection the "faute de mieux" par excellence that existed at that time. In that ideal suffering found an explanation; the tremendous gap seemed filled; the door to all suicidal Nihilism was closed. The explanation — there is no doubt about it — brought in its train new suffering, deeper, more penetrating, more venomous, gnawing more brutally into life: it brought all suffering under the perspective of guilt; but in spite of all that — man was saved thereby, he had a meaning, and from henceforth was no more like a leaf in the wind, a shuttle-cock of chance, of nonsense, he could now "will" something — absolutely immaterial to what end, to what purpose, with what means he wished: the will itself was saved. It is absolutely impossible to disguise what in point of fact is made clear by complete will that has taken its direction from the ascetic ideal: this hate of the human, and even more of the animal, and more still of the material, this horror of the senses, of reason itself, this fear of happiness and beauty, this desire to get right away from all illusion, change, growth, death, wishing and even desiring — all this means — let us have the courage to grasp it — a will for Nothingness, a will opposed to life, a repudiation of the most fundamental conditions of life, but it is and remains a will!

***

We "knowers" have grown by degrees suspicious of all kinds of believers.

***

You already guess it, I do not like the "New Testament"; it almost upsets me that I stand so isolated in my taste so far as concerns this valued, this over-valued Scripture; the taste of two thousand years is against me; but what boots it! "Here I stand! I cannot help myself"— I have the courage of my bad taste. The Old Testament — yes, that is something quite different, all honour to the Old Testament! I find therein great men, an heroic landscape, and one of the rarest phenomena in the world, the incomparable naivete of the strong heart; further still, I find a people. In the New, on the contrary, just a hostel of petty sects, pure rococo of the soul, twisting angles and fancy touches, nothing but conventicle air, not to forget an occasional whiff of bucolic sweetness which appertains to the epoch (and the Roman province) and is less Jewish than Hellenistic. Meekness and braggadocio cheek by jowl; an emotional garrulousness that almost deafens; passionate hysteria, but no passion; painful pantomime; here manifestly every one lacked good breeding. How dare any one make so much fuss about their little failings as do these pious little fellows!...They have an ambition which makes one laugh: the thing dishes up cut and dried his most personal life, his melancholies, and common-or-garden troubles, as though the Universe itself were under an obligation to bother itself about them, for it never gets tired of wrapping up God Himself in the petty misery in which its troubles are involved. And how about the atrocious form of this chronic hobnobbing with God? This Jewish, and not merely Jewish, slobbering and clawing importunacy towards God!

***

But some day, in a stronger age than this rotting and introspective present, must he in sooth come to us, even the redeemer of great love and scorn, the creative spirit, rebounding by the impetus of his own force back again away from every transcendental plane and dimension, he whose solitude is misunderstanded of the people, as though it were a flight from reality; — while actually it is only his diving, burrowing, and penetrating into reality, so that when he comes again to the light he can at once bring about by these means the redemption of this reality; its redemption from the curse which the old ideal has laid upon it. This man of the future, who in this wise will redeem us from the old ideal, as he will from that ideal's necessary corollary of great nausea, will to nothingness, and Nihilism; this tocsin of noon and of the great verdict, which renders the will again free, who gives back to the world its goal and to man his hope, this Antichrist and Antinihilist, this conqueror of God and of Nothingness — he must one day come.

***

[T]he courts and cloisters of the colossal temple of Artemis ... why do we lack such temples?

***

When the Christian Crusaders in the East came into collision with that invincible order of assassins, that order of free spirits par excellence, whose lowest grade lives in a state of discipline such as no order of monks has ever attained, then in some way or other they managed to get an inkling of that symbol and tallyword, that was reserved for the highest grade alone as their secretum, "Nothing is true, everything is allowed," — in sooth, that was freedom of thought, thereby was taking leave of the very belief in truth.

***

Unqualified honest atheism (and its air only do we breathe, we, the most intellectual men of this age) is not opposed to that ideal, to the extent that it appears to be; it is rather one of the final phases of its evolution, one of its syllogisms and pieces of inherent logic — it is the awe-inspiring catastrophe of a two-thousand-year training in truth, which finally forbids itself the lie of the belief in God. (The same course of development in India — quite independently, and consequently of some demonstrative value — the same ideal driving to the same conclusion the decisive point reached five hundred years before the European era, or more precisely at the time of Buddha — it started in the Sankhyam philosophy, and then this was popularised through Buddha, and made into a religion.)

***

This is our distrust, which recurs again and again; our care, which never lets us sleep; our question, which no one listens to or wishes to listen to; our Sphinx, near which there is more than one precipice: we believe that the men of present-day Europe are deceived in regard to the things which we love best, and a pitiless demon (no, not pitiless, only indifferent and puerile) — plays with our hearts and their enthusiasm, as it may perhaps have already played with everything that lived and loved; I believe that everything which we Europeans of to-day are in the habit of admiring as the values of all these respected things called "humanity," "mankind," "sympathy," "pity," may be of some value as the debilitation and moderating of certain powerful and dangerous primitive impulses. Nevertheless, in the long run all these things are nothing else than the belittlement of the entire type "man," his mediocrisation, if in such a desperate situation I may make use of such a desperate expression. I think that the commedia umana for an epicurean spectator-god must consist in this: that the Europeans, by virtue of their growing morality, believe in all their innocence and vanity that they are rising higher and higher, whereas the truth is that they are sinking lower and lower — i.e., through the cultivation of all the virtues which are useful to a herd, and through the repression of the other and contrary virtues which give rise to a new, higher, stronger, masterful race of men — the first-named virtues merely develop the herd-animal in man and stabilitate the animal "man," for until now man has been "the animal as yet unstabilitated."