STEPS TO AN ECOLOGY OF MIND: COLLECTED ESSAYS IN ANTHROPOLOGY, PSYCHIATRY, EVOLUTION AND EPISTEMOLOGY
by Gregory Bateson
© 1972, 1987 by Jason Aronson, Inc.
NOTICE: THIS WORK MAY BE PROTECTED BY COPYRIGHT
YOU ARE REQUIRED TO READ

THE COPYRIGHT NOTICE AT THIS LINK

BEFORE YOU READ THE FOLLOWING WORK, THAT IS AVAILABLE SOLELY FOR PRIVATE STUDY, SCHOLARSHIP OR RESEARCH PURSUANT TO 17 U.S.C. SECTION 107 AND 108. IN THE EVENT THAT THE LIBRARY DETERMINES THAT UNLAWFUL COPYING OF THIS WORK HAS OCCURRED, THE LIBRARY HAS THE RIGHT TO BLOCK THE I.P. ADDRESS AT WHICH THE UNLAWFUL COPYING APPEARED TO HAVE OCCURRED. THANK YOU FOR RESPECTING THE RIGHTS OF COPYRIGHT OWNERS.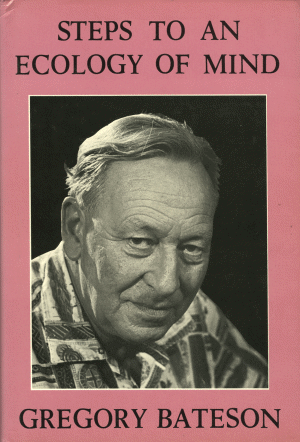 Table of Contents:
• Inside Front Cover
• 1971 Preface, Mark Engel
• 1987 Preface, Mary Catherine Bateson
• Foreword
• Introduction
• Part I: Metalogues
o Metaloque: Why Do Things Get in a Muddle?
o Metalogue: Why Do Frenchmen?
o Metalogue: About Games and Being Serious
o Metalogue: How Much Do You Know?
o Metalogue: Why Do Things Have Outlines?
o Metalogue: Why a Swan?
o Metaloque: What Is an Instinct?
• Part II: Form and Pattern in Anthropology
o Culture Contact and Schismogenesis
o Experiments in Thinking about Observed Ethnological Material
o Morale and National Character
 Differences Which We May Expect Between National Groups
 Alternatives to Bipolarity
 Symmetrical Motifs
 Combinations of Motifs
 National Character and American Morale
o Bali: The Value System of a Steady State
 "Ethos" and "Schismogenesis"
 Balinese Character
 Balinese Ethos
 Applications of the Von Neumannian Game
 Schismogenic System versus the Steady State
o Style, Grace, and Information in Primitive Art
 Introduction
 Style and Meaning
 Primary Process
 Quantitative Limits of Consciousness
 Qualitative Limits of Consciousness
 The Corrective Nature of Art
 Analysis of Balinese Painting
 Composition
o Comment on Part II
• Part III: Form and Pathology in Relationship
o Social Planning and the Concept of Deutero-Learning
o A Theory of Play and Fantasy
o Epidemiology of a Schizophrenia
o Toward a Theory of Schizophrenia
 The Base in Communications Theory
 The Double Bind
 The Effect of the Double Bind
 A Description of the Family Situation
 Illustrations from Clinical Data
 Current Position and Future Prospects
 Therapeutic Implications of this Hypothesis
 Additional References
o The Group Dynamics of Schizophrenia
 DUNKETT'S RAT-TRAP
o Minimal Requirements for a Theory of Schizophrenia
 Learning, Genetics, and Evolution
 Genetic Problems Posed by Double Bind Theory
 What Is Man?
o Double Bind, 1969
o The Logical Categories of Learning and Communication
 The Theory of Logical Types
 The "Learning" of Computers, Rats, and Men
 Learning I
 Learning II
 Learning III
 The Role of Genetics in Psychology
 A Note on Hierarchies
o The Cybernetics of "Self": A Theory of Alcoholism
 The Problem
 Sobriety
 Epistemology and Ontology
 The Epistemology of Cybernetics
 Alcoholic "Pride"
 Pride and Symmetry
 Pride or Inverted Proof?
 The Drunken State
 Hitting Bottom
 The Theology of Alcoholics Anonymous
 The Epistemological Status of Complementary and Symmetrical Premises
 Limitations of the Hypothesis
o Comment on Part III
• Part IV: Biology and Evolution
o On Empty-Headedness Among Biologists and State Boards of Education
o The Role of Somatic Change in Evolution
 Summary
o Problems in Cetacean and Other Mammalian Communication
 The Communication of Preverbal Mammals
 Methodological Considerations
 Communication About Relationship
 Analogic versus Digital Communication
 Research Plans
 Comments
o A Re-examination of "Bateson's Rule"
 Introduction
 The Problem Redefined
 Supernumerary Double Legs in Coleoptera
 Reduplicated Limbs in Amphibia
 Summary
 Postscript, 1971
o Comment on Part IV
• Part V: Epistemology and Ecology
o Cybernetic Explanation
o Redundancy and Coding
o Conscious Purpose versus Nature
o Effects of Conscious Purpose on Human Adaptation
o Form, Substance, and Difference
o Comment on Part V
• Part VI: Crisis in the Ecology of Mind
o From Versailles to Cybernetics
o Pathologies of Epistemology
o The Roots of Ecological Crisis
o Ecology and Flexibility in Urban Civilizations
 "A High Civilization"
 Flexibility
 The Distribution of Flexibility
 The Flexibility of Ideas
 Exercise of Flexibility
 The Transmission of Theory
o The Published Work of Gregory Bateson
 Books, Reviews and Articles
 Films
• Index
That the population explosion is the single most important problem facing the world today. As long as population continues to increase, we must expect the continuous creation of new threats to survival, perhaps at a rate of one per year, until we reach the ultimate condition of famine (which Hawaii is in no position to face). We offer no solution here to the population explosion, but we note that every solution which we can imagine is made difficult or impossible by the thinking and attitudes of Occidental culture.

(7) That the very first requirement for ecological stability is a balance between the rates of birth and death. For better or for worse, we have tampered with the death rate, especially by controlling the major epidemic diseases and the death of infants. Always, in any living (i.e., ecological) system, every increasing imbalance will generate its own limiting factors as side effects of the increasing imbalance. In the present instance, we begin to know some of Nature's ways of correcting the imbalance—smog, pollution, DDT poisoning, industrial wastes, famine, atomic fallout, and war. But the imbalance has gone so far that we cannot trust Nature not to overcorrect.

That the ideas which dominate our civilization at the present time date in their most virulent form from the Industrial Revolution. They may be summarized as: ... It's the individual (or the individual company, or the individual nation) that matters.

***

I suggest then that a healthy ecology of human civilization would be defined somewhat as follows: A single system of environment combined with high human civilization in which the flexibility of the civilization shall match that of the environment to create an ongoing complex system, open-ended for slow change of even basic (hard-programmed) characteristics.

***

A "high" civilization shall be limited in its transactions with environment. It shall consume unreplaceable natural resources only as a means to facilitate necessary change (as a chrysalis in metamorphosis must live on its fat). For the rest, the metabolism of the civilization must depend upon the energy income which Spaceship Earth derives from the sun. In this connection, great technical advance is necessary. With present technology, it is probable that the world could only maintain a small fraction of its present human population, using as energy sources only photosynthesis, wind, tide, and water power.

-- Steps to An Ecology of Mind: Collected Essays in Anthropology, Psychiatry, Evolution and Epistemology, by Gregory Bateson