CHAPTER 9: HOW THE KNIGHT TOOK AWAY HIS YOUNG WIFE
NEXT morning, as Huldbrand awoke from sleep his lovely companion was not at his side, and he began to return to those strange thoughts which pictured to him his marriage, and the enchanting Undine herself, as delusions and sorceries. But then she entered the room, kissed him, seated herself on the bed, and said, "I have been forth somewhat early, that I might see if my uncle keeps his word. He has already brought back all the waters into his quiet bed, and now runs as before, solitary and musing, through the forest. His friends in air and water have also gone to rest. All is again quiet and orderly in the neighbourhood; and thou canst journey home dry-foot as soon as thou wilt."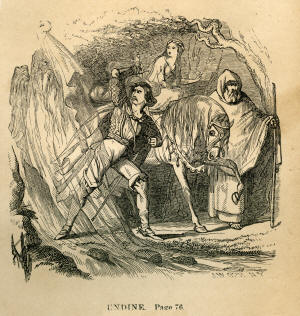 Huldbrand knew not whether he was awake or still dreaming, so little could he understand the strange kindred of his wife. Yet he made no remark; and soon the unspeakable grace of his gentle Undine lulled to rest every mysterious foreboding. As some time afterwards he stood with her at the door, and looked over the reappearing points of land, with their bright boundaries of water, he felt this cradle of his love so dear to him, that he said, "Why should we journey forth today? We shall find no happier days in the world out yonder than we spend in this quiet home. Let us see the sun go down here yet two or three times."
"As my lord desires," said Undine, with sweet humility. "It is only that the old people must part from me in sorrow; and if they discern in me a true soul, and know how heartily I can now love and honour them, the weak sight of their eyes will be quenched by the abundance of their tears. They still hold my quietness and gentleness for nothing better than what they once were -- the calm of the sea when the wind is hushed; and they will learn to take as much pleasure in a plant or flower as in me. Let me not show them this newly given heart, which overflows with love, in the very moment when they must lose it for this world; and how can I conceal it if we remain longer together?"
Huldbrand agreed to these words, and spoke to the old couple of the journey which he meant to undertake that very hour.
The priest offered to accompany the young pair; and after taking a short farewell, he and the knight lifted the beautiful wife on the horse, and hastily went towards the forest, along the dried-up course of the river. Undine wept silently but bitterly; the old people cried aloud; it seemed as if they had some glimmering idea of what they had lost in their sweet foster-child.
The three travellers had reached in silence the thickest shades of the wood. It was fair to see, under the green leafy vault, how the lovely lady sat on the noble, daintily decked steed; while, carefully guarding her, on one side walked the reverend priest, in the white dress of his order; on the other the blooming young knight, in brightly coloured clothes, girt with his splendid sword.
Huldbrand only looked at his sweet wife. Undine, who had dried her gentle tears, had eyes but for him; and they soon began a silent discourse of looks and gestures, from which they were at length aroused by a low conversation which the priest was holding with a fourth companion, who had joined them unobserved. He wore a white garment, almost like the habit of the monk, only that its hood came low over his face; and the whole hung about him in such ample folds, that every moment he had to gather it up, and throw it over his arm, or arrange it in some other way, though his progress did not seem in the least hindered by it.
Just as the young couple became aware of his presence, he was saying, "And so have I dwelt for many years in this wood, reverend sir, without anyone calling me a hermit in your sense of the word; for, as I said, I know nothing of penance, and do not believe that I want it particularly. And I love this wood so much, because it seems to me most especially beautiful; and it makes sport for me when I go with my floating white garments through the dark boughs and shadows, and there unexpectedly glances down upon me a sweet sunbeam."
"You are a very strange man," answered the priest, "and I would willingly know more of you."
"And who, then, are you, to pass from one subject to another?" asked the stranger.
'I am called Father Heilmann," said the priest; "and I come from the monastery of Mary's Salutation, beyond the lake."
"So, so," answered the stranger. "I am called Kuhleborn; and, if courtesy is consulted, I may as well be called Lord Kuhleborn, or Free-Lord Kuhleborn; for I am free as the birds of the wood, perchance somewhat freer. For instance, I have something to say to the young woman yonder."
And before it could be perceived, he was on the other side of the priest, close to Undine. He stretched himself up, as if to whisper in her ear, but she turned away frightened, saying, "I have nothing more to do with you."
"Ho, ho!" laughed the stranger; "have you made such a grand marriage that you no longer know your relations? Know you not uncle Kuhleborn, who so faithfully brought you on his back to this country?"
"I pray you," said Undine, "not to come before me again. I fear you now; and my husband will learn to dislike me, if he sees me with such strange companions and relations."
"Little niece," said Kuhleborn, "thou must not forget that I am here your guide, else might the malicious goblins of the earth play foolish pranks with you. So let me go quietly along with you. The old priest yonder remembers me better than thou dost appear to do, for he assured me just now that I seemed well known to him, and that I must have been with him in the boat from which he fell into the water. In sooth, there I was; for I was the very water-spout which threw him out, and brought him safely to land for thy wedding."
Undine and the knight looked at Father Heilmann, but he seemed to be in a waking dream, and to have heard nothing of all that was said. Then said Undine to Kuhleborn, "I see already yonder the end of the wood. We need your assistance no longer, and you now cause us only terror; therefore, in all love and kindness, I pray you to vanish, and leave us in peace."
This seemed to displease Kuhleborn; he made a hideous face, and gnashed his teeth at Undine, who screamed loudly, and called upon her husband for help. Like lightning the knight was on the other side of the horse, and he brandished his sharp sword against Kuhleborn's head; but he struck against a waterfall which rushed down from a high rock near them, and suddenly drenched them with a splash, which sounded almost like laughter, and wetted them to the skin.
The priest, as if suddenly awakening, said to them, "I have long expected that, because the stream ran so close to the edge of that height. At first it seemed to me almost as if it were a man who could speak."
The waterfall sounded clearly to Huldbrand's ears these words: --" Rash knight -- impetuous knight -- I am not angry -- I will not quarrel. Only ever so guard thy lovely little wife, thou impetuous knight! thou fiery youth!"
A few steps more, and they were in the open country. The imperial city lay brightly before them, and the evening sun which gilded its towers dried kindly the clothes of the drenched travellers.