Life and Teachings of Sri Aurobindo and the Mother
by Karmayogi, MSS, Pondicherry 1987 & 1999
The Mother's Service Society
NOTICE: THIS WORK MAY BE PROTECTED BY COPYRIGHT
YOU ARE REQUIRED TO READ

THE COPYRIGHT NOTICE AT THIS LINK

BEFORE YOU READ THE FOLLOWING WORK, THAT IS AVAILABLE SOLELY FOR PRIVATE STUDY, SCHOLARSHIP OR RESEARCH PURSUANT TO 17 U.S.C. SECTION 107 AND 108. IN THE EVENT THAT THE LIBRARY DETERMINES THAT UNLAWFUL COPYING OF THIS WORK HAS OCCURRED, THE LIBRARY HAS THE RIGHT TO BLOCK THE I.P. ADDRESS AT WHICH THE UNLAWFUL COPYING APPEARED TO HAVE OCCURRED. THANK YOU FOR RESPECTING THE RIGHTS OF COPYRIGHT OWNERS.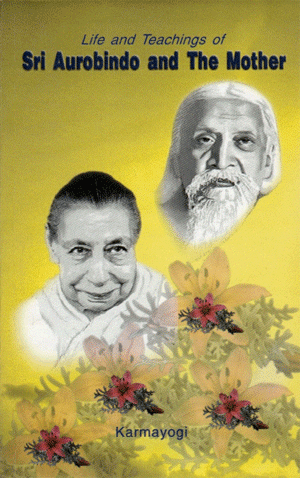 Table of Contents
• Foreward – Mother's Sweetness
• Part I
o 1. The Mother
o 2. Sri Aurobindo
o 3. Auroville
o 4. Health, Cure of Diseases
o 5. Wealth
o 6. Life
o 7. Education
o 8. Mother's Ways of Answering Her Devotees
o 9. Prayer
o 10. Grace
o 11. Mother's Unique Ways With Her Children
o 12. India
o 13. Mother's Principles in Work
o 14. Nature, Climate, Weather
o 15. Gods
o 16. Past Lives of Sadhaks
o 17. Where is Mother?
o 18. Some Related Information
o 19. What Happens to You When You Come to Mother
20. To Accept Mother in Life
o 21. Different Types of Progress
o 22. Insoluble Problems
o 23. Purna Yoga
o 24. Purna Yoga and The Traditional Yogas
• Part II
o 1. Introduction
o 2. The Mother and Sri Aurobindo Ashram
o 3. Purna Yogi Sri Aurobindo
o 4. The Mother and Her Devotees
o 5. Parc-A-Charbon, Banyan Tree, Ganesh Temple
o 6. The Mother and The Ashram
o 7. Samadhi Darshan
o 8. Mother's Life in the Ashram
o 9. Coconut Garden
o 10. Ph.D. Thesis
o 11. Industrial Expansion
o 12. M.A. in English Literature
o 13. Rishyasringar
o 14. Unsold Stock
o 15. Bankruptcy
o 16. Sri Aurobindo's Room
o 17. The Touch of Her Feet
o 18. An Experience in Mexico
o 19. Ramapuram
o 20. Industrial Peace
o 21. Mental Tension
o 22. Ex-Serviceman's Plot
o 23. Water Diviner
o 24. Luck
o 25. Token Offering
o 26. Unemployed Engineer
o 27. Walter
o 28. Damodaran
o 29. Opportunities and Obstacles
o 30. Manivel
o 31. Sri Aurobindo, The Writer
o 32. Lost Speech
o 33. Lessee
o 34. One Crore
o 35. Balaraman
o 36. The Greatness of Service
o 37. Eyesight
o 38. Calling The Mother and Her Response
o 39. Employment
o 40. The Grace That Always Helps
o 41. The Integral Yoga of Sri Aurobindo
o 42. Mother's Name, Repetition of Mother's Name and Calling Her
• GLOSSARY of italicized terms
Mother and Sri Aurobindo participated in the affairs of the earth and the universe according to the mission and the work they were doing. When it was clear that the Second World War was inevitable, they saw the Lord of Nations leading Hitler on and urging him to conquer the world with very tall promises. The Lord of Nations, it was said, appeared before Hitler in a dazzling light in shining white armour and gave him detailed advice. Sri Aurobindo called this war, "Mother's war." He used to send his spiritual force in support of the Allies and eagerly awaited the results of individual battles. At every important turning point of the war, Sri Aurobindo took great interest. At the famous Dunkirk battle where the British troops were miraculously saved, it was reported that the fog in the atmosphere served the British navy well. Sri Aurobindo used to refer to that with a smile as the 'mysterious fog'. When Hitler was gaining success after success and Mother was trying in the opposite direction, she said the shining being who was guiding Hitler used to come to the Ashram from time to time to see what was happening. Things changed from bad to worse. Mother decided on a fresh strategy. She took on the appearance of that shining being, appeared before Hitler and advised him to attack Russia. On her way back to the Ashram, she met that being. The being was intrigued by Mother having stolen a march over him. Hitler's attack on Russia ensured his downfall....

In later life Mother explained that [Max] Theon was the Lord of Death and her husband Paul Richard was the Lord of Nations who inspired Hitler to destroy the world. She even joked, "I had good company." ...

In January 1969, the Superman appeared before Her. She saw no shadow of the figure. She says with the disappearance of the ego, shadow disappears too....

When a sadhak asked "since when were Sri Aurobindo and Mother here on earth," Sri Aurobindo answered, "since the beginning of the earth's creation." To them, the Earth is a being, Mother Earth, a micro-unit of the Universe. Earth, they say, is an evolving being. At different critical stages of the Earth's evolution, The Mother and Sri Aurobindo have come down on earth to personally guide the evolution. Today they declare that the evolution of Earth is at a critical stage, in the sense that Man is not the last term of evolution and the spirit of life is endeavouring to evolve the next higher species, the Superman. That is why Sri Aurobindo and The Mother have come down to direct and hasten man's transition to Superman....

She described Sri Aurobindo Ashram as the cradle of the new civilisation composed of the new race of supermen. It was an experiment to evolve the Superman from humanity, and for this purpose man had to conquer his human nature. The civilised man conquers his behaviour while his inner feelings remain the same. The cultured man changes his inner feelings and character, too. But even in him his consciousness remains the same as the animals from which he evolved. Especially his subconscious is the untamed brute. To convert human life into a divine life, it is not enough to change the behaviour or character. It is also essential to change this basic animal consciousness into a higher consciousness. This, She calls transformation. It is not given to man to bring about this change. Only the Divine can do this miracle. All that is asked of man is a total surrender of all that he is.

***

Yogis aspire for moksha and attain it through Jnana. Others open the heart of love and attain the same goal. Karma yogis resort to desireless work—Nishkamya—to reach heaven. All of them consider the body as false, an impediment. For this reason yogis disregard the body. This is our tradition. Sri Aurobindo realised that the Jnani who attained wisdom could spread light in the world but that would reach only a handful of high souls; the Bhakta, who in his laya dwelt in God's chamber, in his Samipa poured the divine love on his devotees and followers, but the elevation of the masses at large was transitory. The Nishkamya Karma Yogi set a high ideal for other aspirants to follow. All this could touch vast humanity only on the fringe of its existence. After thousands of jnanis, rishis, and yogis have appeared on earth, the ignorance of the masses, their dense darkness, their infinite suffering still remain a reality. Sri Aurobindo realised that for this suffering to dissolve, it was not enough that several thousand souls reached the high heavens. The Divine should come on earth, bringing His light, love, and power not only to the minds and hearts of men but also to their very bodies, which had up until then been considered reservoirs of falsehood to be shunned and dreaded. All the tapas of the muni, all the yoga of the rishis are not enough to wipe out the falsehood of the body. These are individual efforts to reach the Divine. Sri Aurobindo realised that a higher power, higher than that of the aspiring yogi, should come into the human frame, if the dense falsehood of the body should dissolve and turn into divine light. His inner voice showed him that if a few—maybe 20—people could bring this higher light into their very bodies and their falsehood dissolve into light, the entire falsehood on earth would disappear, along with the age-old suffering and original sin....

Tantra Yoga, which occupies a place of pride in Yogas, starts with the dictum that MAN is a soul in the body. Purna Yoga begins with the assumption that MAN is a soul in the mind....

In 1926, the overmental force descended into Sri Aurobindo on all levels. After that he was engaged in the yogic adventure of raising his being to the supramental world and bringing the power of that world into the earth through the instrumentation of his own body. Before 1950, he accomplished this feat fully. His yoga was realised. The high heavens were reached. They had answered the CALL of humanity represented by Sri Aurobindo. The FORCE was ready to move from its origin, descend on earth and abolish death and suffering.

Sri Aurobindo saw at this point that the transformation of the earth presupposed one other condition. He saw the Golden Light of the supramental world when he left the blue light of the overmind. If the Golden Light were to remain on earth forever after the descent, it would require about ten yogis who had realised Supermind fully. At the time of Sri Aurobindo's realisation that condition remained unfulfilled. Even if the power of Supermind descended through the siddhi of Sri Aurobindo, the light could not remain on earth. Sri Aurobindo needed another ten accomplished yogis. They were not there. He spoke to Mother and said one of them had to leave the earth and continue the yoga from the subtle plane to expedite the ADVENT. Mother offered to go. He showed her the unique constitution of her body which alone could accomplish the transformation at the physical level. He decided to withdraw and continue his work from the subtle plane.

In 1956, Sri Aurobindo's work from the subtle plane bore fruit. In 1950, he had offered his own body to the descending supramental light as a fit receptacle. At the time he left his body, the Golden Light invaded it and remained there for three full days. All the other yogic powers he had gathered, he deposited in Mother before he withdrew from his body. In six years, Sri Aurobindo's work prepared the Earth Consciousness as a whole to receive the supramental force, power and light. During the meditation in the playground on February 29, 1956, Mother saw Her subtle body enlarging to the size of the universe and becoming golden. Before her appeared a massive golden door and beside her was an equally massive golden hammer. With one blow Mother smashed the door, the curtain between earth and the golden supramental heavens. Floods of living light of golden colour poured down onto earth. Earth realised the Supermind. Instantaneously, the tamas, the inertia of the earth rose up in equally great floods and swallowed up the descending Grace. Following this great event, Divine Love descended on earth in 1962. The Supramental force advanced in 1967 by manifesting itself in the earth consciousness. Again on January 1st, 1969 the force further evolved and became superman consciousness and appeared before The Mother. Mother says that since its advent in 1956, the force is effectively determining the course of earthly events.....

Mother and Sri Aurobindo used the supramental force to deliver a mortal blow to death.

***

Mother came to know of her previous births on several occasions. In past lives Mother was Queen Elizabeth of England, Catherine of Russia, Joan of Arc, an Egyptian Queen, and the mother of Moses, among others....

Sri Aurobindo was known in the Ashram as the rebirth of Napoleon. Napoleon's birthday was also August 15th. In his previous births, it was believed he was Leonardo da Vinci, Michelangelo, Krishna and many other persons too.

***

Human life is full of falsehood. It is the presence of falsehood that necessitates the struggle and keeps the possibility of failure around the corner. There is no scope for falsehood when one is working in Mother's consciousness.

***

Mother had a special rapport with flowers. She has given names to 800 flowers basing herself on their spiritual significance. She says flowers have feelings of pride, vanity and sensitivity. For instance, roses do not like to be placed in a vase along with other flowers. When kept alone, they rise in stature and look around with pride.

***

Sri Aurobindo organised the youth under the Congress and voiced radical ideas from several journals he contributed to. Their nationalist activities embraced founding a journal "Vandemataram", founding a National College, worshipping Kali, and experimenting with several ideas as well as procuring chemicals with which bombs were made. Sri Aurobindo did not believe in terrorism, even though he was a radical to the core. The British police arrested him and clapped him in Alipore jail, implicating him in a bomb throwing case....

Sri Aurobindo gave up nationalism and the freedom movement at the behest of the inner voice. The British government, which had not heard Sri Aurobindo's inner voice, hounded him up to 1937 fearing that he was a great potential danger to the stability of the Royal Crown. Five times, attempts were made to kidnap Sri Aurobindo and take him to British territory. Through the most strange ways of the Almighty, each time the thugs who consented to this heinous crime fell out among themselves and ended in mutual killing. Once it was a highly placed politician who was anxious to oblige the British authorities. He was shot dead in his own house by a relative before he could lay his hands upon Sri Aurobindo....

In 1971 Indira was in a political turmoil because of the split in the Congress organisation. Her government had lost its majority and on important occasions in the Parliament she relied on the support of the opposition group, DMK. She had ordered interim elections but thought she would be lucky if she could muster 250 seats in the Lok Sabha. It was at that time friendly advice brought her the suggestion that if she sought Mother's support, her political and legislative uncertainty would end. Indira heeded the advice and came to Pondicherry to meet Mother. Her prayer was for 250 Lok Sabha seats. Mother smiled broadly, nodded her head vigorously and granted the prayer made through her cabinet colleague Nandini. Electoral victory was a landslide win. An Indira wave swept across the nation giving her 356 seats and the coveted two-thirds majority required to amend the constitution....

It is an unspoken tradition in Pondicherry from the days of the colonial regime that the rulers of the settlement kept close contact with the Ashram ... Almost all Chief Ministers, Governors, Presidents, Vice-Presidents and all the Prime Ministers have come to Mother seeking Her blessings....

She enacts new rules and laws to serve your particular need exactly. ...

To take to Her Yoga, Her basic conditions were very simple. Avoidance of politics, liquor, smoking and sex were those conditions. To receive the most from Her, She demands sincerity down to the very physical. Her explanation of mental sincerity is to know one knows nothing. Vital sincerity for her is to renounce the enjoyment of success. She goes further and says if one can give up the right to happiness, one gets the right to Ananda. Material sincerity is to give all one's material possessions to the Divine Work...

Mother was no believer in religion. She was fond of saying that the time for religions was over and the future belonged to spirituality....

Sri Aurobindo said that three things were essential for Truth to reign on earth. They were governmental power, wealth and health. Regarding health, he said everything is known about it. Regarding the government, unless 'we' are the government, it is not possible to influence a government for our purpose. He said he did not understand how wealth could be secured for that. Mother took up the idea and meditated on it. She reached another world where the treasure of the earth was stored. Mother headed toward the central place where the treasure was kept, but at the entrance she found a black python on guard. She tried to walk past the guard, but it stopped her. Ordinarily, beings of any world obeyed Mother, but this was different from the usual. The python told Mother that he would be killed if she were allowed inside. Mother asked who could pass that entrance and what condition they should fulfil. The python answered that when the sex vibration had disappeared from the earth, the treasure would be given to earth.

***

Mother's plan for Auroville was presented to Khrushchev while he was in power. He felt the idea of Auroville was something worth the support of his government....

When world politics was discussed, Mother said she found the Russians more sincere than the Western politicians....

Lenin said electricity when combined with the soviet made communism. Scientific discovery of any description takes the society centuries ahead. The spiritual discovery of Mother can abridge millenniums into days and months.

***

Mother said India would become the Guru of the world. India is the country where spirituality is developed to its heights. She must lead the world and the world must come to accept the leadership and guruhood of India....

One other way [to make progress] is to fully exhaust one's physical, nervous and mental energies in the work we do. A foreigner working in a project took to this and in six or seven days he was exhausted beyond measure. At that moment near a machine he 'saw' Sri Aurobindo standing in resplendent form, a vision rarely granted to seekers....

Purna Yoga uses all the parts of the being—mind, vital and body—and seeks the release of Psychic being from the domination of nature, the Prakriti....

After 1950, Mother sometimes took to walking. She was walking daily on the verandah outside Sri Aurobindo's room. After a few days, she found Krishna walking alongside her. Much later, she found Sri Aurobindo instead of Krishna walking with her. These were adorable moments in her life. She remarked to Sri Aurobindo how nice it was to walk with him. It was much better than the other work she was doing. From that day onwards, he stopped coming. After sometime Mother found that, when she walked on the verandah, She was followed by HERSELF.

***

The purpose for which God has made this world and made millions of souls take birth is to attain the Truth while remaining in the physical realm. The soul should take on a body, be in life, and realise and manifest the light of the Supreme. That is the first and primary ideal of the Supreme. That is why great souls like the Buddha and Vivekananda have chosen to remain in the world in a subtle form and help in the liberation of each and every human being on earth. Sri Aurobindo says, "The soul seeking liberation is contrary to the ideal of the Supreme. What is fitting is for the soul to remain in the world and help manifest the Godhead."...

As parts of the being are ruled by emotions such as love and hate, the soul itself is stained by the ego. Only when the ego gets fully dissolved does the soul become totally pure. For that pure soul, the illumined mind, heart and body open their gates of liberation. Such a soul is in a position to attain liberation. However, in Purna yoga, liberation not being the goal, the soul does not choose to be liberated. With the body purified, the soul is in a position to stay on and help in the manifestation of the divine....

The integral yogi does not aspire for liberation for his soul. He only tries to liberate the parts of his being from falsehood. He turns himself into an instrument of Truth and works for the salvation of the rest of creation from falsehood too. He works so that Truth may descend and reign on earth. This in essence is the "Integral Yoga" of Sri Aurobindo....

At any given moment, each man has a deepest possible concentration and that has a corresponding centre. It is possible for one to reach there. When the repetition is made from there, it turns into a CALL.... Normally after about a week's intense calling, one will be able to see that he is in a different world. ... At a very high level of perfection in one's consciousness, such a call gives birth to god-like powers in one's being. It is then we say that such and such a god is born in someone.

***

The world regards men like Einstein as geniuses. Men like Socrates, Bernard Shaw and Newton have attained the peaks of knowledge. The human mind has reached its highest limits in them. Human thought matures and shines through these people, giving illumination to the world.

-- Life and Teachings of Sri Aurobindo and the Mother, by Karmayogi, MSS, Pondicherry