8. Drugs, magic and possession
Like sexual techniques, drugs have also been used from time immemorial to induce feelings of possession by gods and spirits, and one of Aleister Crowley's disciples is entirely in harmony with thousands of years of religious and magical tradition, and too much modern tragedy, when he says that 'the only really legitimate excuse for resorting to drugs is the scientific one, i.e. for the acquisition of praeterhuman knowledge and power, which includes poetic inspiration or any form of creative dynamism.'1 Poetic inspiration, prophetic power and other forms of 'creative dynamism', whether drug-induced or not, have been regarded in many societies as the result of temporary possession of a human being by a supernatural being or force.
It is a pity that modern proponents of the use of marijuana, L.S.D. and the rest have so seldom inquired into the vast literature of this subject, for the effects produced by various different drugs have been reported time and time again in the past.
In the East, the early Vedic hymns sang the praises of soma, the 'King of Plants', omnipotent, all-healing, the giver of immortality, consumption of which elevated the worshipper to the level of the divine, and which was itself considered a god. What soma was is uncertain, but it may have been a mushroom, Amanita muscaria or fly agaric. Tantric and other Indian sects 'have continually resorted to drugs to shift the plane of perception and attain ecstatic states and mystical illumination. Drugs, drinks, chemicals (e.g, mercury) and special medicinal preparations were and still are used for this purpose.'2
Gordon Wasson in his book on the Divine Mushroom quotes Endereli as describing its use as an abreactive and trance producing drug: 'And now there began an indescribable dancing and singing, a deafening drumming and a wild running about the [yard], during which the men threw everything about recklessly until they were completely exhausted. Suddenly they collapsed like dead men and promptly fell into deep sleep.' Wasson also quotes Kapec describing a journey in Asia. When in Siberia he met an 'evangelist' who recommended that he take these mushrooms 'that are I can say miraculous . . . they are the most precious creation of nature.' Kapec goes on.
Hearing so many strange things about the merits of that mushroom ... I ate half. . . Dreams came one after the other. I found myself as though magnetized . . . I started to have confidence in its supernatural qualities . . . For several hours new visions carried me to another world, and it seemed to me that I was ordered to return to earth so that a priest could take my confession ... I should add only that as if inspired by magnetism I came across some blunders of my (confessor) and I warned him to improve in these matters, and I noticed that he took these warnings almost as the voice of Revelation.3
The sacred plants of Mexico included the peyote cactus, from which mescaline is derived, the psilocybe mushroom, which was significantly called 'god's flesh', and Datura stramonium or thorn-apple. Peyote cults began to flourish among North American Indians in the 1870s and the peyote religion is now their principal cult. Stramonium was also smoked in North America, and in both California and Siberia a hallucinogenic toadstool was used to bring about communication with the divine and to induce ecstatic visions. Francis Huxley has commented that the use of hallucinogenic mushrooms 'may have been much more widespread in the past than we realize, and its effects quite possibly helped to give form to a number of traditional descriptions of heaven'.4
Alcohol is one of the drugs which has frequently been used in this way. Wine was evidently an important aid to ecstasy in the worship of Dionysus, who among numerous other roles was the god of wine. The worshippers were predominantly women and their rites have been summarized by Professor Guthrie as follows:
Clad in fawnskins and taking in their hands the thyrsos, which was a long rod tipped with a bunch of ivy or vine-leaves, the god's own potent emblem, and with ivy-wreaths upon their heads, they follow their leader (a priest of the god) to the wildest parts of the mountains, lost in the bliss of the dance. Many carry snakes, wreathed about them, twined in their hair or grasped in the hand as may be seen in the vase-paintings. Their dance is accompanied by the heavy beat of the tympanum . . . and the strains of the reed-flute, as well as their own excited shouts and Cries. Nothing is lacking which can serve to increase the sense of exaltation and of shedding the self of everyday existence; to the darkness, the music and the rhythmic dance are added the smoky light of torches and no doubt the god's especial gift of wine. Erotic enjoyment probably also contributed to producing the final state oiektasis (standing outside oneself) and enthousiasmns (possession by the god). (In this state the worshippers saw visions, and nothing was impossible to them . . . Endowed with superhuman strength, they hurl themselves up on animals, wild or tame, and tear them to pieces with their bare hands for the 'joy of the raw feast'.)6
Professor Dodds remarks that the Maenads, the female votaries of Dionysus, 'became for a few hours what their name implies -- wild women whose human personality has been temporarily replaced by another', and that the tearing to pieces of animals and devouring of their raw flesh is based on a simple piece of primitive logic. 'If you want to be lion-hearted, you must eat lion; if you want to be subtle, you must eat snake; those who eat chickens and hares will be cowards, those who eat pork will get little piggy eyes. By parity of reasoning, if you want to be like god, you must eat god . . . And you must eat him quick and raw, before the blood has oozed from him; only so can you add his life to yours, for "the blood is the life".' The slaughtered animals are embodiments of the god, and it is likely that 'there once existed a more potent, because more dreadful, form of this sacrament, viz., the rending, and perhaps the eating, of God in shape of a man . . .'6
Modern magicians in quest of the same objective also whip themselves up into a state of mental and emotional intoxication in which reason is overwhelmed, with or without the use of drink, drugs or sex. One of them gives this account of possession by what he calls an 'astral force' or a 'god-form', through whose power the magician hopes to achieve his purposes. 'The climax of all magical ritual occurs when the adept draws into himself the astral force he has evoked so as to project it towards a chosen object. To do this he must surrender his complete being to the astral force which is waiting to possess it, and this he does by cultivating a state of mind or, rather, madness, akin to the divine frenzy of the Bacchantes . . .' He goes on to say that, 'Some magicians cultivate the sweet madness by reciting one word over and over again . . . While engaged in this, the adept imagines that the god-form ... is materializing behind his back. He visualizes this in as much detail as possible.' Slowly he begins to sense that it is towering in the magic circle behind him, and 'by now his heart will no doubt be beating furiously', but he must not panic. 'At last -- and he will certainly know when -- the god-form will take control of him. To begin with, the adept will feel an exquisite giddiness somewhere at the base of his skull and quickly convulsing the whole of his body. As this happens, and while the power is surging into him, he forces himself to visualize the thing he wants his magic to accomplish, and will its success.' Sex is frequently used to reach this climax. 'The outburst of power is effected at the same time as orgasm is reached, with possession occurring a few seconds before.'7
In his book The Black Arts, discussing the elaborate and exhausting techniques of European ceremonial magic, designed to summon up supernatural beings and subject them to the magician's control, Richard Cavendish
has summed up the physiological effects on brain function which help to create belief in magic and in the reality of spirits and demons:
The magician prepares himself by abstinence and lack of sleep, or by drink, drugs and sex. He breathes in fumes which may effect his brain and senses. He performs mysterious rites which tug at the deepest, most emotional and unreasoning levels of his mind, and he is further intoxicated by the killing of an animal, the wounding of a human being and in some cases the approach to and achievement of orgasm. Through all this he concentrates on a mental picture of the being he hopes to see. It does not seem at all unlikely that at the high point of the ceremony he may actually see it.8
Frenzy, induced by sex, drugs, mantras, concentration, rhythmic music, chanting, dancing, jumping, twirling, over-breathing, is undoubtedly immensely effective in creating an absolute conviction of the presence of a god. For reasons already explained, it produces intense faith, not only in those who experience it but also very often in onlookers, who become much more suggestible in response to the excitement of the 'possessed' and who will then accept as true claims and beliefs of which they would normally be critical.
William James has the following to say about alcohol: 'The sway of alcohol over mankind is unquestionably due to its power to stimulate the mystical faculties of human nature, usually crushed to earth by the cold facts and dry criticisms of the sober hour ... It (can) bring its story from the chill periphery of things to the radiant core. It makes him for the moment one with truth. Not through mere perversity do men run after it.'9
James then goes on to point out that nitrous oxide and ether stimulate mystical consciousness to an extraordinary degree, especially when given in suitably modified strength. 'Depth beyond depth of truth seems revealed to the inhaler . . . metaphysical revelation.' James was writing at the beginning of this century, and we are now seeing the same claims being monotonously repeated for any new drug that for the moment catches popular attention. James seems to have been greatly influenced and even 'converted' by his own drug experiences. After experimenting with nitrous oxide and ether, he came to the following conclusion:
One conclusion was forced upon my mind at that time, and my impression of its truth has ever since remained unshaken ... all about it (normal waking consciousness), parted from it by the flimsiest of screens, there lie potential forms of consciousness entirely different. We may go through life without suspecting their existence; but apply the requisite stimulus, and at a touch they are there in all their completeness . . . No account of the universe in its totality can be final which leaves these other forms of consciousness quite disregarded . . . Looking back on my own experiences, they all converge towards a kind of insight to which one cannot help ascribing some metaphysical significance. The keynote is invariably a reconciliation. It is as if the opposites of the world, whose contradictoriness and conflict make all our difficulties and troubles, were melted into unity.10
Unfortunately, the schizophrenic in his temporary or permanent madness also finds similar unities occurring. And when he tries to explain them, they may be as nonsensical as many of the unities experienced through inhaling anaesthetics. One of Christopher Mayhew's correspondents — Mayhew himself will be quoted later — wrote about what happened when he was put under an anaesthetic for a short operation: 'I had a complete revelation about the ultimate truth of everything. I understood the entire works. It was a tremendous illumination. I was filled with unspeakable joy . . . When I came round I told the Doctor I understood the meaning of everything. He said, "Well, what is it?" and I faltered out, "Well, it's a sort of green light."'11
A schizophrenic doctor patient of mine suddenly woke up one day feeling that he had found the basic cause of all neurological illness, cancer and infections; he felt certain that he had suddenly stumbled overnight on a great universal discovery. When asked what the basic cause was, he said 'sin'! But with his recovery from the severe attack of schizophrenia, he lost this conviction. Now well and practising medicine, he might, however, still feel that something of real importance had been vouchsafed to him on his illness, if asked to be quite honest about his feelings. Such revelations, whether they occur under drugs or during a schizophrenic illness, carry with them a certainty which may override the normal intellectual standards and attitudes of the person experiencing them.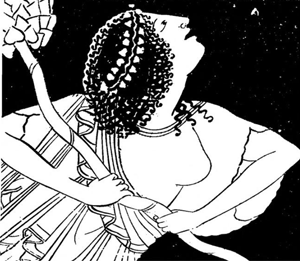 Possession by Dionysius 500 BC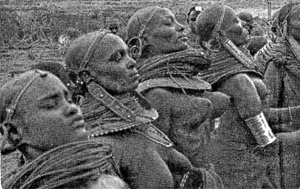 Dancing to trance among the nomadic Samburu tribe in Kenya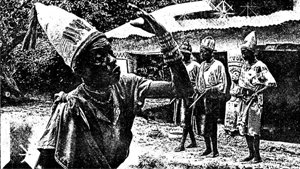 The god Ogoun gives advice and help to his worshippers through the priest in trance, Dahomey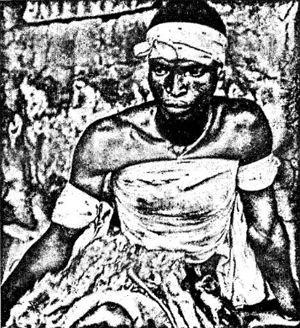 The expulsion of a possessing spirit in Zambia. That patient is in trance and has collapsed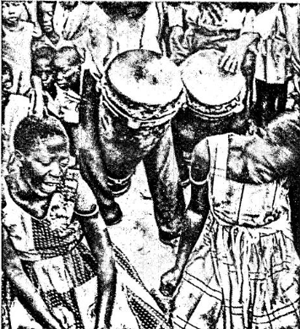 Casting out possessing spirits in Kenya and Zambia by drumming. A collapse phase finally supervenes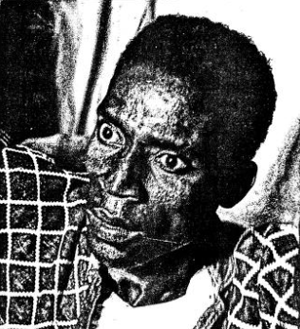 Voodoo possession in Haiti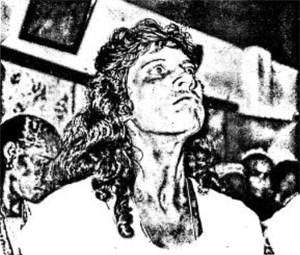 Inducing possession by Holy Ghost, Clay County, Kentucky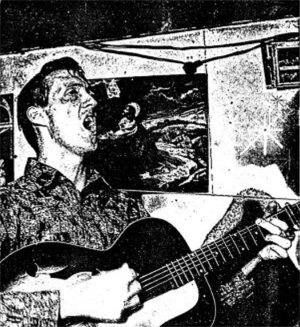 Inducing possession by Holy Ghost, Clay County, Kentucky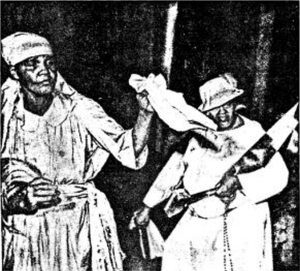 Possessed by an Indian spirit during Macumba ceremony in Brazil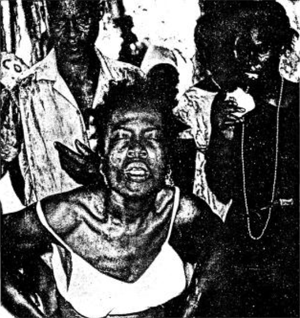 Voodoo possession in Haiti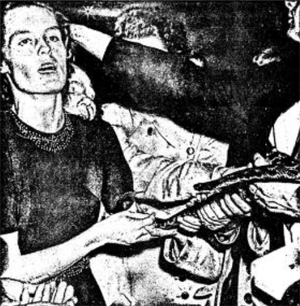 Possession by the Holy Ghost: snake handling, North Carolina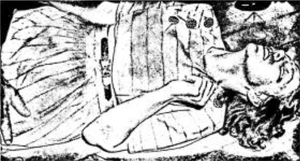 Collapse phase, West Carolina
Another of Mayhew's correspondents, after having teeth removed under nitrous oxide, gave the following report of his anaesthetic experience ' . . . of everlasting hell. I lost all consciousness of my surroundings . . . there was no consciousness of myself as the subject of suffering, but only an experience of suffering itself, outside time. It was this experience of being "caught in eternity" which ... I shall never forget as long as I live.'12
J. A. Symonds, however, had a quite different experience under chloroform:
I thought I was near death; when suddenly my soul became aware of God, who was manifestly dealing with me, handling me, so to speak, in an intense personal present reality. I felt him streaming in like light upon me ... I cannot describe the ecstasy I felt. Then, as I gradually awoke . . . my relation to God began to fade . . . To have felt for that long dateless ecstasy of vision the very God, in all purity and tenderness and truth and absolute love, and then to find that I had after all no revelation, but that I had been tricked by the abnormal excitement of my brain . . . Yet, this question remains. Is it possible that the inner sense of reality which succeeded, when my flesh was dead to impressions from without, to the ordinary sense of physical relations, was not a delusion, but an actual experience? Is it possible that I, in that moment, felt what some of the saints have said they always felt, the undemonstrable but irrefutable certainty of God?13
Both Symonds and James were profoundly affected by their anaesthetic experiences, which may have decided or fortified James's own brand of religious faith. Leuba14 states that:
In our experience Wm James has erred not in considering 'pure' experience as unassailable, but in unwittingly regarding as such more than the given. He has confused pure experience with the elaboration of it . . . for what in mystical experience does James claim invulnerability? The uncritical mystic believes that Christ, or the Virgin, or some saint, has manifested himself to him ... James regards them as illusory . . . They form, however, he affirms, a kernel immediately given, intuitional, and therefore invulnerable. What is this kernel ? He answers that it consists in a feeling or conviction of vastness of reconciliation, of repose, of safety, of union, of harmony. In these terms does our distinguished philosopher define the kernel of unassailable truth revealed in mystical (drug) ecstasy . . . The truth-kernel of religious ecstasy is, as we have shown, no other than the truth-kernel of narcotic intoxication . . .
And so the argument proceeds between those who have 'experienced' and so 'know', and those on the sidelines, who observe the variety of 'knowing', the contradictory variety of 'certainties', to which drugs, trances, mystical states of possession and the rest give birth in human minds.
Leuba goes on to say that if by 'union' William James had merely meant to indicate that, as the trance progresses, the mystic notices the gradual disappearance of boundary lines between objects, the merging of ideas into one another, the fusion of feelings, and that he enjoys a delightful sense of peace, there could be no objection to this observation:
. . . but James seemed to imply much more than this, a union with someone or something else . . . The universality of the mystical conviction is frequently offered as proof of its truth. But the truth of a belief is not proved by the fact that it is shared by all known men, (in fact) most of the users of narcotics and many of the subjects of spontaneous trance regard its contents just as they do their dreams, i.e. as having no other than a subjective validity . . . Hocking holds, with James and the mystic philosophers in general, that the immediate in ecstasy does not remain meaningless ... it conveys a direct and truthful assurance of God and of the mystic's own relation to him; it is a divine substance known intuitively to come 'from heaven' ... it suffices to lift man above fatal doubt and disbelief.
Whatever the truth of the matter, people have frequently acquired unshakeable faith from drug revelations, and continue to do so. Christopher Mayhew was convinced by his own experiences of mescaline that God exists, and that he had been in God's presence. When argued with, he would point out that he had experienced God under the drug, which the critics who questioned the reality of his experience had not done. He showed, after the mescaline experience, the calm unshakeable assurance of belief which can equally come from the other methods we have described.
Aldous Huxley, in his writings and in talking to me personally,
also insisted that, mescaline had taken him into the presence of God. But as in Mayhew's case perhaps, this was what Huxley was really interested in when he took the drug. Robert Graves, who was more interested in the beliefs of the ancient world, took the 'sacred' mushrooms which, he thought, might have been used in the Eleusian mysteries. Graves told me he did not, in consequence, enter God's presence like Huxley; he had a different type of drug experience which helped him to understand what the initiates of the mysteries had been trying to describe. He seemed to have a similar experience to theirs which, at the time, he wanted to do.
People seem to obtain under drugs, or equally through mystical or revivalist or sexual techniques, what they want to obtain, or what they expect to obtain, or what conforms to the general setting and background. Converts were not possessed by Buddha at Wesley's revival meetings.
Another experience under ether shows the variety of religious experiences obtainable:
I did not see God's purpose, I only saw his intentness and his entire relentlessness towards his means. He thought no more of me than a man thinks of hurting a cork when he is opening wine, or hurting a cartridge when he is firing ... I realized that in that half-hour under ether I had served God more distinctly and purely than I had ever done in my life before ... I was the means of achieving and revealing something, I know not what or to whom . . .14
Sir James Crichton-Browne also reported many years ago that nitrous oxide inhalation provoked varying effects:
In persons of average mental calibre they are pleasant and stimulating but in no way remarkable; but in persons of superior mental powers they become thrilling and apocalyptic. A working man describes it as if he had had a little too much beer, and a philosopher announces that the secret of the universe had been, for one rapt moment, made plain to him.15
Sir Humphrey Davy very early on had also found that in nitrous oxide inhalation in persons of intellectual training and distinction, the thoughts are in nine cases out of ten connected with some great discovery, some supposed solution of a cosmic secret.
One can suppose that those of Davy's scientific friends who agreed to experiment at so early a period were interested in just such things. Marghanita Laski in her book on Ecstasy, from which some of the quotations have been drawn, says in discussing drug ecstasy:
But from mescaline people may derive genuine religious overbeliefs yet not have had the kind of experiences generally regarded as religious ones. Mr Huxley believed he had attained the Beatific Vision. The female figure seen by Rosalind Heywood is described by her as 'celestial' and as a messenger of the 'High Gods'. Alice Marriot describes her vision as 'Paradise' and Mr Mayhew accepts the possibility of deriving religious experience from mescaline. Only Mr Mortimer and Professor Zaehner altogether deny that mescaline experiences are related to or can be assimilated to religious ones.16
Yet if we start using LSD in a non-religious setting, we get all sorts of non-religious effects, and the same applies to mescaline. But the non-religious 'truths' which take hold of a person under drugs can impress themselves on him with a religious certainty and fervour.
R. E. Masters in an article on chemically induced or enhanced eroticism reports that under LSD, 'A sexual union that in fact lasts thirty minutes or an hour may seem "endless" or to have 'the flavour of eternity" ... it may even take on symbolic and archetypal overtones. The couple may feel they are mythic, legendary . . . one has transcended the ordinary boundaries of self, the limits of time and space, so that something more, some infusion of the divine or supernatural, must have occurred . . . with surprising frequency the feelings are shared . . . Religiously devout or mystically inclined people may have the sense of a unity that is also a trinity with God present in the oneness.'17
Another writer has said, 'That is the cosmic beauty of LSD. You flow in essence of god-love exactly to where you should be flowing in the manner and the moment you should be flowing. One day when we are all more highly evolved, more aware, in incarnations to come, it will all be happening without acid.' Hashish can give similar mystical and less dangerous effects. 'This is the very acme of love. This first moving in together . . . It's the beginning of time, the primordial chaos when all is formless and one, and in racking agony of pleasure, two forms give birth to one another. White light crashes through our minds. We are gone.'18
A patient of mine, previously under treatment by a doctor who believed in birth trauma, told me how under LSD he had relived his own birth. He was in no doubt at all about it. After taking the drug, he had felt tight and constricted in the chest and abdomen, and very fearful. His breathing became laboured and rapid. Only a nurse was with him, and on his asking her what his symptoms meant, he was told to think hard and the answer would come to him. It suddenly did. He became quite certain that he was reliving his own birth; and as he felt himself coming out of his mother's womb and vagina, he had a sudden feeling of reliefs. Although he obtained no permanent mental relief from his drug-induced experience, and only recovered later when he was given electroshock therapy, he still persisted in the conviction that he had actually relived his own birth. He pointed out that no doctor had been present at the time, to suggest it to him or to brainwash him. However, he was living in an atmosphere of hospital group therapy where many patients were receiving LSD. Most of them were just as intellectually indoctrinated with the probability that birth trauma was a cause of their illness as was their doctor himself. They talked about it at meals and in spare moments. It is not surprising, therefore, that when claustrophobic and panicky feelings came upon this patient, and he asked what it meant and was told to think out the answer for himself, that it came to him that he had re-experienced his own birth trauma.
Other psychotherapists, using similar abreactive drugs, obtained and will always obtain quite different supposedly remembered experiences from patients, depending on their own or the patient's special interests. When during the war ether, pentothal and methedrine were all used to 'abreact' the horrifying war experiences of patients, it soon became obvious that, if pressed to do so, some soldiers would abreact experiences they had never had, sometimes made up on the spur of the moment to please the doctor or to put a good appearance on a cowardly act. Every abreacted experience had to be carefully examined and checked on, otherwise it might become all too real to the patient and come to be fully believed by him.
Freud, when he was working with Breuer, induced more than ten consecutive Viennese women under hypnosis to remember vividly having been slept with or interfered with sexually by their fathers. He thought he had stumbled on the basic cause of hysteria in women, until he realized that 10 out of 10 meant 100 out of 100, and that every Viennese father must be sleeping or sexually interfering with his daughter. This was obviously nonsense, and Freud was so disappointed that he said later that he nearly gave up psychoanalysis, which had led him so sorely astray. To solve his dreadful dilemma he invented his concepts of the sexual 'subconscious mind' and explained that many of his patients had 'subconsciously' wanted to sleep with their fathers, instead of actually having done so.
Under drugs, hypnosis, induced abreactive excitement, or any other conscious or subsconscious method of implanting suggestion, the patient will generally play back to the doctor what the doctor wants to hear.
For a time Freud really believed that he had discovered the basic cause of hysteria, and in his letters at the time he described his sadness when it proved that the information obtained from his patients was false, entirely because of his eagerness to believe his theory. Similarly, Freudian and Jungian analysis of the same patient can produce quite different dreams, repressed memories and remembered incidents, proving that the analyst can readily obtain the information he needs to confirm his confidence in his own theories. The patient thus helps to re-brainwash the therapist.
All this is reported in detail in Ernest Jones's Life of Freud.19 It is mentioned here to draw attention to the essential moral of this book.
However real and vivid personal and apparently remembered experiences may seem, this is no evidence of their reality, if they are brought to the surface under conditions of stress and in states of abnormal brain activity and heightened suggestibility. And the overwhelmingly vivid and convincing nature of so many experiences reported in the same states of brain activity induced by meditation, drugs, sex, hellfire preaching, mob oratory or other mind-bending agencies, provides no evidence of their truth. Wesley's own beliefs about sudden conversion were confirmed when he found that more than 600 of his followers had all experienced it, and so he preached that sudden conversion was the only sure road to salvation. Good works alone, or intellectual adherence were of no value to Wesley and so were of no value to his vast congregations. But his converts never realized that their sudden and totally convincing state of faith had been brought about by Wesley's own beliefs and preaching methods, which in turn, in a circular way, their dramatic conversions had reinforced.
_______________
Notes:
1 Kenneth Grant, The Magical Revival, Frederick Muller, London 1972, p. 91
2 G. Wasson, Soma, Divine Mushroom, Harcourt Brace, New York pp. 244-5
3 Benjamin Walker, Hindu World, George Allen & Unwin, London 1968, vol. 1, p. 312
4 Man, Myth and Magic, Purnell, London 1970-72, vol. 2, p. 711
5 W. K. C. Guthrie, The Greeks and Their Gods, Methuen, London 1968, pp. 148-9
6 E. R. Dodds, The Greeks and the Irrational, University of California Press 1951, appendix 1
7 David Conway, Magic: An Occult Primer, Jonathan Cape, London 1972, pp. 78, 130-32
8 Richard Cavendish, The Black Arts, Routledge & Kegan Paul, London 1967, pp. 256-7
9 W. James, The Varieties of Religious Experience, Longmans Green, London 1914, p. 387
10 James, op. cit., p. 388
11 M. Laski, Ecstasy, Cresset Press, London 1961, p. 261
12 Laski, op. cit., p. 262
13 James, op. cit., pp. 391-2
14 J. H. Leuba, Amer. Journ. Psychology, 1895, 7, p. 345
15 James, op. cit., pp. 392-3
16 Laski, op. cit., p. 276
17 R. E. Masters, The Sexual Revolution Playboy Press, Chicago, 1970, p. 134
18 Experience, vol. 2, no. 10, 1972, p. 41 and vol. 2, no. 7, 1972, p. 43
19 E. Jones, Sigmund Freud: Life and Work, Hogarth Press, London 1955. 2 vols