Part 3 of 3
Impact of Psychic Research on Images of Humankind.
The present form of science has based itself upon a particular kind of separation between subjective and objective realities, and has argued that its discovered laws make it so. This remained relatively unchallenged until the early twentieth century, when the deeper probing of science began to reveal a universe that renders objective knowledge impossible once a certain kind of highly responsive system is approached. As noted, this shows up particularly in physics — where the atomic level is so sensitive to the nature of the measurement necessary for the acquisition of objective knowledge that this knowledge becomes impossible to achieve.
A similar phenomenon occurs in research on the human brain. Eccles (1970) has described the connection between events in the brain and energy transitions occurring at the subatomic level in atoms. His suggestion is that whole chains of actions and responses of the nervous system are capable of being initiated by tiny energy transitions occurring at the quantum level, since the brain possesses cells which can be affected by these very small energy transitions, cells whose firing can trigger other whole sets of neurons. This interface between quantum mechanics and brain research will no doubt be one of the vital growing areas of science in the future, and may overlap present inquiries in psychic research in important ways.
It is of course at the level of information itself that all theories, whether physical, biological, or psychological, must fuse. All the issues involved, however, seem to hinge upon the relationship between the physical world and that of consciousness, and it is this relationship that is "on trial" when psychic phenomena are debated.
An important aspect of this relationship is the demonstration that the body is sensitive to many more than the several classes of stimuli in normal sensory perception. In subliminal perception the presentation is such that the threshold of perception for the sense modality being tested is never reached, and yet evidence clearly shows that information is transferred. Dixon (1972) concludes that subliminal stimulation has been shown to affect dreams, memory, adaptation level, conscious perception, verbal behavior, emotional responses, drive-related behavior, and perceptual thresholds. Thus subliminal perception research has been held by some to be the essential point of departure from conventional psychology into those issues in the theory of perception which also involve psychic research and, ultimately, the relationship between the brain and the "external" world.
However, a recent experiment, if substantiated, points to a far more radical departure from presently accepted psychological theory. This experiment, by Puthoff and Targ (1974), depends upon the discovery that if a stroboscopic light at about 15 flashes per second is shined in a subject's eyes, a characteristic alpha component (around 10 or 11 cps) appears in his electroencephalogram. In the Puthoff-Targ experiment two remotely isolated subjects are used, some prior degree of rapport having been established between them. The light is flashed in one subject's eyes and the other is asked to guess whether, in a given time interval, the light is on or off. While the second subject is usually unable to guess better than a chance basis, the telltale alpha component appears in his EEC The important deduction is that unconsciously he knows with a certainty, in an extrasensory way, when the light is in the other person's eyes — even while he is denying such knowledge to his conscious mind.
In other words, this watershed experiment appears to provide clear evidence of universal telepathic capacity with almost complete repression (for most persons) of awareness of this source of knowledge. Demonstration of this repression phenomenon does much to explain the puzzling erratic character of psychic research data. It opens the possibility of radically new research methodologies in which the inhibiting effect of the "internal censor" is bypassed by utilizing responses (such as EEG components) that the organism has not learned to repress.
The implications of the experiment goes much further. If telepathic capacity is shown to be universal and almost completely repressed, this suggests that the same may be true of the whole range of reported paranormal phenomena — clairvoyant remote perception; abnormally rapid healing; precognition; retrocognition of other lifetimes; teleportation, "thought photography," and other forms of psychokinesis; and the rest. Kuhn (1970) describes how, in the replacement of scientific paradigms, a watershed point is reached where the accumulated weight of discrepancies and anomalies that cannot be fitted into the old paradigm tips the balance, and it becomes more profitable (in emotional as well as in rational terms) to seek a new paradigm than to patch up the old. Recent experimental researchers, including especially the experiment mentioned above, strongly suggest that the range of human potentialities is far greater, that the role of out-of-consciousness mind processes is far greater, and that the power of expectations and images is far greater than can be accounted for under the old paradigm.
Clearly the dominant image of human nature in Western society today does not as yet include the potentialities implied by the vast and puzzling range of reported psychic phenomena. On the other hand, public interest in this realm is evidently growing. If Lawrence LeShan (1969) is correct in his theory that the assumptions held about reality influence the "reality" experienced, then changing cultural assumptions about the possibility of psychic phenomena may have consequences for the frequency with which they are observed to occur. (Hypnosis researchers in the early nineteenth century typically observed that the hypnotic trance brought forth latent clairvoyant observation and diagnosis capabilities in their subjects. A century later those doing hypnosis research were more certain that these phenomena were physically impossible, and they no longer seemed to occur.)
If the newly re-energized area of psychic research does flourish, with the dual impetus of increasing public tolerance and new methodological tools, its impact on modern culture may be profound. As earlier indicated, in the current Western scientific paradigm "reality" tends to be physical, causal, mechanistic, and objective. The data of psychic research suggest that reality includes paraphysical effects, that non- material mental states exist and transact with physical systems, and that humanity has a mental or consciousness aspect which transcends its physical nature.
General Systems Theory and Cybernetics
We may let Gregory Bateson introduce a final research area to be mentioned here:
the growing together of a number of ideas which had developed in different places during World War II . . . the aggregate of these ideas [being called] cybernetics, or communication theory, or information theory, or systems theory. The ideas were generated in many places: in Vienna by Bertalanffy, in Harvard by Wiener, in Princeton by von Neumann, in Bell Telephone labs by Shannon, in Cambridge by Craik, and so on. All these separate developments in different intellectual centers dealt with . . . the problem of what sort of a thing is an organized system ... I think that cybernetics is the biggest bite out of the fruit of the Tree of Knowledge that mankind has taken in the last 2000 years.

-- 1972, pp. 482-484
General systems theory is in essence an attempt to integrate in some rational terms, with appropriate metaphors, the diverse knowledge flowing from the whole of scientific investigation. It aims at being both holistic and empirical. One of its most basic propositions, empirically supported, is that laws and principles found to govern the systems particular to one discipline are likely to have import for the systems peculiar to other disciplines.
For example, Wiener (1954) observes that the operations of modern complex computing systems are precisely parallel to those of living organisms in their use of feedback to counteract the thermodynamic tendency toward increasing entropy (i.e. confusion, disorder). In both cases there are similar processes of collecting information from the outside world, transforming this information into more usable forms, basing action on the transformed information, and reporting the consequences back to the internal regulatory apparatus.
The concept of many systems as potentially having similar functional or structural models is an essential part of what in 1954 was termed General Systems Theory by von Bertalanffy (a theoretical biologist), Boulding (an economist), Gerard (a neurophysiologist), and Rapoport (a mathematician). It should be noted that they specifically rejected the notion of the person being only an assembly of the parts of systems that the reductionist approach suggests (Buckley, 1968).
The main thrust for the systems approach may be said to have stemmed from biology. The trend toward, and need for, viewing biological systems in other than reductionist terms came from the thinking of von Bertalanffy, Weiss, Cannon, Bernard, and others in the 1920s and 1930s though their work did not gain widespread recognition until after World War II. Then it was realized that although parts of the biological system might be said to be both in equilibrium and closed, the whole system was not so structured, and so new concepts would be necessary if these systems were to be accurately described by science.
In turn, the systems approach was fruitfully applied to many aspects of the study of organisms, e.g. to the cell (Rashevsky, 1938), to permeation in cells (Osterhout, 1932), to metabolation (Bertalanffy, 1932), growth theory (von Bertalanfly, 1934), and excitation (Hill, 1936). However, the terms of its initiation were broader than this and Ashby (1973) describes the kinds of cross-fertilization that were envisaged as possible if the inhibitions of specialization could be removed:
The neurophysiologists were generally unwilling to think of the cerebral cortex as a place where epidemic-like processes were occurring. The economists ordinarily would not take a person seriously who suggested that the banking system worked rather like the liver.
Further, the advantages of the systems approach were made apparent when Sir Ronald Fisher successfully challenged the reductionist premise by demonstrating that in ecological systems, plots showing the effect of one variable change at a time could never show the effect of varying two or more of them simultaneously. A second major advance was achieved when radio engineers mastered the problems of feedback circuits which had enormous sensitivity but were wildly unstable until it was understood how the interactions created by the feedback operated on the system. When Norbert Wiener discovered that the results could be applied to systems generally such that "goal-seeking" or "self-corrective" devices could be constructed utilizing the feedback principle, then systems science began in earnest, but again, for specialized purposes.
Now it is understood that interaction in systems is a vital element and it requires a new approach; hence Weiss's (1969) point that:
The number of statements necessary to describe the whole system is more than that necessary to describe the parts . . . the "more" in the above statement does not at all refer to any measurable quantity in the observed systems themselves; it refers solely to the necessity for the observer to supplement the sum of statements that can be made about the separate parts by any such additional statements as will be needed to describe the collective behavior of the parts, when in an organized group.
Further, the ways in which systems are structured in terms of hierarchies that allow them to deal effectively with increasing complexity is another essential component (Weiss, 1969).[xi] Thus we find that systems in general have only certain kinds of responses to growth, new information, or change, all of which have common meanings in systems theory. In general such responses are characterized by sudden restructuring phenomena which are usually preceded by dissonance in the system showing up at several levels simultaneously. These events are also accompanied by a trend toward greater simplification as well as interactive transitions across levels of the old subsystemic structure. It is not yet clear whether transitions of this kind can actually be guided; this question emerging from the systems approach is one of the most demanding challenges which we must meet in the near future (Piatt, 1970).
Thus it is clear that information emerging from the systems approach can have immediate relevance for the study of many parts of the human environment. The hierarchization notion is common to language (Chomsky, 1965), voluntary action (Bruner, 1969), instinctive behavior (Tinbergen, 1951), and numerous other kinds of systems. Laszlo (1969, 1972) and Salk (1973), among others, find ethics and values as having an objective base in norms echoed in the structure or "metabiology" of living systems. Bateson (1972) states the promise of cybernetics and general systems theory most ambitiously in dealing with the dilemma to which human consciousness aided by modern technology have now brought us:
Today the purposes of the consciousness are implemented by more and more effective machinery, transportation systems, airplanes, weaponry, medicine, pesticides. . . . Conscious purpose is now empowered to upset the balances of the body, of society, and of the biological world around us. A pathology — a loss of balance — is threatened. . . . On the one hand, we have the systemic nature of the individual human being, the systemic nature of the culture in which he lives, and the systemic nature of the biological, ecological system around him; and, on the other hand, the curious twist in the systemic nature of the individual man whereby consciousness is, almost of necessity, blinded to the systemic nature of the man himself. Purposive consciousness pulls out, from the total mind, sequences which do not have the loop structure which is characteristic of the whole systemic structure. If you follow the "common-sense" dictates of consciousness you become effectively, greedy and unwise — . . . [where] I use "wisdom" as a word for recognition of and guidance by a knowledge of the total systemic creature. Lack of systemic wisdom is always punished. . . . Biological systems — the individual, the culture, and the ecology — are . . . punishing of any species unwise enough to quarrel with its ecology. Call the systemic forces "God" if you will. (p. 440)
SOURCES AND CHARACTERISTICS OF A POSSIBLE NEW PARADIGM
We have examined some characteristics of science as it has been, and also some of the developments that may be forcing change in its basic paradigm. Now we want to look at some of the interactions between science and society and suggest some characteristics of the new scientific paradigm that may be emergent.
Interactions between Science and Society
Science today affects the lives of an unprecedented number of people, in terms both of technological impact and of their direct involvement in the activity. The number of Americans who are in some manner occupationally involved in scientific research and development is approaching 5 percent of the working population (Schlegel, 1972). The highly complex and costly operations of science have become a subject for debate in all the advanced societies (Ciba, 1972; Calder, 1963). This increased impact and the high cost of science bring a heightened interaction between society's attitudes to science and the content and quantity of scientific research.
For at least a century, the relationship between science and modern society in many ways has resembled that which formerly existed between religion and society. In advanced societies, most people have sought explanation of natural phenomena in scientific terms, where formerly, explanation was sought from the authority of the major religions. Thus, science has acted as a kind of validating filter through which events in the "real" world had to pass before they could become accepted. However, in performing this function, science has often ended up rejecting as unreal or illusory many aspects .of subjective experience of phenomena which cannot be explained by its own paradigms — psychic phenomena, UFOs, religious experiences — as well as some of the taboos listed earlier. In recent years, major institutions of science have begun to recognize that they can no longer refuse attention to aspects of human experience having high currency in society, and that to continually deny existence to widely experienced realities is to eventually destroy their own authority.
Related to these changes within science is society's growing disenchantment with science. Generally speaking, this disenchantment has been exacerbated by the sometimes disastrous misapplication of technology made possible by science. In the eyes of many, the distinction between science and technology is blurred; as a result, today's ecological crisis, the spinoff of science into military technology, and other problems of advanced societies are blamed on science itself.
This new hostility toward science is reflected, for example, in decreased enrollment in science-degree programs at colleges and universities. It has also repeatedly been used in the political sector to initiate massive cutoffs of funding for basic science — even though the development of military technology continues to flourish. There is a growing belief in the possibility of discovery-specific targeted funding in science, although examination of the patterns of scientific discovery discloses that one of its essential qualities is unpredictability.
The influence of social factors on science can pull in two opposing directions. On the one hand, social pressure can enrich the whole content of science by stressing the need for science to address itself to many issues now excluded. Important future developments might include, for example: extension of models of causality to include new phenomena interlocking with developments in physics; theory of complex and mutual causal systems and psychic research; the role of consciousness in both quantum mechanics and the general realm of state-specific sciences; the vital parameters of ecological and global systems as wholly interconnected systems leading to more enlightened macro-decision-making.
On the other hand, if previously cited problems of misunderstanding of science and the role of technology prevail, then science will have its base of operations diminished by the social demand for almost exclusive attention to short-range problems and goals, thus causing a deterioration of the quality of the scientific enterprise as a whole. Thus, certain social pressures may be actually molding science into becoming exactly what society most wishes it not to be.
Although it has become commonplace to note how science has transformed society, we may well have underestimated the converse — how much the changing values of society have accelerated or decelerated, and affected the form and content of, scientific activity. As Edelstein (1957) points out, the Greeks discovered and tested most of the essential elements of the scientific method. They did not, however, develop their discoveries into practical application. One of the reasons for this, Farrington (1953) suggests, was that Greek society was based on a slave economy, and there was, therefore, no need for the development of technological applications. A more fundamental restriction, as Edelstein (1957) notes, was the Greek image of man in relation to nature: "The world was there to live in and not to be used and made over." Hence, the Greek approach to the pursuit of knowledge was largely aesthetic, although as Aristotle prophetically remarked: "Man vanquished by nature becomes master through technics."
In contrast to the Greek notion of "man," the Judeo-Christian view holds that "man" is essentially separate from the rightful master over nature. This view inspired a sharp rate of increase in technological advances in Western Europe throughout the Medieval period. On the other hand, the severe limitations of scholastic methodology, and the restrictive views of the Church, prevented the formulation of an adequate scientific paradigm. It was not until the Renaissance brought a new climate of individualism and free inquiry that the necessary conditions for a new paradigm were provided.
Interestingly, the Renaissance scholars turned to the Greeks to rediscover the empirical method. The Greeks possessed an objective science of things "out there," which D. Campbell (1959) terms the "epistemology of the other." This was the basic notion that nature was governed by laws and principles which could be discovered, and it was this that the Renaissance scholars then developed into science as we have come to know it.
Today, scientists are experiencing a sense of restriction from the limitations of the objective and reductionist approach, akin to the limitations felt by the Renaissance scholars in relation to the Medieval schoolmen's approach.
The time is clearly ripe for a new vision, and it is natural to wonder if once again the methods of inquiry developed by another culture might not be strong where ours are providing weak. As indicated by Table 5, it may be that these methods will be found in an "epistemology of the self," such as has held sway in the East. Certainly, there is a sudden new interest in oriental knowledge of various methods of control over bodily and mental functions. Like the Greek methods, these techniques have lain dormant in their culture of origin insofar as general application and "objective" development are concerned. Now, however, the Eastern discoveries are being validated in the West by biofeedback and other techniques. In short, the scientific knowledge of the West may be the environment needed if discoveries of the East are to develop and receive[xii] widespread application to the practical concerns of humankind. This is not to suggest that modern science would or should adopt totally all the Eastern notions of consciousness, but rather that they might be fruitfully adopted and synthesized with traditional Western scientific methods to produce the next stage in man's evolutionary advance. As Oates (1972) commented:
What appears to be the breaking down of civilization may well be simply the breaking up of old forms by life itself (not an eruption of madness or self- destruction), a process that is entirely natural and inevitable. Perhaps we are in the tumultuous but exciting close of a centuries-old kind of consciousness — a few of us like theologians of the Medieval church encountering the unstoppable energy of the Renaissance. What we must avoid is the paranoia of history's "true believers," who have always misinterpreted a natural, evolutionary transformation of consciousness as being the violent conclusion of all history.
Characteristics of a Possibly Emergent Paradigm
Table 5: ELEMENTS OF AN HISTORICAL ANALOGY FOR EXPLORING THE FEASIBILITY OF A NEW SCIENTIFIC PARADIGM

Element of the historical analogy / in Medieval to Industrial transformation (past) / and Industrial to Post-industrial and transformation (future)

Approach or idea with undeveloped potential / Early Greek development of an epistemology of the "other" on which an objective physical science could be based / Early Oriental development of an epistemology of the "self" on which an objective/subjective psycho-physical science could be partially based

Image blocking development of the idea for human betterment in culture of origin / Dominant image of the world as there to live in, not to be used and made over; free people enjoying know- ledge for its aesthetic value; slaves doing the work — hence uneconomic to replace human energy by technology / Dominant image of the person as essentially a spiritual being deluded by the "maya" of physical existence — hence uneconomic to apply self-knowledge to problems of material existence

Motivating conditions for development of idea / Perceived limitations of the scholastic method, desire for empiricism and practical physical technologies / Perceived limitations of current reductionistic, objective methods; ecological problems beyond resolution by physical-technologies alone; desire for "value incorporating" social and psycho-technologies

Image of humankind necessary to foster development of the idea / Person as a being separate from nature, appropriate to dominate nature through exercise of individual will and reason / Person intrinsically part of nature, appropriate to harmonize self and nature through exercise of the individual and the collective, with objective and subjective means

Building blocks for development of idea / Translation of Greek thought; development of measurement mathematics, engineering, and later "pure" sciences of specialized discipline / Translation of Oriental thought, synthesis with general systems theory, learning theory, and emerging disciplines of holistic objective-subjective inquiry

Result of full development of idea / Powerful objective science and physical technologies; industrial corporations with necessary capitalization to exploit new technologies / Balanced "moral" science and economics oriented toward ecological well-being; balanced emphasis on physical, social, and psycho-technologies; new institutional forms yet to be discovered and created
Much of what has been discussed in this chapter is to the point that the scientific paradigm and, through it, scientific research findings affect the dominant "image of man" in the society — but contrariwise the society's priorities and its cultural prejudices influence the scientific paradigm. At the present moment in history both developments within science itself (e.g. changing metaphors) and pressures from the rest of society (e.g. disenchantment with the present science-technology thrust) may be bringing about a basic change in the scientific paradigm. From the nature of these various forces we have examined in the preceding discussion it is possible to deduce some characteristics that the emergent paradigm would be likely to have if it is responsive to these forces. The following eight characteristics are among the most important:
1. The new paradigm will likely be inclusive rather than exclusive. Science as it has been known to now will be included as a special case, distinguished by a positivistic bias that resulted in relative neglect of subjective experience, and a serious schism between the "two cultures" of science and the humanities. There will be recognition that any system of knowledge that has guided a stable society, whether that society be sophisticated or primitive, ancient or modern, Eastern or Western, may be assumed to be rooted in the human experience of its time and place and hence in that sense valid, not to be lightly assumed away as a quaint superstition.
2. It will likely be eclectic in methodology and in its definition of what constitutes knowledge. It will be guided by the dictum of Saint-Exupery, that "Truth is not that which is demonstrable. Truth is that which is ineluctable" — which cannot be escaped. Thus the new scientific paradigm will not be slavishly wedded to the controlled experiment as the paragon of the test for ultimate truth. Furthermore, it will not be solely reductionistic in its quest for "explanations," recognizing that, for instance, a teleological cause may complement, not contradict, a reductionistic cause.
3. The new paradigm will likely make room for some sort of systematization of subjective experience, the domain which has heretofore largely been left to non-science — the humanities and religion. That is to say, it will include study of those experiences from which we derive our basic value commitments. From this characteristic flow several others:
4. It will likely foster open, participative inquiry, in the sense of reducing the dichotomy between observer and observed, investigator and subject. Insofar as it deals with a "human science," it will be based on collaborative trust and "exploring together," rather than on the sort of manipulative deception which has characterized much experimental psychological research of the past.
5. It will likely be a moral inquiry, in the sense of investigating (and applying) what values are wholesome for man (much in the sense that the science of nutrition investigates what foods are wholesome for man), rather than a "value-free" inquiry.
6. It will likely highlight a principle of complementarity, or reconciliation (analogously to wave and particle theories of light) of such "opposites" as free will and determinism, materialism and transcendentalism, science and religion.
7. The new paradigm will likely incorporate some kind of concept of hierarchical level of consciousness, or levels of subjective experience. These will be distinguishable in the sense that concepts and metaphors appropriate to one level do not necessarily fit another. They will be hierarchical, not in the sense that one is higher than another on some value scale, but in the sense of structural hierarchy, and also in the sense that the consciousness of intense moments of creativity are accompanied by, in some testable meaning, more awareness than times of "ordinary consciousness," and those in turn involve more awareness than deep sleep. The notion of a spectrum of potential consciousness connotes extending the range of recognized "unconscious" processes (i.e. processes of which we are not usually conscious although the potentiality appears to be present of experiencing them directly) to include a vast range of reported experience in the provinces of creative imagination, "cosmic consciousness," aesthetic and mystical experience, psychic phenomena, and the occult. This range will include, importantly, both subconscious choice — man "hiding from himself," repressing not only feelings and memories but also knowledge of his own potentialities — and supraconscious choice, the direction of a "higher self" manifesting itself in hunches and inspirations and "choosing better than we know." The metaphors appropriate to the "highest" levels will include some way of referring to the subjective experiencing of a unity in all things (the "More" of William James, the "Divine Ground," Brahman) of which the "higher self" (the "Oversoul" of Emerson, Atman) has immediate knowledge.
8. Thus the paradigm will allow a much more unified view of human experiences now categorized under such diverse headings as "creativity," "intuition," "hypnosis," "religious experience," and "psychic phenomena" — and also a more unified view of the processes of personal change and development that take place within the contexts of psychotherapy, education, "growth centers," religion, and crisis confrontation.
The guiding paradigm of scientific activity and the dominant image of man in society are not the same thing. They are, however, interdependent and a change taking place in one will surely affect the other.
_______________
Notes:

Note A
"Weiss's point that the rules of interaction must be given does not provide the whole story here. Complex patterns can be generated by simple rules. However, in Ulam's formulation, it takes a greater amount of (Shannonian) information to describe the finished pattern than just the rules of interaction alone. Thus the amount of information (Shannonian) grows. This is contrary to Shannon's formulation that the amount of information decreases but can never increase. Furthermore, often the rules of interaction cannot be inferred from the finished pattern. It is important to realize that Shannon's information theory was developed to combat noise in systems and is therefore based on the rules of random interference. Thus it cannot explain the increase of complexity, structure and differentiation in biological systems. Biological and social processes, on the other hand, are based on differentiation — amplifying as well as structure-maintaining mutual causal relations, and can increase and maintain differentiation, structure and complexity. So Shannon's information theory is inadequate for biological and social systems. [See Maruyama (1963) for further details.]"

— Magoroh Maruyama
i.  
"There is never a period of normal science: What Kuhn calls paradigms are multiple  and usually disconnected theories, postulates which are constantly being tested,  falsified and altered or verified and reclaimed pro tern. The process is dynamic; in time  it alters every tenet' of science. The abandonment of an important tenet (like geocentricity) is sometimes called a revolution."
 
— Henry Margenau
Kuhn's use of the term paradigm is controversial among many members of the scientific  community; some scientists regard Kuhn as correct, others do not. 
ii.
"This point by Fuller, applied to us, might indicate why we will not survive if our  technological resources are threatened, why we must relearn how to survive with only  our natural resources, and why it is imperative to rely on machines only if one knows  how to fix them, or do without them."
 
— Stanley Krippner
iii. Henry Margenau offers additional comments in his discussion of "modified reduc-  tionism" in Appendix C.   
iv.
"And it seems to some that such union cannot be achieved unless the problem of  consciousness, which appears in every act of measurement, is taken seriously and  included in the theory."
 
— Henry Margenau
v.  
"The (past) Faustian interpretation of (historical) time was subordinated to the will to  power, symbolized by Newtonian mechanics which treated bodies moving in space as  inert recipients of energy. The (present) Riemannian space-time of the Leibnitzian  culture has a strong Chinese tinge: fields of forces compose the extension of the  universe which displays a curvilinear 'infinity'."
 
— Roland Fischer
vi.
"Your image of psychically evolving humankind is, I think, incorrect."
 
— Elise Boulding
As Dr. Boulding's reasons for holding this view are too lengthy to include here as a  footnote, and as they pertain to various other sections of this report, they are included as  Appendix A.  
vii.
"There are historical 'consequences' to the shifting of epochs: swinging from the  digital (left, rational) to the analog (right, symbolic) hemisphere! In the past 2,000  years, the pendulum has swung twice from analog to digital and back, and it is now  swinging towards the analog for the third time. Perhaps we have just about passed the  point more than halfway. The great outburst of creative activity which marked the first  few decades of the century may be viewed as resulting from an interhemispheric  integration of the digital and the analog Zeitgeist. Apparently, artistic and scientific  creativity reach maximum at a point midway between a digital and a subsequent analog  epoch."
 
— Roland Fischer
viii. See Elise Boulding's remarks in Appendix A regarding self-hypnosis and "mind  games" which use passive volition. 
ix.
"Psychoactive substances have many potential uses — and misuses. (See Wayne O. Evans  and Nathan S. Kline, Psychotropic Drugs in the Year 2000. Charles C. Thomas, 1971.) It is  irresponsible to wax enthusiastic about the potential of drugs without also cautioning  about the many problems that they are causing."
 
— Michael Marien.
x.
"Of the 4 effects, most scientists have greatest reservation with respect to telekinesis —  in spite of work at Boeing and in Russia. Telekinesis is also of least importance for the  discussion that follows."
 
— Henry Margenau
xi.  See Note A, p. 109. 
xii.
"This is a most important admonition, which could be further elaborated. Northrop's  'Meeting of the East and West' here makes an important point. In my own writings,  where I introduced P-plane and C-field, I called attention to the fact that the East  dwells largely in the protocol plane of immediate experience (which includes introspection and esthetic immediacies), refusing to enter the field of rational constructs.  The West, on the other hand, overemphasizes C, the rational. P and C are connected  by rules of correspondence. My insistence is upon equalizing the emphasis on the  two."
 
— Henry Margenau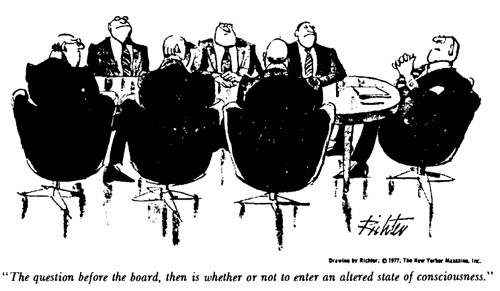 "The question before the board, then is whether or not to enter an altered state of consciousness."
Reproduced by permission of The New Yorker Magazine, Inc. Drawing by Richter. © 1977.