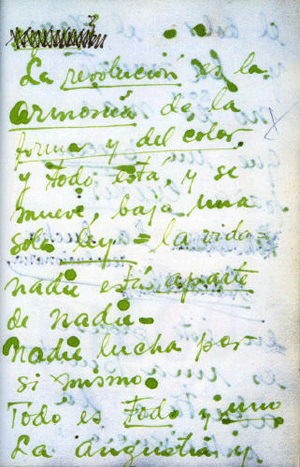 xxxxxxxx
Revolution is the
harmony of
form and color
and everything exists, and
moves, under only
one law = life =
Nobody is separate
from anybody else -
Nobody fights for
himself.
Everything is all and one
Anguish and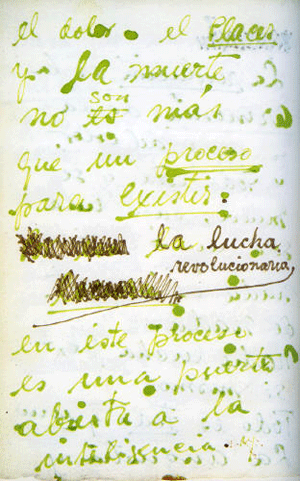 pain - pleasure
and death
are no more
than a process
for existence
xxxx the revolutionary
struggle
xxxxxx
in this process
is a doorway
open to
intelligence.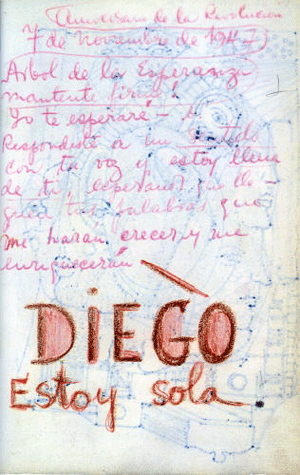 Anniversary of the Revolution
7th of November 1947
Tree of Hope
stand firm!
I'll wait for you -
You responded to a sense
with your voice and I'm full
of you, waiting for
your words which
will make me grow and
will enrich me
DIEGO
I'm alone.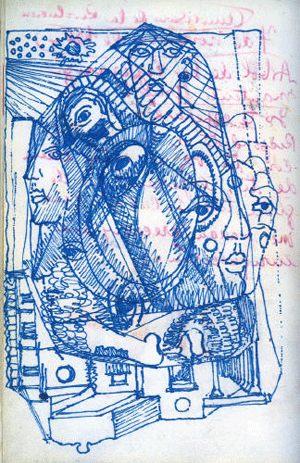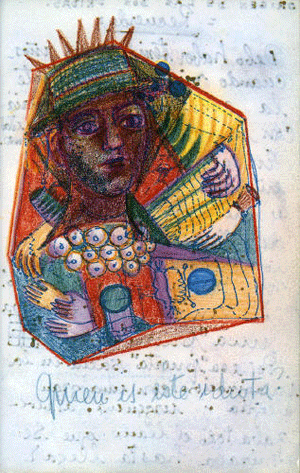 Who is this idiot?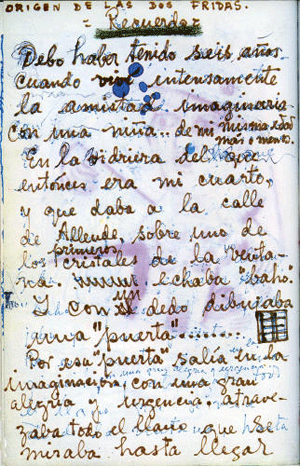 ORIGIN OF THE TWO FRIDAS.
= Memory =
I must have been six years old
when I had the intense experience of
an imaginary friendship
with a little girl ... roughly my own age.
On the window of
my old room,
facing Allende Street,
I used to breathe on one of the top panes.
And with my finger I would draw
a "door" ..........
Through that "door"
I would come out, in my imagination,
and hurriedly, with immense happiness, I would
cross all the field I
could see until I reached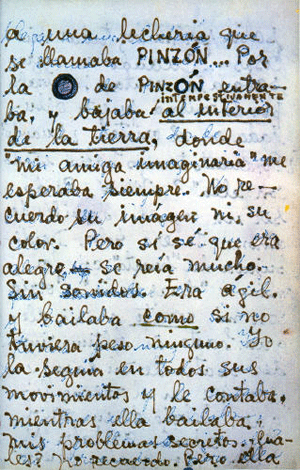 a dairy store
called PINZON ... Through
the "O" in PINZON I en-
tered and descended impetuously
to the entrails
of the earth, where
"my imaginary friend"
always waited for me. I don't
remember her appearance or her
color. But I do remember her
joyfulness - she laughed a lot.
Soundlessly. She was agile.
and danced as if she
were weightless. I
followed her in
every movement and while she
danced, I told her
my secret problems. Which
ones? I can't remember. But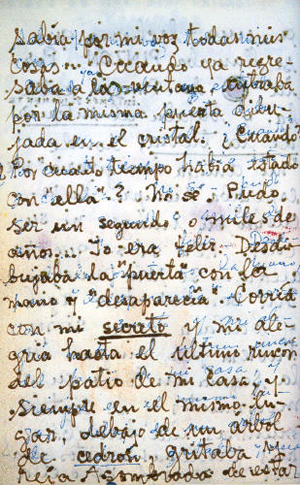 from my voice she knew all about my
affairs ... When I came
back to the window, I would enter
through the same door I had
drawn on the glass. When?
How long had I been
with "her"? I don't know. It could
have been a second or thousands of
years ... I was happy. I would erase
the "door" with my
hand and it would "disappear." I ran
with my secret and my
joy to the farthest corner
of the patio of my house, and
always to the same place,
under a cedron
tree, I would shout and laugh Amazed to be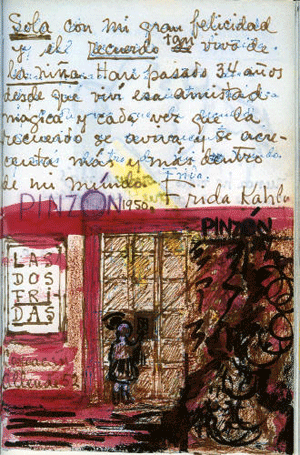 Alone with my great happiness
with the very vivid memory of
the little girl. It has been 34 years
since I lived that magical
friendship and every time
I remember it it comes alive and
grows more and more inside
my world.
PINZON 1950. Frida Kahlo
LAS
DOS
FRI-
DAS
Coyoacan
Allende 52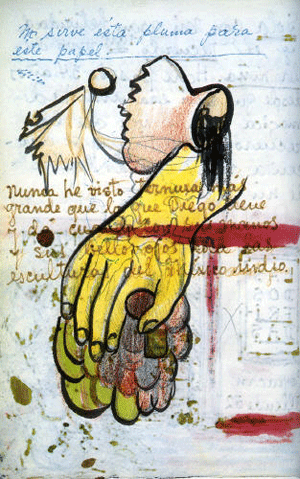 his pen is no good for
this paper.
I have never seen tenderness as
great as Diego has
and gives when his hands
and his beautiful eyes
touch Mexican Indian sculpture.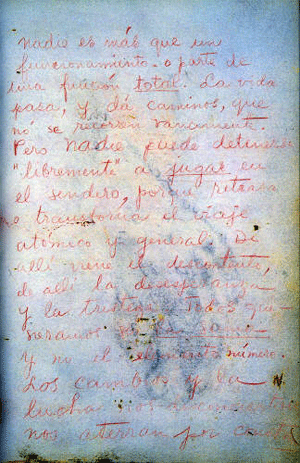 No one is more than a
function - or part of
a total function. Life
goes by, and sets paths, which
are not traveled in vain.
But no one can stop
"freely" to play by
the wayside, because he will delay
or upset the general
atomic journey. From this
comes discontent
From this comes despair
and unhappiness. We all
would like to be the sum total
and not one of
the numerical elements.
Changes and
struggles disconcert us,
terrify us because they are con-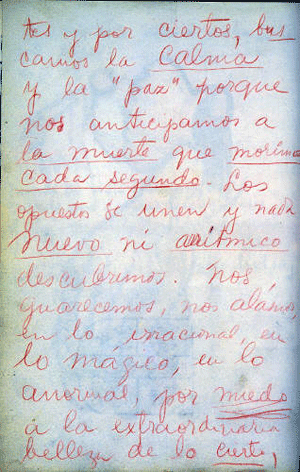 stant and certain, we search
for calm
and "peace" because
we foresee
the death that we die
every second. Op-
posites unite and nothing
new or arhythmic
is discovered. We
take refuge in, we take flight
into irrationality,
magic,
abnormality, in fear
of the extraordinary
beauty of the truth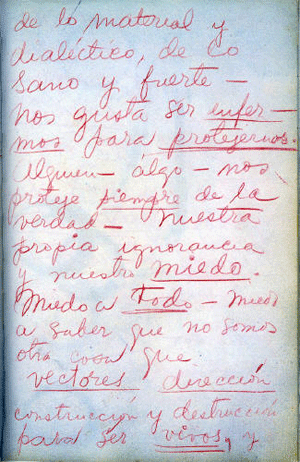 of matter and
dialectics, of whatever is
healthy and strong -
we like being
sick to protect ourselves.
Someone - something - al-
ways protects us from the
truth - Our
own ignorance
and fear.
Fear of everything - fear
of knowing that we are
no more than
vectors direction
construction and destruction
to be alive, and