APRIL: A BOAT RIDE IN XOCHIMILCO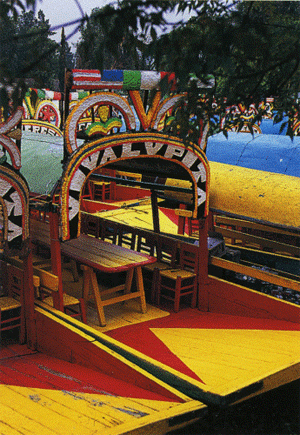 The Viva Lupita, one of the trajineras from Xochimilco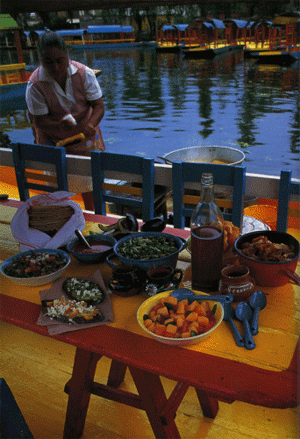 The table is set with dishes for the picnic in the canal
That April was terribly hot, even in Coyoacan. To get away from the oppressive air that had taken over the house, Frida organized an outing to Xochimilco. At Xochimilco the water in the canals, the shade from the trees, and the freshness of the floating flower and vegetable gardens were certain the make the day more bearable. I thought it was an excellent idea. Frida invited Anita Misrachi, Lina Boytler, Milagros Carbajosa, and her sister Christina. The children who went along with us were Ruth and Aline Misrachi and my sister Ruth. It was a real adventure, even though all we had in mind was to spend a day in that incomparable spot, a true relic of ancient Mexico.
It turned out to be a real adventure because Frida decided that we should travel like the families with ten or twelve children who spent their Sundays boating on the lake's placid waters. And so instead of taking my father's Ford station wagon at Coyoacan, we caught the electric street car that would take us as far as the Tlalpan road; from there we went to the traffic circle at San Fernando, in the same town, where we transferred to the line that terminated at Xochimilco.
Frida thought it would be fun to sit in the second-class car so we could feel the wind in our faces. The only thing that separated us from the drivers of the other vehicles that sped along parallel to the street car rails and electric cables was a flimsy railing. The last stop of the Xochimilco line was in the garden in front of the huge church and marketplace of the legendary site. So at midday, after hours of travel --- surrounded by the baskets of women on their way to buy vegetables and flowers at the floating gardens and the merchants themselves heading to market with their earthenware pots and pans and planters -- we arrived at our destination.
Flowers and plants from all over Mexico are still bought and sold at Xochimilco. In fact the Nahuatl word means "the place of the cutting gardens." Flowers and vegetables grown on the floating gardens can be bought freshly cut, while the market offers food prepared by the same people who from time immemorial have lived on the shores of the now almost vanished lakes that used to cover the floor of the Valley of Mexico.
These renowned cooks prepare a tremendous variety of stews that are native to the region, like sopa aguada and sopa seea de tortillas; beans with cheese, squash blossoms, and baby squash; elote stew with slivers of chile poblano; and other recipes that have been handed down for generations.
The fields at Xochimilco consist of countless plots built up out of highly fertile organic matter that the peasants have dredged from the bottom of the surrounding canals. The humidity rises into the soil and helps germinate the seeds. This soil is especially favorable for growing pre-Columbian plants like tomatoes, huauzontles, amaranth, corn, chayotes, Creole squash, and different kinds of chiles and beans, many of which Frida and Diego loved to eat. A number of plants introduced by the Spanish conquistadors are also grown there, including lettuce, radishes, onions, and carrots.
In other words, Xochimilco produces all of the vegetables that are commonly used in Mexican cooking. The farmers transport them in little boats called chalupas, selling them to passersby at the dock, or out of roofed flat-bottomed boats called trajineras, which ply the network of canals.
Arriving at the dock, visitors usually rent one of these skiffs. The bows are traditionally decorated with women's names, and the visitor has the chance to rent one named after his lady companion or someone dear to his or her heart. In honor of her friend Anita Misrachi, Frida chose a trajinera with "Anita" spelled in sunflowers, marguerites, and white and yellow carnations. She continued to observe local tradition by asking a group of marimba players to follow us in another boat so we could enjoy the romantic melodies they played on their fine wooden instruments. Mostly they sang love songs, like the one called "Maria Elena," the most typical of them all. The words go like this:
Vengo a cantarte mujer
mi mas bonita cancion,
porque eres tu mi querer
reina de mi corazon,
no me abandones mi bien
que eres todo mi querer,
Tuyo es mi corazon
oh! sol de mi querer,
mujer de mi ilusion,
mi amor te consagre,
mi vida la embellece
una esperanza azul,
mi vida tiene un cielo que le diste tu.

Tuyo es mi corazon
oh! sol de mi querer,
tuyo es todo mi ser, tuyo es mujer,
ya todo el corazon te lo entregue,
eres mi fe, eres mi Dios, eres mi amor.
After we had been rowing for some time on the lake's placid waters, a group of chalupas skippered by flower and vegetable merchants and people selling homecooked food came up to us. They called to us to try their specialties, which at the time could only be found in that town. Today they are quite common delicacies -- tlacoyos stuffed with squash blossoms, mushroom quesadillas, huauzontles stuffed with cheese in green-tomato sauce, and romeritos with sour prickly pears.
We had brought our own basket of delicacies: guacamole, seasoned pork sandwiches, carnitas, manzano chile sauce, red sauce, fruit salad, and, to make us even more festive, grenadine punch. We rounded out the menu with various items from "the chalupa merchants," as Frida called them, including tortillas, black bean soup with oregano and melted cheese, fresh lima bean salad, nopales salad, and refried beans with cheese and plum tamales. A peasant pulled up in his chalupa with sweet maguey water, so fresh that it had not yet fermented into pulque.
We were about to eat when the oarsman brought the skiff to a sudden stop and asked Frida, in a worried voice, if we had any interest in joining the battle of flowers that was taking place in the canal we were traveling toward. In this event, local girls took to the water in a flotilla of boats filled with bouquets of flowers, which they would throw at other boats piloted by boys from the neighborhood and students who had taken advantage of the weekend to go rowing in the cool shadows of the trees that lined the canals of Xochimilco.
Frida was delighted by the prospect. To the surprise of the locals, who had no idea who these odd-people were, we threw ourselves into battle. Flowers rained down on us from all directions. Every time one hit us in the face we broke into laughter, wondering if the blow (which was more like a caress) had come from a rose, a carnation, a marguerite, a lily, or a combination of the above. We shouted "Hit by a rose!" or "Look where the lily landed!"
A marimba band played the whole time we took part in the battle between girls and boys. This was the end of our adventure on the Xochimilco canals, surrounded by flowers and music.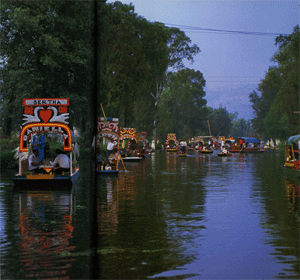 Trajineras in the canals of Xochimilco, with vendors in their chalupas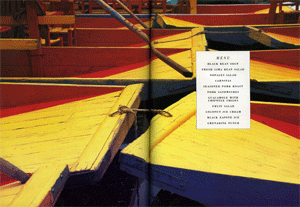 A detail of the gaily painted trajineras; these were among Frida's favorite colors
MENU
Black Bean Soup
Fresh Lima Bean Salad
Nopales Salad
Carnitas
Seasoned Pork Roast
Pork Sandwiches
Guacamole with Chipotle Chiles
Fruit Salad
Coconut Ice Cream
Black Zapote Ice
Grenadine Punch