THE FOOT & THE SHOE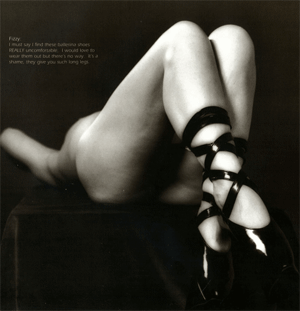 Fizzy: I must say I find these ballerina shoes REALLY uncomfortable, I would love to wear them out but there's no way. It's a shame, they give you such long legs.
A 'masterpiece of engineering and a work of art.' The face? The hands? No, this is Leonardo da Vinci's assessment of the human foot. And without doubt he was justified in his praise -- not only because of the extraordinary complexity of the foot's 26 bones, 114 ligaments and 20 muscles, but also because it was this typically un-praised and often joked about part of the body which set the course for all of human development.
By facilitating bipedal rather than quadrupedal locomotion, the human foot released the hands to pursue their own development of the unique, opposable human thumb. (That is, a thumb which can move independently and in opposition to the other fingers so as to make grasping objects easier.) This, in turn, facilitated complex tool use and making -- the shaping of spears, flint or shell blades and, in time, even the computer on which I am writing this book. But such technological expertise is only part of the story. Tool use and making demanded more social cooperation and this created the foundations of tribal life, complex cultural systems and language. All the time, our ancestors' brain size expanded while, at the other end of the body, the feet went on adroitly making it all possible.
In short, we as human beings stand apart from other primates because we stand on two feet. Naturally, however, this hasn't kept us from 'improving' on this masterpiece of art and engineering in our species' drive to customize the human body. As with other parts of the body, the feet may be tattooed or painted (the semi-permanent body art of intricate designs applied to the foot with henna dye being especially highly developed amongst women in parts of Northern Africa and India) and, as with fingernails, the toenails may be painted. The ankle, as previously mentioned in our discussion of jewellery, is a valuable site for attaching bracelets and other ornaments -- and in India, for example, rings may be worn on the toes just as they are on the fingers.
More dramatically, if initiated at an early age, the entire shape of the foot may be altered. Infamously, this body art was highly developed in Imperial China. Girls between the age of 5 and 7 whose feet were tightly bound to force the toes back towards the heel over many years were, in later life, highly desired as courtesans or wives by wealthy, powerful men. Ideally resulting in a tiny foot measuring only 3 or 4 inches from heel to toe, effective locomotion was sacrificed in pursuit of an aesthetic ideal. The 'Lotus Foot,' as it was known, had strong, arguably obsessive, erotic connotations in Imperial China: the exaggerated cleft of the foot being seen (even apparently sometimes used) as an imitation vagina.
More typically, throughout human history the foot has been customized by being placed within the outer covering of a sandal, shoe or boot. Originally worn for protection (from sharp stones, thorns, poisonous animals or plants, extremes of temperature, etc.) a good example of such footwear is provided by that of the "iceman' who had oval pieces of leather under the soles of his feet which were turned up at the sides and held in placed by an intricate web of grass cord straps which surrounded each foot and under which was stuffed a tight layer of grass to provide warmth.
It is a mistake, however, to assume a fixed correlation between footwear and practical protection. Firstly, many if not most tribal people get by perfectly well (and often have healthier feet in the process) without any means of protecting their feet except the thick calluses which nature and exposure provide. On the other hand, a great deal of footwear (especially but not exclusively that found throughout Western history) has been specifically designed to make locomotion more rather than less difficult. To view such shoes and boots as 'impractical' is, however, to miss the point. As with any other adornments or garments, the practical functions of footwear may have little to do with the physiological functions of the body -- serving a wide range of cultural and erotic functions instead.
For example, as in ancient Egypt, Greece and Rome, a key practical purpose of footwear may be to serve as a sign of wealth or status. To these ends, the more 'impractical' the shoes or boots the better -- a clear indication that one can afford to get from A to B by more extravagant means than simply walking on one's own two feet. In extreme form (for example, the tall, precarious pedestals which the women of Renaissance Venice or the Japanese geishas strapped to their feet) such inhibition of efficient movement appears to be designs to mark subservience (of women to men) as well as to signal wealth.
Time and time again (despite our typical assumptions and jokes about their ugliness or odour) the feet -- and therefore shoes and boots -- are highly charged with erotic possibility. Beyond the real and symbolic implications of footwear which impedes movement and escape, thereby suggesting dependence, submission, vulnerability, the shape of the foot has often been seen as indicative of the genitals. We've already mentioned the Chinese view of the 'Lotus Foot' as a vagina. In Europe in the Middle Ages, on the other hand, men's shoes known as the poulaine sported absurdly long points way beyond the actual toes in a symbolic representation of an enormous penis. (So blatant was this symbolism that both the Church and various governments tried to legally restrict the size of such pointed shoes but, as is usual with such 'sumptuary laws,' with little actual success.) While less extreme, the "Winkle-picker' and other sharply pointed shoe and boot designs of more recent times must surely owe much of their popularity to this, even if subconscious, symbolic equation of the foot and the penis.
Another important erotic motivation in footwear design concerns the high heel which is often a feature of women's shoes and boots. The raising of the heel has the effect of altering posture such that the backside is thrust further back and the breasts further forward. In this way the high heel (interestingly, like Chinese foot-binding) emphasises both of the primary female sexual triggers.
Additionally, of course, the precariousness of extremely high heels also has the effect of underlining vulnerability and dependence. Yet, at the same time, if the heel is sharpened into the stiletto style (perfected by Italian designers in the mid 1950s) completely contrary erotic connotations are also present: the feminine shoe as a weapon and a means of keeping men 'under the heel' of dominant, even dangerous women.
The erotic implications of such designs make the shoes and boots which feature them an obvious candidate for fetishistic obsession. Yet writing about and by shoe fetishists makes it clear that even quite plain and seemingly unerotic designs can hold powerful fascination. Beyond which, of course, the naked, unadorned foot can itself be the object of sexual desire -- even serving for some 'true' fetishists as an essential, even exclusive component of sexual experience.
While any part of the body (and any of its adornments and items of clothing) can become the focus of fetishistic obsession it is statistically remarkable how often it is the foot and footwear which acquires this adored status. But perhaps, moving beyond the popular comic degradation of the foot (humour always being a clue to more serious preoccupations), all this is completely unremarkable when we return with clearer insight to da Vinci's 'masterpiece of engineering and a work of art.' If we are obsessed by the foot and its attire this is perhaps simply a manifestation of some subconscious awareness that it is this part of the body which, more than any other, makes us what we are.