Chapter 18: Civil War
Signs of dissent against Baba Yeshi were not new. Trouble dated back to 1962, when the Mustang chieftain reduced food stipends issued directly to individual guerrillas. He then turned a blind eye to -- even condoned -- the rustling of yaks and goats on the Tibetan side of the frontier as a ready, and free, source of protein. This rubbed many of the Hale-trained cadre wrong, who claimed that their commander was still charging the CIA for the meat and pocketing the difference. [1]
During 1967, with the guerrillas sulking and spent, their demand for an audit of Baba Yeshi's finances grew more shrill. Leading the call were six idealistic Hale graduates, including Rara, who had commanded the 1961 jeep ambush. All six later trekked to Darjeeling, where they made their demands known to Gyalo's longtime assistant, Lhamo Tsering.
When word of the complaints got back to Mustang, Baba Yeshi was, predictably, less than receptive. With little appreciation for standardized accounting procedures, he had few recorded finances to audit. Even if he did have books to open, his assumed prerogative as a Khampa chieftain left him with a perceived sense of immunity toward questioning by subordinates.
In years past, Baba Yeshi's aloof stance would have carried the day. But following the end of the Dalai Lama's stipend and the curtailing of offensive action from Mustang, Gyalo and Lhamo Tsering feared that an open scandal in Nepal would provide a ready excuse for the CIA to target funding. Scrambling for a face-saving solution that would ease tensions at Mustang, they determined that Baba Yeshi should get a competent, respected, and untainted assistant. The trouble was, there were few Tibetans who fit that bill. Many of the proven warriors from the NVDA generation were past their prime. And although there were plenty of younger candidates, they had yet to amass the seniority and respect to lead effectively.
One exception was Wangdu, the feisty Khampa trained on Saipan in 1957. After fleeing Tibet for India in January 1959, he had turned his back on the resistance. Bitter, he had refused an earlier offer to join Establishment 22; instead, he had closed himself off at Darjeeling and frittered away the years reading and studying English. "I would stop to meet him whenever I went to Darjeeling," recalled Gyalo. "He still talked with disgust about the small amount of U.S. assistance." [2]
Despite such negativity, Wangdu had all the right attributes to serve as Baba Yeshi's understudy. Still physically fit at thirty-eight years old, he evoked memories of his charismatic call to arms in Kham. In a society where tribal lineage counts for much, he could draw on the respect accorded to his uncle, the late Gompo Tashi. He was relatively educated and, though somewhat of a womanizer, had officially remained a monk and had no dependents.
In early 1968, Gyalo called Wangdu down from Darjeeling to his New Delhi house. It took repeated appeals, but the Khampa finally relented. After nearly a decade, he would be rejoining the cause.
***
Baba Yeshi took the arrival of his uninvited deputy relatively well. "Gyalo sent a message emphasizing that Wangdu was there to help and assist," said Kay-Kay, the senior Tibetan representative at the Special Center, "not to replace." [3] Although no warm welcome was offered, neither was there any animosity.
A division of responsibility between the two came easily. With Baba Yeshi spending much of his time at Kaisang -- usually absorbed in prayer -- Wangdu headed for Tangya. Low-level intelligence was still being collected by the network of radio agents posted to frontier outposts at Dolpo, Limi, Nashang, and Tsum, so Wangdu had the rest of the guerrillas focus on training for the remainder of the year. Some improvements were soon evident. Besides arranging for the delivery of extra uniforms and shoes, Wangdu increased monthly food allowances from 30 to 150 Indian rupees; rustling was no longer permitted. [4]
At the beginning of 1969, Lhamo Tsering decided to inspect the guerrillas himself. His findings were heartening. After working together for a year, Baba Yeshi and Wangdu were apparently getting along and in good spirits. Though Wangdu expressed some reservations in private, the threat of a schism within the ranks appeared slim.
Very quickly, the atmosphere soured. The precipitating factor: To commemorate the tenth anniversary of the insurrection in Lhasa, a series of events was being planned for Dharamsala in March. Baba Yeshi was invited to attend the Dharamsala memorial services after a stop in New Delhi. Wangdu would be taking his annual home leave at the same time, with Lhamo Tsering left in temporary command. [5]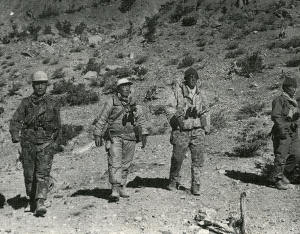 Mustang officers (left to right) Gen Dawa, Gen Gyurme, Rara, unknown, 1968. (Courtesy Lhamo Tsering)
Baba Yeshi smelled a putsch in the making but could hardly turn down the invitation from the highest quarters of the Tibetan government in exile. When he arrived in the Indian capital, his fears were confirmed. He was greeted with the news that he would be receiving a permanent transfer to Dharamsala. Wangdu, his deputy, would be in charge of the Nepal project. This was hardly a slap in the face: Baba Yeshi was fifty-one years old and had spent eight years in the often inhospitable climes of Mustang; the relative luxuries in Dharamsala could be considered a reward for good service. As a further sweetener, he would be assuming the prestigious post of deputy to the security minister in the Dalai Lama's own cabinet.
Baba Yeshi wanted none of it. Resistant to the transfer after almost a month of negotiations in New Delhi, he retired to the quarters of Tashi Choedak, the former Hale interpreter now serving as the deputy Tibetan representative at the Special Center. "I came home to find his rosary and tea cup," said Tashi, "but Baba Yeshi was gone." [6]
A week later, the irate chieftain was spotted in Darjeeling. A few weeks after that, Lhamo Tsering woke to find him at Kaisang. The situation quickly teetered on the edge of confrontation. Baba Yeshi, supported by loyalists among the headquarters staff, demanded his right to properly turn over command to Wangdu before returning to India. As a compromise, Lhamo Tsering gave him two weeks to sort out his affairs.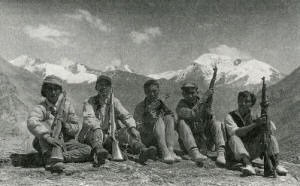 Lhamo Tsering (center) at Mustang, 1968. (Courtesy Lhamo Tsering)
After the allotted time, the chieftain departed Kaisang with two dozen bodyguards. But instead of going to his promised seat in Dharamsala, he got as far as Pokhara and stopped. In letters smuggled back to Mustang, he implored his men to rally to his side. A civil war was about to begin.
***
At the same time trouble was brewing in Mustang, Indo-U.S. intelligence cooperation experienced major changes in structure and personalities. In June 1968, David Blee departed as the New Delhi station chief after more than six years in the post. Replacing him the following month was John Waller, the former deputy station chief in India between 1955 and 1957. A consummate blend of scholar and spy, Waller had spent the intervening years pursuing his passion for Tibetan history. In 1967, he had published an authoritative book on Sino-Indian relations, much of it devoted to Tibetan issues. That same year, he had written an article for Foreign Service Journal about U.S. diplomacy and the thirteenth Dalai Lama. He had also completed a draft of a book about exploration in Tibet. [7]
Once in New Delhi, Waller had little time to pursue his glorified research hobby. Within two months after his arrival, he was confronted with a new counterpart organization. Intentionally patterned after the CIA, the Research and Analysis Wing (RAW) was officially unveiled on 2 September. Both the foreign intelligence desk of the Intelligence Bureau (now downgraded to domestic activities) and the paramilitary projects of the director general of security would fall under RAW's control. [8]
Selected as the first RAW director was R. N. Kao. Previously head of the ARC, the debonair Kao had a long history of close cooperation with U.S. officials. Despite this warm past, Kao was faced with Indo-U.S. relations that were again on a downward spiral. In November, Richard Nixon won the U.S. presidential election. Like his predecessor Johnson, Nixon was fixated on bringing the unpopular war in Vietnam to an end. Not only was South Asia far from Nixon's mind, but many Indians recalled his pronounced slant toward Pakistan when he was Eisenhower's vice president.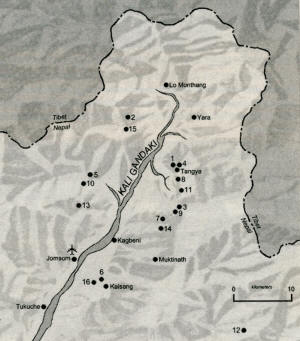 The location of the sixteen guerrilla companies in Mustang, circa 1968
Mrs. Gandhi was showing a tilt of her own. Backed into a political corner by 1969, she shrewdly began courting the populist left at home and the Soviet Union abroad. This, combined with the perceived hostility from Nixon, led to outward relations between New Delhi and Washington sinking to their lowest depth in over a decade.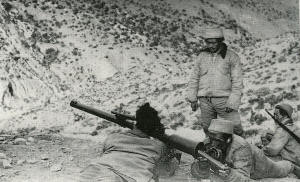 Mustang guerrillas practice with a recoilless rifle, circa 1968. (Courtesy Lhamo Tsering)
Behind the scenes, intelligence cooperation toward Tibet remained only a shadow of its former self. Arriving in June 1968 as the new CIA representative at the Special Center was John Bellingham. Much like Bruce Walker had presided over a funeral, Bellingham was there for the same extended wake. He arrived at the center each Friday afternoon, but there was little for him to do aside from delivering the monthly payments for Mustang.
On two occasions during Bellingham's watch, the Special Center looked to break from its freefall. The first concerned a program to infiltrate singleton resident agents into Tibet. This had been proposed back in 1967 as the long-range replacement for the canceled radio teams. There was a significant difference between the two: the teams had gone in black; the resident singletons, by contrast, would merge directly into society.
The two programs required different kinds of people. The teams had been composed of men versed in paramilitary skills and expected to live in concealment under rugged conditions. Singletons required the intelligence and wit to operate as classic spies. Doing so was complicated by the Cultural Revolution; deep paranoia and suspicion had taken root across Tibetan society.
Although finding a suitable singleton candidate would be difficult, one possibility had been identified back in 1967. That year, an uninvited visitor in his early thirties had arrived at Mustang. Amdo Tsering claimed to be a Muslim from the Amdo city of Sining. He had fled his hometown and supposedly escaped to Nepal via an extended trek through Xinjiang and western Tibet.
Incredulous, Baba Yeshi's men sized up the interloper. Because he looked Chinese and spoke some Xinjiang dialects, they began to suspect that he was a plant dangled by Beijing. Gearing up for a rather unpleasant interrogation, they suddenly found themselves on the receiving end of a verbal flogging from the spirited Amdowa. Uncertain what to do, Mustang flashed a message down to the Special Center. Equally uncertain, the center sent back orders for Amdo Tsering to be escorted to New Delhi. There he languished for over a year; not until the spring of 1969 was it decided to use him as the first in the proposed resident singleton program.
Code-named "Red Stone," Amdo Tsering was given extensive training in secret writing techniques. The CIA also forged a set of Chinese travel documents showing that he worked in westernmost Tibet but was going to Xinjiang on holiday. Once in Xinjiang, he was to head for Lop Nur and attempt to collect dirt samples. Lop Nur was the location of China's primary nuclear testing facility, and the dirt would be analyzed to determine levels of radioactivity.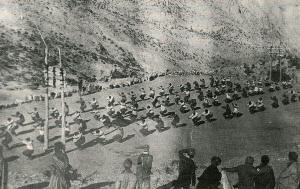 Mustang guerrillas in training, circa 1968.
In September 1969, Red Stone took a train to Siliguri. Escorting him was Tashi Choedak and the senior Indian representative at the Special Center. Heading north through Sikkim, they came to the Tibetan frontier and watched Red Stone gallop across the border. The two Special Center representatives returned to New Delhi to await news of his progress. They did not have to wait long. After just a couple of days, they received word that a nervous Red Stone had attracted attention and been arrested before boarding a bus at Shigatse, the town midway between Tingri and Lhasa. The singleton program subsequently went into remission.
The second project initiated by the Special Center was the activation of special refugee debriefing teams. For years, the radio agents posted along the Nepalese frontier had been collecting low-level intelligence from pilgrims and traders. Building on this theme, in late 1968 the center dispatched a five-man team to Kathmandu to debrief cross-border travelers. The Nepalese capital was a fertile recruiting ground for several reasons. First, Nepal was the only nation still allowed to maintain a trade mission and consulate general in Lhasa. Second, there was a substantial community of ethnic Tibetans who had opted for Nepalese citizenship after 1959, and China had decreed that these Nepalese passport holders were allowed to visit their families or conduct business in Tibet once a year. [9]
In locating sources, the Kathmandu debriefing team had competition from an unlikely source: the Republic of China on Taiwan. Until that time, Taipei had never had much success recruiting a network of Tibetan supporters, mainly because the Kuomintang firmly agreed with the PRC about China's right to rule Lhasa. Efforts to sign up agents from Kalimpong late the previous decade had fallen flat. So, too, had a brief attempt to fund intelligence-gathering forays by Nepal-based Tibetans beginning in 1962. [10]
In 1968, Taipei tried again. This time, it was looking to exploit the chaos of the Cultural Revolution. There were also indications in February that the ROC leadership might be prepared to endorse Lhasa's independence, a shift that would have made its support more palatable to Tibetan patriots. [11]
Late that year, Taipei dispatched a pair of Hiu Muslim recruiters to Kathmandu in its latest bid to seek Tibetan sources. The recruiters, both former residents of Kalimpong, dangled financial incentives and the chance for scholarships on Taiwan. The Special Center's team, meanwhile, sought volunteers through nationalistic appeals. "We only had a little money to cover operational expenses," said team leader Arnold, a former Hale translator and Cornell graduate, "so we looked for good Buddhists who respected the Dalai Lama." [12]
By 1969, Arnold and his men were claiming some success. Despite numerous attempts, they were never able to recruit a Tibetan staff member working at the Nepalese consulate in Lhasa. They were, however, able to network among dozens of Nepalese passport holders returning from their annual leave in Tibet. The team debriefed the travelers in Kathmandu and dispatched frequent reports to the Special Center via the mail or messengers. [13]
***
Although the information from the Kathmandu team was welcome, John Bellingham's main focus was on managing the denouement of Mustang. Earlier in 1969, the Indians had made it apparent that their contingency plans no longer involved any participation by Tibetan guerrillas in Nepal. The CIA was of a similar mind-set. When it came time for the 303 Committee to review Tibet operations on 30 September, it endorsed a provision to scale back Mustang to a token force.
The Tibetans learned of this pivotal decision indirectly. In early October, Bellingham arrived at the Special Center with the monthly funds for Nepal. As was customary, Kay-Kay and Tashi Choedak came to witness the transfer. Turning to the Indians as he left, the CIA representative offered a comment in passing: "I guess this is one of the last."
Kay-Kay froze. "It was my darkest moment," he later said. No matter how poorly it had fared in the field, the Tibetan leadership had looked on Mustang as the symbolic paramilitary arm of its government in exile. [14]
A Royal Nepal Airlines flight took Kay-Kay and two junior officers from the Special Center to Pokhara, where they mounted horses and went to bring the news directly to the guerrilla leadership. They arrived at Kaisang in driving rains and found Wangdu in his office. After explaining the decision, Kay-Kay paused for comments, but Wangdu offered only a silent gaze.
Reduced funding was only part of Mustang's troubles. After spending the summer and fall stewing at Pokhara, Baba Yeshi had enticed a company of loyalists to move east to Nashang. Tempers were starting to flare between the two factions, leading to the death of two Baba Yeshi followers and five horses. Vowing to expel dissidents, Wangdu placed Baba Yeshi's sympathetic assistant, a hulking Andowa and Hale graduate named Abe, in detention. Abe, in turn, got possession of a razor and committed suicide by slicing open the vein in his neck. Incensed, Baba Yeshi retreated to a house in Kathmandu and began plotting his revenge.
***
In 1970, Lhamo Tsering returned to New Delhi after his prolonged deployment to Nepal. Waiting for him at the Special Center was John Bellingham, who was anxious to finalize a formal demobilization plan for Mustang. Until that point, the CIA was still funding 2,100 guerrillas at a cost of $500,000 a year. Pressed for time, Lhamo Tsering outlined a schedule whereby the force would be cut by a third over each of the next three calendar years. Without delay, Bellingham approved the scheme. [15]
Part of the demobilization plan involved a rehabilitation program for the guerrillas, to ensure that they would be able to support themselves. Members of the Special Center were immediately deployed to Kathmandu and Pokhara to oversee this program. Their purpose was to ensure that rehabilitation funds would be wisely invested in self-generating enterprises. Although the demobilized guerrillas had few marketable skills, existing Kathmandu-based projects funded by the Dalai Lama and foreign aid groups demonstrated that Tibetan handicraft and carpet factories were profitable ventures.
Drawing on this precedent, the first third of the rehabilitation funds was channeled into two carpet factories in Pokhara. Part of the money was also used to break ground for a thirty-room budget hotel in the same town. With a third of the guerrillas dutifully filing out of the mountains to take up employment at these sites, demobilization appeared to be progressing according to plan.
***
At Tangya, not everybody was embracing the conversion to civilian life. Wangdu, for one, was game for alternative forms of funding that would allow him to maintain some of his men under arms. In early 1971, he received word that interest was being expressed by an unexpected source -- the Soviet Union.
This was not the first time Moscow had flirted with the Tibetan resistance. In 1966, Soviet intelligence officers had approached Gyalo in New Delhi with a proposal to assume support for Tibetan paramilitary operations. During the course of eight meetings over the next three years, the Soviets spoke fancifully of establishing a joint operation in Tashkent; from there, they promised, Tibetan agents could be parachuted back to their homeland.
Intrigued but noncommittal, Gyalo requested that Moscow, as a sign of good faith, first raise the Tibet issue at the United Nations. Do not make preconditions, the Soviets sniffed, and ultimately ceased contact. [16]
In 1970, Moscow showed renewed interest in Tibet. This followed the Soviets' brief border war with the PRC in 1969, prompting them to re-explore paramilitary options against China in the event of renewed hostilities. Rather than approaching Gyalo -- who in any event had moved to Hong Kong and washed his hands of resistance operations -- this time they looked toward Nepal.
Leading the effort was Colonel Anatoli Logonov, the defense attache at the Soviet embassy in Kathmandu. Named a Hero of the Soviet Union in 1944 while an armor commander, Logonov had already been expelled from Canada for espionage activities and reprimanded by the Nepalese government for bribing a military officer. Undaunted, the brash Logonov approached the U.S. defense attache, William Stites, at a diplomatic function. Sauntering up to the American colonel,, he left little doubt about his focus of interest. "What do you have on Tibet?" he asked. Stites was not amused by the bold pitch; nor was he pleased to hear that the colonel had invited his assistant to dinner and asked the same question. [17]
Though he came up short with the American officers, Logonov had better luck with the Tibetans themselves. Cornering a Khampa shopkeeper in Kathmandu, he conveyed word that he sought contact with the Mustang leadership. As news of this reached the Tibetans at the Special Center, Tashi Choedak quietly rushed to Nepal, linked up with Wangdu, and rendezvoused with the Soviet colonel in the Nepalese capital. Matching his direct personality, Logonov's house was functional and unsophisticated. "It had no carpets," said Tashi, "but plenty of Johnny Walker and a refrigerator stocked with boiled cabbage." [18]
Coming to the point, the Soviet colonel asked for information on the size of the Mustang force. Over the course of three subsequent meetings, the Tibetans brought photograph albums (created for accounting purposes during the phased demobilization) that contained a portrait of each guerrilla still under arms. Logonov took copies of the albums and promised to quiz Moscow about assuming financing for the force.
One month later, Logonov returned with an answer. Although funding for Mustang was not feasible at that time, he offered payment for specific items of information, such as the location of PLA border posts and the deployment of aircraft at Tibetan airfields. Accepting this limited offer, the Tibetans prepared a sampling of intelligence for the Soviet officer. In return, Logonov paid the equivalent of $1,800. Convinced that this sum was hardly worth the effort, Wangdu unilaterally terminated further contact.
***
Ironically, the CIA did not necessarily see Soviet inroads into the subcontinent as a bad thing. "By keeping the Soviets onboard in India," said CIA New Delhi chief David Blee, "they were a counterweight to the Chinese." [19]
Such realpolitik led to previously unthinkable levels of cooperation regarding support to the ARC. With an aging C-46 fleet ("We squeezed as much life from them as possible," said one ARC officer") and no C-130 ELINT platforms forthcoming, the ARC inventory by 1967 was dominated by the Soviet-made Mi-4" chopper and An-12 transport. Whereas this transformation might have had the CIA howling in earlier years, the agency was now perfectly willing to assist the Indians with their new Soviet hardware. In 1968, for example, agency technicians installed oxygen consoles in the unpressurized An-12 cabins for use during SFF parachute training. Because this aircraft had an extremely fast cruising speed -- more than double that of the C-46 -- a CIA airborne adviser was dispatched to India that spring to train an ARC cadre in high-speed exit techniques. Two years later, CIA technicians were back in India to modify an ARC An-12 with ELINT gear. [21]
CIA support for the SFF, meanwhile, was declining fast. One of the last CIA-sanctioned operations took place in 1969, when four SFF commandos were trained in the use of sophisticated "impulse probe" wiretaps. Buried underneath a telephone line, the tap transmitted conversations to a solar- powered relay station established on a border mountaintop in NEFA, which in turn relayed data to a rear base farther south. Although several taps were installed successfully, two SFF members disappeared on a 1970 foray, and further infiltrations were halted. By the following year, the PLA detected the extent of the tampering and started rerouting its lines away from the border. [22]
By early 1971, direct CIA contact with the SFF was almost nonexistent. [23] This came as tension between India and Pakistan was once again on the rise. The reason was the humanitarian disaster unfolding inside East Pakistan, where a heavy-handed campaign to suppress secessionists (who wanted independence from the western half of the bifurcated nation) had led to a deluge of refugees into India.
The situation had New Delhi's full attention not only because of the humanitarian ramifications but also because it presented a chance to cripple its archrival. During previous wars with Pakistan, fighting had focused on the western front. Now the Pakistani government not only had to keep that flank protected but also had to rush reinforcements to the eastern side of the subcontinent. Logistically challenged, the Pakistanis were getting whipsawed in the process.
Compounding Pakistan's woes, the Indian government was quietly supporting scores of resistance fighters from East Pakistan. Playing a major role in this was Major General Uban (he had finally gotten his promised second star), who was now considered one of India's most seasoned unconventional warfare specialists on account of the nine years he had spent with the SFF. Taking temporary leave of his Tibetans, the general was placed in charge of a guerrilla training program for 10,000 East Pakistani -- soon to be called Bangladeshi -- insurgents. [24]
Uban made room at Chakrata for a training site for the Bangladeshis. By that time, the SFF had grown to sixty-four Tibetan companies; most were divided into eight battalions of six companies apiece, with the remainder going into support units. Despite this increase, the force had not seen any serious combat since its inception. Worse, Uban learned that seven companies were being misused for traffic control in Ladakh.
Protesting this abuse of his elite unit, Uban lobbied to incorporate his men into contingencies against East Pakistan. By fall, the Indians were already well on their way to completing plans for a major combined arms campaign -- one of the largest since World War II -- to liberate that territory. Though Uban made a strong case for the SFF's inclusion -- his men could act as guerrillas with plausible deniability, he argued -- such a decision would be controversial. Until that point, there had been an unwritten rule that the SFF would not be used for anything other than its intended purpose against China. There were also Tibetan attitudes to consider. Tibet, noted several members of the force, had no quarrel with Pakistan. Rather, Tibet had benefited from assistance offered by the East Pakistani authorities, recalled ranking political leader Jamba Kalden.
As word flashed to Dharamsala, senior Tibetan officials were in a quandary. If they did not agree with Uban's proposal, they feared that the Indians would see them as ungrateful; with CIA support largely dissipated, they could ill afford to alienate their primary benefactor. Although some in the Dalai Lama's inner circle felt that they should demand a quid pro quo -- participation against East Pakistan in exchange for Indian recognition of their exiled government -- the idea was not pushed. Quietly, Dharamsala offered its approval.
By late October, an ARC An-12 airlift began shuttling nearly 3,000 Tibetans to the Indian border adjacent to East Pakistan's Chittagong Hill tracts. To reinforce their deniable status, the guerrillas were hurriedly given a shipment of Bulgarian-made AK-47 assault rifles.
At the border, they assembled at Demagiri. Normally a quiet frontier back-water, Demagiri by that time was overflowing with refugees. As the Tibetans turned it into a proper military encampment, they made plans to divide into three columns and initiate operations. Their exact mission had been the subject of prior debate. India's military staff had wanted them to perform surgical strikes, such as destroying the key Kaptai Dam. Uban, in contrast, saw them doing something "more worthy," such as joining forces with his Chakrata-trained Bangladeshi insurgents and seizing Chittagong port. This was vetoed by the top brass because neither the SFF nor the Bangladeshis had integral heavy weapons support. After further discussion, it was decided that the SFF would be charged with staging guerrilla raids across the Chittagong Hill tracts, known for their thick jungles, humid weather, and leech-infested marshes. This promised to be a difficult mission for the mountain-faring Tibetans. [25]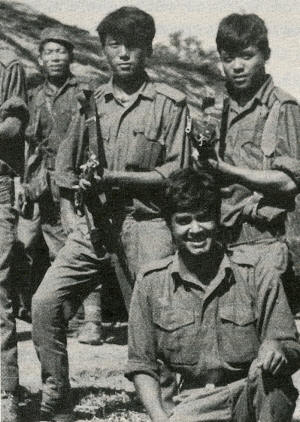 SFF members during the Bangladesh campaign, 1971
The hills held another, more deadly, challenge. Based along the tracts was a Pakistani composite brigade, including part of a battalion of elite commandos, the Special Service Group. Not only did this brigade threaten the flank of one of the Indian corps massing to move against Dacca, but it could conceivably open an escape route to nearby Burma.
At the beginning of the second week of November, the SFF began Operation EAGLE. Taking leave of Demagiri, the guerrillas used nineteen canoes to shuttle across the Karnaphuli River and steal into East Pakistan. Coming upon an outpost that night, the Tibetans overran the position while the Pakistanis were eating. Boosted by their swift victory, they made plans to hit the next post the following morning.
Listening over the radio, General Uban was anxious. As he moved into Demagiri to coordinate both the SFF and his Bangladeshi force, he had few qualms about the Bangladeshis -- they were native boys and could live off the land -- but he knew that the Tibetans were untested under battle conditions and careless in open march.
Very quickly, his fears were confirmed. On 14 November, the lead element of Tibetans came running back toward the Indian border. Dhondup Gyatotsang, Uban learned, had been shot dead. The cousin of Mustang commander Wangdu and a Hale graduate, Dhondup had been one of the most senior political leaders in the force. Realizing that he could lose momentum, Uban got on the radio and barked at the Tibetans to resume their advance. "I told them not to come back until the position was taken, " he said. [26]
The strong words had an effect. Reversing course, the SFF split into small teams and curled behind the Pakistanis in classic guerrilla fashion. Using both their Bulgarian assault rifles and native knives, they smashed through the outpost. "After that," remembers Uban, "they were unstoppable." [27]
By the time all-out war was officially declared early the following month, the SFF had been inside East Pakistan for three weeks. Multiple Indian corps blitzed from all directions on 3 December, forcing Pakistani capitulation within two weeks; Bangladesh's independence would soon follow. [28]
At the time of the ceasefire, the Tibetans were within forty kilometers of Chittagong port and had successfully pinned down the Pakistani brigade in the border hills. Taking leave of their normal anonymity, the SFF paraded through Chittagong to ecstatic Bangladeshi masses. A total of twenty- three Indian officers and forty-five Tibetans would be awarded for their gallantry; 580 Tibetans received cash bonuses. Their victory had had a cost, however. Forty-nine Tibetans had paid with their lives for the birth of a nation not their own.