A People's History of the United States: 1492-Present
by Howard Zinn
© 1980, 1995, 1998, 1999, 2003 by Howard Zinn
NOTICE: THIS WORK MAY BE PROTECTED BY COPYRIGHT
YOU ARE REQUIRED TO READ

THE COPYRIGHT NOTICE AT THIS LINK

BEFORE YOU READ THE FOLLOWING WORK, THAT IS AVAILABLE SOLELY FOR PRIVATE STUDY, SCHOLARSHIP OR RESEARCH PURSUANT TO 17 U.S.C. SECTION 107 AND 108. IN THE EVENT THAT THE LIBRARY DETERMINES THAT UNLAWFUL COPYING OF THIS WORK HAS OCCURRED, THE LIBRARY HAS THE RIGHT TO BLOCK THE I.P. ADDRESS AT WHICH THE UNLAWFUL COPYING APPEARED TO HAVE OCCURRED. THANK YOU FOR RESPECTING THE RIGHTS OF COPYRIGHT OWNERS.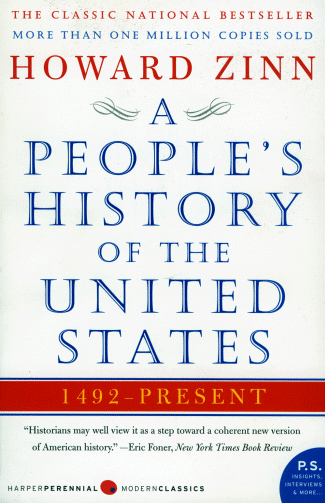 To Noah, Georgia, Serena, Naushon, Will -- and their generation
Table of Contents:
Acknowledgments
1.
Columbus, the Indians, and Human Progress
2.
Drawing the Color Line
3.
Persons of Mean and Vile Condition
4.
Tyranny is Tyranny
5.
A Kind of Revolution
6.
The Intimately Oppressed
7.
As Long as Grass Grows or Water Runs
8.
We Take Nothing by Conquest, Thank God
9.
Slavery Without Submission, Emancipation Without Freedom
10.
The Other Civil War
11.
Robber Barons and Rebels
12.
The Empire and the People
13.
The Socialist Challenge
14.
War is the Health of the State
15.
Self-Help in Hard Times
16.
A People's War?
17.
"Or Does It Explode?"
18.
The Impossible Victory: Vietnam
19.
Surprises
20.
The Seventies: Under Control?
21.
Carter-Reagan-Bush: The Bipartisan Consensus
22.
The Unreported Resistance
23.
The Coming Revolt of the Guards
24.
The Clinton Presidency
25.
The 2000 Election and the "War on Terrorism"
Afterword
Bibliography
Index
About the Author
A Discussion with Howard Zinn
The governor of the Massachusetts Bay Colony, John Winthrop, created the excuse to take Indian land by declaring the area legally a "vacuum." The Indians, he said, had not "subdued" the land, and therefore had only a "natural" right to it, but not a "civil right." A "natural right" did not have legal standing.

The Puritans also appealed to the Bible, Psalms 2:8: "Ask of me, and I shall give thee, the heathen for thine inheritance, and the uttermost parts of the earth for thy possession." And to justify their use of force to take the land, they cited Romans 13:2: "Whosoever therefore resisteth the power, resisteth the ordinance of God: and they that resist shall receive to themselves damnation."

***

John Collier, an American scholar who lived among Indians in the 1920s and 1930s in the American Southwest, said of their spirit: "Could we make it our own, there would be an eternally inexhaustible earth and a forever lasting peace."

***

There is not a country in world history in which racism has been more important, for so long a time, as the United States.

***

A Congolese leader, told of the Portuguese legal codes, asked a Portuguese once, teasingly: "What is the penalty in Portugal for anyone who puts his feet on the ground?"

***

In the year 1610, a Catholic priest in the Americas named Father Sandoval wrote back to a church functionary in Europe to ask if the capture, transport, and enslavement of African blacks was legal by church doctrine. A letter dated March 12, 1610, from Brother Luis Brandaon to Father Sandoval gives the answer:

Your Reverence writes me that you would like to know whether the Negroes who are sent to your parts have been legally captured. To this I reply that I think your Reverence should have no scruples on this point, because this is a matter which has been questioned by the Board of Conscience in Lisbon, and all its members are learned and conscientious men. Nor did the bishops who were in Sao Thome, Cape Verde, and here in Loando -- all learned and virtuous men -- find fault with it. We have been here ourselves for forty years and there have been among us very learned Fathers ... never did they consider the trade as illicit. Therefore we and the Fathers of Brazil buy these slaves for our service without any scruple.

***

James Madison told a British visitor shortly after the American Revolution that he could make $257 on every Negro in a year, and spend only $12 or $13 on his keep.

***

It was an intricate and powerful system of control that the slaveowners developed to maintain their labor supply and their way of life, a system both subtle and crude, involving every device that social orders employ for keeping power and wealth where it is. The system was psychological and physical at the same time. The slaves were taught discipline, were impressed again and again with the idea of their own inferiority to "know their place," to see blackness as a sign of subordination, to be awed by the power of the master, to merge their interest with the master's, destroying their own individual needs. To accomplish this there was the discipline of hard labor, the breakup of the slave family, the lulling effects of religion (which sometimes led to "great mischief," as one slaveholder reported), the creation of disunity among slaves by separating them into field slaves and more privileged house slaves, and finally the power of law and the immediate power of the overseer to invoke whipping, burning, mutilation, and death. Dismemberment was provided for in the Virginia Code of 1705. Maryland passed a law in 1723 providing for cutting off the ears of blacks who struck whites, and that for certain serious crimes, slaves should be hanged and the body quartered and exposed.

***

Whereas many evil disposed servants in these late tymes of horrid rebellion taking advantage of the loosnes and liberty of the tyme, did depart from their service, and followed the rebells in rebellion, wholy neglecting their masters imployment whereby the said masters have suffered great damage and injury...

***

The leaders of early Boston were gentlemen of considerable wealth who, in association with the clergy, eagerly sought to preserve in America the social arrangements of the Mother Country....

At the very start of the Massachusetts Bay Colony in 1630, the governor, John Winthrop, had declared the philosophy of the rulers: "... in all times some must be rich, some poore, some highe and eminent in power and dignitie; others meane and in subjection."

***

"You may be pleased to know that the very principle and best of the land; the best for soile; the best for situation; as laying in ye center and midle of the town: and as to quantity, nere half, belongs unto eight or nine proprietors."...

"The town meetings, while ostensibly democratic, were in reality controlled year after year by the same group of merchant aristocrats, who secured most of the important offices."

***

By 1770, the top 1 percent of property owners owned 44 percent of the wealth.

***

The colonies, it seems, were societies of contending classes -- a fact obscured by the emphasis, in traditional histories, on the external struggle against England, the unity of colonists in the Revolution. The country therefore was not "born free" but born slave and free, servant and master, tenant and landlord, poor and rich.

***

Through this period, England was fighting a series of wars (Queen Anne's War in the early 1700s, King George's War in the 1730s). Some merchants made fortunes from these wars, but for most people they meant higher taxes, unemployment, poverty. An anonymous pamphleteer in Massachusetts, writing angrily after King George's War, described the situation: "Poverty and Discontent appear in every Face (except the Countenances of the Rich) and dwell upon every Tongue." He spoke of a few men, fed by "Lust of Power, Lust of Fame, Lust of Money," who got rich during the war. "No Wonder such Men can build Ships, Houses, buy Farms, set up their Coaches, Chariots, live very splendidly, purchase Fame, Posts of Honour." He called them "Birds of prey ... Enemies to all Communities -- wherever they live."

***

One fact disturbed: whites would run off to join Indian tribes, or would be captured in battle and brought up among the Indians, and when this happened the whites, given a chance to leave, chose to stay in the Indian culture. Indians, having the choice, almost never decided to join the whites.

Hector St. Jean Crevecoeur, the Frenchman who lived in America for almost twenty years, told, in Letters from an American Farmer, how children captured during the Seven Years' War and found by their parents, grown up and living with Indians, would refuse to leave their new families. "There must be in their social bond," he said, "something singularly captivating, and far superior to anything to be boasted among us; for thousands of Europeans are Indians, and we have no examples of even one of those Aborigines having from choice become Europeans."

***

Around 1776, certain important people in the English colonies made a discovery that would prove enormously useful for the next two hundred years. They found that by creating a nation, a symbol, a legal unity called the United States, they could take over land, profits, and political power from favorites of the British Empire. In the process, they could hold back a number of potential rebellions and create a consensus of popular support for the rule of a new, privileged leadership.

***

The Privates Committee drew up a bill of rights for the convention, including the statement that "an enormous proportion of property vested in a few individuals is dangerous to the rights, and destructive of the common happiness, of mankind; and therefore every free state hath a right by its laws to discourage the possession of such property."

***
On March 5, 1770, grievances of ropemakers against British soldiers taking their jobs led to a fight. A crowd gathered in front of the customhouse and began provoking the soldiers, who fired and killed first Crispus Attucks, a mulatto worker, then others. This became known as the Boston Massacre. Feelings against the British mounted quickly. There was anger at the acquittal of six of the British soldiers (two were punished by having their thumbs branded and were discharged from the army). The crowd at the Massacre was described by John Adams, defense attorney for the British soldiers, as "a motley rabble of saucy boys, negroes, and molattoes, Irish teagues and outlandish jack tarrs." Perhaps ten thousand people marched in the funeral procession for the victims of the Massacre, out of a total Boston population of sixteen thousand. This led England to remove the troops from Boston and try to quiet the situation.

***

"The people" who were, supposedly, at the heart of Locke's theory of people's sovereignty were defined by a British member of Parliament: "I don't mean the mob.... I mean the middling people of England, the manufacturer, the yeoman, the merchant, the country gentleman...."

In America, too, the reality behind the words of the Declaration of Independence (issued in the same year as Adam Smith's capitalist manifesto, The Wealth of Nations) was that a rising class of important people needed to enlist on their side enough Americans to defeat England, without disturbing too much the relations of wealth and power that had developed over 150 years of colonial history. Indeed, 69 percent of the signers of the Declaration of Independence had held colonial office under England.


When the Declaration of Independence was read, with all its flaming radical language, from the town hall balcony in Boston, it was read by Thomas Crafts, a member of the Loyal Nine group, conservatives who had opposed militant action against the British. Four days after the reading, the Boston Committee of Correspondence ordered the townsmen to show up on the Common for a military draft. The rich, it turned out, could avoid the draft by paying for substitutes; the poor had to serve. This led to rioting, and shouting: "Tyranny is Tyranny let it come from whom it may."

***

"New lords, new laws. The strictest government is taking place and great distinction is made between officers & men. Everyone is made to know his place & keep it, or be immediately tied up, and receive not one but 30 or 40 lashes."

***

The Americans lost the first battles of the war: Bunker Hill, Brooklyn Heights, Harlem Heights, the Deep South; they won small battles at Trenton and Princeton, and then in a turning point, a big battle at Saratoga, New York, in 1777. Washington's frozen army hung on at Valley Forge, Pennsylvania, while Benjamin Franklin negotiated an alliance with the French monarchy, which was anxious for revenge on England. The war turned to the South, where the British won victory after victory, until the Americans, aided by a large French army, with the French navy blocking off the British from supplies and reinforcements, won the final victory of the war at Yorktown, Virginia, in 1781.

***

The southern lower classes resisted being mobilized for the revolution. They saw themselves under the rule of a political elite, win or lose against the British.

***

There is a mean low dirty envy which creeps thro all ranks and cannot suffer a man a superiority of fortune, of merit, or of understanding in fellow citizens -- either of these are sure to entail a general ill will and dislike upon the owners.

***

Edmund Morgan sums up the class nature of the Revolution this way: "The fact that the lower ranks were involved in the contest should not obscure the fact that the contest itself was generally a struggle for office and power between members of an upper class: the new against the established." Looking at the situation after the Revolution, Richard Morris comments: "Everywhere one finds inequality." He finds "the people" of "We the people of the United States" (a phrase coined by the very rich Gouverneur Morris) did not mean Indians or blacks or women or white servants. In fact, there were more indentured servants than ever, and the Revolution "did nothing to end and little to ameliorate white bondage."

Carl Degler says (Out of Our Past): "No new social class came to power through the door of the American revolution. The men who engineered the revolt were largely members of the colonial ruling class." George Washington was the richest man in America. John Hancock was a prosperous Boston merchant. Benjamin Franklin was a wealthy printer. And so on.

***

The Constitution, then, illustrates the complexity of the American system: that it serves the interests of a wealthy elite, but also does enough for small property owners, for middle-income mechanics and farmers, to build a broad base of support. The slightly prosperous people who make up this base of support are buffers against the blacks, the Indians, the very poor whites. They enable the elite to keep control with a minimum of coercion, a maximum of law -- all made palatable by the fanfare of patriotism and unity.

***

As many as half the people were not even considered by the Founding Fathers as among Bailyn's "contending powers" in society. They were not mentioned in the Declaration of Independence, they were absent in the Constitution, they were invisible in the new political democracy. They were the women of early America.

***
Ez fer war, I call it murder, --
There you hev it plain an' flat;
I don't want to go no furder
Than my Testyment fer that....
They may talk o' Freedom's airy
Tell they'er pupple in the face, --
It's a grand gret cemetary
Fer the barthrights of our race;
They jest want this Californy
So's to lug new slave-states in
To abuse ye, an' to scorn ye,
An' to plunder ye like sin.

***

The puberty ceremony of the Sioux was such as to give pride to a young Sioux maiden:

Walk the good road, my daughter, and the buffalo herds wide and dark as cloud shadows moving over the prairie will follow you.... Be dutiful, respectful, gentle and modest, my daughter. And proud walking. If the pride and the virtue of the women are lost, the spring will come but the buffalo trails will turn to grass. Be strong, with the warm, strong heart of the earth. No people goes down until their women are weak and dishonored.

***

What we unfortunate English People suffer here is beyond the probibility of you in England to Conceive, let it suffice that lone of the unhappy Number, am toiling almost Day and Night, and very often in the Horses druggery, with only this comfort that you Bitch you do not halfe enough, and then tied up and whipp'd to that Degree that you'd not serve an Annimal, scarce any thing but Indian Corn and Salt to eat and that even begrudged nay many Negroes are better used, almost naked no shoes nor stockings to wear ... what rest we can get is to rap ourselves up in a Blanket and ly upon the Ground.

***
I saw pregnant women give birth to babies while chained to corpses which our drunken overseers had not removed.... packed spoon-fashion they often gave birth to children in the scalding perspiration from the human cargo.... On board the ship was a young negro woman chained to the deck, who had lost her senses soon after she was purchased and taken on board.

***
But I now entered on my fifteenth year -- a sad epoch in the life of a slave girl. My master began to whisper foul words in my ear. Young as I was, I could not remain ignorant of their import.... My master met me at every turn, reminding me that I belonged to him, and swearing by heaven and earth that he would compel me to submit to him. If I went out for a breath of fresh air, after a day of unwearied toil, his footsteps dogged me. If I knelt by my mother's grave, his dark shadow fell on me even there. The light heart which nature had given me became heavy with sad forebodings.

***
For a woman to have a child out of wedlock was a crime, and colonial court records are full of cases of women being arraigned for "bastardy" -- the father of the child untouched by the law and on the loose.

***

In this consolidation which we call wedlock is a locking together. It is true, that man and wife are one person, but understand in what manner. When a small brooke or little river incorporateth with Rhodanus, Humber, or the Thames, the poor rivulet looseth her name.... A woman as soon as she is married, is called covert ... that is, "veiled"; as it were, clouded and overshadowed; she hath lost her streame. I may more truly, farre away, say to a married woman, Her new self is her superior; her companion, her master....

The father's position in the family was expressed in The Spectator, an influential periodical in America and England: "Nothing is more gratifying to the mind of man than power or dominion; and ... as I am the father of a family ... I am perpetually taken up in giving out orders, in prescribing duties, in hearing parties, in administering justice, and in distributing rewards and punishments.... In short, sir, I look upon my family as a patriarchal sovereignty in which I am myself both king and priest."

***

A best-selling "pocket book," published in London, was widely read in the American colonies in the 1700s. It was called Advice to a Daughter:

You must first lay it down for a Foundation in general, That there is Inequality in Sexes, and that for the better Oeconomy of the World; the Men, who were to be the Law-givers, had the larger share of Reason bestow'd upon them; by which means your Sex is the better prepar'd for the Compliance that is necessary for the performance of those Duties which seem'd to be most properly assign'd to it.... Your Sex wanteth our Reason for your Conduct, and our Strength for your Protection: Ours wanteth your Gentleness to soften, and to entertain us.

***

How interesting and important are the duties devolved on females as wives ... the counsellor and friend of the husband; who makes it her daily study to lighten his cares, to soothe his sorrows, and to augment his joys; who, like a guardian angel, watches over his interests, warns him against dangers, comforts him under trials; and by her pious, assiduous, and attractive deportment, constantly endeavors to render him more virtuous, more useful, more honourable, and more happy.

***

"What woman needs is not as a woman to act or rule, but as a nature to grow, as an intellect to discern, as a soul to live freely and unimpeded."

***

The way, and the only way, to check and to stop this evil, is for all the Redmen to unite in claiming a common and equal right in the land, as it was at first and should be yet; for it was never divided, but belongs to all for the use of each. That no part has a right to sell, even to each other, much less to strangers -- those who want all and will not do with less.

***

Listen.... The United States would have been justified by the Great Spirit, had they taken all the land of the nation.... Listen -- the truth is, the great body of the Creek chiefs and warriors did not respect the power of the United States -- They thought we were an insignificant nation -- that we would be overpowered by the British.... They were fat with eating beef -- they wanted flogging.... We bleed our enemies in such cases to give them their senses.

***
I fought hard. But your guns were well aimed. The bullets flew like birds in the air, and whizzed by our ears like the wind through the trees in the winter. My warriors fell around me.... The sun rose dim on us in the morning, and at night it sunk in a dark cloud, and looked like a ball of fire. That was the last sun that shone on Black Hawk.... He is now a prisoner to the white men.... He has done nothing for which an Indian ought to be ashamed. He has fought for his countrymen, the squaws and papooses, against white men, who came year after year, to cheat them and take away their lands. You know the cause of our making war. It is known to all white men. They ought to be ashamed of it. Indians are not deceitful. The white men speak bad of the Indian and look at him spitefully. But the Indian does not tell lies. Indians do not steal.

An Indian who is as bad as the white men could not live in our nation; he would be put to death, and eaten up by the wolves. The white men are bad schoolmasters; they carry false books, and deal in false actions; they smile in the face of the poor Indian to cheat him; they shake them by the hand to gain their confidence, to make them drunk, to deceive them, and ruin our wives. We told them to leave us alone, and keep away from us; they followed on, and beset our paths, and they coiled themselves among us, like the snake. They poisoned us by their touch. We were not safe. We lived in danger. We were becoming like them, hypocrites and liars, adulterous lazy drones, all talkers and no workers....

The white men do not scalp the head; but they do worse -- they poison the heart.... Farewell, my nation! ... Farewell to Black Hawk.

***

If the Indians would only move to new lands across the Mississippi, Cass promised in 1825 at a treaty council with Shawnees and Cherokees, "The United States will never ask for your land there. This I promise you in the name of your great father, the President. That country he assigns to his red people, to be held by them and their children's children forever."

***

A council of Creeks, offered money for their land, said: "We would not receive money for land in which our fathers and friends are buried."

***

According to one Georgia bank president, a stockholder in a land company, "Stealing is the order of the day."

***

Brothers! I have listened to many talks from our great white father. When he first came over the wide waters, he was but a little man ... very little. His legs were cramped by sitting long in his big boat, and he begged for a little land to light his fire on.... But when the white man had warmed himself before the Indians' fire and filled himself with their hominy, he became very large. With a step he bestrode the mountains, and his feet covered the plains and the valleys. His hand grasped the eastern and the western sea, and his head rested on the moon. Then he became our Great Father. He loved his red children, and he said, "Get a little further, lest I tread on thee."

Brothers! I have listened to a great many talks from our great father. But they always began and ended in this -- "Get a little further; you are too near me."

***

The interminable history of diplomatic relations between Indians and white men had before 1832 recorded no single instance of a treaty which had not been presently broken by the white parties to it ... however solemnly embellished with such terms as "permanent," "forever," "for all time," "so long as the sun shall rise." ... But no agreement between white men and Indians had ever been so soon abrogated as the 1832 Treaty of Washington. Within days the promises made in it on behalf of the United States had been broken.

***

The soul of man, the justice, the mercy that is the heart's heart in all men, from Maine to Georgia, does abhor this business ... a crime is projected that confounds our understandings by its magnitude, a crime that really deprives us as well as the Cherokees of a country for how could we call the conspiracy that should crush these poor Indians our government, or the land that was cursed by their parting and dying imprecations our country any more? You, sir, will bring down that renowned chair in which you sit into infamy if your seal is set to this instrument of perfidy; and the name of this nation, hitherto the sweet omen of religion and liberty, will stink to the world.

***

In December 1838, President Van Buren spoke to Congress: "It affords sincere pleasure to apprise the Congress of the entire removal of the Cherokee Nation of Indians to their new homes west of the Mississippi. The measures authorized by Congress at its last session have had the happiest effects."

***

Let the great measure of annexation be accomplished, and with it the questions of boundary and claims. For who can arrest the torrent that will pour onward to the West? The road to California will be open to us. Who will stay the march of our western people? ... It was shortly after that, in the summer of 1845, that John O'Sullivan, editor of the Democratic Review, used the phrase that became famous, saying it was "Our manifest destiny to overspread the continent allotted by Providence for the free development of our yearly multiplying millions." Yes, manifest destiny.

***

Ez fer war, I call it murder, -- There you hev it plain an' flat;
I don't want to go no furder
Than my Testyment fer that....
They may talk o' Freedom's airy
Tell they'er pupple in the face, -- It's a grand gret cemetary
Fer the barthrights of our race;
They jest want this Californy
So's to lug new slave-states in
To abuse ye, an' to scorn ye,
An' to plunder ye like sin.

***

"Every lover of Freedom and humanity, throughout the world, must wish them [the Mexicans] the most triumphant success.... We only hope that, if blood has had to flow, that it has been that of the Americans, and that the next news we shall hear will be that General Scott and his army are in the hands of the Mexicans.... We wish him and his troops no bodily harm, but the most utter defeat and disgrace."

***

"Let us go to war. The world has become stale and insipid, the ships ought to be all captured, and the cities battered down, and the world burned up, so that we can start again. There would be fun in that. Some interest, -- something to talk about."

***

We can easily defeat the armies of Mexico, slaughter them by thousands, and pursue them perhaps to their capital; we can conquer and "annex" their territory; but what then? Have the histories of the ruin of Greek and Roman liberty consequent on such extensions of empire by the sword no lesson for us? Who believes that a score of victories over Mexico, the "annexation" of half her provinces, will give us more Liberty, a purer Morality, a more prosperous Industry, than we now have? ... Is not Life miserable enough, comes not Death soon enough, without resort to the hideous enginery of War?

***

Neither have I the least idea of "joining" you, or in any way assisting the unjust war waging against Mexico. I have no wish to participate in such "glorious" butcheries of women and children as were displayed in the capture of Monterey, etc, Neither have I any desire to place myself under the dictation of a petty military tyrant, to every caprice of whose will I must yield implicit obedience. No sir-ee! As long as I can work, beg, or go to the poor house, I won't go to Mexico, to be lodged on the damp ground, half starved, half roasted, bitten by mosquitoes and centipedes, stung by scorpions and tarantulas -- marched, drilled, and flogged, and then stuck up to be shot at, for eight dollars a month and putrid rations. Well, I won't.... Human butchery has had its day.... And the time is rapidly approaching when the professional soldier will be placed on the same level as a bandit, the Bedouin, and the Thug.

***

I have called you [Indian chiefs] together to have a talk with you. The country you inhabit no longer belongs to Mexico, but to a mighty nation whose territory extends from the great ocean you have all seen or heard of, to another great ocean thousands of miles toward the rising sun.... I am an officer of that great country, and to get here, have traversed both of those great oceans in a ship of war which, with a terrible noise, spits forth flames and hurls forth instruments of destruction, dealing death to all our enemies. Our armies are now in Mexico, and will soon conquer the whole country. But you have nothing to fear from us, if you do what is right.... if you are faithful to your new rulers.... We come to prepare this magnificent region for the use of other men, for the population of the world demands more room, and here is room enough for many millions, who will hereafter occupy and till the soil. But, in admitting others, we shall not displace you, if you act properly.... You can easily learn, but you are indolent. I hope you will alter your habits, and be industrious and frugal, and give up all the low vices which you practice; but if you are lazy and dissipated, you must, before many years, become extinct. We shall watch over you, and give you true liberty; but beware of sedition, lawlessness, and all other crimes, for the army which shields can assuredly punish, and it will reach you in your most retired hiding places.

***

General Lane ... told us to "avenge the death of the gallant Walker, to ... take all we could lay hands on". And well and fearfully was his mandate obeyed. Grog shops were broken open first, and then, maddened with liquor, every species of outrage was committed. Old women and girls were stripped of their clothing -- and many suffered still greater outrages. Men were shot by dozens ... their property, churches, stores and dwelling houses ransacked.... Dead horses and men lay about pretty thick, while drunken soldiers, yelling and screeching, were breaking open houses or chasing some poor Mexicans who had abandoned their houses and fled for life. Such a scene I never hope to see again. It gave me a lamentable view of human nature ... and made me for the first time ashamed of my country.

***

We are under very strict discipline here. Some of our officers are very good men but the balance of them are very tyrannical and brutal toward the men.... tonight on drill an officer laid a soldier's skull open with his sword .... But the time may come and that soon when officers and men will stand on equal footing... A soldier's life is very disgusting.

***

As the veterans returned home, speculators immediately showed up to buy the land warrants given by the government. Many of the soldiers, desperate for money, sold their 160 acres for less than $50. The New York Commercial Advertiser said in June 1847: "It is a well-known fact that immense fortunes were made out of the poor soldiers who shed their blood in the revolutionary war by speculators who preyed upon their distresses. A similar system of depredation was practised upon the soldiers of the last war."

***

They say slaves are happy, because they laugh, and are merry. I myself and three or four others, have received two hundred lashes in the day, and had our feet in fetters; yet, at night, we would sing and dance, and make others laugh at the rattling of our chains. Happy men we must have been! We did it to keep down trouble, and to keep our hearts from being completely broken: that is as true as the gospel! Just look at it, -- must not we have been very happy? Yet I have done it myself -- I have cut capers in chains.

***

One recent book on slavery (Robert Fogel and Stanley Engerman, Time on the Cross) looks at whippings in 1840-1842 on the Barrow plantation in Louisiana with two hundred slaves: "The records show that over the course of two years a total of 160 whippings were administered, an average of 0.7 whippings per hand per year. About half the hands were not whipped at all during the period." One could also say: "Half of all slaves were whipped." That has a different ring. That figure (0.7 per hand per year) shows whipping was infrequent for any individual. But looked at another way, once every four or five days, some slave was whipped.

***

The conspiracy of Denmark Vesey, himself a free Negro, was thwarted before it could be carried out in 1822. The plan was to burn Charleston, South Carolina, then the sixth-largest city in the nation, and to initiate a general revolt of slaves in the area. Several witnesses said thousands of blacks were implicated in one way or another. Blacks had made about 250 pike heads and bayonets and over three hundred daggers, according to Herbert Aptheker's account. But the plan was betrayed, and thirty-five blacks, including Vesey, were hanged. The trial record itself, published in Charleston, was ordered destroyed soon after publication, as too dangerous for slaves to see.

***

Harriet Tubman, born into slavery, her head injured by an overseer when she was fifteen, made her way to freedom alone as a young woman, then became the most famous conductor on the Underground Railroad. She made nineteen dangerous trips back and forth, often disguised, escorting more than three hundred slaves to freedom, always carrying a pistol, telling the fugitives, "You'll be free or die." She expressed her philosophy: "There was one of two things I had a right to, liberty or death; if I could not have one, I would have the other; for no man should take me alive...."

***
One overseer told a visitor to his plantation that "some negroes are determined never to let a white man whip them and will resist you, when you attempt it; of course you must kill them in that case."

***

As a tropical product with a sensuous receptivity to the beauty of the world, he was not as easily reduced to be the mechanical draft-horse which the northern European laborer became. He ... tended to work as the results pleased him and refused to work or sought to refuse when he did not find the spiritual returns adequate; thus he was easily accused of laziness and driven as a slave when in truth he brought to modern manual labor a renewed valuation of life.

***

Religion was used for control. A book consulted by many planters was the Cotton Plantation Record and Account Book, which gave these instructions to overseers: "You will find that an hour devoted every Sabbath morning to their moral and religious instruction would prove a great aid to you in bringing about a better state of things amongst the Negroes."

***

What to the American slave is your Fourth of July? I answer, a day that reveals to him more than all other days of the year, the gross injustice and cruelty to which he is the constant victim. To him your celebration is a sham; your boasted liberty an unholy license; your national greatness, swelling of vanity; your sounds of rejoicing are empty and heartless; your denunciation of tyrants, brass-fronted impudence; your shouts of liberty and equality, hollow mockery; your prayers and hymns, your sermons and thanksgivings, with all your religious parade and solemnity, are to him mere bombast, fraud, deception, impiety, and hypocrisy -- a thin veil to cover up crimes which would disgrace a nation of savages. There is not a nation of the earth guilty of practices more shocking and bloody than are the people of these United States at this very hour.

Go where you may, search where you will, roam through all the monarchies and despotisms of the Old World, travel through South America, search out every abuse and when you have found the last, lay your facts by the side of the everyday practices of this nation, and you will say with me that, for revolting barbarity and shameless hypocrisy, America reigns without a rival.

***

As Edmund Wilson put it in Patriotic Gore (written after World War II): "We have seen, in our most recent wars, how a divided and arguing public opinion may be converted overnight into a national near-unanimity, an obedient flood of energy which will carry the young to destruction and overpower any effort to stem it. The unanimity of men at war is like that of a school of fish, which will swerve, simultaneously and apparently without leadership, when the shadow of an enemy appears, or like a sky-darkening flight of grass-hoppers, which, also all compelled by one impulse, will descend to consume the crops."

***

In New York, several thousand gathered at Tompkins Square. The tone of the meeting was moderate, speaking of "a political revolution through the ballot box." And: "If you will unite, we may have here within five years a socialistic republic.... Then will a lovely morning break over this darkened land." It was a peaceful meeting. It adjourned. The last words heard from the platform were: "Whatever we poor men may not have, we have free speech, and no one can take it from us." Then the police charged, using their clubs.

***

The CIA now had to prove it was still needed. The New York Times (February 4, 1992) declared that "in a world where the postwar enemy has ceased to exist, the C.I.A. and its handful of sister agencies, with their billion-dollar satellites and mountains of classified documents, must somehow remain relevant in the minds of Americans."

The military budget remained huge. The cold war budget of $300 billion was reduced by 7 percent to $280 billion. The Chairman of the Joint Chiefs of Staff, Colin Powell, said: "I want to scare the hell out of the rest of the world. I don't say that in a bellicose way."