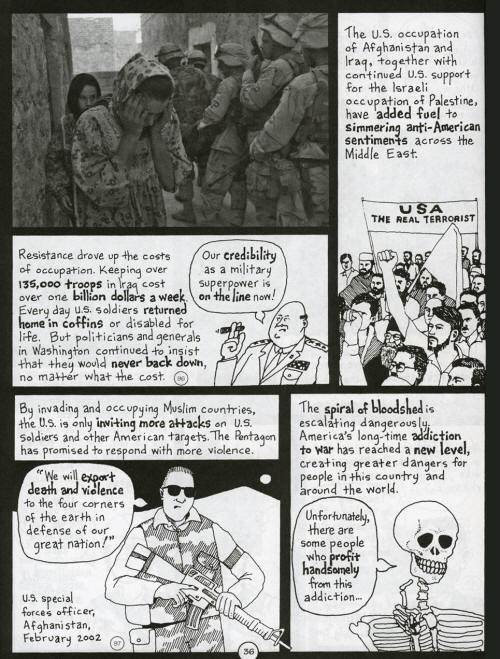 Resistance drove up the costs of occupation. Keeping over 135,000 troops in Iraq cost over one billion dollars a week. Every day U.S. soldiers returned home in coffins or disabled for life. But politicians and generals in Washington continued to insist that they would never back down, no matter what the cost. [96]
Our credibility as a military superpower is on the line now!
The U.S. occupation of Afghanistan and Iraq, together with continued U.S. support for the Israeli occupation of Palestine, have added fuel to simmering anti-American sentiments across the Middle East.
USA -- THE REAL TERRORIST
By invading and occupying Muslim countries, the U.S. is only inviting more attacks on U.S. soldiers and other American targets. The Pentagon has promised to respond with more violence.
"We will export death and violence to the four corners of the earth in defense of our great nation!" -- U.S. Special Forces officer, Afghanistan, February 2002.
The spiral of bloodshed is escalating dangerously. America's long-time addiction to war has reached a new level, creating greater dangers for people in this country and around the world.
Unfortunately, there are some people who profit handsomely from this addiction ...