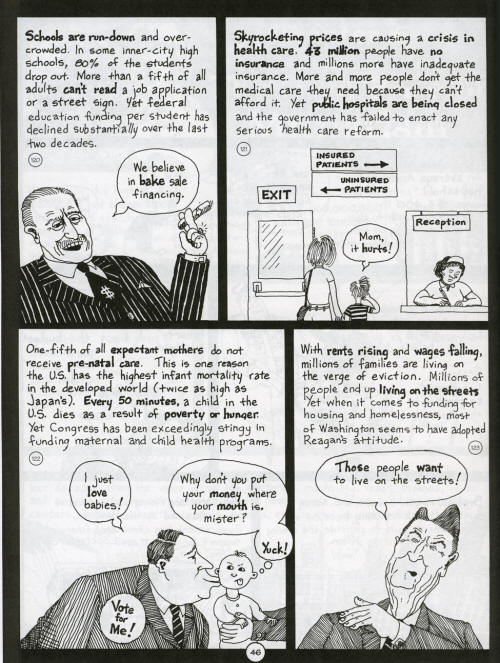 Schools are run-down and over-crowded. In some inner-city high schools, 80% of the students drop out. More than a fifth of all adults can't read a job application or a street sign. Yet federal education funding per student has declined substantially over the last two decades. [120]
We believe in bake sale financing.
Skyrocketing prices are causing a crisis in health care. 43 million people have no insurance and millions more have inadequate insurance. More and more people don't get the medical care they need because they can't afford it. Yet public hospitals are being closed and the government has failed to enact any serious health care reform. [121]
EXIT. INSURED PATIENTS [thataway]; UNINSURED PATIENTS [thataway]. Reception. [Mom leading boy to exit:] Mom, it hurts!
One-fifth of all expectant mothers do not receive pre-natal care. This is one reason the U.S. has the highest infant mortality rate in the developed world (twice as high as Japan's). Every 50 minutes a child in the U.S. dies as a result of poverty or hunger. Yet Congress has been exceedingly stingy in funding maternal and child health programs. [122]
[Politician kissing baby:] I just love babies! Vote for Me!
[Baby:] Why don't you put your money where your mouth is, mister? Yuck!
With rents rising and wages falling, millions of families are living on the verge of eviction. Millions of people end up living on the streets. Yet when it comes to funding for housing and homelessness, most of Washington seems to have adopted Reagan's attitude. [123]
[Ronald Reagan:] Those people want to live on the streets!