Branding Democracy: U.S. Regime Change in Post-Soviet Eastern Europe
by Gerald Sussman
© 2010 Peter Lang Publishing, Inc.
NOTICE: THIS WORK MAY BE PROTECTED BY COPYRIGHT
YOU ARE REQUIRED TO READ

THE COPYRIGHT NOTICE AT THIS LINK

BEFORE YOU READ THE FOLLOWING WORK, THAT IS AVAILABLE SOLELY FOR PRIVATE STUDY, SCHOLARSHIP OR RESEARCH PURSUANT TO 17 U.S.C. SECTION 107 AND 108. IN THE EVENT THAT THE LIBRARY DETERMINES THAT UNLAWFUL COPYING OF THIS WORK HAS OCCURRED, THE LIBRARY HAS THE RIGHT TO BLOCK THE I.P. ADDRESS AT WHICH THE UNLAWFUL COPYING APPEARED TO HAVE OCCURRED. THANK YOU FOR RESPECTING THE RIGHTS OF COPYRIGHT OWNERS.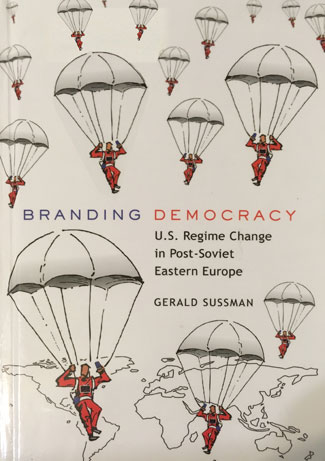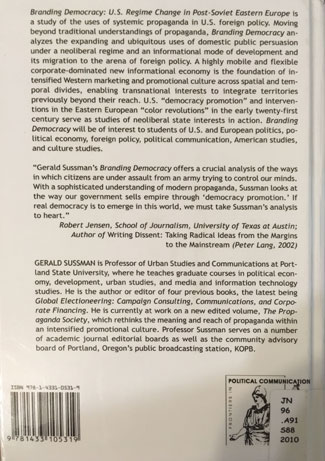 Branding Democracy: U.S. Regime Change in Post-Soviet Eastern Europe is a study of the uses of systemic propaganda in U.S. foreign policy. Moving beyond traditional understandings of propaganda, Branding Democracy analyzes the expanding and ubiquitous uses of domestic public persuasion under a neoliberal regime and an informational mode of development and its migration to the arena of foreign policy. A highly mobile and flexible corporate-dominated new informational economy is the foundation of intensified Western marketing and promotional culture across spatial and temporal divides, enabling transnational interests to integrate territories previously beyond their reach. U.S. "democracy promotion" and interventions in the Eastern European "color revolutions" in the early twenty-first century serve as studies of neoliberal state interests in action. Branding Democracy will be of interest to students of U.S. and European politics, political economy, foreign policy, political communication, American studies, and culture studies.
"Gerald Sussman's Branding Democracy offers a crucial analysis of the ways in which citizens are under assault from an army trying to control our minds. With a sophisticated understanding of modern propaganda, Sussman looks at the way our government sells empire through 'democracy promotion.' If real democracy is to emerge in this world, we must take Sussman's analysis to heart."
-- Robert Jensen, School of Journalism, University of Texas at Austin; Author of Writing Dissent: Taking Radical Ideas from the Margins to the Mainstream (Peter Lang, 2002)
Gerald Sussman is Professor of Urban Studies and Communications at Portland State University, where he teaches graduate courses in political economy, development, urban studies, and media and information technology studies. He is the author or editor of four previous books, the latest being Global Electioneering: Campaign Consulting, Communications, and Corporate Financing. He is currently at work on a new edited volume, The Propaganda Society, which rethinks the meaning and reach of propaganda within an intensified promotional culture. Professor Sussman serves on a number of academic journal editorial boards as well as the community advisory board of Portland, Oregon's public broadcasting station, KOPB.
Table of Contents:
Tables and Figure
Abbreviations Used in This Study
Preface
Acknowledgements
1. THE REGIME OF PROPAGANDA
Promotional Culture
The Neoliberal Ordering of Society
Understanding Propaganda
The Political and Economic Foundations of Propaganda
The Professionalization of Politics
Propaganda in Domestic Policy
Propaganda in the Service of Foreign Policy
Marketing the State
2 THE "DEMOCRACY" BRAND OF EMPIRE: HISTORICAL CONTEXTS
The Containment of Socialism
Political Warfare
Post-War Interventionism The Creation of NED
Democracy Incorporated
W's Dubious Democracy Credentials
The Propaganda of Democracy Promotion
Constructing "Transition"
3 THE INFRASTRUCTURE AND INSTRUMENTS OF DEMOCRACY PROMOTION
From Transition to Transnationalism
The Administration of Propaganda
The Machinery of Foreign Policy Propaganda
The Regime Change Bureaucracy
USAID
National Endowment for Democracy
International Republican Institute
National Democratic Institute
ClPE
ACILS
Freedom House
The Public Diplomacy Forces
Philanthropic Interventions
The Mainstream Media and Democracy Promotion
Other Democracy Assistance Groups
European Democracy Promotion
The German Democracy Foundations
Britain's Westminster Foundation for Democracy
Other European Democracy Promotion Foundations
4 DEMOCRACY PROMOTION IN CENTRAL AND EASTERN EUROPE
The Polish Corridor
U.S.-Central European Linkages
Russia: Americans to the Rescue
The Template "Revolutions"
Bulldozing Milosevic from Power
Georgia: Taking the "Color Revolution" on the Road
The "Orange Revolution"
NGOs and Social Movements as Regime Change Agents
Template Politics Beyond Europe
5 PROPAGANDA IN LIBERAL DEMOCRACIES
Revolution as a Marketing Device
The Meaning of Democracy
A Democracy Index
References
Index
 TABLES AND FIGURE
Table 1.1 Top 10 Advertisers in the United States, 2008
Table 2.1 Quality of Life Indicators, 30 OECD Countries
Table 3.l. IRI and NDI Fiscal Year 2006 Revenue
Table 4.1 NED Funding by Region, 1990-1997
Table 4.2 Total U.S. Military and Economic Assistance, Military Arms Sales, and Foreign Direct Investment
Figure 4.1 Map of Central and Eastern Europe
ABBREVIATIONS USED IN THIS STUDY
ACILS: American Center for International Labor Solidarity (Solidarity Center)
ACLU: American Civil Liberties Union
AEI: Albert Einstein Institution
BTC: Baku-Tbilisi-Ceyhan pipeline
CEE: Central and Eastern Europe
CEU: Central European University
CIA: U.S. Central Intelligence Agency
ClPE: Center for International Private Enterprise
CIS: Commonwealth of Independent States
CPR: Russian Communist Party
DoD: US Department of Defense
DRL: U.S. State Department Bureau of Democracy, Human Rights, and Labor
ERB: European Radio for Belarus
E.U.: European Union
FCC: Federal Communications Commission
FES: Friedrich Ebert Stiftung
FH: Freedom House
FMLN: Farabundo Marti National Liberation Front (of El Salvador)
FNS: Friedrich Naumann Stiftung
GDP: Gross Domestic Product
HBS: Heinrich Boll Stiftung
ICNC: International Center on Nonviolent Conflict
IMF: International Monetary Fund
IRI: International Republican Institute
MSN: Moya Stolitsa Novosti
NATO: North Atlantic Treaty Organization
NDI: National Democratic Institute
NED: National Endowment for Democracy
NGO: Non-Governmental Organization
NIMD: Netherlands Institute for Multiparty Democracy
NSC: U.S. National Security Council
OECD: Organization of Economic Cooperation and Development
OPD: U.S. Office of Public Diplomacy
OPIC: Olof Palme International Center (of Sweden)
ORS: U.S. Office of Reconstruction and Stabilization
OSI: Open Society Institute
OTI: USAID Office of Transition Initiatives
PAUCI: Poland-America-Ukraine Cooperation Initiative
PDPA: U.S. State Department Bureau of Public Diplomacy and Public Affairs
PR: Public Relations
PSB: Penn, Schoen and Berland Associates
R&D: Research and Development
RFE/RL: Radio Free Europe/Radio Liberty
SEED: U.S. Congress Support for East European Democracy Act
TI: Transparency International
TNC: Transnational Corporation
TOL: Transitions Online
U.K.: United Kingdom
U.S.: United States
USAID: U.S. Agency for International Development
USC: University of Southern California
USCC: U.S. Chamber of Commerce
USIA: U.S. Information Agency
USSR: Union of Soviet Socialist Republics
VOA: Voice of America
WFD: Westminster Foundation for Democracy (U.K.)