Part 1 of 2
10: The Fate of Tsar Nicholas II
"The correspondence of the Russian Revolution to our own leaves nothing to the imagination. It depends only whether or not it will be our end too."

-- Dietrich Eckart
"Historians admit that Nicholas was "a good man" -- the historical evidence of personal charm, gentleness, love of family, deep religious faith and strong Russian patriotism is too overwhelming to be denied -- but they argue that personal factors are irrelevant; what matters is that Nicholas was a bad tsar."

-- Robert K. Massie
Despite Nicholas II's heartfelt desire to help others, his twenty-three year reign was marked by a series of cataclysms, which brought the Russian Empire crashing down. Emperor Alexander III entrusted Crown Prince Nicholas's education to Konstantin Pobedonostsev, a narrow-minded law professor who disdained all liberal measures as works of Satan. Known among intellectuals as "the high priest of social stagnation," he railed against public schools, freedom of the press, women's rights, and all other democratic measures. Like most fundamentalists, he promoted intolerance under the banner of righteousness. As Procurator (chief lay official) of Russian Orthodoxy's Holy Synod, Pobedonostsev excommunicated Leo Tolstoy from the Church for impiety. He taught the Tsarevich that all republican principles were absurd illusions. Under his tutelage Nicholas perpetuated such abuses as press censorship, de facto serfdom, and imprisonment of political dissenters.
Russian Finance Minister Sergei Witte regarded Tsarevich Nicholas as "a kindly and well-bred youth." [1] When he suggested that Alexander III appoint him to a committee studying economic issues, the burly Tsar retorted:
"Have you ever had a ... serious conversation with him? ... Why he is a mere child ... He has only childish notions ..." [2]
Though brutal injustices occurred during his tenure, Tsar Nicholas took his role as Father of the Russian People seriously, holding regular audiences for subjects, and approving all reasonable pleas. Numerous examples of his compassion might be cited, but two will suffice to make the point. Late one evening a weeping girl hurled herself at the feet of St. Petersburg Police Chief Alexander Orlov, begging that her fiance be spared from hanging for political radicalism. Moved by her appeal, Orlov rode to the Imperial Palace and requested permission to see the Tsar, who had retired for the night. Appearing in robe and slippers, Nicholas immediately granted clemency, and thanked Orlov for contacting him expeditiously. "One must never hesitate when one has the chance to save a man's life." [3] In October, 1916 while visiting a military hospital, the Tsar happened upon a wounded soldier about to be shot for cowardice. Nicholas approached, put his hand on the youth's shoulder, and asked why he had fled.
"The young man stammered that, having run out of ammunition, he ... got frightened, turned and ran ... (Tsar Nicholas) told him he was free. The next moment the lad scrambled out of bed, fell on the floor, his arms around (Nicholas's) knees and sobbed like a child." [4]
Though personally kind, Nicholas did not have a decisive temperament. Critics accused him of being an impressionable tabla rasa who typically adopted the views of the last person he consulted. Desiring to please all, he wavered on important issues, often acceding to the wishes of Empress Alexandra, Grigori Rasputin, or inept advisors such as Boris Sturmer. King Edward VII of England, judged him "weak as water." [5] Others described him as "blown by every wind."
The unstable Russian Empire certainly needed a strong ruler between 1894 and 1917. Crown Princess Victoria of Germany, characterized Russia as
"... another world -- there is something so squalid and sad, suggesting poverty and loneliness about the landscape and population, so much in contrast with ... the imperial court's wealth, the money, jewels, and ... almost reckless extravagance with which some things are carried out ... " [6]
Nicholas's twenty-three year reign, though exceedingly troubled, had its positive aspects. Russia made significant economic progress between 1894 and 1914. Railroad lines were built, factories sprung up, wages rose, the ruble's value increased. Leo Tolstoy and Anton Chekhov continued the rich literary tradition of Gogol, Turgenev, and Dostoevsky. Choreographers Serge Diaghelev and Vaslav Nijinsky collaborated with composers Nicholai Rimsky-Korsakov and Igor Stravinsky to produce a renaissance in music and ballet.
Tsar Nicholas started out on a progressive note. With encouragement from Jewish railroad president Ivan Bliokh, he endorsed a peace conference at The Hague in August, 1898. This proposal stunned Britain, Germany, France, and Austria, which had long viewed Russia as a perennial troublemaker. Japan, China, Persia, the United States, and twenty European nations attended this meeting. Nicholas put forward a plan for general disarmament, rules of warfare, and a court to mediate conflicts between nations. Participants agreed to establish The Hague World Court for non-violent resolution of international disputes.
Unfortunately, Nicholas's own diplomatic corps did not share his pacific aims. Between 1894 and 1914 the Russian foreign office managed to subvert world order from Vienna to Tokyo. It aggravated Austria-Hungary and Ottoman Turkey by supporting Pan-Slavism in Serbia, Montenegro, Bosnia, and Croatia -- with the ulterior motive of acquiring a Mediterranean or Aegean port. Russia also competed with Japan for sections of Manchuria, Mongolia, China, and Korea. Those machinations led to the disastrous Russo-Japanese War in 1904.
Storybook Romance
"I must say I never saw two people more in love with each other or happier than they are."

-- George, Duke of York
Nicholas first met Princess Alexandra of Hesse-Darmstadt in 1884 at the wedding of her older sister Elizabeth ("Ella") to his uncle, Grand Duke Serge Alexandrovich Romanov. Ella and twelve year old Alexandra were daughters of Prince Louis of Hesse and Princess Alice, Queen Victoria's second daughter. Alice died of diphtheria on December 14, 1878. Surviving photographs of young Alexandra show her to be a pretty, but pensive girl. The deaths of her mother, sister May, and brother Frederick cast a pall over her childhood.
Nicholas fell in love with his cousin Alexandra in 1889 when she came to visit Ella on an extended vacation. Although bashful and serious, Alexandra developed into a beautiful young woman, with shining blue-grey eyes, rosy complexion, coppery blonde hair, chiseled features, and a slender but shapely figure. Moreover, there was an ethereal quality about her. Lovesmitten Crown Prince Nicholas requested his father's permission to marry her, but Tsar Alexander refused. After attending the April, 1894 marriage of Alexandra's brother Ernst to the Duke of Edinburgh's daughter Melita in Germany, Nicholas again petitioned the Tsar, who finally relented. With encouragement from Emperor Wilhelm II -- a cousin to both parties -- Nicholas proposed to Alix, and she accepted.
Nicholas and Alexandra loved each other deeply. On their wedding night she wrote these lines in his diary.
"At last united, bound for life, and when this life is ended, we meet again in the other world and remain together for eternity .... Never did I believe there could be such utter happiness in this world, such a feeling of unity between two mortal beings. I love you. Those three words have my life in them." [7]
Nicholas fully reciprocated these feelings. Their mutual devotion grew over the years.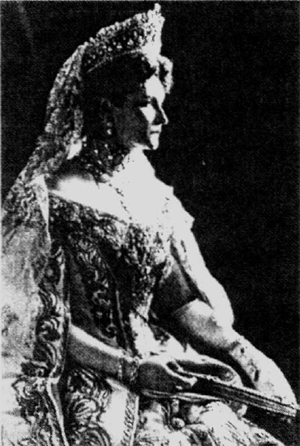 Empress Alexandra in court dress, c. 1906
Broad-shouldered Tsar Alexander III could have been a circus strong man. He bent silver rubles with his bare hands, effortlessly lifted all kinds of heavy objects, and beat all comers in arm-wrestling matches. Shortly before Nicholas and Alexandra's betrothal, his robust health suddenly deteriorated due to a kidney disorder. He died on November 1st, 1894 at age 49. Young, inexperienced, 5 foot 6 inch Nicky now stepped out of his bear-like father's shadow to become Autocrat of All the Russias.
Tsar Alexander III's untimely death proved to be just one of several bad omens. Nicholas was born on May 6, 1868 (Julian Calendar), feast day of Job the Sufferer. A solar eclipse occurred on June 6, 1872, Alexandra's date of birth. Old Russian women beheld her classic profile riding past in the royal carriage, and called her a "bird of ill omen" who arrived behind a coffin. Nicholas and Alexandra married on November 26, 1894, while still in mourning for Tsar Alexander. All guests wore black at their gloomy wedding. During Nicholas's coronation ceremony, the thick chain of St. Andrew's necklace, symbol of Imperial authority, broke, causing it to fall from his neck and clatter down the cathedral steps. That same day Grand Duke Serge's outdoor celebration at Khodynka Park in Moscow degenerated into a melee in which hundreds of people were trampled to death, and thousands injured. While on their honeymoon tour of France Nicholas and Alexandra were assigned to Marie Antoinette's suite at Versailles Palace. Thereafter, Alix always hung a portrait of the unfortunate French queen in her bedroom to commemorate this happy time, unaware that she would suffer a similar fate. Crown Prince Alexis, their only son and heir to the throne, was afflicted with hemophilia, a hereditary blood disease which made him a virtual invalid.
A quiet and self-conscious young woman, Alexandra experienced great difficulty adapting to Russian court life. Profligate Russian aristocrats labeled her a "pill." Alexandra once incurred ridicule for scolding an attractive young countess who wore a low-cut gown to a reception. The Empress's hobbies included collecting religious icons and sewing tapestries. Sophisticated court ladies derided her as "a bourgeois school mistress," who belonged in a nunnery rather than the Imperial Palace.
"Badly dressed, clumsy, an awkward dancer, atrocious French accent, a schoolgirl blush, too shy, too nervous, too arrogant -- these were some of the unkind things said about Alix of Hesse." [8]
Alexandra suffered from sciatica (inflammation of the sciatic nerve, causing hip, lower back, and leg pain) and neurasthenia (psychosomatic hysteria resulting from anxiety.) She attributed her heart palpitations and panic attacks to an "enlarged heart."
Nervous Alexandra used these real and imagined ailments as an excuse to avoid social functions. During her childbearing years (1895 to 1904) she sent regrets across the board, pleading difficult pregnancies, post-partum complications, sick babies, etc. After 1905 she used her "heart condition" as a pretext to duck parties. Such mousy behavior was unheard of for a Russian Tsaritsa. Nicholas's mother, Dowager Empress Marie, berated Alix as a "spoiled and selfish girl" who willfully shirked her royal duties.
Things might have been different if Alexandra's older sister Elizabeth lived nearby. Kindhearted and beautiful Grand Duchess "Ella" had charmed society in Moscow, where her husband ruled as Governor General. But she had to run a large household, entertain often, and raise two adopted children. Therefore, Ella could only help struggling Alix during brief visits to St. Petersburg.
Alexandra's mother, Princess Alice, daughter of Queen Victoria, had thoroughly indoctrinated her children in British culture. Alexandra's governess, Mrs. Orchard, and nanny, Madgie Jackson, were both Englishwomen. They raised her on a strict regimen of morning lessons, afternoon teas, Protestant church services every Sunday, and summer vacations at Balmoral castles with Queen Victoria. Her middle class code of morality contrasted sharply with the devil-may-care attitude of decadent Russian nobles.
Alexandra's mother-in-law, Dowager Empress Marie, was a charming social butterfly who entertained lavishly and often. Her fetes overflowed with champagne, caviar, good cheer, and witty repartee. In the winter, this former Danish princess liked to cap off a night of dancing with a fast sleigh ride through the palace's deer park. Alexandra suffered through balls. She woodenly greeted guests in a receiving line, then bolted back to her mauve boudoir at the first opportunity -- chiding Nicholas if he did not join her promptly. Maturity never eased her loathing of soirees.
Not surprisingly, relations between Marie and Alexandra became strained. The young Empress did not take her mother-in-law's criticisms gracefully. Marie resented being displaced by her gauche daughter-in-law and blamed her for most of Nicholas's problems.
Although the Empress may have been considered maladroit by St. Petersburg's jet set, she was a loving mother, totally devoted to the care of her five children. Empress Alexandra nursed, bathed, dressed, and played with her babies every day. As they grew older she closely supervised their health care, education, and recreation. There were no boarding schools. The children always came along on vacations. Alix was happiest at activities such as summer cruises, family gatherings, and amateur theatrical performances staged by her pretty daughters.
Empress Alexandra dedicated herself to a small circle of friends, which included Lady Anna Vyrubovna and Princess Sonia Orbeliani, who shared her devout religious faith. The haughty set at court disdained Alexandra's confidantes as unfashionable prudes. When Princess Orbeliani, fell ill due to a crippling spinal disease, Alix brought her into the Imperial household, underwrote most of her expenses, and personally attended her until she died in 1915.
Alexandra's mother, Princess Alice, had engaged in many charitable activities, including care of soldiers wounded in the German wars of 1866 and 1870. Following her example, Alexandra worked tirelessly as a nurse in Petrograd Army Hospital during World War I. Her friend Anna Vyrubova wrote:
"I have seen the Empress ... in the operating room holding ether cones, handling sterilized instruments, assisting in the most difficult operations, taking from the hands of busy surgeons, amputated legs and arms ... enduring all the sights and smells and agonies of that most dreadful of all places, a military hospital in the midst of war." [9]
Alexandra and two of her daughters, Olga and Tatiana, earned certificates as war nurses. Excerpts from Alix's letter to Nicholas tell the story of her service.
"November 19, 1914: An officer of the 2nd Rifles, poor boy, whose legs are getting quite dark and one fears, amputation may be necessary. I was with the boy yesterday during his dressing, awful to see, and he clung to me and kept quiet, poor child."

December ?, 1914: A young boy kept begging for me. I find (him) getting worse ... In the evenings he is off his head and so weak."

March ?, 1915: My poor wounded friend Has gone. God has taken him quietly and peacefully to himself. .. Olga and I went to see him. He lay there ... under the flowers I daily brought him." [10]
In spite of her social awkwardness, Empress Alexandra had a compassionate heart.
Crisis Upon Crisis
Tsar Nicholas's defective education from Konstantin Pobedonetsev had ill-prepared him for the Russo-Japanese War and Revolution of 1905, two calamities which foreshadowed the disasters of 1914 and 1917.
When Russia began moving agents and plainclothes military officers into Korea in 1901, Marquis Hirobumi Ito of Japan visited St. Petersburg to negotiate. Russia's foreign office refused to discuss the matter. Ito's requests for an appointment with the Tsar were rebuffed. All during 1903 Japanese ambassador Kurino sent letters protesting Russian incursions into Korea. On February 3, 1904 he officially broke off relations with Russia and left St. Petersburg.
In 1898, to Japan's alarm, Russia obtained a lease from the moribund Qing Dynasty for Port Arthur, a warm water port in Manchuria. The Russians stationed several battleships in its harbor, and constructed a network of forts on high ground overlooking the city. In an action that anticipated their 1941 attack on Pearl Harbor, Japan launched a surprise raid against Russian vessels moored in Port Arthur's harbor on February 8, 1904. The Japanese Navy sunk The Pallada, and four smaller ships, in addition to seriously damaging The Rezivan and Tsarevich, until shelling by Russian shore batteries compelled Japan's fleet to withdraw. Naval engagements continued through March, when the Japanese succeeded in blockading Port Arthur.
On August 1, 1904 the Japanese landed ground troops at Port Arthur. In addition to modern amphibious assault tactics, this brutal little war introduced a number of other deadly innovations: barbed wire, Maxim machine guns, hand grenades, portable [11] mortars, bolt action rifles with clips, light howitzers, searchlights, land mines, and telephone communication between separate units.
On August 7th the Japanese Army unleashed a night attack. Russian defenders beat them back with artillery and machine gun fire guided by searchlights. A day later the Japanese captured less than a hundred yards with the loss of I,280 killed, wounded, and missing.
This battle presaged World War I. From August until December, 1904 Japanese soldiers charged Russian fortifications, lost more men than their adversaries, but gained small plots of ground. On August 19th the Japanese took 174 Meter Hill while sustaining 1,800 casualties. They sacrificed 3,734 men in a failed attempt to seize 203 Meter Hill on October 29th. After a nine day battle, costing an estimated 8,000 infantrymen, they secured 203 Meter Hill on December 5th.
Japanese sappers exploded mines under Russia's main redoubt, Fort Shunshu on December 31, and secured Wantai January 1. Major General Anatoly Stoessel surrendered the next day. The Russian Army later court-martialed him, since he had adequate supplies and his men had not yet been defeated by the Japanese. In this five month siege each side sustained more than 30,000 casualties.
Meanwhile, another theater of operations opened up along the railroad line between Liaoyang and Mukden. On August 24, 1904 General Alexei Kuropatkin attacked Japanese troops advancing toward Liaoyang. They repulsed this assault, counterattacked, took Hung-Sha Pass, and forced the Russians to fall back.
After being reinforced with troops transported by the Trans-Siberian Railroad, General Kuropatkin initiated another offensive at Shaho on October 5, which Japanese forces repelled. After failing to take the objective after repeated assaults, Kuropatkin retreated to Mukden on October 17th and ordered his troops to dig trenches.
On January 25, 1905 General Oskar-Ferdinand Kasmirovich Grippenberg launched a surprise attack on the Japanese winter headquarters at Sandepu. He caught them completely off-guard. Instead of bringing up reserves to help Grippenberg rout the Japanese, General Kuropatkin inexplicably ordered him to withdraw.
Field Marshal Oyama Iwao of Japan marched toward Mukden in mid-February, 1905. On February 20th he ordered a three-pronged invasion against the Russians' front line and flanks, while sending his 3rd Army to envelop them from behind. General Kuropatkin's men warded off Japanese charges for eight days. However, on March 1st, when he learned that Japan's yd Army threatened his rear, he pulled men from the front. Field Marshal Iwao took advantage of the Russian Army's slow and disorderly evacuation from its main line of defense, and ordered a full-scale frontal attack on March 7th, which induced Kuropatkin to retreat. In the course of the six month Liaoyang to Mukden campaign Russia incurred approximately 60,000 casualties to Japan's 41,000.
Tsar Nicholas sent eight ships from his Baltic fleet around the world to relieve Port Arthur. Admiral Togo of the Japanese Navy sunk all of them in the Tsushima Straits on May 27, 1905. The Sevastopol, Russia's last remaining battleship, sunk two Japanese destroyers and damaged six cruisers before being scuppered by Captain Nicholai Essen to prevent Japan from salvaging it.
The total casualty toll for this war remains in doubt, with one count estimating 165,000 killed, wounded, and missing for Russia, and 152,000 for Japan.
The Russo-Japanese War and Revolution of 1905 prefigured Tsar Nicholas's downfall in 1917. The casualties, shortages, and inflation arising from this fruitless conflict bred widespread dissatisfaction. Protesters demanded higher wages, civil rights, and representative government. A Russian Orthodox priest named Father George Gapon drafted a petition requesting universal suffrage, parliamentary government, public education, and an eight hour work day. On Sunday, January 22, 1905 Gapon and his supporters marched in a religious procession toward the Winter Palace to present their appeals to Tsar Nicholas. Although Gapon had requested police permission the day before, Nicholas knew nothing of this demonstration, and spent the weekend fifteen miles away in Tsarkoe Selo. At approximately 2 PM soldiers guarding St. Petersburg's Winter Palace ordered Father Gapon's marchers to halt. What happened next remains unclear, except that troops opened fire on unarmed civilians, killing and wounding several hundred people. "Bloody Sunday" precipitated commotions all over Russia for the next ten months. Factory workers went on strike, sailors aboard warships mutinied. Disorders interrupted train schedules, postal service, hospital care, and school classes.
On February 18, 1905 an anarchist named Ivan Kalyayev killed Nicholas's uncle, Grand Duke Serge with a bomb. His wife Ella, sister of Empress Alexandra, heard the explosion, rushed outside, picked up her husband's scattered body parts, and comforted her dying coachman. The grieving widow later visited Kalyayev in prison and urged him to repent, but he refused. Ella nevertheless asked the Tsar to commute his death sentence. Nicholas gently declined, citing the crime's heinous nature. Ella went into a deep depression, and became a vegetarian. In 1909 she gave away her jewelry and sold a substantial amount of property in order to found the Convent of Sts. Martha and Mary, which operated a soup kitchen and infirmary. Her order of nuns dedicated themselves to helping Moscow's poor and sick.
Sporadic violence, including pogroms against Jews in Odessa and Kishenev, persisted throughout 1905. On October 30th, Nicholas reluctantly signed the Imperial Manifesto, a watered-down constitution drawn up by Council Chairman Sergei Witte which accorded basic civil rights to Russian subjects and established the Duma, or legislature, as a "consultative body." Although this quasi-constitution satisfied neither right nor left, rioting finally died down by March, 1906.
The Holy Man
Politics only account for part of the Romanov tragedy. The Imperial family's domestic situation must be examined in order to present a three-dimensional picture.
Alexandra delivered five children: Olga (November, 1895), Tatiana (June, 1897), Marie (May, 1899), Anastasia (June, 1901), and Tsarevich Alexis on August 12, 1904. Due to hemophilia, his blood would not clot after an injury, so even minor cuts and bruises caused life-threatening blood loss. Alexis inherited the hemophilia gene from his maternal grandmother, Queen Victoria. Her son Leopold (1853-1884) had his life cut short by the disease -- so had her daughter Alice's son Frederick (Alexandra's brother,) who died as a child in May, 1873.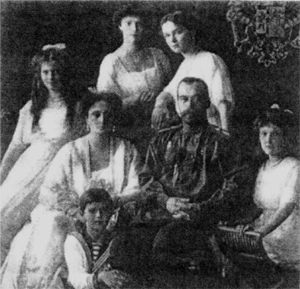 The Russian Imperial Family, 1911
Since Tsarevich Alexis was an energetic and playful boy, bleeding episodes occurred often. One of his worst crises took place at the Imperial Hunting Lodge in Spala, Eastern Poland. The eight year old heir bumped his knee during a rough carriage ride in October, 1912. Some blood vessels ruptured, causing hematoma (pathological swelling due to internal bleeding.) In terrible pain and running a high fever, he alternated between delirium and unconsciousness for eleven days.
"Alexandra scarcely left her son's side. Hour after hour, she sat by the bed where the groaning child lay huddled on his side ... Alexandra held his hand, (and) smoothed his forehead ... as she prayed mutely to God to deliver her little boy from torture. During these ... days her golden hair became tinged with gray." [11]
Siberian faith healer Grigori Yefimovich Rasputin (1869-1916), the son of a horse trader, effectively treated Tsarevich Alexis's disease on several occasions. Alexandra asked her friend Anna Vyrubova to telegraph him for help in October, 1912. Rasputin wired back:
"God has seen your tears and heard your prayers. Do not grieve. The Little One will not die. Do not allow the doctors to bother him too much." [12]
One day later Alexis's condition improved dramatically. The hemorrhaging stopped and his fever broke. Within three weeks he fully recovered.
Grigori Rasputin was a lecherous "holy man" from the village of Pokrovskoe near Tobolsk in Western Siberia. In his youth he acquired the reputation of a hard-drinking brawler who compulsively kissed and fondled women he found attractive. Although often slapped by his victims and threatened by their families, he laughed off all snubs.
Rasputin's sister Maria and older brother Dmitri both drowned in Pokrovskoe's Tura River. Grigori's corpse would be fished out of the Neva River in 1916. Ironically, the name Rasputin means "between two rivers." The tragic deaths of his two siblings might have influenced Rasputin's religious conversion.
While working as a coach driver in 1891 young Grigori stumbled upon the Dionysiac monastery at Verkhouryne where he boarded for three months. Cultists there sought direct communication with the supernatural through prayer, fasting, meditation, flagellation, and more unconventional "spiritual exercises." Unsubstantiated rumors had it that these other measures included group sex and the ingestion of psychedelic potions. Rasputin went back to Pokrovskoe, turned to farming, married Praskovia Fedorovna Dubrovina, fathered three children by her, and one by another woman. While plowing his fields one day he beheld a vision of the Blessed Virgin which convinced him of his true vocation as a "starets," or wandering sage. After briefly apprenticing himself to a local shaman named Makariy, Grigori publicly announced his reformation, and began preaching on street corners, quoting scripture, praying aloud, and blessing the sick.
The young evangelist had occult powers. He mesmerized people with his hypnotic gaze. Newly-acquired psychic ability enabled him to identify horse thieves, find misplaced objects, and tell the future. Rasputin cured several chronically ill people by laying hands on them. Local religious authorities grew suspicious of this self-proclaimed magus, and soon banned him as a heretic. Feeling persecuted in his own land, the prophet embarked on a series of pilgrimages throughout Russia, to Greece, and the Holy Land. In 1903 Rasputin moved to St. Petersburg where he impressed society ladies with both his magical abilities and sexual prowess. Tsar Nicholas's Montenegrin cousins, Princess Militsa and Princess Anastasia, first introduced Rasputin to Nicholas and Alexandra on November 1, 1904. Because of "Father Grigori's" efficacious ministrations to Tsarevich Alexis, he soon overshadowed two French soothsayers -- Phillipe Vachot and Gerard Encausse. Alexandra came to believe that he was a Man of God, whose counsel in all matters must be taken seriously.
Grigori Rasputin was an unlikely court favorite. He wore rumpled clothes, smelled like a goat, and had atrocious manners. His glowing eyes, framed by disheveled hair and beard, shone like those of a raccoon. Rasputin ate with his dirty hands and called dignitaries by nicknames, addressing Nicholas and Alexandra as "Papa" and "Mama."
Despite his repellent appearance and conduct, people of all classes frequented Rasputin's atelier in St. Petersburg. His creed of Salvation through the Flesh enabled him to seduce scores of women with impunity. This brand of sophistry valued contrition above all else. Rasputin maintained that sin served an essential purpose, since it elicited saving repentance. After daylight sessions with women clients, the well-endowed mystic would venture out, get drunk, and visit brothels. Neighbors complained that, when inebriated, he regularly banged on neighbors' doors late at night to scare up female bedmates. Detractors circulated the story that he once raped a nun. Police reports confirmed that several angry husbands packing firearms were intercepted by the Tsar's detectives before they could blow the Holy Man to Kingdom Come.
Few more paradoxical characters than Grigori Yefimovich Rasputin have ever existed. He was a charlatan, madman, satyr, and genuine clairvoyant all rolled-up into one. The French diplomat Maurice Paleologue suspected him of being a German agent since he consorted with pro-German banker Manus. However, Rasputin actually hobnobbed with Manus because of his fabulous parties -- replete with courtesans, music, gourmet food, and fine wines.
"Father Grigori" cared little for money and could not be bought. He doled out cash to friend and stranger alike, and casually gave away expensive gifts which noblewomen bestowed upon him. Rasputin dispensed influence with equal generosity. A scrawled, misspelled note from him to almost any government official would usually achieve results. He did his share of favors in exchange for sex and emoluments, but many others without expectation of earthly reward.
The Holy Man used hypnosis to ease pain and instill a positive attitude in patients. When Tsarevich Alexis fell ill, Rasputin confidently assured him that the spell would pass. He befriended the boy, telling stories and playing games with him. Alexis's condition improved due to these distractions and his faith in "Father Grigori's" curative powers. The Tsarevich might have found relief because Rasputin invariably removed him from standard medical care. To alleviate the boy's distress doctors heavily dosed him with aspirin, an anti-coagulant now known to aggravate hemophiliac symptoms.
On June 19, 1914 prostitute Khionia Guseva, a disgruntled former girlfriend, stabbed Rasputin in the abdomen. He collapsed with part of his entrails protruding. Doctors saved him with emergency surgery. Rasputin never fully recovered from that injury. His abundant strength and energy diminished. He took opium for pain. Because of a hyper-acidic condition in his stomach, he had to forego sweets, roast suckling pig, parfait foie gras, as well as other rich foods.
Rasputin accurately prophesied the horrors of World War I and pleaded with Nicholas not to get involved. In August, 1914 he telegraphed Anna Vyrubova: "Let Papa not plan war, for with the war will come the end of Russia and yourselves ... "
In July, 1914 he wrote:
"Dear friend, I will say again a menacing cloud is over Russia, lots of sorrow and grief ... It is dark and there is no lightening ... A sea of tears immeasurable, and as to blood? What can I say? There are no words; ... it is indescribable. I know they want war from you, evidently not knowing this is destruction. Heavy is God's punishment when he takes away reason; this is the beginning of the end. Thou art ... Tsar Father of the Russian People. Don't allow ... madmen to triumph and destroy themselves and the People ... She is all drowned in blood. Terrible (will be) the destruction and without end the grief. Grigori" [14]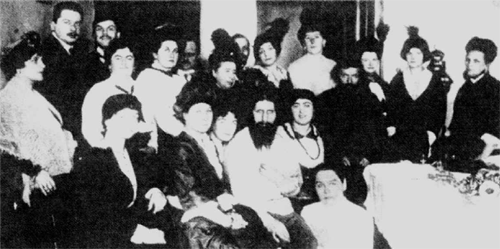 Grigori Rasputin (seated) surrounded by followers, 1916
Rasputin foresaw his own death and made prophetic statements to the Tsar in a December, 1916 letter.
"I write and leave behind me this letter at St. Petersburg. ... I shall leave life before January 1, (and) wish to make known to the Russian people, ... Papa, ... the Russian Mother, ... what they must understand if I am killed by common assassins, and especially by my brothers, the Russian peasants, you Tsar of Russia, have nothing to fear, (and will) remain on your throne and govern, ... But if I am murdered by boyars, nobles, ... for twenty-five years their hands will be soiled with my blood. They will leave Russia. Brothers will kill brothers, ... There will be no nobles in the country. Tsar of Russia, if you hear the bell announcing Grigori's death, you must know this: if it was your relations who have killed me, then no one of your family, that is to say, none of your children or relations, will remain alive for more than two years. They will be killed by the Russian people ... I shall be killed. I am no longer among the living. Pray, pray be strong. Think of your blessed family." [15]
Upright and capable ministers such as Stolypin, Polivanov, and Sazonov detested Rasputin and attempted to have him banished from court. Alexandra resented their intrusions and lobbied for the appointment of men friendly toward the Holy Man. As Minister of the Interior, General Polivanov worked hard to keep Russian troops provisioned with food, arms, ammunition, uniforms, and medical supplies. He also efficiently administered the civilian police force. At Rasputin's urging the Tsar fired Polivanov, and appointed Alexander Propopov, a half-mad baronet who spoke to religious icons as if they were real people. Under him the morale of the army and domestic police deteriorated.
Foreign Minister Serge Sazanov maintained good relations with France, England, Poland, Denmark, Sweden, and Finland. Alexandra realized that Sazanov had no use for Rasputin and badgered Nicholas to replace him with Boris Sturmer, a corrupt intriguer who let relations with Russia's allies become strained during the crucial years of 1916 and 1917. French ambassador Paleologue evaluated Sturmer as
" ... worse than a mediocrity -- third rate intellect, mean spirit, low character, doubtful honesty, no experience, and no idea of state business." [16]
Alexandra adored Nicholas and spoke of herself [as] his "guardian angel." In his diary she wrote:
"Your Guardian Angel is keeping watch over you ... God will help me be your Guardian Angel." [17]
She truly wanted to assist him, but flawed political judgment negated her good intentions. When Alix pressed Nicholas to select one of Rasputin's incompetent candidates for high office, she uttered refrains such as: "he likes our Friend," and "our Friend recommends him." Earning the Mad Monk's approval seemed to be her chief criterion for choosing cabinet officials. That system produced nothing but misfits.
Prince Felix Youssovpov, the Tsar's cousin and one of Russia's wealthiest men, conspired to murder Rasputin in the early morning hours of December 29, 1916. He invited "Father Grigori" to a party at his townhouse, offering to play the lute, and introduce him to his beautiful wife Irina. A less-than-perfect host, Prince Felix plied Rasputin with cyanide-laced cakes and poisoned wine. Showing no signs of illness, the guest of honor loudly sang gypsy songs, and yelled for more wine. Pale with fright, Youssopov put down his lute, fetched a loaded pistol, and shot him. Dr. Lazovert rushed in, felt no pulse, and pronounced Rasputin dead. At that instant one of Rasputin's hands shot up and grabbed Prince Felix by the throat. He fled screaming while the growling mystic chased him on all-fours. Out of breath from sprinting up two flights of steps at top speed, Youssopov collected himself, and dashed downstairs again. Joined by co-conspirators, he threw open a basement door and spied Rasputin hobbling toward the street, shouting: "I will tell all to the Empress!" Youssopov, Grand Duke Dmitri Romanov, British Army Lt. Oswald Rayner, and Duma Deputy Vladimir Purishkevich ran after Rasputin and fired four shots. One round struck him in the head and knocked him down. The Man of God snarled and grimaced on the ground while Youssopov's confederates kicked and clubbed his supine body. Believing Rasputin dead, they wrapped him in a curtain and shoved it down a hole in the ice-covered Neva River. His corpse washed up downstream three days later. A subsequent autopsy report indicated that the slug which entered Rasputin's forehead was an unjacketed .455 caliber Webley revolver bullet, leading investigators to conclude that Lt. Rayner probably fired it. The decedent's bloody finger tips indicated that he had desperately tried to dig out of ice. The coroner ruled drowning as cause of death since Rasputin's lungs contained water, a condition which won't occur when a person has died prior to immersion.
Felix Youssovpov sought to save the Autocracy by assassinating Rasputin. The "Mad Monk's" disreputable character reflected unfavorably on the Imperial family. Soldiers and peasants whispered that he had seduced the "Nemka" (German woman, i.e. Tsaritsa Alexandra.) Youssovpov knew that the Empress, under this crazy man's spell, had persuaded Tsar Nicholas to make many unwise decisions. Lt. Oswald Rayner's presence at the murder scene suggests that British Intelligence wanted to eliminate Rasputin's pacifist influence from the Russian Imperial household.