13: Hitler's Origins and Early Life
"As the man grows estranged from his wife, he becomes more intimate with alcohol. When at length he comes home ... drunk and brutal, ... God have mercy. I have seen this in hundreds of instances."

-- Adolf Hitler, Mein Kampf
Hitler's 56 year life may be neatly divided into 29 years of obscurity (1889-1918) and 27 years of infamy (1919-1945.) This chapter will deal with the years between 1889 and 1903.
Adolf Hitler was born about 6:18 P.M. on Holy Saturday, April 20th, 1889 at the Gasthaus zum Pommer, a hotel in the tiny Austrian border village of Branau am Inn. The building still stands, occupied as a library and private school. Like other towns in Austria's Waldviertel ("Wooded Quarter,") Branau consisted of a small business district, then a collection of white-washed cottages with tile or thatch roofs, surrounded by farms and forests.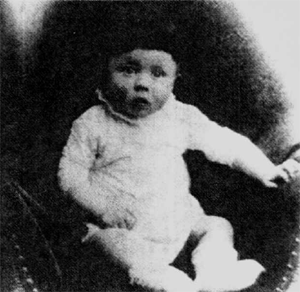 Adolf Hitler as a baby, 1889
The Waldviertel has been called "Austria's Appalachia." Branau's country folks had a reputation of being suspicious of outsiders. The village was also widely known as a hotbed for mediums. Hitler had the same wet-nurse as the psychic brothers Rudolf and Wilhelm Schneider. People came from all over Europe to have their fortunes read by "The Weavers of Branau."
During his adult life Hitler himself exhibited the classic mediumistic traits: clairvoyance, ability as a mimic, "duality," charisma, habitual daydreaming, and sleepwalking.
An unmarried maidservant named Maria Anna Schicklgruber gave birth to Adolf's father, Alois Schicklgruber in Strones on June 7, 1837. When she died ten years later, Johann Nepomuk Hitler (or Huttler), a farmer from Spital took Alois into his household. In 1876, at the age of 39, Alois Schicklgruber (meaning "hedge-digger") legally changed his surname to Hitler (meaning "small land-holder.") His son Adolf later hailed this as one of his father's better decisions, acknowledging that the phrase "Heil Schicklgruber" would never have caught on with his followers. According to Werner Maser, the purpose of this belated adoption was not only to legitimize Alois, but to guarantee an inheritance from Johann Nepomuk Hitler, who may have been his natural father. This transaction occurred three years after the death of Johann Nepomuk's wife, Eva Maria, who would certainly have objected to a legacy being diverted from her three daughters to Alois.
Maria Anna Schicklgruber lived with miller's assistant Johann Georg Hitler (or Hiedler), brother of Johann Nepomuk Hitler. Some believe Johann Georg to be Alois's real father. However, after Maria's death the ten year old boy left his home to live with "step-uncle" Johann Nepomuk Hitler's family. After the war Nazi lawyer Hans Frank declared that Maria Anna Schicklgruber got pregnant while working in the household of "a Graz Jew" named Frankenberger or Frankenreither. However, genealogical researchers disproved this account by ascertaining that no Jewish families lived in Graz during the 1830's. Another baseless rumor had it that one of the Rothschilds impregnated Maria Anna while she worked in their Vienna mansion c. 1836. Johann Nepomuk Hitler seems to be the most likely candidate as Alois Hitler's natural father. In any case, Frank confirmed that
Adolf Hitler always feared that he might be one quarter Jewish. He knew that an entire clan of Jews named Hitler lived somewhere in Galicia.
Author Stephen F. Sage catalogued several of them who died in the holocaust.
In 1850 Johann Nepomuk Hitler apprenticed 13 year old Alois to a local cobbler. A few years later the young man went to Vienna to improve his leather-working skills. While there, Alois applied to the Imperial Finance Ministry for a job, passed the examination, and obtained employment as a clerk. By dint of driving ambition, hard work, and an assertive manner, Alois Hitler eventually overcame his peasant origins and worked his way up to the post of senior customs official.
Alois's love life deviated sharply from the pattern of middle class respectability. Since turning eighteen in 1855 he had sex with a succession of waitresses, chambermaids, and prostitutes. At thirty-six he married forty-six year old Anna Glassl for her money, but soon resumed his philandering. Anna, the daughter of Alois's former boss, flied for divorce in 1880, after seven years of marriage. When she died three years later, 46 year old Alois married his twenty-two year old girlfriend Franziska "Fanni" Maltselberger, by whom he already had an illegitimate son, Alois Jr. (b. January 13, 1882.) Fanni contracted tuberculosis shortly after giving birth to daughter Angela (b. July 28, 1883.) Alois's twenty-three year old niece Klara Polzl (b. August 12, 1860 in Spital) helped with housekeeping and babysitting tasks during her illness. Forty-seven year old Alois took a fancy to Klara, probably seducing her before his young wife's death in August, 1884. When he married Klara on January 7, 1885, she was four months pregnant.
Because of their close degree of consanguinity the couple had to obtain a dispensation from the church. Alois was Klara's mother's younger half-brother.
Over the next eleven years Klara had six children -- Gustav (b. 1885), Ida (b. 1886), Otto (b. 1887), Adolf (b. 1889), Edmund (b. 1894), and Paula (b. 1896) -- of whom only Adolf and Paula survived childhood.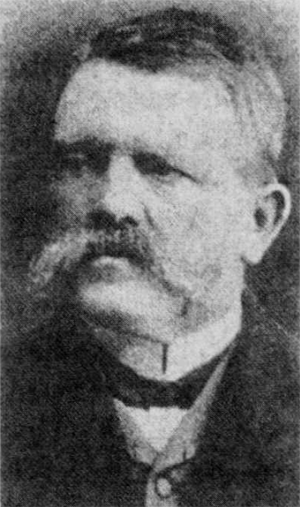 Alois Hitler (1837-1903)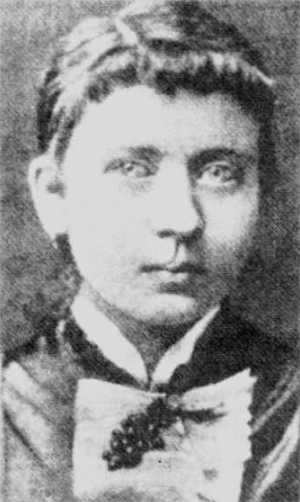 Klara Pozl Hitler (1860-1907)
Craving variety, Alois hauled his family from pillar to post during the 1890's. The Hitlers moved from Branau to Passau (Germany) in 1892, from Passau to Hafeld (Austria) in 1895. from Hafeld to Lambach in 1897, from Lambach to Leonding (a suburb of Linz) in 1899. The Austrian Customs Bureau transferred him from Branau to Passau, but the other moves were more or less whimsical. Robert Payne believed that the 1897 relocation occurred so that Adolf could attend Lambach Abbey School, instead of Fischlam's one-room schoolhouse.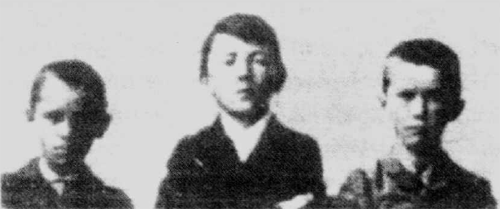 Adolf Hitler, center, at Leonding
Alois lived away from home for long periods, caring more about work, beekeeping, and wine-bibbing than his young family. Klara once confided to a friend:
"What I hoped and dreamed of as a young girl has not been fulfilled in my marriage. It cannot be otherwise ... but does such a thing ever happen?" [1]
During most of 1894 Alois worked in Linz, while Klara and the children resided in Passau. The next year he retired after forty years of civil service and bought a nine acre farm near Hafeld with spacious farmhouse, barn, beehives, garden patches, and small orchard. Hired men helped out with chores. Alois spent more time with bees and drinking buddies than his children.
But Klara, Adolf, and Paula preferred neglect to the punishment he sometimes meted out.
" ... he often beat the dog until it ... wet on the floor. He beat the children, and on occasion ... would beat Klara." [2]
Adolf Hitler grew up as an alert, "staring" boy who could not easily be forced to do anything against his will. [bv]Paula Hitler remembered that Alois often punched her stubborn brother, once knocking him unconscious. Adolf never forgot his last thrashing as a thirteen year old boy in 1902, which consisted of 32 strokes with a cane.[/b] During these assaults Klara sometimes stood by, wringing her hands. At other times, Paula recalled that she and her mother would pull on Alois's coattails in an effort to cut the battering short.
The only adult who exercised control over Adolf was his father. Playmates recalled that the elder Hitler used to whistle for his son to come home. The usually insolent boy instantly stopped in his tracks and bolted home when he heard Alois's shrill "dog whistle."
Alois Hitler drank heavily and abused his wife and children while under the influence. His many changes of residence appear to have been what Alcoholics Anonymous has termed "geographic solutions": futile attempts to improve conditions by moving to new places. Alois was jovial in bars, but rough at home. Tavern-mates' testimony that he never appeared drunk only confirmed above-average capacity -- another sign of alcoholism.
Adolf Hitler, who generally abstained from liquor, once told Hans Frank:
"I know what a devil alcohol is! It really was -- via my father -- the worst enemy of my youth." [3]
Dr. Walter C. Langer noticed Hitler's veiled references to his father in Mein Kampf.
"It ends badly if the man goes his own way ... and the woman, for the children's sake, opposes him. Then there is fighting and quarreling, and as the man grows estranged from his wife, he becomes more intimate with alcohol. He is drunk every Saturday ... When at length he comes home on Sunday ... night, drunk and brutal, ... God have mercy ... I have seen this in hundreds of instances." [4]
The historical record contains conflicting accounts of Alois Hitler. Junior members of the Austrian civil service found him "rigid and pedantic." Some neighbors saw him as a stern and violent household tyrant. However, boon companions at the Gasthaus Stiefler esteemed Alois as a witty and down to earth individual. He regularly drank three pints of beer at a sitting, but it never seemed to affect him. A man of regular habits, he invariably stood up after finishing his third stein and walked home to eat supper. Sometimes he returned for a half liter of white wine after dinner. Alois occasionally stopped by for a single glass of wine before lunch. The regulars at the Gasthaus, tipplers themselves, did not consider him a drunkard by any means.
Senior customs official Alois Hitler commanded respect with his peremptory and self-confidant manner. He dispensed level-headed advice to a cousin whose son contemplated a career in the customs office.
"Don't let him think the Finanzwach is... a game because he will quickly be disillusioned. First, he has to show absolute obedience to his superiors at all levels. Second, there is a good deal to learn in this occupation, all the more so if he has had little previous education. Topers, debtors, card players, and others who lead immoral lives cannot last. Finally, one has to go out on duty in all weathers, day or night." [5]
But it seems that Alois was a "toper" himself. His egocentrtclty, brutality, dysfunctional relationships, promiscuity, heavy smoking, religious indifference, overweening ambition, and restlessness all fit the profile of a middle-stage alcoholic. Klara Hitler was a typical co-dependant wife, entirely subject to the self-gratifying caprices of her husband.
Intoxicants expand one's carnal ego at the soul's expense. As a middle-aged man Alois tried to fill his "inner void" by getting high. His son Adolf grew up as a "dry drunk." He inherited Alois's spiritual emptiness and drive for ego-expansion, but remained abstemious because his father's drunken misbehavior repelled him. Adolf was addicted to another ego-aggrandizing "drug": power lust.
Incestuous marriages tend to produce children with genetic aberrations. The Polzls, who intermarried for generations, had hunchbanks and imbeciles in the family.
Klara Polzl was the daughter of Alois Hitler's half sister, Johanna Hitler Polzl, and granddaughter of Alois's probable father, Johann Nepomuk Hitler.
Adolf, Ida, and Paula Hitler were all abnormal. Dr. Walter Langer referred to Paula as a "high grade moron." Dr. Edouard Bloch asserted that Ida may not have died in 1888 at the age of two, as alleged, but lived in Klara Hitler's household. However, the child he saw may have been the handicapped daughter of Theresia Polzl Schmidt, Klara's older sister. Scientific studies have proven that older men generate offspring with higher incidences of mental illnesses than younger fathers. Research has also demonstrated that the children of heavy-drinking males often manifest physical and neurological disorders. Therefore, it should surprise no one that Alois Hitler, a 51 year old alcoholic, involved in a sexual relationship with his niece, engendered an emotionally unstable son.
The elder Hitler's anti-religious views rubbed-off on Adolf. Alois's obituary described him as "frugal... well-informed ... fond of singing ... an authority on beekeeping ... a champion of law and order ... a progressive-minded man through and through." [6] Witnesses recalled that he ridiculed the local Catholic newspaper and only attended mass on Emperor Franz Josef's birthday.
Adolf Hitler contracted Austrian xenophobia from his father. As an Imperial customs official Alois worked as a border province's gatekeeper. With the propensity of alcoholics to blame others for unendurable conditions, he apparently voiced ill-humored complaints about illegal Jewish aliens from Russia, Croatian smugglers, and Serbian anarchists in his son's presence -- perhaps even prophesying that such elements would eventually destroy Austria. In 1931 Adolf told newspaper editor Richard Breiting:
Even as a child I heard my father say that Vienna was ruled by a clique, a mongrel crew which had collected in the capital." [7]
Alois and his barroom comrades, though pro-Habsburg, sympathized with the anti-Slav, anti-Semitic opinions of Georg Ritter von Schoenerer. In Mein Kampf Adolf Hitler alluded to his father's negativity.
"The other things the little fellow hears at home do not tend to further his respect for his surroundings. Not a single institution is left unattacked; starting with the teacher, up to the head of the State, be it religion, or morality as such, be it the State or society, no matter which, everything is pulled down in the nastiest manner into the filth of a depraved mentality."[8]
It is ironic that the writer of Mein Kampf would object to misanthropy and scatology, for in that same book he heaped scorn upon Jews, Slavs, and the French. Moreover, his numerous references to syphilis, germs, cancer, dung, and poison certainly reflect "the filth of a depraved mentality."
Klara Polzl Hitler has been described as a gentle, religious woman who seldom raised her voice. Surviving photographs show an attractive, somewhat melancholy, country girl with neatly combed hair and large, expressive eyes. Adolf inherited her arresting gray-blue eyes. She doted on precocious "Adi," but found it necessary to admonish him often, sometimes threatening to tell Alois of his transgressions. When Adolf misbehaved, she would point to the old man's pipe rack. Young Hitler detested his father, while simultaneously adopting him as a role model. Neglected and mistreated by her disagreeable "uncle-husband," Klara bestowed all her love on Adolf. Dr. Edouard Bloch said he had never seen a closer attachment between mother and son.
Young Hitler excelled in all subjects at Lambach Abbey School, and sang in the choir. At this institution he first saw the swastika. Father Theodor Hagen, Lambach's abbot, ordered workmen to engrave the oriental Hagenkreuz on doorways, windows, gates, and other structures on abbey grounds. This symbol, which formed a logo of his initials, also appeared on his family coat of arms. Father Hagen intended these decorations as a play on his name.
A photo of Hitler's 3rd grade class at Leonding School taken in 1897 shows him as a self-possessed honor student in the center, posing with arms folded. A few years later, Linz Realschule's class portrait shows him as a moon-faced dullard slouched in the background. What wrought this transformation? Part of the answer was that richer city boys from Linz looked down on "rubes" from Leonding. Also, the death of his younger brother Edmund deeply affected Hitler in February, 1900. Only ten at the time, he went to the burial alone during a snowstorm, while Klara lay sick in bed and Alois remained out of town on business.
"It was Hitler's first encounter with death, and the villagers remembered ... that (he) had been seen, at the time following Edmund's death, sitting on the cemetery wall night after night, gazing up at the stars." [9]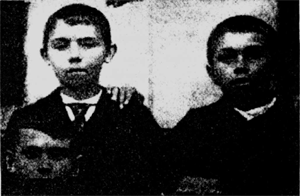 Adolf Hitler, left, at Lambach Abbey School, c. 1898
The Hitlers lived across from St. Michael's Church Cemetery. Adolf could see Edmund's headstone from his bedroom window.
Although the death certificate listed "complications arising from measles" as the cause of death, Edmund probably died of encephalitis -- which Adolf caught that same winter. Dr. Hans Berger-Prinz later theorized that Hitler's behavioral disorders and Parkinson's Disease at the end of his life might have stemmed from this childhood bout with encephalitis. Some of the symptoms manifested by post-encephalitic sociopaths correspond to Hitler's behavioral characteristics:
"The post encephalitic moral imbecile is often possessed of cleverness and brilliance ... (He can be) an exceedingly plausible and ready liar ... devoid of all moral and altruistic feelings ... knows neither shame nor gratitude ... (displays) viciousness and maliciousness with a gloating over the misfortunes of others... a coldly egotistical, vengeful, base, vile impertinence... truly explosive outbursts ... criminal actions... wanton destructiveness murder. .. arson ... mythomania ... cruelty as well as fraud malicious denunciations... grandiloquent and ecstatic states ... inclination to lie ... to confabulate past adventures ... to simulate and deceive." [10]
Between 1895 and 1904 Hitler attended five different schools. This constant change created emotional and intellectual disorientation. Perpetually the new kid in class, Hitler felt the need to prove himself continually.
In turn-of-the-century Austria high school boys either attended the Gymnasium to study "Humanities" or Realschule for technical instruction. Cynics quipped that Real Schools taught nothing human and Gymnasiums nothing real. Alois Hitler insisted that his son attend Realschule to prepare for a civil service career.
Dr. Edouard Humer of Linz Realschule found the "gaunt, pale-faced boy ... argumentative, self-opinionated, willful, arrogant, and bad-tempered. He had obvious difficulty fitting in at school... (and) demanded of his fellow pupils their unqualified subservience, fancying himself in the role of leader." [11]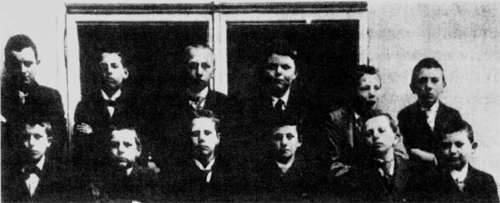 Adolf Hitler, top right, at Linzer Realschule, c. 1903. Ludwig Wittgenstein is 3rd from left on the lower row.
By his own admission Hitler was a "young scamp."
When a neighbor lady's chickens trespassed onto the family farm, Adolf grabbed his father's gun and blasted away at them. He brought knives and hatchets to school, played hooky, smoked cigarettes, scrawled lewd messages on blackboards, released cockroaches in class, blew kisses to nuns, and made impudent comments to teachers. Hitler brought in literature from a pro-divorce society to rankle Catholic clergymen, and once helped classmates lock a science teacher in his lab. One day they threw grass, leaves, and nutshells all over a classroom and told the principal this mess was part of their botany lesson. When school let out, he ran the streets playing soldiers or cowboys and Indians with other boys.
Adults considered him unruly. Hitler's own recollections of his schoolboy pranks bear out this assessment.
"One of (Father) Schwarz's female relatives ran a shop in the Steinstrasse. We used to go in and ask for the most impossible things like ladies' underwear. When she said she hadn't got them we'd go out shouting: 'what a miserable hole -- never has anything!'" [12]
Father Franz DeSales Schwarz tried to teach Adolf Hitler religion for three years at Linzer Realschule --- 1902 through 1904. The future Nazi dictator baited him mercilessly. In addition to the usual schoolboy shenanigans, Hitler defied Father Schwarz by declaring his disbelief in the Immaculate Conception, admitting that he never prayed, and flashing black, white, and red pencils indicating his allegiance to Imperial Germany rather than Habsburg Austria. Schwarz punished the young heretic often, and may have been responsible for his transfer to Steyr High School in 1905. Hitler never forgot him. In the mid-1930's he commissioned a genealogist from the SS Ahenerbe to trace the Schwarz family tree to determine if his old adversary had any Jewish blood. Genealogical research proved that Father Schwarz descended from a long line of northern Austrian tradesmen and peasants.
Coincidentally, Ludwig Wittgenstein (4/26/1889-4/29/1951) attended Linzer Realschule with Hitler during the 1903-1904 term. The two boys -- born six days apart -- were not in the same class. Though nascent genius Wittgenstein didn't excel at Linz due to emotional stress, he earned passing grades in honors courses. Hitler wallowed in the "slow" section. Yet they sat less than six feet from each other in one class photograph. Linzer Realschule had an enrollment of 329 students, of whom 15 were Jewish. As a baptized Catholic, Wittgenstein would not have been counted among the Jews, even though he was three-quarters Jewish -- a fact that members of his family tried to conceal.
Hitler would surely have known of Wittgenstein, the richest, smartest, and best-looking boy in class, who hailed from exotic Vienna, where his parents were notable patrons of the arts. His father, Karl Wittgenstein, operated an iron, steel, and rubber cartel with the Rothschilds, which cornered the Austrian markets for those commodities. But tragedy had recently struck the Wittgensteins. Two of Ludwig's older brothers, Hans and Rudolf, committed suicide -- both due to shame about being homosexual.
(A third brother, Kurt, shot himself in November, 1918 when the regiment under his command deserted.) The family's strategy in sending their high-strung youngest son to the Realschule was to "toughen him up." His neurotic brothers had been pampered and privately tutored with tragic results. Therefore, Karl Wittgenstein felt that Ludwig needed to be mainstreamed.
Nonetheless, like his deceased elder brothers, he became a practicing homosexual by the age of eighteen, and battled depression most of his life.
Homosexually-inclined Hitler could not have failed to notice Wittgenstein who had wavy dark blonde hair, penetrating blue eyes, and chiseled features. Less desirable traits accompanied his physical attractiveness. He looked down on fellow students as "dreck," and would not permit any of them to address him with the informal "du."
Wittgenstein had perfect musical pitch and played clarinet with virtuosity. He could also whistle long passages from Beethoven, Brahms, and Wagner. The second best whistler in Linzer Realschule happened to be Adolf Hitler. At this time Wittgenstein idolized the erratic Otto Weininger, an anti-feminist philosopher later revered by Dietrich Eckart and Hitler. The two boys also shared an interest in architecture and Wagnerian opera.
Suicide fascinated Hitler, making it likely that he would have been intrigued by the fact that his classmate's two brothers had killed themselves.
Kimberly Cornish, author of the Jew of Linz, called attention to Chapter 2 of Mein Kampf where Hitler discussed an untrustworthy Jewish boy at Linzer Realschule who sometimes "ratted" on classmates. In another passage Hitler referred to "stammering Jews." Wittgenstein spoke with a stutter. Hitler may have regarded the haughty, but glamorous, "half-Jew" from Vienna with simultaneous feelings of attraction, hatred, envy, and fear. Dr. Edouard Bloch heard that Linzer Realschule expelled Hitler for "a sexual indiscretion." Could this have involved Ludwig Wittgenstein? Probably not. There is no evidence one way or the other.
Wittgenstein's lifelong dedication to honesty resulted in sardonic candor and a tendency to "confess" the truth even if it hurt himself and others. Bertrand Russell described him as "pure," Leonard Woolf thought him "cruel."
Wittgenstein earnestly studied Leo Tolstoy's Gospel in Brief while serving as an artillery officer in the Austrian army. Under the influence of that book he made a conscious effort to imitate Christ. After the war he gave away most of his inherited fortune, and taught poor children in rural elementary schools for six years. While a teacher in Trattenbach he donated money to the local parish priest who distributed it anonymously among poor families. Wittgenstein also paid for school supplies and class trips out of his own pocket. Though villagers considered him highly eccentric, they hailed him as a miracle worker when he fixed a broken down steam engine at the local wool factory. Yet most believed that Wittgenstein more closely resembled the "difficult" Jesus who spoke condescendingly to the Samaritan woman, asked "who are my mother and brothers?" (Mark 3:33-34,) and drove moneychangers out of the Temple. At the beginning of his biography on Wittgenstein, William Warren Bartley used Matthew 12:36-37 as an epigraph: " ... every idle word that men shall speak, they shall give account thereof in the day of judgment. For by thy words thou shalt be justified, and by thy words thou shalt be condemned." Wittgenstein always disapproved of what he termed "gassing" -- or communicating arbitrary and unverified opinions to others. Language should be used to advance the truth, not distort it. "Gassing" was something his former schoolmate Hitler did incessantly in both speeches and late night monologues inflicted upon his minions. Hitler's blather consisted mainly of what Wittgenstein termed "pseudo-propositions," deficient in truth value.
Although speculation about Hitler's contact with Wittgenstein at Linzer Realschule tantalizes us, and may have a basis in reality, a quotation from Wittgenstein's Tractatus Logico-Philosophicus (1921) will be appropriate here. "Whereof one cannot speak, therof one must be silent ... What can be said at all (must) be said clearly and what we cannot talk about we must pass over in silence."
Hitler read most of Karl May's dime novels about America's Wild West.
May, an ex-convict from Saxony, made a fortune cranking out stories featuring "Old Shatterhand," a leather-skinned cowpoke of German extraction. May, who became a pacifist toward the end of his life, respected Native Americans and portrayed most of them sympathetically in his books. Nonetheless, in self-defense Old Shatterhand shot scores of hostile Indians off their horses with his trusty Winchester rifle.
Hitler attended Karl May's funeral in Vienna on April 3, 1912.
During World War II he re-read many of his western stories for relaxation.
"He read them ... while conducting his war with Russian and sometimes referred to the Russians as 'redskins.' As late as February, 1942 he claimed that he was grateful for these stories, which opened his eyes to the nature of the world." [13]
In 1943 the Fuhrer had 300,000 copies of May's Winnetau printed and distributed to troops fighting on the Eastern front.
Hitler had temper tantrums as a boy. Sometimes feelings of extreme wrath caused him to faint. At the age of thirteen strong-willed Adolf began to defy his grouchy father. Alois expected his son to enter the civil service one day, but the boy wanted to develop his artistic ability. Alois Jr. had bitterly disappointed his father by getting arrested for theft, then running away from home. Sixty-four year old Alois Sr. wasn't going to let Adolf turn into another ne' er-do-well. In Mein Kampf Hitler described their disagreement.
"His decision was extremely simple ... 'Artist, no, never as long as I live!' But since his son ... had apparently inherited his father's stubbornness, the same answer came back at him ... My father did not depart from his 'Never!' and I intensified my 'Oh, yes!' The consequences, indeed, were none too pleasant. The old man grew embittered, and ... so did I. My father forbade me to nourish the slightest hope of ever being allowed to study art. I went a step further and declared that if that was the case I would stop studying altogether." [14]
Adolf recalled his 65 year old father dragging him to an Austrian customs office as a thirteen year old boy. The clerks at their desks reminded young Hitler of "monkeys in cages."
Autodidact Hitler once grandly declared to August Kubizek: "You, of course, need teachers. For me they are not necessary!" [15] The only subjects Adolf paid attention to at Linz Realschule were German literature, history, geography, singing, drawing, and gymnastics. He regarded all teachers except Dr. Ludwig Poetsche as "pedantic nobodies." Poetsche fascinated Hitler with his Pan-German lectures and lantern shows, which explained how Austria's Slav majority was slowly but surely dislodging the German elite from power.
By 1900 only eight million Germans lived in the Dual Monarchy, as opposed to forty-seven million non-Germans.
With democracy in the air, German supremacy could not last.
At the turn of the 20th Century many depicted Austria as "the Balkans of Greater Germany." Prince Klemens Metternich remarked that the Balkans began in Vienna's southeast district. The Dual Monarchy teemed with Serbs, Czechs, Slovaks, Ruthenians, Magyars, Hungarians, Croatians, and Jews. Mutually-exclusive "Pan" movements vied for power. Serbian separatists continually plotted revolution. Rival nationalistic groups warred among themselves. All cherished the same chauvinistic ambitions as Pan-Germans.
Every Pan movement deemed itself divinely appointed to rule not only its homeland, but surrounding "buffer zones" as well. Any nationalistic state would have to be militaristic, imperialistic, and exclusionary. Hitler's Pan-German beliefs made him intolerant of all other ethnic groups. His contempt for Austria, predisposed him to sedition. Well aware of similar disloyalty on the part of Pan-Slavs and Zionist Jews, he concluded that any future Pan German state had to be repressive and anti-democratic. From the lectures of Dr. Ludwig Poetsche Hitler learned that Europe resembled one big Austria, over which Germans must gain the upper hand.
In later years Hitler's hatred of Austrian decadence knew no bounds. Dr. Walter Langer theorized that he identified Austria with his unsatisfactory father and Germany with his beloved mother. In Mein Kampf he called his native land "an impossible state," [16] "on the brink of ruin," [17] ... "the Habsburg Cadaver," ... and "an old mosaic (with) cement crumbling." [18] The comic opera Austrian Army had a general staff of "band conductors" who failed to control undisciplined, multi-lingual, and badly-equipped troops. Despite its woeful lack of military preparedness, Austria constantly irritated Russia by stirring up trouble in the Balkans and Ottoman Empire. Hitler criticized Wilhelmine Germany for maintaining an alliance with such "an antique, impotent state." [19] The Kaiser and his ministers should have lured England away from its pact with Russia and France. It would have been better to choose Russia as a treaty partner than to have stood by "the putrid Austrian corpse," since "Slavdom would rather have shattered the monarchy ... than permit aid to Germany." [20] According to his dogmatic view Slavs opposed German rule, but lacked "state-creating ability" themselves. Hitler always maintained that the Baltic German aristocracy held Russia together, not the native Slavic population.
Alois Hitler dropped dead of a pulmonary hemorrhage in a tavern at 10 A.M. on January 23, 1903. He had gone out that morning to buy apples from a local farmer. Feeling ill, he staggered into the Gasthaus Stiefler, ordered a glass of wine, and collapsed. Bystanders carried him to a couch in the next room, where he died.
With the curmudgeonly old man gone, Adolf could pursue his whims unhampered.
_______________
Endnotes
1 August Kubizek, The Young Hitler I Knew, trans. E.V. Anderson, Houghton Mifflin, Boston, 1955, p. 61.
2 R.G.L. Waite, The Psychopathic God: Adolf Hitler, Basic Books, New York, 1977, p. 134.
3 Hans Frank, Facing the Gallows, Munich, 1993, p. 332.
4 Adolf Hitler, Mein Kampf, 1925, trans. Ralph Manheim, Houghton Mifflin, Boston, 1943, p. 28.
5 Robert Payne, The Life & Death of Adolf Hitler, Barnes & Noble, New York, 1973, p. 10.
6 Ibid., p. 29.
7 Edouard Calic, ed. Richard Breiting, Secret Conversations with Hitler, trans. Richard Barry, John Day & Co., New York, p. 1971, p. 66.
8 Hitler, Mein Kampf, p. 43.
9 J. Sydney Jones, Hitler in Vienna 1907-1913, Stein & Day, New York, 1983, p. 226.
10 Ron Rosenbaum (Introduction p. xxxii) op. cit Acta Psychiatrica, "Zur Kriminalitat der Encephalitiker," 1930.
11 Waite, p. 188.
12 H. R. Trevor-Roper, ed. Hitler's Secret Conversations 1941-1944, Farrar, Strauss & Young, New York, 1953, p. 156.
13 Minna C. Klein & H. Anthony Klein, Hitler's Hang-Ups, Dutton, New York, 1976, p. 20.
14 Hitler, Mein Kampf, pp. 9-10.
15 Kubizek, p. 228.
16 Hitler, Mein Kampf, p. 121.
17 Ibid., p. 148.
18 Ibid., p. 124.
19 Ibid., p. 657.
20 Ibid., p. 147.