14: From The Waldviertel to Vienna
"I really wanted to be an architect. Vienna's Jews knew how to put a stop to that."

-- Adolf Hitler
After Alois Hitler's death the Austrian Customs Service provided a generous pension to his dependents. In June, 1905 Klara Hitler moved from Leonding to Linz. Adolf Hitler's grades and behavior were both unsatisfactory at Linzer Realschule. Dr. Edouard Bloch heard from a local teacher that he nearly got expelled from the Realschule for a "sexual indiscretion" in his 12th year. At any rate, sixteen year old Hitler transferred to Steyr Regional Boys High School, fifty miles from Linz, in the summer of 1905. He and four other students boarded with Herr and Frau Chichini. His formal education ended that December. Hitler's grades had been mediocre:
Moral Conduct 3 (Satisfactory)
Diligence 4 (Erratic)
Religion 4 (Adequate)
Geography & History 4 (Adequate)
Mathematics 5 (Inadequate)
Chemistry 4 (Adequate)
Physics 3 (Satisfactory)
Geometry 4 (Adequate)
Freehand Drawing 2 (Praiseworthy)
Gymnastics 1 (Excellent)
Stenography 5 (Inadequate)
Handwriting 5 (Unpleasing)
While at Steyr Hitler and the other boys sensed tension in the Chichinis' marriage, and delighted in sowing discord between them. Herr Chichini, an impoverished Tyrolean nobleman twice his wife's age, held a patronage job with the town of Steyr. He did little work at the office, and none around the house. Attractive Petronella Chichini had to cook, wash, and clean-up after four boarders, as well as her slothful husband. To provoke an argument the boys would confide some small complaint to Herr Chichini at table -- the food was cold, too bland, or served late. He always rose to the bait and passed these criticisms on to his wife. She would immediately bite her lip and start banging pots, pans, and utensils around. After dinner, Hitler and his housemates snickered while the Chichinis shouted at each other in their suite. Petronella often shoved Comte Chichini out the door after such these arguments. Hitler and his compatriots laughed uproariously whenever they saw "the Count" sleeping in the hallway as they skipped off to school.
Many women found Hitler attractive. Frau Chichini liked him for being neat, superficially polite, and "smoldering." He brought out her maternal instincts by soliciting advice about various matters. After the school's graduation ceremony, Hitler and a few classmates celebrated by getting drunk at a country inn. Somehow he made it back to Chichinis' dormitory. The next day hung-over Adolf realized that his diploma was missing. What should he do? His mother would be disappointed if no "sheepskin" could be shown. He told Petronella his story. She told him to go back and request a duplicate. He immediately ran over to the school. No sooner did Hitler walk through the door than the secretary grabbed his arm and escorted him directly to the principal's office. "Is this what you're looking for?" the principal asked coyly, extending a soiled piece of paper on the end of a stick. Hitler turned several shades of red. "A farmer brought this in yesterday." On his way back from the tavern intoxicated Hitler had evidently defecated in a field, wiped himself with the certificate, and thrown it away. Yet he had no memory of it. The idea of having such a complete black-out stunned him. He solemnly resolved never to get drunk again, and stuck to that pledge for the rest of his life.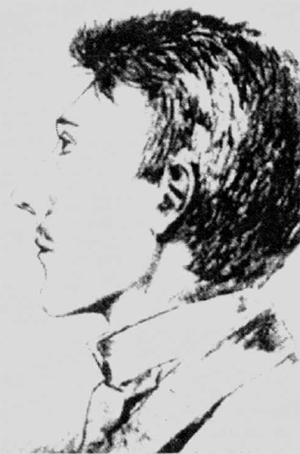 1905 sketch of 16-year old Adolf Hitler by Sturmlechner, a classmate at Steyr Regional Boys' High School
Nearly every summer from childhood through adolescence Hitler and his family vacationed for a few weeks in Spital at the house of his mother's older sister Theresia Schmidt.
Hitler's cousin Johann Schmidt recalled that Adolf always came with "lots of books (and) was constantly busy reading ... "
[1] Spital may have been the scene of Hitler's encounter with an amorous milkmaid circa 1904. Reinhold Hanisch related that "when she made advances ... he ran away, knocking over a churn of milk in his haste." [2] Hitler continued to visit older sister Angela Raubal in Spital after his mother's death -- at least once during his Vienna years, and twice while on leave during World War I.
The era of the "Linz Dandy" began when Hitler returned home. To affect a university student's look Adolf bought a new suit, derby, and ivory-tipped walking stick.
He attended the opera regularly, and became a passionate fan of Richard Wagner. His sister Paula remembered that her brother saw Gotterdamerung at least seven times in 1905, and Lohengrin ten times.
In 1906 Klara Hitler moved across the river from Linz to Urfahr. She bought Adolf a grand piano and paid for lessons from October, 1906 to January, 1907. Her moody teen-aged son frittered away day-time hours with various types of wool-gathering: aimless reading, sketching, daydreaming, writing poetry, and planning Linz's complete reconstruction.
Architecture and urban planning would absorb Hitler for the rest of his life.
This desire to build utopian "garden cities" for the German master race also preoccupied other Ariosophic thinkers, such as Theodore Fritsch, Guido von List, Willibald Hentschel, and Bernhard Forster.
Young Hitler had a compulsive need for ego-expansion, and wanted to achieve it as an artist. Klara worried that her son had not yet learned a trade.
In the fall of 1905 Hitler met August Kubizek at Linz Opera House. Kubizek, the son of an upholsterer, could play several instruments, and dreamed of studying music at Vienna's Conservatory of Music. Needing a sounding-board for his high-flown ideas, Hitler latched onto this easygoing young musician, whom he called "Gustl." As Kubizek put it: "he had to speak, and needed someone to listen to him." [3] Effusive Hitler lectured his friend on music, art, literature, and architecture. They attended opera performances, went to museums, hiked around Linz together, and discussed their aspirations.
On one of their strolls during spring of 1906 Hitler beheld a pretty blonde girl named Stefanie walking with her mother on Linz's Landstrasse. He fell in love at first sight, and worshipped her from afar for the next several months. Hitler haunted the promenade on Sundays, hoping to see Stefanie. His face reddened when she once stopped to flirt with a young officer, yet he soon spoke again of how he and his beloved would one day preside over Linz's leading artistic salon. Though Hitler never exchanged a word with Stefanie, he wrote an anonymous love letter declaring his admiration for her and intention to propose marriage once his studies were completed. This "platonic affair" blended perfectly into Hitler's adolescent fantasy world.
Adolf Hitler made his first visit to Vienna in May, 1906 to visit his godparents, "swimming pool attendant" Johann Prinz and his wife Johanna. What young Hitler saw of the "Phaecian City" captivated him. He soon convinced his mother to bankroll nebulous plans to study at the Vienna Academy of Art. In September, 1907 he took a train from Linz to Vienna by himself and secured lodgings at 29 Stumpergasse from a Czech woman named Maria Zakreys.
The Vienna Academy only accepted 28 of 113 candidates in October, 1907. Hitler was not one of them. Though a good draftsman, his street scenes focusing on architecture did not impress the judges. Heroic buildings overwhelmed stunted trees and insignificant human figures. Despite the Academy's rejection, Hitler remained in Vienna with the intention of reapplying in 1908.
Almost immediately, he lapsed back into his dream world, wasting time on impractical projects such as his imagined rebuilding of the Ringstrasse.
He composed an Icelandic opera scored for primitive instruments, worked on a recipe for a non-alcoholic "people's drink" similar to Coca Cola, painted street scenes, read books on archeology, and auditioned for a singing part with the Vienna chorus. According to one account, Hitler made the choir as a tenor, but had to drop out because he could not afford a tuxedo.
His instability over the next three years was partly due to the sorrow he experienced as a result of Klara Hitler's death from cancer. On October 22, 1907 Dr. Edouard Bloch sadly informed Klara that the painful iodoform treatments he administered had not arrested the growth of malignant tumors on her breast. She had less than three months to live. Klara initially withheld this bad news from her son. As soon as Adolf received word of his mother's impending death in late November, 1907, he returned to Linz.
Dr. Bloch described Adolf as a "sallow, frail boy who lived within himself." [4] The youth's devotion to his mother impressed him.
"He would watch her every movement so that he might anticipate her slightest need. His eyes, which usually gazed mournfully in the distance would light up whenever she was relieved of pain." [5]
Hitler buried his mother on December, 23, 1907. Dr. Bloch observed grief-stricken Adolf at the funeral.
"In all my forty-odd years of practice I had never seen a young man so broken by grief and bowed down by suffering as young Adolf Hitler was that day." [6]
Following his mother's death Hitler inherited between 500 and 1,000 crowns. He also began receiving an orphan's pension of 25 crowns per month. An additional sum would be paid to him when he turned 24 in 1913. In the summer of 1908 he visited his half-sister Angela Raubal. Legal guardian Josef Mayroder and brother-in-law Leo Raubal offended him by suggesting that he apprentice himself to a local baker. He left in a huff and broke off relations with his family for the next eight years.
On February 24, 1908 August Kubizek moved in with him to study music at The Vienna Conservatory. Shortly thereafter, Kubizek invited Hitler to a dinner and concert at the house of Dr. and Mrs. Rudolf Jahoda on Heiligenstadter Strasse. Dr. Jahoda, the scion of a prominent Jewish family, held several patents for chemical products, including luminous paint for alarm clock hands and road signs. Looking back on that evening Kubizek realized that he may have unwittingly abused the Jahodas' hospitality by bringing Adolf Hitler into their home, but added that his friend behaved properly -- hardly speaking at all. Rudolf Jahoda and his Italian Catholic wife Pina were both accomplished musicians. They often invited students from the Conservatory to dinner parties and played quartets and other chamber music pieces with them. At the Jahodas' luxurious home Kubizek experienced "truly sophisticated conviviality possible only in Vienna." [7] Hitler admired Dr. Jahoda's library and enjoyed the music, but felt uncomfortable about his own cultural backwardness and shabby clothes. Kubizek stated that his friend never made any negative remarks about the Jahodas.
In July, 1908 Kubizek went home to work for his father. Hitler no longer lived at Frau Zakreys' lodging house when he returned to Vienna in November. He had probably become disgusted with Kubizek's accomplishments at the Conservatory and his own failure to gain entrance to the Academy of Art. Hitler blamed Jews for his disappointed hopes. Twenty-three years later he complained to Richard Breiting about Leipzig Academy of Art Director Max Seliger, who "was always telling stories to show that only Jews were capable of being gifted artists, businessmen or politicians," [8] and Ilse Dernburg's novels, in which "only Jews were ... successful business leaders." [9]
In subsequent years Hitler tended to be secretive about his Vienna period. When an Austrian Nazi proposed that marble plaques be placed at his addresses between 1908 and 1913, Hitler exploded with rage. "This act of piety was not only unrewarded, (but) ... prohibited." [10]
In November, 1908 Hitler moved to a room at 22 Felberstrasse without leaving a forwarding address. From there he relocated to 56 Sechshausestrasse on August 22, 1909, but only stayed one month due to lack of funds. His whereabouts between September, 1909 and January, 1910 are unknown. Destitute by Christmas, he appealed to his Aunt Johanna ("Hanni") Pozl, a hunchbacked charwoman from Spital, who gave him 50 crowns. Josef Greiner claimed that Hitler sometimes slept in Prater Park during the fall of 1909 -- on grass in dry weather, and under the stone arch when it rained. He more likely stayed at The Refuge for the Roofless in Meidling and one of Vienna's six public "warming rooms." Besides Emperor Franz Josef and Archduchess Valerie, the chief supporters of these heated stations for the poor were Jewish philanthropists Mortiz Singer, Baron Mortiz Konigswater and the Epstein family.
Because of his phobias for foreigners and disease Hitler avoided the jammed dosshouses where criminals, derelicts, and illegal aliens of both sexes slept on floors for 40 hellers a night. Unwashed Czechs, Ruthenians, Magyars, Slovenes, and Galician Jews repelled him, yet the city teemed with them.
Vienna's population had jumped from 650,000 to 1,675,000 between 1860 and 1900. The number of Jews increased from 6,200 to 118,500. Only Berlin had grown faster during that time frame. In 1910 nearly half of Vienna's residents were born elsewhere. Housing shortages resulted in severe overcrowding.
Journalist Karl Klager visited a tenement in 1901 which packed 276 people into 31 two-bedroom apartments.
The burgeoning Ostjuden population made Adolf Hitler not merely uncomfortable, but manic. He lived in the Leopoldstadt district, known as "Matzohville," because of its high percentage of Jewish residents.
Researchers suspect the Gestapo of destroying most records pertaining to Hitler's Vienna period. Though hostel companion Reinhold Hanisch considered him too weak and lazy for manual labor, Hitler claimed to have worked as a porter, snow-shoveller, postcard painter, and hod-carrier. One construction job allegedly ended because fellow workers threatened to toss him off a scaffold for condemning trade unions. There is no independent corroboration of this story. Most scholars dismiss it as a "Hitlerian myth" designed to assure the masses of his proletarian background.
Around January, 1910 Reinhold Hanisch offered to act as a salesman for Hitler's art works. This arrangement succeeded initially.
In addition to postcards and paintings, Hitler drew advertising posters for hair tonic, soap, shoe polish, and Teddy Antiperspirant.
With their first sale on February 9, 1910, the duo moved into Mannerheim Model Home for Men, where Hitler would remain until 1913.
The Mannerheim Hostel on Meldemannstrasse had been constructed just five years earlier. Inmates paid three dollars a day for lodging, ten cents per meal, and 6 cents for bath towels. It had central coal heat and could accommodate 544 men. The facility's green-tiled dining hall served up to 352 at a time. Each man got an iron bed with linen and blanket, a clothes rail, and four square meters of space. Like college dormitories, the hostel had bathrooms with showers on every floor. Men were not allowed in rooms from 9 A.M. to 5 P.M., however they could read in the spacious first floor day room, which included a small library of books, newspapers, and magazines. House rules forbade immoral conduct, noise, gambling, smoking outside designated areas, spitting, and drinking alcoholic beverages on premises. Sick individuals were required to stay in the hospital wing. Men had to wear robes or towels when going to and from showers. They were not permitted to stroll around nude.
Like Stalin 31 years later, Hanisch soon regretted entering into a pact with Hitler. The partners had a falling out in August, 1910. The artist wanted his painting of Das Rathaus (City Hall) sold for at least 100 crowns. Hanisch could find no buyers. After days of schlepping around town with it, he unloaded Hitler's masterpiece for 12 crowns to Wenzel Reiner, owner of a frame shop on Porzellangasse. Hanisch gave the dumbstruck painter 6 crowns in accordance with their fifty-fifty commission split. Hitler refused to believe he had only gotten twelve crowns for that painting and accused him of pocketing the difference. On August 10, 1910 he sued Hanisch. The judge ruled in Hitler's favor, indicating that Hanisch apparently sold the painting to Reiner for more than 12 kronen.
Reinhold Hanisch resurfaced as a problem for Hitler in the early 1930's. In exchange for cash he fed source material to unfriendly early biographers Konrad Heiden and Rudolf Olden. Police arrested him twice in attempts to sell fake Hitler watercolors. Fifty-three year old Hanisch mysteriously died of "heart failure" while imprisoned in 1937. The New Republic published his three-part article "I Was Hitler's Buddy," two years after his death.
In Autumn of 1910 Hitler might have worked briefly as a decorative painter in Vienna's Kunsthistorisches Museum. This rumor gave rise to the "Mad Paperhanger" misnomer of later years. The few crowns he earned were barely enough to support himself. At this time a few Mannerheim residents urged Superintendent Johann Hanya to evict Hitler for ragged clothing and cantankerous views. Completely broke by December, he again requested funds from Aunt Johanna Polzl ("Hannitante,") who came through by giving him 2,000 kronen, more than half her life savings.
With this grant Hitler fell back into his routine of drawing, opera-attendance, and sweet-eating. He grew a beard. Old hands warned new arrivals at the Men's Hostel not to sit in Herr Hitler's chair by the reading room window. He observed an iron routine of painting or reading in sulky silence. However, chance remarks against Pan-German solidarity could evoke diatribes. A wit at the hostel dubbed him "Oom Paul Krueger" after the bearded Boer leader, who vociferously preached apartheid and Anglophobia.
Imbued with Habsburg Austria's snobbish class-consciousness, the customs official's son considered himself socially superior to other hostel mates, ten percent of whom were Jewish, the remainder consisting primarily of laborers from Austrian provinces, and "down-and-outers" of every description. He mocked their low level of culture.
A trade union parade on the Ring one day reminded him of a "gigantic dragon." Yet he spoke of one day taming that behemoth after the manner of Mayor Karl Lueger. Those who knew him wondered how. August Kubizek and Reinhold Hanisch both saw that he lacked the common touch. Kubizek observed that
"contact with people simply was disgusting to him.... He found the motley crew that was milling though the Prater unbearable. As much as he sympathized with the little people, he couldn't keep them far enough away from himself."

[11]
Reinhold Hanisch wrote:
"He repeatedly said of the workers that they were an indolent mass that cared about nothing but eating, drinking and women."

[12]
Nevertheless, Hitler thought Marxists had a correct appreciation of the proletariat's power. On Sunday, September 17, 1911 he witnessed a huge labor union protest against meat price increases. Thirty speakers addressed an obstreperous mob which shouted revolutionary slogans on cue. Hitler gazed entranced as masses of workers
" ... swelled to the proportions of a menacing army ... For nearly two hours I stood there watching with bated breath the gigantic human dragon slowly winding by." [13]
Whoever could tame this dreaded monster would one day rule Germany.
In 1911 a constable served Hitler with legal papers. Fearing arrest for failing to register for the draft, Hitler was relieved that the matter only involved an appeal from his half-sister Angela regarding the orphan's pension. Angela Raubal's husband Leo had died in August, 1910, leaving her with three young children to raise alone. She sought to compel Hitler to surrender his 25 kronen per month. He agreed to do so.
In the summer of 1912 Hitler made two sentimental journeys back to his native Waldviertel. He stayed at Branau and Hafeld to do some sightseeing and sketching. Another hiatus followed these excursions. He probably made an exploratory trip to Munich in the fall of 1912, after receiving an inheritance of 819 kronen, 98 hellers from his father's estate. With this windfall as a cushion, Hitler decided to move to Germany. On May 24, 1913, a sunny spring Sunday, he traveled by train to Munich with a nineteen year old friend named Rudolf Hausler.
_______________
Endnotes
1 Timothy W. Ryback, "Hitler's Forgotten Library: The Man, His Books, and His Search for God," Atlantic Monthly, May, 2003, on-line page 5 of 21.
2 Reinhold Hanisch, "I Was Hitler's Buddy," New Republic, April 19 1939, p. 297. Note: This three-part article was published two years after Hanisch's death.
3 August Kubizek, The Young Hitler I Knew, trans. E. V. Anderson, Houghton Mifflin, Boston, 1955, p. 22.
4 Dr. Edouard Bloch, "My Patient Hitler," Colliers Magazine, March, 1941.
5 R. G. L. Waite, The Psychopathic God: Adolf Hitler, Basic Books, New York, 1977, p. 114.
6 John Toland, Adolf Hitler, Ballantine Books, New York, 1976, p. 35.
7 Kubizek, p. 285.
8 Edouard Calic, ed. Richard Breitling, Secret Conversations with Hitler, trans. Richard Barry, John Day & Co., New York, 1971, p. 28.
9 Ibid., p. 27.
10 William Jenks, Vienna and the Young Hitler, Columbia University Press, New York, 1960, p. 36.
11 Kubizek, p. 203.
12 Hanisch, p. 298.
13 Brigitte Hamann, Hitler's Vienna: A Dictator's Apprenticeship, trans. Thomas Thornton, Oxford University Press, New York, 1999, p. 178, op. cit. Mein Kampf, p. 41.