15: Political Awakening
"Ignorance causes ruin in the world."

-- Buddha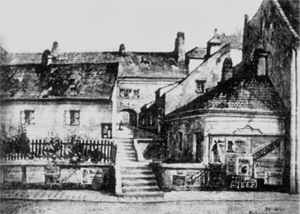 Hitler's drawing of Old Vienna, c. 1911
Hitler developed a keen interest in politics during his five and a half year Vienna period.
The youthful bohemian closely read newspapers and magazines as if he were already a politician. Sebastian Haffner observed that 20 year old Hitler had already embraced "politics as a substitute for life."
Young Hitler admired Vienna's mayor, Karl Lueger (1844-1910) for his populist appeal. From Lueger's example Hitler learned to pander to the common people, since they had the numbers. "Handsome Karl," the son of a school janitor and cabinetmaker's daughter, won scholarships to Realschule, then law school. As an attorney he won several precedent-setting cases which pitted indigent plaintiffs against wealthy landlords and employers. Lueger got elected Mayor of Vienna in 1902 by promising to lower rents and utility bills. In his campaign he rallied blue-collar workers and small tradesmen by attacking Slavs, Jews, and decadent noblemen. When a Jewish Reichsrat deputy accused him of stating that he did not care "whether the Jews were hanged or shot," [1] Lueger corrected him: "beheaded, I said!" [2] When badgering reporters once pointed out that his friend Dr. Ignaz Mandl was Jewish, Lueger shouted: "I determine who's a Jew!" [3] In fact, he felt ambivalence about Vienna's Jews, calling them "beasts of prey in human form" [4] one moment, then qualifying that slur by adding:
" ... they're not all that bad, and we couldn't ... do without them. My Viennese constantly feel like taking a rest, and the Jews ... always feel like working." [5]
Lueger actually performed well as Vienna's Burgomeister. While in office, he oversaw an ambitious "Beautification Plan," and succeeded in purchasing municipal gas works, electrical plants, and transit lines through bond issues. After acquiring these utilities he reduced charges for trolley fares, electricity, and fuel, thus guaranteeing his own re-election. Lueger built well-designed public housing, improved schools, and pushed through a free lunch program for poor students. Under his administration Vienna adopted Europe's first municipal recycling program, which converted garbage into fertilizer.
But Hitler hated another popular icon -- Jewish Social Democrat Viktor Adler. The son of a wealthy businessman, Adler embarked on his political career in 1889 by supporting Vienna's first trolley drivers' strike. Shortly afterward he founded the Arbeiter Zeitung newspaper. In 1905 he ran for a Reichsrat seat and won. His party's platform included a national pension program, rent controls, pacifism, and equality for the Slavic and Jewish minorities. He made famous anti-war speeches in 1909 and 1912 which helped defuse the Balkan crises of those years. Although Adler was sincere in his espousal of humanitarian reforms, he epitomized "ersatz Jewish liberalism" to Germanophiles. In Mein Kampf Hitler maintained that "the masses will always ... follow the man who in economic matters offers the most shameless promises. And in this the Jew is a master." [6] He suspected Adler of secretly conspiring with "Jewish journalists and stock exchange bandits"? to overthrow native-born authority figures, and establish a "Jewish Republic."
Exactly how pacifist Adler colluded with Gold International "war profiteers," Hitler never explained.
Alluding to Adler, Friedrich Austerlitz, Anton David and other Jewish socialists Hitler wrote:
"How come our German labor leaders belong almost exclusively to a nation one never sees working? ... What's the percentage of Jews among ... manual laborers, locksmiths, ... miners, sanitation coachmen, cobblers ... etc.?" [8]
Of course, former Mannerheim Hostel friend Reinhold Hanisch testified that he had
"never ... seen (Hitler) do any hard work, nor did I hear from him the story that he did a worker's job in the building industry ... " [9]
The clownish behavior of Austro-Hungary's Reichsrat intensified Hitler's low opinion of parliamentary government. Representatives spoke ten different languages in the chamber. They could agree on nothing. Many acted liked unruly schoolboys, shouting obscenities during speeches and throwing inkwells at one another. Fist fights broke out regularly. Assemblymen transacted no business of any consequence in this slapstick atmosphere. For national security reasons the Empire completely shut down its irresponsible legislature during World War I.
Hitler and August Kubizek visited the Reichsrat in 1908. They heard members whistling, pounding their desks, and cursing in German, Czech, Italian, and Polish. The proceedings reminded them of a Punch and Judy farce. Kubizek looked at his friend.
"... In the middle of this dreadful spectacle ... Adolf ... jumped up, his fingers clenched to fists, ... his face ... burning with excitement." [10]
In Mein Kampf Hitler described the disorderly mob scene as:
"a wildly gesticulating mass screaming all at once in every different key, presided over by a good-natured old uncle who was striving ... to revive the House's dignity by violently ringing his bell..." [11]
A different picture greeted the young spectator when he showed up a few weeks later.
"The hall was absolutely empty. Down below everybody was asleep. A few deputies were ... yawning at one another." [12]
The alternating pandemonium and torpor he witnessed in Austria's legislature reinforced his contempt for democratic government.
Hitler regarded Reichsrat Deputy Georg Ritter Schoenerer as a more profound thinker than Karl Lueger.

Schoenerer's father amassed his fortune as a railroad contractor for the Rothschilds. In the 1870's this young man of privilege started out as a corruption-fighting friend of the poor. He lobbied for the building of schools, fire departments, and libraries. Somewhere along the way modern "swindle enterprises" disillusioned Schoenerer. He became convinced that investment banking and the stock market were Jewish-controlled scams. Within a few years this former idealist sunk into the ruts of four related "isms:" anti-Semitism, anti-Catholicism, Pan-Germanism, and alcoholism. He desired "Anschluss" (reunification) with Germany, not just an alliance. Schoeneret's paeans to Germany alternated with vicious attacks on non-Germans. He sponsored measures against street peddling and Russian immigration -- both aimed at Eastern Jews. With the slogan "through purity to unity!" [13] he sought to dispossess the Dual Monarchy's non-German subjects.
On March 9, 1888 Schoenerer undid his political career. The Neues Wiener Tagblatt newspaper had announced the death of German Emperor Wilhelm I. Schoenerer and his companions at the Skoda Tavern solemnly drank toasts and sung dirges. When a later edition retracted this story, admitting that Wilhelm had not yet exhaled his last breath, Schoenerer dried his tears and went ballistic. In a fury he recruited twenty-seven other boozers to accompany him to the Tagblatt's office for a showdown. They broke into the building and smashed furniture. Wild-eyed Schoenerer screamed at the mostly Christian employees:
"This is the day of vengeance! No mercy for you Jewish devils! By spreading lying reports you've tried to make capital out of the death of his Germanic Majesty!" [14]
With that, he and his party advanced upon them with brass knuckles and canes. Had not some burly printers from the press room come to their aid, Tagblatt staff members would have been beaten to a pulp and thrown out of windows. Karl Lueger excused Schoenerer on the grounds that he had perpetrated "a stupidity, not a crime," [15] but the judges saw otherwise, finding him guilty of assault and vandalism. On May 5, 1888 the court abolished his noble title, expelled him from parliament, and sentenced him to four months in prison. It took Schoenerer five years to recapture his Reichsrat seat. Between 1893 and 1901 he drummed up support for the pro-German New Lutheran Movement, while continuing to censure Jews and foreigners. After his political career ended in 1901, Schoenerer retired to the family estate in Rosenau and became Austria's leading Pan-German pundit. Between 1907 and 1913 Hitler read many of his articles, but faulted him for being anti-Catholic. How could one build a mass party in Austria without Catholic support? Though he respected Schoenerer's ideological purity,

he considered Lueger a much savvier politician.
The most sensational newspaper story between October, 1907 and July, 1908 was Germany's Eulenburg Scandal, which involved former Ambassador to Austria Prince Philippe Eulenburg, a close friend of Kaiser Wilhelm II.
On October 17, 1907 Jewish journalist Maxmilien Harden broke the story that Eulenberg had engaged in homosexual relationships with a variety of partners, including General Kuno von Moltke.
This "Jewish smear campaign" discredited not only the German monarchy, but the Pan-German movement as well. Hitler denounced Harden and the "Jewish yellow press" for dragging Deutschland into the dirt. He positively loathed his chief source, gay rights pioneer Dr. Magnus Hirschfeld, who posed as a "moralist" and champion of progressive values.
Hirschfeld's statements that homosexuals frequented the opera and men's hostels hit close to home. Privately, Hitler must have worried about the possibility of being "outed" himself. Even then he indulged in daydreams of being a "tribune of the German Volk." What if Jewish news hounds targeted him someday?
Lothar Machtan, Samuel lngra, and others allege that Hitler had homosexual affairs in Vienna. They mention August Kubizek, Reinhold Hanisch, Rudolf Hausler, and Jewish business associate Josef Neumann as possible partners. Kubizek, Hanisch, and Hausler later married. No documentary evidence can be adduced. Machtan reads much into Kubizek's account (published twelve years after Hitler's death.) For example, he interprets the story about Adolf and Gustl being forced to take refuge in a barn during a rainstorm as indicative of a homosexual encounter. Kubizek's statement about Hitler disappearing for days without explanation suggests to Machtan an escapade with a rich homosexual. Passages supporting Hitler's heterosexuality -- his infatuation with Stefanie and the burning of a homosexual's business card -- are dismissed as cover-ups ... These innuendoes, while interesting, don't rise to the level of proofs, as Machtan admits. He marshals more persuasive substantiation of Hitler's homosexuality between the years of 1915 and 1927, which will be discussed in Chapter 18.
Vienna was a seething cauldron of social ferment in the early 1900's. Its population had risen from 827,000 to 2,040,000 between 1890 and 1910, more than four times the growth rate of St. Petersburg and Paris. Like the American cities of New York, Philadelphia, and St. Louis, Vienna expanded primarily because of immigration. Slavs seeking employment poured in from outlying territories. Russian persecutions brought a stream of "Ostjuden" into the city. Border guard Alois Hitler viewed these new arrivals as interlopers or crooks. Adolf Hitler shared his father's xenophobic prejudices. By 1910 Vienna had 175,318 Jewish residents, who made up 8.6% of the population. The Brigittenau District where Hitler resided was 17% Jewish. Dr. Leo Goldhammer diced the statistics further. 27% of Vienna's Realschule students were Jewish. One out of six Jews married gentile women, though this seemed partly due to a ratio of 1,000 Jewish men to 965 Jewish females. Jews only committed 6.38% of Vienna's crimes, however they accounted for 28% of fiscal misdemeanors such as fraud, bankruptcy, forgery, and vending without a license.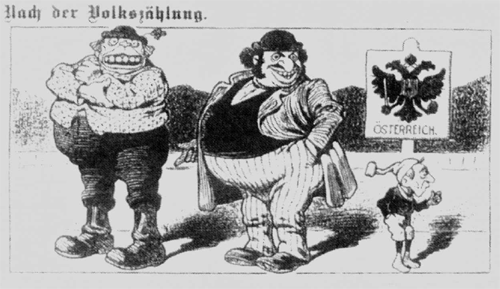 After Austria's 1910 census, the Little German finds himself overshadowed by Czechs and Jews. (Cartoon by Kikeriki)
Historian James Webb commented that Adolf Hitler's ideology took shape in the "sub-Bohemia of skid row" [16] between 1907 and 1913. The privation and rejection Hitler experienced in prewar Vienna bred feelings of resentment, isolation, and anxiety, which manifested as Judeophobia. This angst led to withdrawal, the creation of a tangible enemy, and
projection of his own "shadow" (fallen nature) upon the scapegoat.
Close study of anti-Semitic tracts nurtured these paranoid delusions, which crystallized by 1908.
During one of his prowls through Leopoldstadt Hitler beheld a sight which appalled him.
" ... As I was strolling through the Inner City, I suddenly encountered an apparition in a black caftan and black hair locks. Is this a Jew? was my first thought. For, to be sure, they had not looked like this in Linz. I observed the man furtively and cautiously, but the longer I stared at this foreign face, scrutinizing feature for feature, the more my first question assumed a new form. Is this a German?" [17]
In his first newspaper article (Munchener Beobachter, August 13, 1919) Hitler stated that he first recognized the Jewish peril at age eighteen, thus changing from a "weakly cosmopolitan to a fanatical anti-Semite." [18] Thus, the incident mentioned above might have occurred in 1907 or early 1908.
Historians have variously dated the onset of Hitler's obsessive anti-Semitism as 1903 (due to exposure to Jewish boys at Linzer Realschule,) 1907 (when he arrived in Vienna and soon beheld the "apparition" of an Orthodox Jew in caftan,) 1910 (an impoverished period during which he intensively studied anti-Semitic literature,) 1913 (the year of his relocation to Munich,) and 1919 when he experienced both Germany's defeat and the Spartacist Revolt. It seems that his irrational hatred of Jews began prior to 1907 and progressively intensified over the years. He suppressed anti-Semitic outbursts during the election campaigns of 1930-1932, but the toned-down rhetoric of that period was merely a ploy to lure moderate voters.
As a boy Hitler had been exposed to the bigotries of his alcoholic father. In adolescence he read Linz's rabidly anti-Semitic Linzer Fliegende Blatter. Viennese tabloids further aggravated his anti-Semitism. Heinrich Class's Pan German weekly Alldeutsche Tageblatt attacked Jews, Slavs, and the Catholic Church. Whenever a rural curate seduced a peasant girl, banner headlines trumpeted juicy details to eager readers. Using the pseudonym Daniel Fryman, Class published "If I Were the Kaiser" in 1912, which advocated German expansion into neighboring states, press censorship, abridgement of voting rights, statutes prohibiting socialism, and anti-Semitic measures, including immigration quotas, job discrimination, and higher taxes on Jews. Alldeutsche Tageblatt ran a series on Reichsrat Deputy Karl Iro's campaign against "the gypsy scourge" in June, 1908. Since these "congenital criminals" usually went by first names rather than surnames, and shunned all forms of official registration -- such as birth, marriage, and death records -- Iro wanted the Austrian government to tattoo every gypsy on the right forearm. Hitler later applied this barbaric policy to Jews as well as gypsies.
Karl Vogelsang's Das Vaterland and Ernst Vergami's Deutsche Volksblatt held Jews accountable for all ills besetting Austria. Favorite targets were Jewish bankers who foreclosed on farms, grain dealers who ruined Austrian farmers by flooding the market with low-priced American wheat, and clothing merchants who milked the public by constantly inventing new fashions.
[Hitler also read anti-Jewish literature written by Paul De Lagarde, Theodor Fritsch, Eugen Durhring, Guido von List, and Adolf Josef Lanz. Timothy Ryback found Hitler's heavily-underlined copy of Paul De Lagarde's German Essays in the Library of Congress. One boldly bracketed passage cites the need for "a singular man with the ability and energy" to unify the Reich, and exile "Polish and Austrian Jews to Palestine." [19] Hitler especially savored the seeming erudition of Fritsch's Handbook on the Jewish Question, which went through twenty-five editions between 1887 and 1894. The author quoted anti-Semitic invective from recognized scholars such as Seneca, Erasmus, and Luther. Dietrich Eckart later imitated Fritsch's intellectual pretensions in his pamphlet "Bolshevism from Moses to Lenin." By reading Eugen Duhring Hitler acquired the erroneous idea that Jews were really a race, not a religion. Duhring mischaracterized them as being "not simply evil, but irremediably evil." [20] His view of Jewish incorrigibility provided Hitler with a "philosophical basis" for his "Final Solution."
In Mein Kampf (1925), he wrote that the German Volk
" ... had to combat poison gas with poison gas. It is our duty to inform all weaklings that this is a question of to be or not to be."

[21]
In spite of his growing Judeophobia Hitler continued to associate with Jews between 1907 and 1913, and did not seem to embrace eliminationist anti-Semitism. Reinhold Hanisch went so far as to claim that his bearded friend looked Jewish, and "preferred being around Jews," [22] who comprised one-tenth of the Meidling Men's Hostel in Brigiettenau.
" ... I often joked with him that he must be of Jewish blood, since such a beard rarely grows on a Christian chin; also he has big feet, as a desert wanderer must have." [23]
Jewish doctor Edouard Bloch not only treated Klara Hitler, but also served as Adolf's personal physician from 1904 to 1907. Hitler still had enough respect for Dr. Bloch in 1938 to grant him police protection, and a passport to the United States. August Kubizek testified that Hitler enjoyed Felix Mendelsohn's musical works, and "had the greatest admiration for (Gustav) Mahler" both as a conductor and composer. He occasionally visited museums with art shop owner Josef Neumann, who gave him an overcoat in 1910. A one-eyed Jewish locksmith from Galicia named Simon Robinsohn (born 1864) socialized with Hitler in the men's shelter, and once lent him money.

Hitler sold paintings through Jewish art dealers Siegfried Loeffner, Jacob Altenberg, Josef Neumann, and Samuel Landsberger. Jewish glazier Samuel Morgenstern (born in Budapest, 1875) bought several paintings from Hitler and referred him to lawyer Josef Feingold, who also became a regular customer.
On August 10, 1939 Morgenstern wrote Hitler a plaintive letter, citing their former association and pleading for mercy.
"Excellency!

I humbly ask your indulgence for daring to write to you, Mr. Reich-Chancellor, and submitting a request. For thirty-five years I had my own business as a glazier and frame manufacturer in Vienna, at 9 Liechtensteinerstrasse, and in the years before the war, Mr. Chancellor, was frequently in my store and had the opportunity to judge me to be a correct and honest man. I have no police record and for eight years served as a noncommissioned officer in the Austrian army and was on the Romanian front. On November 10 my store was closed ... and my commercial license revoked ... which made me totally indigent, ... since I have not received ... compensation for my store, which was worth 7,000 Reichsmarks. I am sixty-four and my wife is sixty years old ... It is my most humble request to Your Excellency to please direct the Department of Property to give me 4,000 in foreign currency so I have the necessary disembarkation money and my wife and I can live modestly until we have found work. Please have my application checked and ... approve it.

Faithfully Yours,
Samuel Morgenstern, Glazier
Vienna, 9.4 Liechtensteinerstrasse" [24]
By this time Morgenstern and his wife were enmeshed in a Kafkaesque nightmare. His letter never reached Hitler. He died four years later while confined to a work camp in Poland's Litzmannstadt ghetto. The SS gassed his wife Emma a year later at Auschwitz.
Hitler often engaged in political debates with other residents of the Men's Hostel. He doubted the good faith of his Jewish opponents there.
"The more I argued with them, the better I came to know their dialectic. First they counted on the stupidity of their adversary, and then, when there was no other way out, they themselves simply played stupid. If all this didn't help, they pretended not to understand or. .. changed the subject ... Whenever you tried to attack one of these apostles, your hand closed on a jelly-like slime which divided up and poured through your fingers, but in the next moment collected again ... If you really struck one of these fellows (a) telling ... blow ... your amazement was great the next day. The Jew had not the slightest recollection ... " [25]
If Josef Greiner can be believed, a fellow hostel inmate named Grill, the son of a Polish rabbi, tried to talk Hitler out of his growing anti-Semitism in 1911.
During the war Hitler fought beside Jewish soldiers such as Corporal Karl Lippert and Lt. Hugo Guttmann. He later rented rooms from Frau Erlanger in Munich, and took elocution lessons from Jewish magician Eric Jan Hanussen. From 1919 to 1926 Hitler's older half-sister Angela Raubal worked as a cook for Vienna's Mensa Academica Judaica. During the anti-Semitic riots of 1919 and 1920 "Angela defended Jewish students from attack and on several occasions beat ... Aryan students off the ... dining hall steps with a club." [26]
As late as 1944 Hitler exclaimed to Josef Goebbels: "I won't give Vienna a pfennig!" [27] His master plan mandated that Linz would be transformed into Austria's new capital. August Kubizek wrote that Hitler
"hated the typical Viennese from the bottom of his heart. He couldn't even stand their mellifluous ... melodious way of way of speaking. Above all, however, he hated the Viennese manner of always yielding and their dull indifference, ... of forever blundering along and living from one day to the next without a care in the world. Personally he was entirely the opposite in that respect." [28]
According to Hitler's stereotypical thinking, the Viennese were morally corrupt slackers. He condemned the city's prostitution industry, high rate of alcoholism, and general decadence. Vienna served as a major station of the white slave trade's "underground railroad," which transported penniless gentile and Jewish girls from Odessa, Galicia, and Serbia to Hamburg, Vienna, Amsterdam, Paris, and Buenos Aires. The "Phaecian City" harbored "apologists for libertinism" such as Richard Krafft-Ebbing, author of Psychopathia Sexual is (1886,) and Sigmund Freud, whose Civilization and its Discontents associated most of man's problems to sexual repression. Vienna had a reputation for being the German-speaking world's capital of pornography. The word "masochism" derives from the sado-masochistic novels of Leopold von Sacher-Masoch. Journalist Felix Salten, author of the children's classic Bambi, also wrote Josenne Mutzenbacher: A Viennese Whore's Life.
The Catholic Church waged campaigns against pornography and brothels. Hitler dismissed their hypocritical moralizing, preferring to view Vienna's debauchery from an "Ariosophical" perspective.
_______________
Endnotes
1 Brigitte Hamann, Hitler's Vienna: A Dictator's Apprenticeship, trans. Thomas Thornton, Oxford University Press, New York, 1999, p. 287.
2 Ibid.
3 Ibid., p. 290.
4 Ibid., p. 288, op. cit. 2/13/1890 newspaper account.
5 Ibid., op. cit., Sigmund Mayer, Die Weiner Juden, Vienna, 1917, p. 475.
6 Adolf Hitler, Mein Kampf, Munich, 1925, trans. Ralph Manheim, Houghton Mifflin Co., Boston, MA, 1943, p. 322.
7 Ibid., p. 326.
8 Hamann, p. 181, op. cit. Adolf Hitler, "Some Questions for the German Worker," Auf Gut Deutsch, May 22, 1920.
9 Ibid., p. 155, op. cit. Reinhold Hanisch, "I Was Hitler's Buddy," New Republic, 4/19/1939.
10 August Kubizek, The Young Hitler I Knew, trans. E. V. Anderson, Houghton Mifflin, Boston, 1955, p. 290.
11 Hitler, Mein Kampf, p. 77.
12 Ibid.
13 William Jenks, Vienna and the Young Hitler, Columbia University Press, 1960, p. 95.
14 Ibid.
15 Ibid.
16 James Webb, The Occult Establishment, Open Court Publishing Co., LaSalle, IL, 1976, p. 299.
17 Hitler, Mein Kampf, p. 56.
18 Eberhard Jackel, Hitler's Weltanschaung, trans. Herbert Arnhold, Wesleyan University Press, Middletown, CT, 1972, p. 53.
19 Timothy W. Ryback, "Hitler's Forgotten Library: The Man, his Books, and his Search for God," Atlantic Monthly, May, 2003, p. 4 of 21 on-line.
20 Norman Cohn, Warrant for Genocide, Scholars Press, Chico, CA, 1981, p. 171.
21 Hamann, p. 347, Hitler, Mein Kampf, (German Language edition,) p. 44.
22 Reinhold Hanisch, "I Was Hitler's Buddy," New Republic, 4/19/1939.
23 Hamann, pp. 357-358, op. cit. Vienna Administration of Property, Aryanization files, GEW. #2,755, box 216.
24 Hanisch, 4/12/1939 installment of "I Was Hitler's Buddy."
25 Hitler, Mein Kampf, p. 62.
26 Walter C. Langer, The Mind of Adolf Hitler, Basic Books, New York, 1972, pp. 120-121.
27 Hamann, p. 5, op. cit. The Goebbels Diaries.
28 Kubizek, pp. 43 and 203 passim.